Just a couple of days ago, one of my long-time Warrior friends, John E. in Nevada, contacted me with some good news. He'd written an article for his local paper and it was published!
He wanted me to share it as the topic is the obsessive and intrusive data mining we see happening every day in schools across America.
So, that said, here's the link to this article:
http://www.rgj.com/story/opinion/voices/2017/01/04/one-view-parents-deserve-know-how-washoe-schools-sharing-kids-data/96165178/
Here are the main points John knows are vital to share:
1) John's article refers to a 11/29/16 meeting where his county's school board made a presentation. The reporter who was there gathered quite a bit of evidence from that meeting and published a separate article about the massive amounts of data (school related and not) being taken from students. (*Note: that article is worth reading as well. Find it: http://www.rgj.com/story/news/education/2016/11/29/security-student-information-called-into-question/94634484/ )
2) John is also the administrator of the Nevadans Against Common Core. As long as I've been sharing my research nationwide,  his note about not only fighting Common Core, but the data mining reminds me how serious a Warrior he is.
3) "Infinite Campus" is the data mining tool of choice in all the NV school districts.
4) Google Apps of Ed, Edmodo, and Microsoft's third party data collection and use is a big concern to many parents in John's district. Good for them! Hold those leaders accountable, ask the tough questions and do not accept a non-responsive answer.
5) While Edmodo is 'free' to school districts, the money made to pay for it is based off the student data itself.
*********************************************************************
The remainder of this article will be to look behind the curtains of the data collectors to see what more we need to learn and share.
*********************************************************************
Washoe's School District:
Their website: http://www.washoeschools.net/
I found the answer to WHY all this data's collected. See below: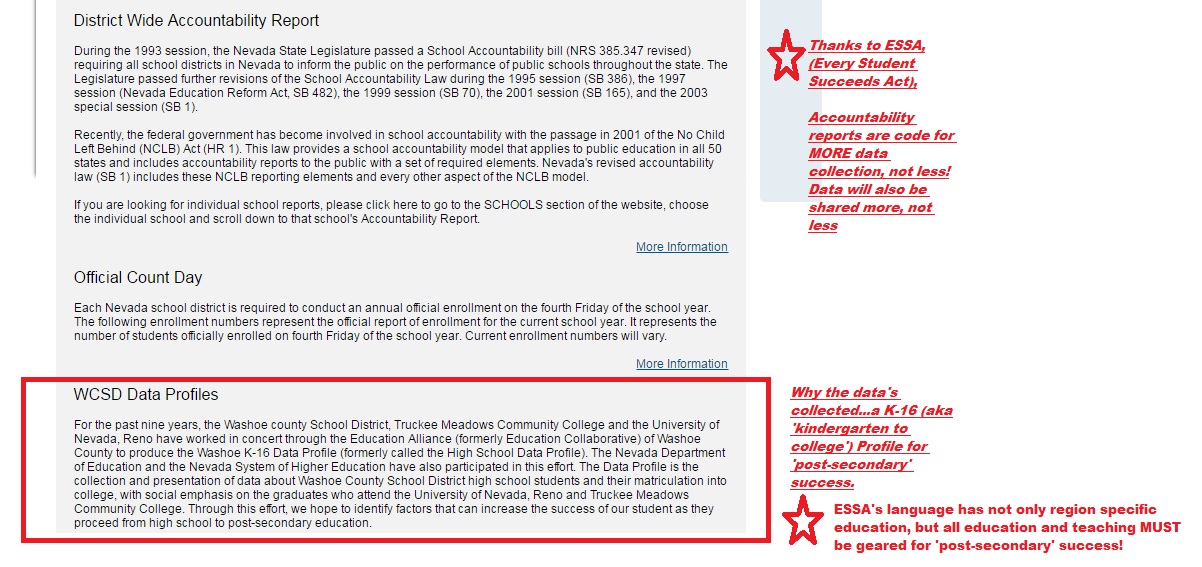 In a few words, we can see the reason is a streamlined track from kindergarten to college graduation for 'post-secondary success'.
What we also need to know is that this particular district began data mining students back in 1998, well before all the 'college and career' or 'post-secondary readiness' cow-chip-education-reform-rhetoric. According to the document I found, it was determined (some time between 1998 and now) that such information was needed and a P-16 data tracking system (called the Education Alliance P-16 Council) was created. Below is what Washoe's been up to since the Council was created. Note the CCSS Machine member group highlighted:


To access the entire document for yourselves (with quite a bit of useful research and evidence for CTE, Career Tech Ed; AP (Advanced Placement); IB (International Baccalaureate); and more:
http://www.washoeschools.net/cms/lib08/NV01912265/Centricity/Domain/166/Data%20Profiles/2014%20Data%20Profile%20FINAL%2005-05-15.pdf

The Ed Alliance:
Their website: https://ed-alliance.org/
Their goal? Just like so many other States: workforce based educated citizens to grow local economies. Think, I'm joking? Look below:



To see the Alliance's 'P-16 education pipeline' plan laid out: https://ed-alliance.org/our-impact/programs-initiatives/p-16-advocacy-council/
*Note, thanks to ESSA, more public private partnerships (P3s) are part of the mandates for every State.)
*******************************************************************
Nevada's  "Fascination" with a P-16 Pipeline:
First, some quick facts:
 1)  NV is looked upon as a champion CTE (Career Tech Education). I am referring to a Sept. 21st, 2016 Education and Workforce Committee Hearing where the NV Superintendent of the Dept. of Public Education was a featured witness. See my article:
https://www.commoncorediva.com/2016/09/21/no-truer-words/
1a) The U.S. Dept. of Labor classifies NV as a Category 3 Apprenticeship/WIOA State (means they have fewer than 2, 500 registered student apprentices). See my article for where the other States fall in line: https://www.commoncorediva.com/2016/08/23/local-schools-open-for-wioa/
1b) While NV has not been awarded any WDQI (Workforce Data Quality  Initiative) grant money yet, it DOES receive WIA (Workforce Investment Act) funding until 2020. The funding is used in a State-wide program called "NevadaWorks". See the U. S. Dept. of Labor for the WDQI information on which States have been given grant money: https://www.doleta.gov/performance/workforcetechnicalassist.cfm
"NevadaWorks" website: http://www.nevadaworks.com/
If you're not sure what WDQI grant money does for your State, see below: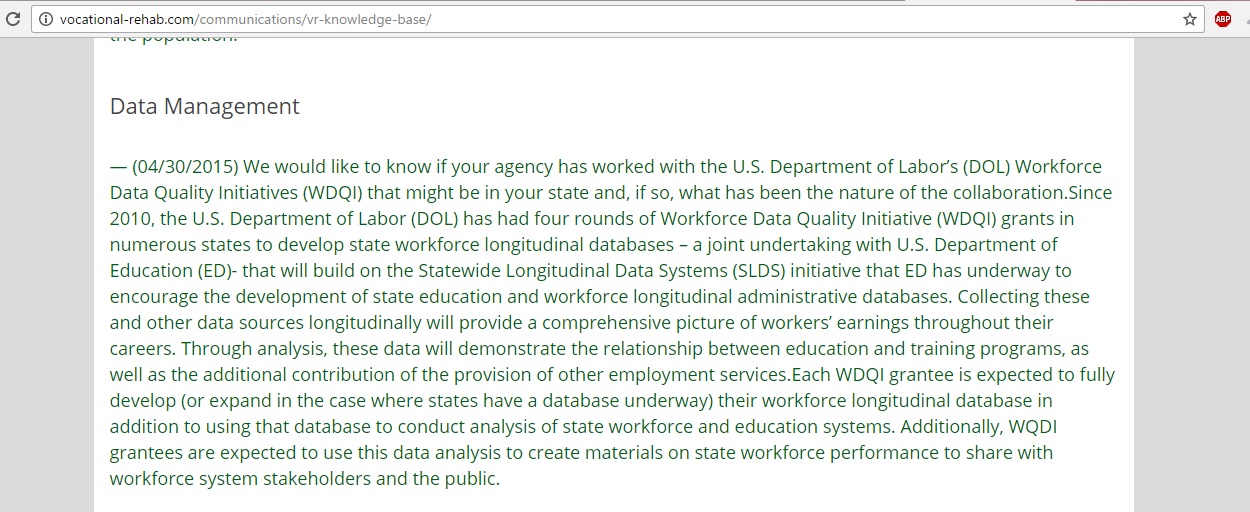 To learn how NV uses its data to fit into the "NevadaWorks": nevada-wig-annual_report_py_2014-with-signature-page


2) WIOA (Workforce Innovation and Opportunity Act) embedded the Common Core's CTE into its language 21 different times! (See: https://www.commoncorediva.com/2016/01/05/essa-ties-to-wioa-2014-and-new-citizens/ )
 3) HEA (Higher Education Act, last updated in 2008) is also embedded in BOTH WIOA and ESSA (Every Student Succeeds Act). (See: https://www.commoncorediva.com/2015/12/05/weekend-news-essas-untold-ties-to-hea/ )

4) CTE is embedded in HEA. NV was one of the first grant recipients. See: https://www.commoncorediva.com/2015/09/12/weekend-news-heads-up-higher-ed-cte-update/ )

5) All 3: ESSA (formerly ESEA, Elementary and Secondary Education Act), WIOA, and HEA data collect, data mine, and use said data to streamline your student's course load to fit a pre-determined career(aka: Career Pathways) and/or a college path, hence the need to switch the names FROM Common Core TO College and Career Readiness! (*Note: to see the 2015 WIOA/CTE Alignment PDF for all 50 States, 2015-06-Aligned-by-Design-WIOA-and-CTE )
6) With all the legislative unity AND the P3s unity, education remaining in its true form doesn't stand a chance in NV,or, any other State! 
7) From 2014, an excerpt from my article using NC (where I live) as an example of how fascinated the ed/workforce leaders were about joining our student's data for a workforce based education, "The U.S. WIOA 2014 (the Workforce Innovation and Opportunity Act of 2014), as I've written about will take the U.S. Dept. of Ed's Student Longitudinal Data System and merge with it." (article in its entirety: https://www.commoncorediva.com/2014/11/06/tech-thursday-workforce-commissions-education-and-common-core/ )
Back to  John's concerns:
Here's an illustration of where all the data goes. While this was used in an article I published BEFORE HR5 (Student Success Act)and S1177 (Every Child Achieves) were combined to create the ESSA as we know it, the data mining hasn't stopped. Each of these Depts. has 3rd party vendors as well…globally.: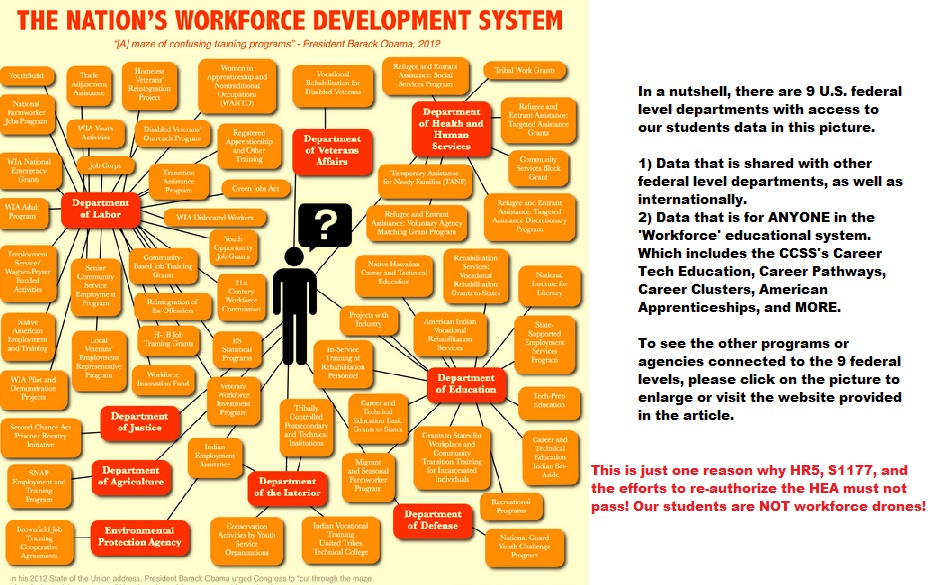 Put another way, below is the 'talent pipeline' illustration which will help you visualize what Johnny and Suzy are destined for in this data collected/shared and sold/aligned education era: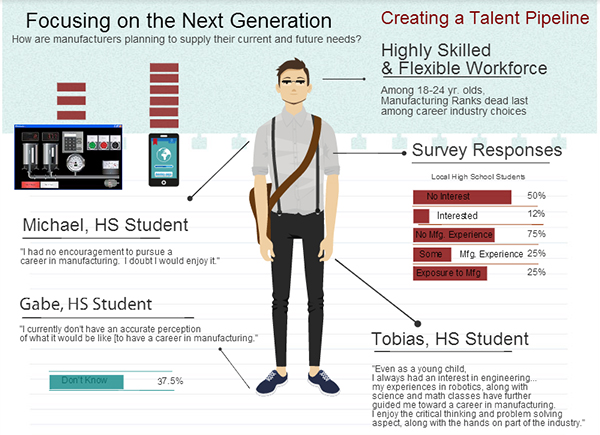 Then, There Are All Those Apprenticeships:
Also part of the CCSS Machine/Fed Ed overhaul of academic education, is the American Apprenticeship Initiative (AAI). I've researched this White House led program and shared with you how it's tied to data mining, career alignment, and more. See: https://www.commoncorediva.com/2016/11/02/to-what-degree/ AND
https://www.commoncorediva.com/2015/02/12/tech-thursday-aligned-apprentices/
NV ranks right up there, in this effort, too. Back in 2015, the Reno area (the same area John lives in) was awarded big bucks, here's an excerpt from the nation-wide grant winners announcement, "Board of Regents, Nevada System of Higher Education (NSHE), obo Truckee Meadows Community College – Reno, NV Truckee Meadows Community College was awarded a $2.2 million grant to fund the Northern Nevada College Apprenticeship Consortium. This consortium, which includes employers Tesla Motors and Panasonic will develop registered apprenticeship programs to increase the skills and career opportunities for 400 workers in the burgeoning advanced manufacturing sector in Northern Nevada."
(You can find the rest of the announcement in my article,
https://www.commoncorediva.com/2015/09/12/weekend-news-heads-up-higher-ed-cte-update/ )
Does your State have an Apprenticeship Council? Look below to see NV's: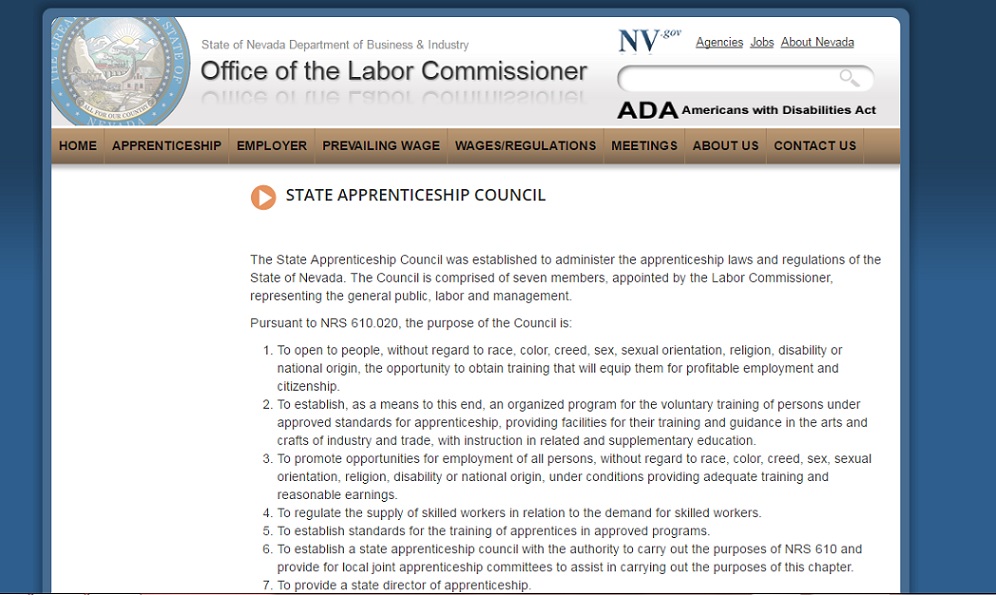 If you wish to find their website: http://labor.nv.gov/Meetings/Prevailing_Wage_Files/Apprenticeship/
Related:
Infinite Campus information:
1) Infinite Campus is headquartered in MN and has access to 7.8 million student's data/information across 45 States. They are big on 'personalized learning' and 'transforming education'. See their vision and goals, https://www.infinitecampus.com/company/vision-and-goals
1a) Infinite Campus's blog has an article explaining HOW they collect and use student data, see: https://www.infinitecampus.com/blog/is-history-repeating-itself-with-the-lms
1b) From the Infinite Campus's news, this excerpt, " Infinite Campus customers include school districts, regional consortia, state departments of education and the federal government."
1c) If you wish to learn about Infinite Campus's Statewide Data Collection:
https://www.infinitecampus.com/products/state-edition (7 States so far are 'on board', KY, HI, MT, SD, ME, NV, and the U.S. Bureau of Indian Education*)
*Not a State, obviously, but oversees all the education business of each of the Native American tribes.
1d) Current 3rd Party Partners (with access to Student Data) for Infinite Campus are:
BakBone Software, Inc.
BSquare
CDW
Parchment / Docufide
Flexmonster
Hewlett Packard
IBM
Kemp Technologies
Microsoft
ScanSource
ShoutPoint
Sprint
StarGarden
Vanco Services
See ALL the other types of Partners: https://www.infinitecampus.com/company/partners
2) How Congress is tripping over itself to embed America with MORE WIOA/CTE based education:
1) https://www.commoncorediva.com/2016/09/20/alexanders-rage/
2) https://www.commoncorediva.com/2016/08/09/congress-loves-cte/
3) Native American alignment to all things Common Core/WIOA/Data Mining:
https://www.commoncorediva.com/2016/08/22/is-this-truly-the-best/

Closing:
Thanks, John, and the many like you who care about what is going on with our student's data. I hope and trust what I've found and shared adds to your arsenal of information in fighting our War Vs the Core in NV and across America.