Hello, my fellow Anti Fed Ed/CCSS Warriors! I'm back from a brief break and so honored to share with you all 4 segments of the special video project I told you about back in April 2017.
Freedom Project Media recorded and produced the Series titled "Alternative Education in the Crosshairs". The Series is a result of the education research and activism of not only myself, but Kirsten Lombard (Resounding Books) and Mary Black (Freedom Project Academy). 
Since I began my fight (2009), I've purposed to look in every area the push for national standards has been taken. Most Warriors, early on, were easily finding the push/reform in public/traditional classrooms across America. However, I knew, from other 'non traditional' educators that NO educational choice would escape the national standards.
The problem was, not many outside this group,  believed it. To this day, even some inside the 'non traditional' education community still think they will escape the national overhaul in education. This, quite simply, is a purposed lie produced by the CCSS Machine's propaganda.
As you know, many (myself included), have brought this overlooked reality into the forefront. Since ESSA (Every Student Succeeds Act) passed, it is really becoming QUITE clear, just how menacing these national standards are to ALL educational choices. 
Kirsten, Mary, and, I knew we had to do more. In less than 3 months, we met, wrote, traveled, and, filmed these 4 segments. They are geared for anyone outside the 'traditional' public education system. That stated, there is plenty in each segment, for anyone involved in education. Be it teaching, leading, researching, advocating, etc.
The results of our efforts? Four open conversations. One distinct truth: ESSA does not reserve itself for public PreK to Career classrooms or educational resources. It encompassses every single citizen in this nation. We tell you HOW in plain terms.
On behalf of Kirsten and Mary, I ask you to share these segments. They are about 20 to 28 minutes each. They are in segments so that you, the Anti Fed Ed/CCSS Warrior, can take listen/watch as your schedule allows. Take what you can and use it LOCALLY. Learn from it and hold fast to the truths revealed on the FEDERAL level.
Segment 1: Workforce Shift in Education embraces all ages and at every educational institution. What's already in place and what's about to march into your home towns.
We expose the word games being played on us, as American citizens.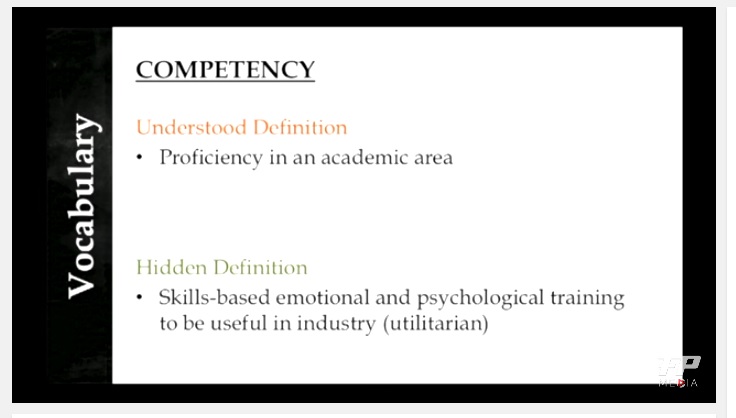 Segment 2: Data Mining as New Currency especially impacts all ages at every educational institution to support the ruse of 'personalized learning' AND big profits for big businesses as well as your States.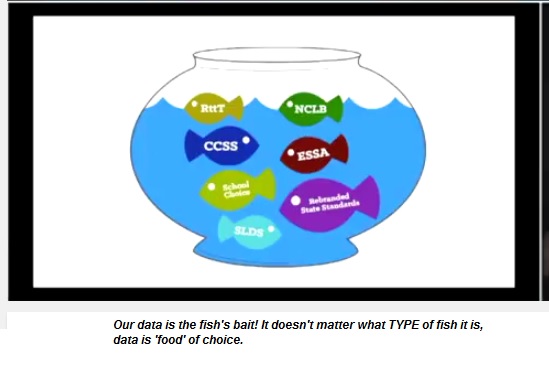 Segment 3: The Danger of School Choice again will reveal for you the word games being played out from the federal level on down to your local districts. If you think 'school choice' in ESSA will be allowed, listen to the evidence we have uncovered. Control by the CCSS Machine lurks behind those 'education savings accounts', too.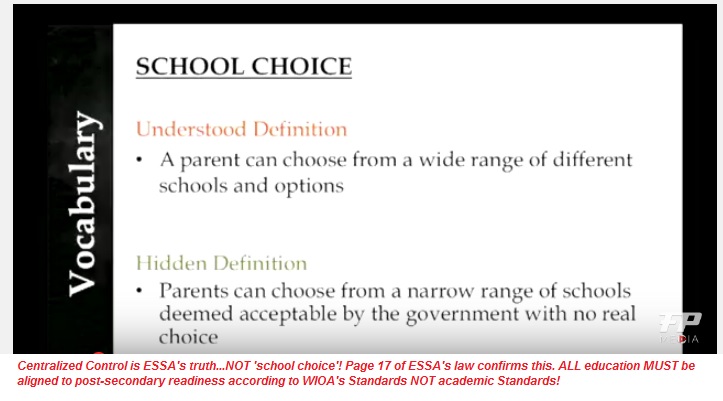 Segment 4: Local Control/Exclusion of Parents via ESSA is not, at all, what we've been led to believe! We've all heard and seen the passionate speeches about ESSA returning control to the States. We've all seen the States begin to turn in their 'local' ESSA plans. We show you HOW every bit of this will remain in the hands of those in the FEDERAL level. In fact, the federal grasp, especially through P3s (public private partnerships), will INCREASE!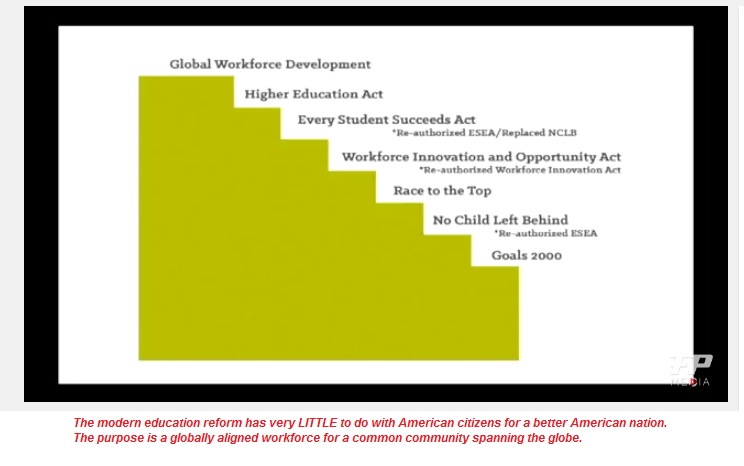 Closing:
Warriors, if you have enjoyed this Series, let us know. Any questions or comments you have should be directed to mblack@fpeusa.org
We are already receiving great (and helpful) feedback from those Anti Fed Ed Warriors who have already viewed them.
Join us, Warriors; we so need to have more discussions centered on researched evidence the mainstream media will not acknowledge.
If there is a topic you would like Kirsten, Mary, and I to address, please, let us know!