Anti Fed Ed Warriors, what would you do if your State began an 'ad' campaign designed around 'in-your-face' fallacies? What if those fallacies centered on education?
Would you tell someone?
If you're like me, you'll do your best to share what you saw to help others know what to look for as well. The fallacies I'm about to share are SO deep, I'm even going to dust off my "Fib-o-Meter"!!
*For those new and fairly new to my blog, my "Fib-o-Meter" was a weekly Friday feature when I first began blogging. It was in those articles I would take what was being passed off as 'truth' and expose the fibs and fallacies.
Warriors, we've reached another phase of the CCSS Machine's education reform BS, that separating truth from hype is definitely needed again.
First Up, NC's Education "Facts":
Warriors, look below at the 'suggested page' Facebook offered me to 'like'.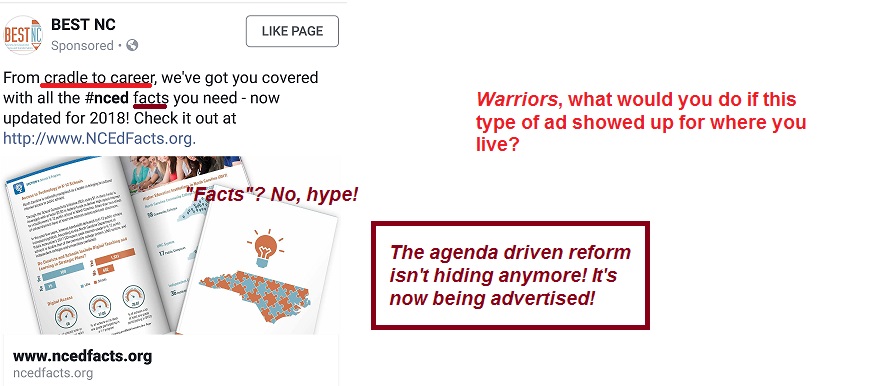 Warriors, look at the 'in-your-face' fallacies! In less than 30 words, this simple picture and it's teaser spell out 2 fallacies.
Second, Enter "Fib-o-Meter":

For this one small 'ad', the "Fib-o-Meter" rates its use of  'facts' as the first 'Total Fallacy".
The 'facts' are all subjective in content! How do I know? First, no State, especially NC has ditched Common Core. No State, including NC has said "Not on my watch!" to all that is connected to Common Core! No State, including NC has escaped (nor will it) the federal overreaches into our schools of ALL choices thanks to ESSA (Every Student Succeeds Act). NC has done what every other State has done, re-branded Common Core.
The next "Fib-o-Meter" rating goes to 'cradle to career'. This overused and meaningless phrase has been used as "Total Truth" by the anti CCSS (now Fed Ed) Warriors for years. "Cradle to career" is also part of the tag line for Strive Together (a big CCSS Machine member). Strive Together encompasses entire communities with the 'cradle to career' agenda. In NC, Forsyth County is one such center of alignment.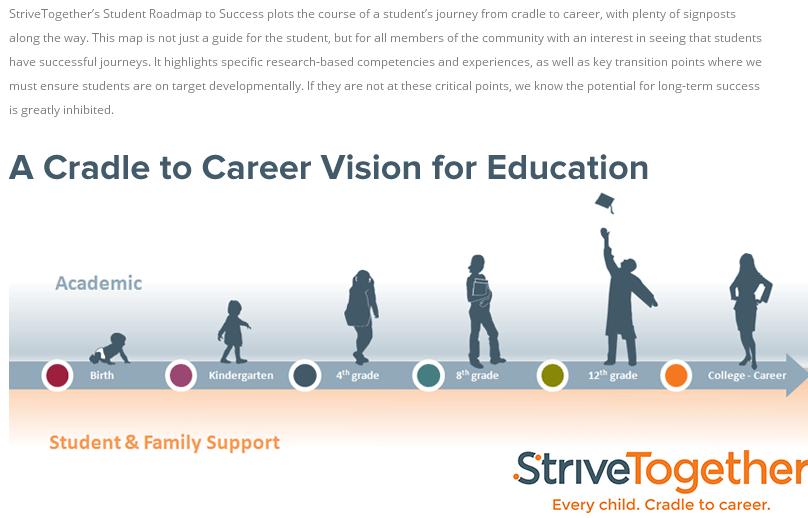 Where Warriors have used the 'cradle to career' phrase to expose the 'one-way-to-learn' for OBE/CBE (outcome based education/competency based education) workforce trained students; the CCSS Machine uses it as a selling point.
Third, 'Hype NC':
Warriors, North Carolina (NC) has some great folks and great places. The State level government has also spent many taxpayer dollars coming up with all kinds of 'feel good' slogans to entice people and businesses to move here. For example, if you want really good, locally grown food, look for the "Goodness Grows in NC" label. Another label you can find for locally made consumer goods is "It's Got To Be NC". I'll admit, the name "BEST NC" ranks right up there with something which sounds great. We'll look into what is behind the catchy slogan in a few minutes.
However catchy (or not) a slogan or name is, look at NC's State level education entities. Between the NC DPI (Dept. of Public Instruction) and the NC SBE (State Board of Education) you'll not find slogans so much as you will CCSS reform agenda-driven vision statements. You've seen these in your States, too. The ones which sound 'super', but are 'in-your-face' with an ugly reality lurking behind the words.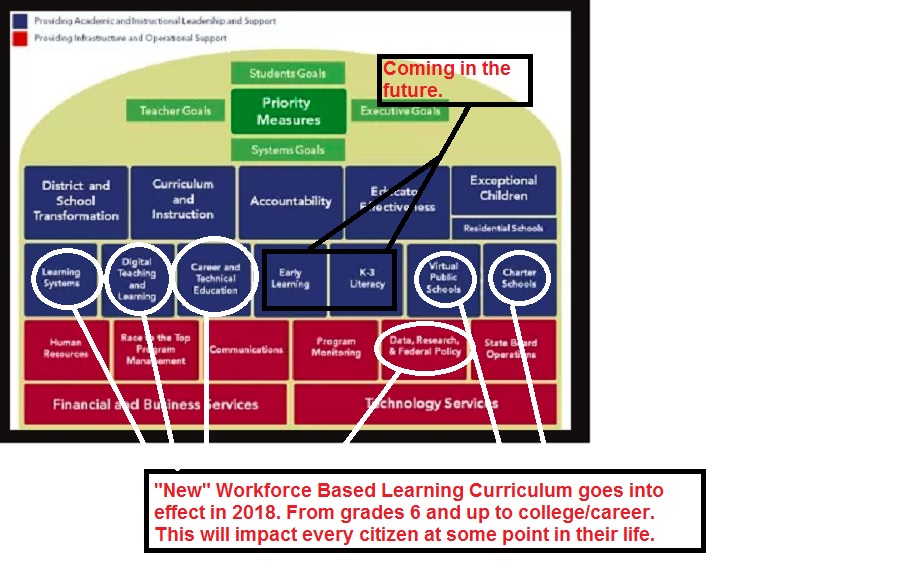 For example, here's the NC SBE's vision for education:
"Every public school student will graduate ready for post secondary  education and work, prepared to be a globally engaged and productive citizen." Warriors, look at the picture directly above. That is the SBE's vision in reality being carried out in the NC DPI.
Since the CCSS Machine impacts all other school choices in addition to public schools, you won't have to look to hard to spot how 'hidden' the alignment is. For example, the Dept. of Non-Public Education (housed in the NC Dept. of Administration) is set aside for home education as well as private education. However, visit the home education information and there sits the NC Public School graduation requirements should your student wish to attend a NC public college.
What's more is that the website directs you to the NC SBE if you have more questions. This is followed by a note to parents that states your local school boards usually require additional graduation parameters. Warriors, the reason parents choose home education is to be FREE of the public system!
Fourth, "BEST NC":
Warriors, "BEST" stands for 'Business for Educational Success and Transformation'.
No need to ponder their agenda, is there? Look below and see how 'in-your-face' their design for education in NC is: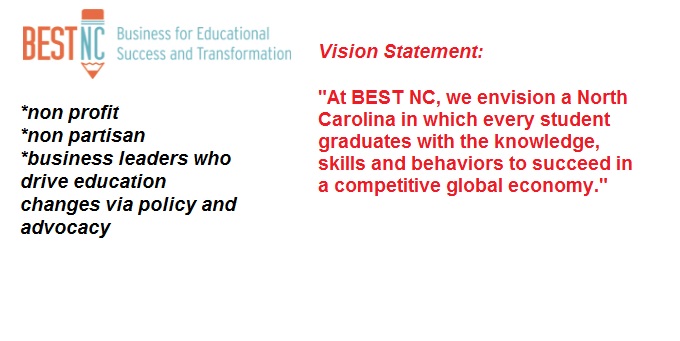 Warriors, below is BEST NC's 'Core Values' page. Added emphasis is mine.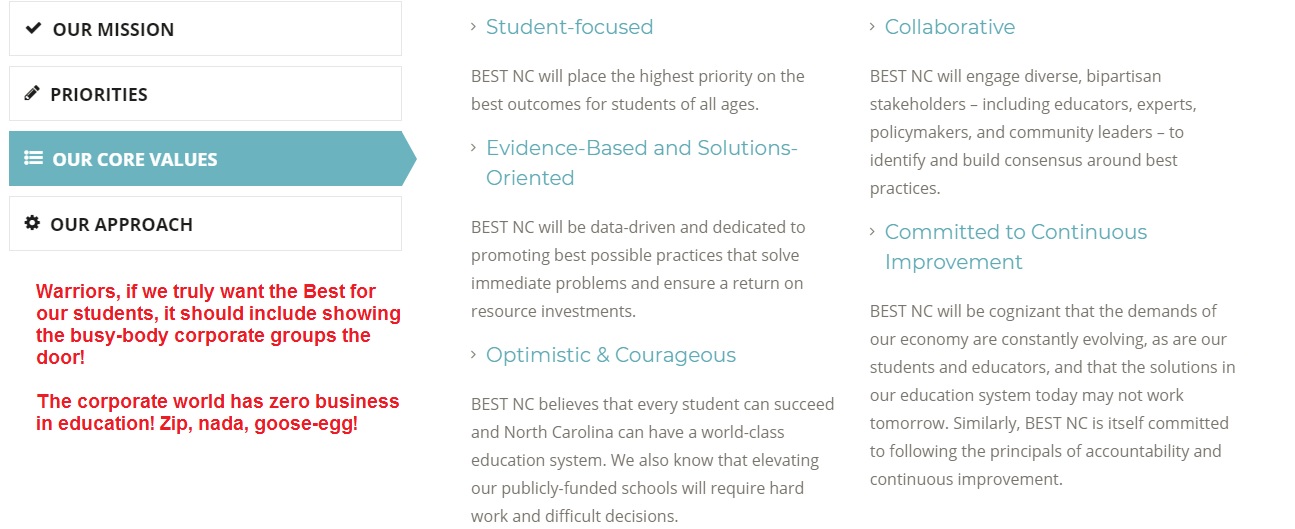 Thanks to ESSA's mandates for MORE P3s (public-private partnerships) in education, we'll see groups like BEST NC increase their choke-hold in our educational systems.
Remember, Warriors, part of the CCSS Machine corporate plan is to squeeze out parents and teachers altogether. 
If you'd like to  see how the priorities from BEST NC will be carried out, visit their page.
If you wish to view the BEST NC hype video for leading the nation in great education, it's below. Listen for the buzzwords of the CCSS Machine, like 'personalized learning'.
If you wish to read the BEST NC 75 page "Facts and Figures" Report, you can find it here. You'll find CTE (Career Tech Education, the adult version of Common Core), STEM (Science, Technology, Engineering, and, Math), ACT assessments, WorkKeys (pigeonholing assessment for career tracks), and so much more CCSS Machine evidence to support one goal:
                                    "the future of our state's economy is inseparable
                                     from the quality of our education."
Closing:
In my next article, I'll be highlighting an upcoming NC conference dedicated to professional development for teachers and tons of CCSS Machine agenda for communities across the State. While many of you do not live in NC, you can use what I've found as evidence it can be found in your State. Maybe by a different name, but the agenda is all the same across America.