Anti Fed Ed Warriors,
How many times have we seen the CCSS Machine invite us to a place at the community table for education? It's been many times, right? How many of those times have we seen the Delphi method used? (Delphi methods invite people in to have a discussion and then drive the discussion to predetermined results which has nothing to do with the people's input.)
We've seen this tactic repeatedly used against us, Warriors. It stinks. Thanks to ESSA (Every Student Succeeds Act) and its mandates for MORE federal control in education, the Delphi method was launched in every 'stakeholder' meeting; every ESSA forum for ideas and suggestions; and, it was pulled off right under our noses.
To add insult to injury, NOW, the States are rolling out all kinds of meetings across their boundaries. These meetings are a continued effort to attract (under false pretenses) community citizens to become involved in 'local' education.
The example? Why, NC (North Carolina), of course. Warriors, you know it's where I live. You also know, from a few articles ago, the State education, business, and, political leaders are rolling out the CCSS Machine bandwagon fallacies.
The leaders want SO much for NC to be a national leader of 'local education'. Yet, look behind the facade and you'll see the same egregiousness here, that is happening THERE (wherever you live).
To be more specific about the latest NC example of CCSS Machine education alignment, think 'innovation'. As in 'districts of innovation'. As in, piling on more technology, digital learning, and the data mining which goes with it. (*Note, back in 2016, I published this article about the NC ties to other States and some of their 'districts of innovation'. Scroll down to "Part 2".)
Before I get to the latest innovation news, let me give you some background and context.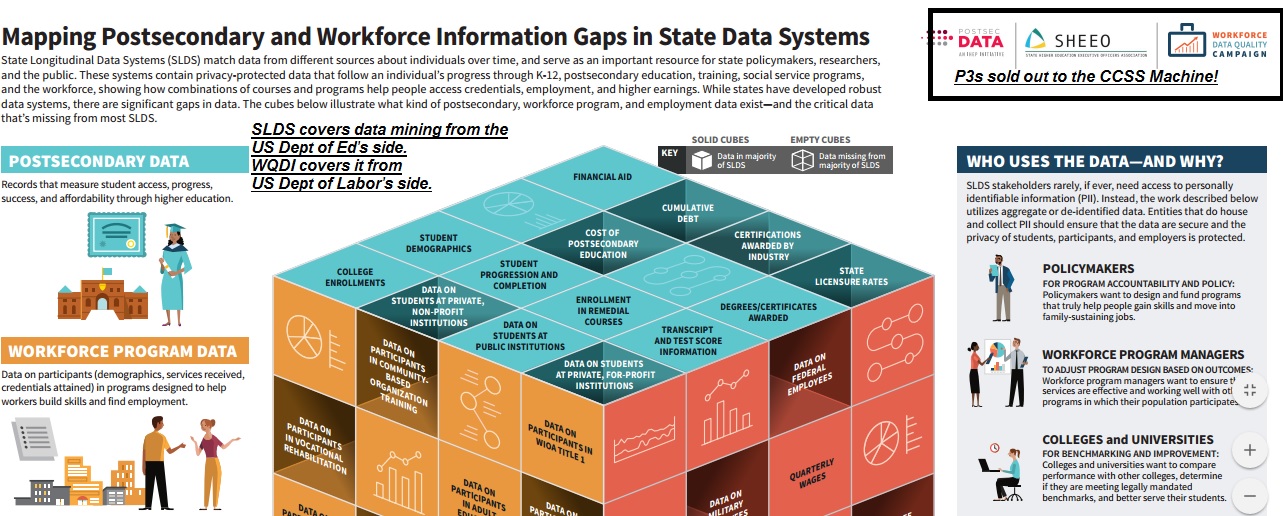 The State Data Gets You Every Time:

Many NC leaders, especially some high profile elected officials (like Lt. Gov. Dan Forrest), have been pushing for the past few years to have MORE digital programs and technology and more band-width internet connections in EVERY classroom across our State. (*Note: the 'connections' article will show you Forrest is also on the 'school choice' bandwagon for CCSS.)
Forrest is currently gearing up for a run as the next NC Governor. Forrest also sits on the NC SBE (State Board of Education) and has signed at least one resolution damning our students across the State to MORE CCSS aligned CTE (Career Tech Education), because, after all, jobs in NC will make our State excel above others. His initiative for 1 technology device for every single student is also a death knell in education.
How? A computer in every student's hands will some how many education even better. Yep, and let's recall the plethora of articles proving how damaging too much computer access, time, and, education is literally sucking the life out of students.
All this technology  is tied to STEM (which is part of the UN, United Nations, education agenda). STEM is Science, Technology, Engineering, and, Math. The data mining which accompanies all this technology will make millions of dollars for the members and their organizations of the CCSS Machine.
More Background/Context Related Resources:
From 2016, after ESSA became law, a look at the NC digital shift and State law which supports and promotes this activity in education.
From 2015, the 'new' digital upgrades NC got which most definitely set the trap for data mining in all school choices from Pre-K to adult, using technology and CTE for jobs and the economic health of the State.
From 2014, the NC Community College System, the (former) Governor of NC, McCrory, and business leaders sell out higher education for alignment to workforce based learning. (*Notes: McCrory (a conservative Republican) was Forrest's former boss.
The current Governor of NC, Cooper (a liberal Democrat) has done zero to unhinge NC from the federal overreaches in education, the alignment of cradle to career tracking systems, and everything which connects these.
Serving as Lt. Governor alongside BOTH these Governors, Forrest has NOT bucked the educational alignment system either.)
The Latest Delphi Method/Innovation For NC:
Warriors, the latest innovation push is called the "Connecting Communities of Education Stakeholders (CCES)" Conference.  Below is a screen shot of the topic strands for 'innovation':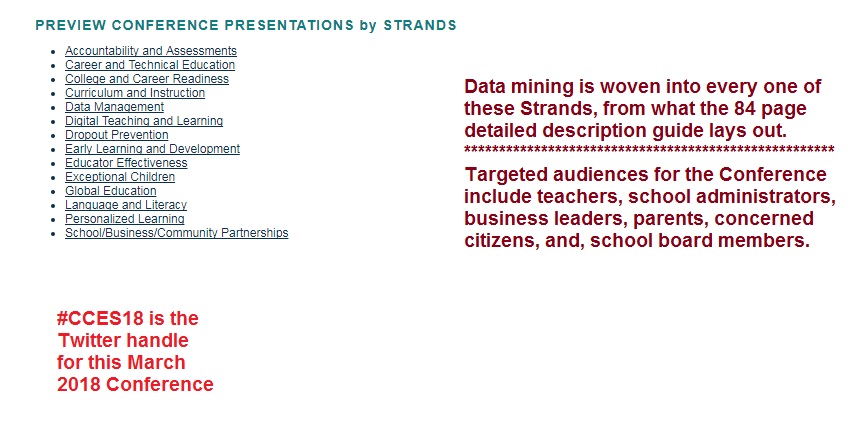 The Conference was announced on the NC DPI (Dept. of Public Instruction). The official title of the Community Conference is "Fostering Innovation Across Our State".
The vision for all this updating in education? Warriors, you'll 'love' it! According to the website page for the Conference, the coming together of all the 'stakeholders' for innovation's sake, "builds capacity for continued growth and success for all learners."
Among the goals for the Conference is 'data-driven' strategies and resources'.
Found in the 84 page Conference Guide, beginning March 12th, 2018, the opening breakout sessions will give teachers data gathering tools to use as they walk about their classrooms. How compliance from students will be turned into 'engagement', and, digital classes for coding on-line and reading for little ones. That's just for the students. For the teachers there is digital badging in competency driven PD (professional development). For the parents? How to use Twitter for your school.
Warriors, those are just the first few breakouts. Do you see what kind of tactic is being used? While each breakout says the target audiences include parents, I wonder how many parents who can afford this Conference (about $250.00 per person), will be able to attend the breakouts where they are not mentioned in the descriptions? If they are allowed, how many will be 'delphi-ed'?
You'll want to scroll through the Guide to find out what other data mining, and 'innovation' can be found. Look for assessments, districts for innovation, any company specified. (For example, I saw PowerSchool mentioned quite a few times) You'll also want to look for globalization of your classes, shared business and school fiscal ventures.
Closing:

Warriors, 'innovation' is a code word, I do believe. What's it code for? Anything the CCSS Machine needs to happen in education can fit under 'innovation' and be found acceptable. The CCSS Machine needs more data to mine, track, and sell.
Easy, label a program or initiative with 'innovation' and presto-bingo! People buy into it. We're being delphi-ed to death, Warriors! Our kids are being data raped every day in the name of 'innovation'. Look at the levels of compliance, too.
A leader needs to look good so that more people will support their agendas. Easy, pop in the word 'innovation' or use it in connection with '21st Century education', and watch the support pour in!
The federal government wants to maintain its compliance with the United Nations and their global grasp on education for workforce needs. Easy, write 'innovation' into a piece of legislation and watch how quickly it becomes a law. Laws, which by their very existence render their illegal based overreaches as 'treason'.  When it comes to education, we are no longer a United States of America, Warriors. We've become the United State of Delphi.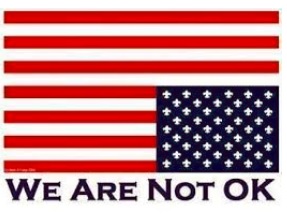 (image as found on Pintrest)