Anti Fed Ed Warriors, have you ever had one of those items you knew you needed to address but thought it wouldn't take too long? Yeah, right. That's pretty much been my experience in education research. Today's article is just one of those items.  A mere 4 page document..no worries. Not much can be gleaned from those pages..Boy, was I mistaken! Find out how no matter which way the wheel spins, the schools of America lose.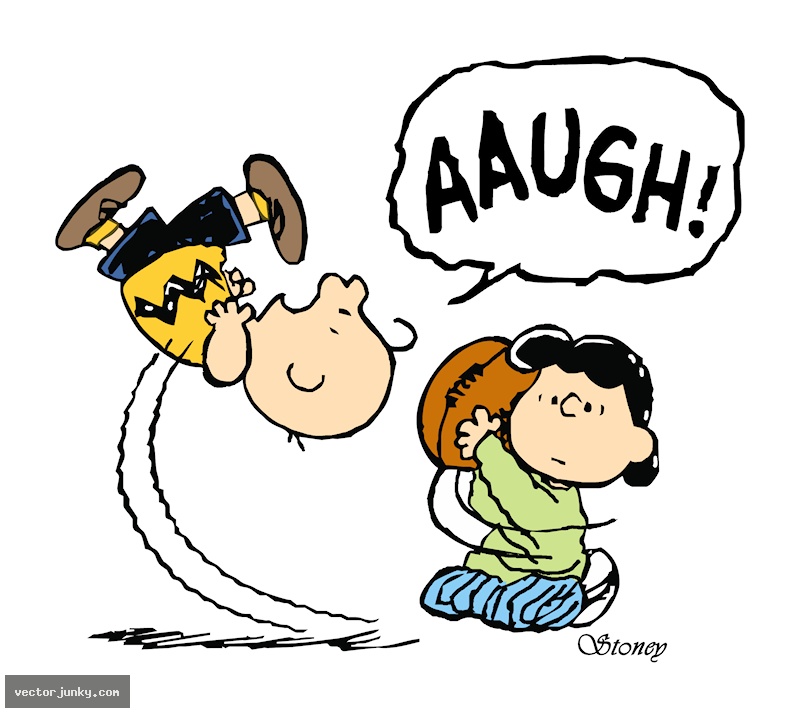 A 2018 global education meeting. The goal? Another global declaration. As if we don't have enough of those going around. However, look at the picture (below). This isn't your every day global declaration, this is an EDUCATION declaration for globalization.
This particular Declaration reaffirmed the global takeover of education. But, wait, Lynne, the US pulled out of the UN and UNESCO (United Nations and United Nations Educational, Scientific, and Cultural Organization), so this won't impact American education at all.
WRONG! American education is still 100% aligned to the UN's SDGs (Sustainable Development Goals), no matter what small portions of the US government have 'left' the UN/UNESCO.
There's more than enough evidence (here on my blog and other's researched publications) to prove the US is still a UN member-state.
Brussels, 2018: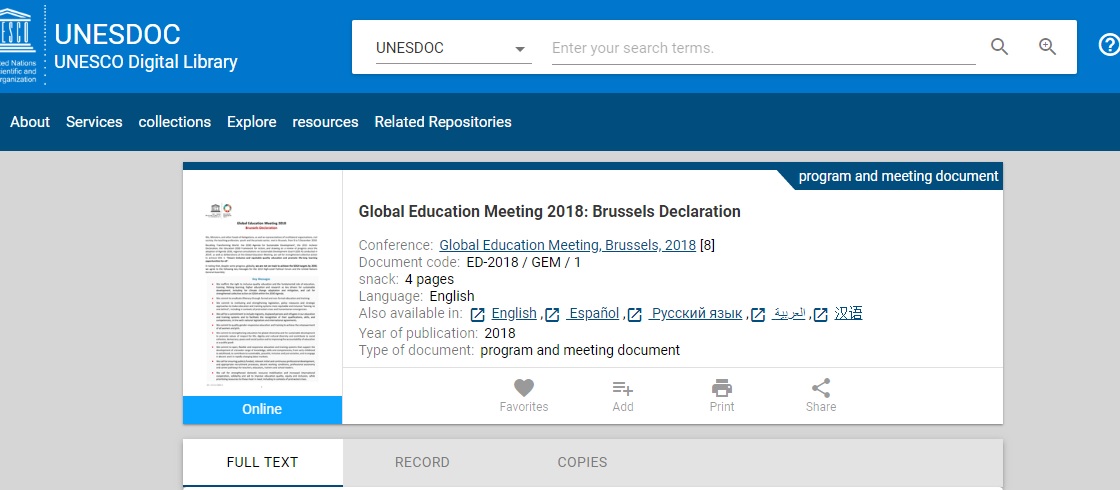 (Source)
So what does the 2018 Brussels Declaration for Education state?
1) It reaffirms the call to transforming the world via education.
2) It decries the fact the global community is not on the 100% alignment track to the SDGs (Sustainable Development Goals), mainly #4: Quality Global Education for All
3) Pulls in the 2015 Incheon Declaration (where the WEF, World Education Forum adopted the 'education for all by 2030' agenda)
4) Sets out the Education for All by 2030 Framework for Action
5) The Framework is based off UN's global regions consultations for SDG #4.
6) "Ensures inclusive and equitable quality education and promotes life-long learning opportunities for all." (In spite of not being on track)
7) A reaffirmation to protect the UN's declared 'right to inclusive education'. This 'right' is a fundamental role in education AND training carried out by life-long learning and higher education.
8) Research on #7 is a key driver for Sustainable Development. Especially in climate change global adoption and mitigation (reducing the harm to the Earth).
9) Calls for a stronger collective effort for SDG #4.
10) Use formal and non-formal education to wipe out illiteracy.
11) Institute and strengthen legislation/policy/strategy so that all education and training is inclusive. Devote more funding to this end so that 'no one is left behind'. (For example, in Congress HR 1453 seeks to align more energy activities between the US and the European Union)
12) Tied to #11, those efforts need to include crises and humanitarian efforts.
13) Commit to include migrants, displaced people, and refugees in the host nation's education and training system. Recognize their 'qualifications' (aka: competencies and skills) and ensure these are in line with national and international education agreements.
14) Commit to gender responsive quality education and training, especially for females.
15) Commit to strengthen global citizenship education, especially for the SDGs. This will promote values (respect for life, dignity, cultural diversity) and will help bring social cohesion for democracy, peace, and social justice. It will also improve accountability in education as a 'public good'.
16) Commits to an open/flexible and responsive education and training system which will support a broader range of kindergarten, secondary, and, college students (aka: early child to adulthood; 'cradle to grave'; 'life-long learning'; birth to death tracking) By doing this, global contributions for sustainability, peaceful, inclusive, and just societies will occur.
17) Engages global 'decent work for all', especially for rapidly changing labor markets.
18) Calls for public funding to increase for relevant PD (professional development) and continuous PD.
19) Stronger domestic resources and mobilization of these for international co-operation. Once this is set in place, solidarity and increased improvement of education can occur.
Warriors, that's not all. If you look at the notes for all these items, you'll find that politics and legislation are to 'beef up' host nations for these activities.
You'll also see that teachers are to be elevated to some 'god-like' status.
You are sure to see the economic changes, as well as the social, political, and environmental changes which each host nation will have to bare.
Then, the increase in technology is a 'given'. Add to that the 'democratic and sustainable societies and lifestyles'. We're really talking a total reconfiguration of our nation.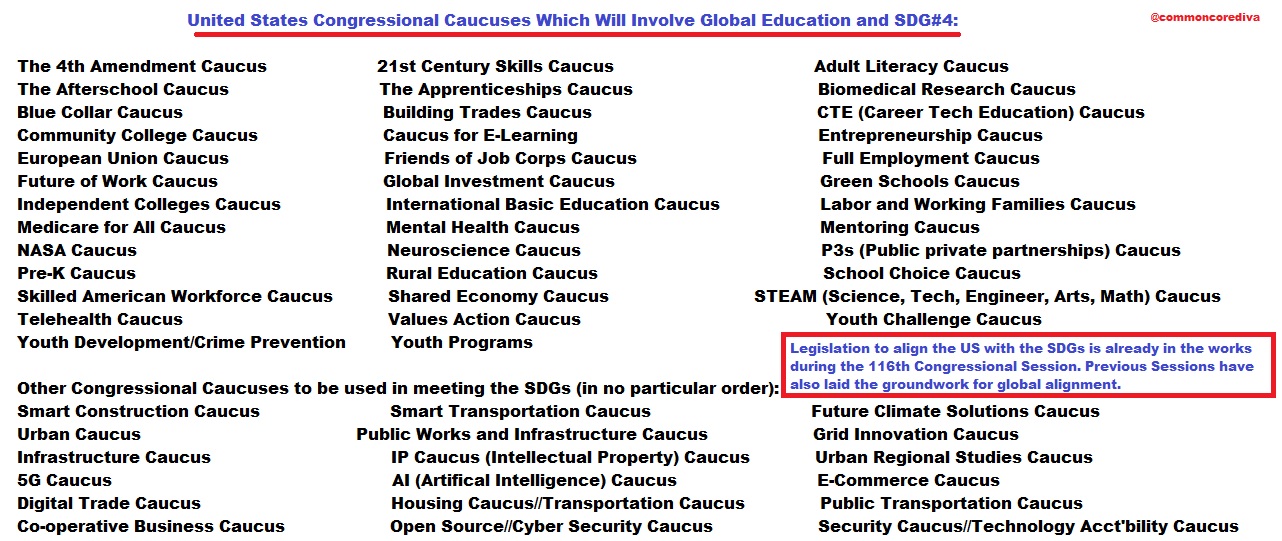 Education costs are to be placed at 4-6% of of host nation's GDPs (Gross Domestic Products) and use 15-20% of all public funds (aka: taxes).
If you look at the United States GDP for 2018 ($21.trillion) and figure what 4-6% is, that anywhere between $860 billion and $1.29 trillion). The recent FY 2020 Presidential Budget request was $62 billion, just for American education. Fifteen to 20% of ALL US public funds? That's outrageous!
P3s (Public private partnerships) are to be used to monitor and data track all the activities to ensure the plan is played out as this Declaration decrees.
Lastly, the Brussels Declaration reaffirms that education is a human right AND a public responsibility.
ICYMI: here's the 'catchy' YouTube video about the entire meeting, Dec. 3rd-5th, 2018.
Warriors, was the United States involved in the Brussels 2018 meeting? Yes. In October of 2018, the US and other North American countries, as well as Europe, put together their progress notes and 'advice' for meeting SDG #4 by 2030. You can access that information here. The official "Outcome Statement" is a bit more concise. It was used in the Brussels meetings as well.
That information was then forwarded on and used at the Brussels meeting to help create the Declaration.
To access the entire website from the Brussels meeting, go here. (*Note, since signing the 2015 Agenda 2030 Agreement, this is the first time global education for all has been addressed in this fashion.)
While I couldn't easily identify (in the photos and videos section) any member of the US officials in attendance, some of the groups we are members of (World Bank, UNICEF, OECD) were there. Also, NGOs (Non governmental agencies) were in attendance, so it's highly likely someone or some people from the US were there.
Closing:
Warriors, why am I bringing up a meeting from 3 months ago? Because one of the resources from that meeting will definitely impact America and its education. The GEM Report for 2019. AKA: Global Education Monitoring Report.
That Report is close to 440 pages. My next article will dive right into what those pages reveal. Trust me, you'll need a break between this article and THAT one.
Why is it good to go over the GEM Report 2019 again (if you've already read it)? With the national immigration issues we are facing in 2019, it is imperative. Remember, the Brussels Declaration has stated legislation and public money will be used for SDG#4.
Also, because so much of this involves displaced people, immigration, and humanitarian efforts, this will be 'visited' on ALL educational choices due to the fact it's being implemented community wide! What will this do to our rights? Our Constitution? Rather than ask me what to do, ask those who are your authorities.