The phrase, 'The turnip truck is not parked right outside!' or it's close 'relative', 'No, I did not just fall off the turnip truck!' are classics here in the South. We typically use them when it comes to someone who's less that intelligent. Seems like many of the Common Core Standards folks have that opinion of, we, the people.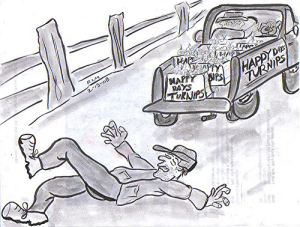 Why is it important we are considered not so 'with it'? In a word, 'control'.
Think about it, how many times, have we, the opposed to the Common Core 'machine', been talked down to, been marginalized for speaking up? Being treated as if we don't know our way out of a paper bag (ie: needing the Pro CC's 'myth vs. facts' to try to counter ours, etc.) This leads me to think of many of the white papers, videos, and other materials produced to 'set the record straight', so that we can become even smarter on the CCSS and what it really can do, what it really is. Take the case of Jason Zimba,  he's a doctor, so he has to be intelligent. He, along with some other 'well meaning folks' put together a video I posted below you have to see to believe. I've included some of the most 'turnip truck' worthy questions (there are others almost as worthy, so check them out.) How did I come to this conclusion? I listened, read, and researched this 'new to me' resource I learned about. It was released via Twitter, just a couple of days ago. (recorded in Sept. 2014) It's a 'Q & A session' with him on 'tips for implementing the new CCSS Math standards'!!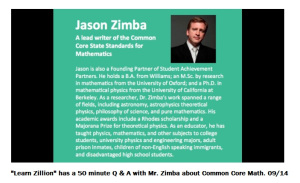 To access this Q & A, you'll need to go to: https://blog.learnzillion.com/2014/09/18/tips-from-jason-zimba/
Just a few of the questions asked by the audience that he addresses  are as follows:
1. "How do you select the most important ideas or concepts to emphasize in classroom instruction?" (start time — 06:12)
His answer? Well, first, it was research and development, then he'll show you how the countries (only the top performing ones) were compared to the USA, then he gives you the 'mile wide, inch deep' buzz phrase. He said it was important to steer away from this.
7. "What advice can you give when teachers who revert back to answer-getting techniques when students are struggling with a new concept?" (start time — 32:25)
Before Dr. Zimba answered this question, the host was speaking to teachers and the skills gap. You may find what he had to say worth listening to. Zimba's answer to the above question, again in multiple parts, was along the lines of there's nothing wrong with getting the answer. What teachers should avoid are tricks that only work with certain types of problems (example was kids using skip counting instead of multiplying and dividing). He went on to say that in high school kids are learning fuzzy routines with math problems that don't generalize things. What will help them is a 'good diet of problems'. This will end 'false learning'.
10. "What are the top three things parents can do to support their children at home with Common Core math?" (start time — 40:30)
Answer included: Showing up at the parent teacher conferences. If you follow Dr. Zimba's lead, you'll even take your copy of the CCSS as he does. Zimba stated he believes it's the parents role to help their kids with homework. In class, the rich content of CCSS is to be coupled with the 'old school' workbooks. Because 'the old ways are still required in the CCSS'. (be sure you listen to his comment about parents emulating teachers) His last suggestion was for us parents to become more involved in the selection of the textbooks because it would 'help illustrate the difference between standards and curriculum'.
12. "Is there a timeline for Version 2.0 of the Common Core Standards?" (start time — 44:41)
The answer? Dr. Zimba cited that he knew FL and IN had updated their Standards, as he knows eventually every state will. It's a 'trend' that helps illustrate the state's authority over their own schools. They need to keep the key shifts not because the shifts in math are important due to CCSS, but because they are so important to success, CCSS wrote the shifts into the standards. States shouldn't move too far from the CCSS blueprint, if they do, they'll 'loose the commonality'.
Other turnip truck material:
If you scroll down past the video clip, you'll see some resources, be sure to look at the National PTA's success guide for parents:
(http://www.pta.org/parents/content.cfm?ItemNumber=2583) IF you weren't aware the Nat'l PTA 'sold out' a while ago (2010).
(http://www.gatesfoundation.org/Media-Center/Press-Releases/2009/12/National-PTA-to-Mobilize-Parents-for-Common-Core-Standards) If you try to access the full press release mentioned on the GF website, it has been removed.
If you want to learn how to select a textbook the CCSS way: (http://achievethecore.org/page/783/instructional-materials-evaluation-tool-imet-list-pg) The Chief Council of State School Officers helped create the guide on selecting textbooks.
If you'd like to see the 'research' CCSS used: (http://achievethecore.org/dashboard/408/search/3/1/0/1/2/3/4/5/6/7/8/9/10/11/12)
Clarification is needed:
I am in no way, trying to be offensive about the intelligence of anyone in this post. It is not my place to be qualified to measure (seriously) when someone is or isn't gifted in the 'thinking department'. However intelligent (or not) those connected to CCSS are/aren't,  I cannot support anyone's, including Dr. Zimba's,  'turnip truck departure' from education onto the Common Core road. Especially when they are trying SO hard to convince me they are right and I'm not.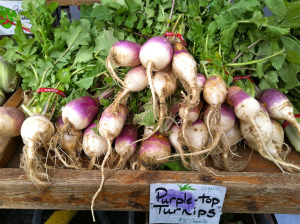 Sic' 'Em moves:
No Saturday post from me would be complete without some action steps to take. So, here goes:
1) If you've not read the CCSS, do so! I would suggest a team effort. Gather your favorite anti CC friends, and divvy that 'bad boy' up..it's a doozie! (means that there's a tremendous amount to read through.) Don't know where to find the Standards? (http://www.corestandards.org/read-the-standards/) Do not trust the 'myth vs. fact' section. Go to your state's "Stop Common Core" website, Facebook, Twitter for that. Also, Pioneer Institute, Freedom Works, Truth in American Education, etc. have much more reliable facts.
2) If you've not attended a parent/teacher meeting, a curriculum night, etc. Do so! While I have no idea how much public input your state or local school district allows in regards to the textbook choice. Find out. Point out to those in charge the publishers who've aligned to the Core. Not every textbook is by Pearson Publishing nor is CC aligned on each edition. How do you find the publishers who've aligned to Common Core? The one source I recommend the most is geared for home educators. In all my research, it's the only database I know I can trust. It's the only database that has painstakingly listed (as the information has become available) each publishers stance/alliance/alignment to Common Core. Make note, many private schools, homeschools, parochial schools use the same curriculum. Some charter schools also use the some of the same curricula. My point is, this one resource has, in one place, listed information you can use. Known as the "Common Core Project", it's part of the Home School Roadmap's website: http://www.hsroadmap.org/common-core-project/
Another link for all the entities Pearson Publishing has: http://www.pearsonschool.com/
Access your State Board of Ed and find their textbook list. You should be able to find a database that lists, title, publisher, etc. From there, once you know the publisher's name, it's much easier to find their alliance/alignment, etc.  (IF you have a curriculum resource you aren't sure of, leave a comment for me, I'll see what I can do to help you out.)
3) Continue to raise awareness! Last week's Saturday, gave you some fun action steps to help raise awareness. However, briefly, here are my top fun ways (not my original ideas): trick or treat candies with CCSS real facts or your next anti CCSS meeting location. Provide information at a Fall Fest, this way as well. "Choose to Refuse" (find them on Facebook) has bookmarks you can hand out anywhere!
4) Help take BACK your state's right where education is concerned. You don't like what CCSS is doing? You're not a fan of Mr. Zimba's (see his answers above). GREAT! Use that as incentive to free your teachers, liberate your students and tell CCSS to take a hike!
5) If your student is about to take the SAT or ACT, GED or other such assessment, know they, too are aligned. More and more colleges are waking up and ditching the required scores for entry into their institutions of higher learning. However, if your student's choice school hasn't, encouragement to assess via portfolios, or any other way that's not summative based information. It can be done.
6) I suggest writing Dr. Zimba with your views on how successful you've been on helping with homework. I feel confident his knowledge of the truth will be greatly enhanced by what you share. Thank you.