When this graphic first came across my Facebook feed, I instantly 'grabbed' it. It says so much of what I've found to be true about Common Core! "Restore Oklahoma Public Education" created this graphic, by the way.
Background:
If you're not aware of the fact, I've been researching the national grab for educational standards since 2009. So, I know it's not a new thing to want to control our students. Those following educational timeline historical events in America, know this latest 'grab' is not the first, and more than likely won't be the last. So, since it's "Riddle Me This Sunday", WHY has there been such a movement in US education?
Better yet, what can we, the citizens, opposed to such movement do to STOP it?
Research:
From the PDF file found in Charlotte Iserbyt's "American Deception Site Files,  Part 2", Harold Rugg's book, "Foundations of American Education", published in 1947 in Great Britain. Mr. Rugg documented all kinds of infomation centered on science from human interest viewpoint. Main interest? Why we think the way we do, why we learn the way we do, etc. It's a fascinating read and I do NOT want to spoil it. Yes, it's an old document. Some may say it's so old, it's irrelevant. However, I disagree with that thought. It is by looking at these old documents we can better understand the basis for which things like a national grab for education are founded on. Find this document and the rest of Charlotte's work at her website, http://www.americandeception.com/index.php?page=home
Excerpt from the "Foundations of American Education":
"A half-century of research has produced an important body of concepts for the new education . Summing them up :
– the characteristics of science and the concepts of the scientific method are now an indispensable part of the reconstruction of education; some of its concepts will be taken from the separate foundations of biopsychology, sociology, esthetics, and ethics ; basic to them all are such super-primary concepts as field-force-energy and the principle of organization .
– in building education in a thoroughly sensate culture we must distinguish the postulates of mechanism from those of organism;
we are dealing with the world of organism.
– administrative functions, that can properly be evaluated by rank order methods, must be distinguished from those in which
the growth of the individual and the development of the Person are the aim ; in the latter, rank-order methods have only limited applications at best .
– the special contribution of the quantitative movement has been the building of instruments with which to measure the raw materials of personality, aptitudes, attitudes, and the products of education.
– instruments of considerable validity and reliability are now available with which to measure acts of habit, the skills and knowledge
outcomes of the school ; the psychological groundwork has also been laid for building correspondingly efficient yardsticks for acts of thought (problem-solving thinking and the like)
– the efforts to measure the creative and appreciative acts have, to the present moment, been marked by little more than failure ;
the philosophic, psychological, and esthetic orientation of the FIFTY YEARS OF SCIENTIFIC METHOD measurers is totally inadequate for the appraisal of human expression ; here a completely new beginning must be made and this can be done only by a new expressional orientation .
-we must distinguish performance, ability, and capacity . We measure performance, infer ability from the average of measured performances, and estimate capacity from the cumulation of the latter.
– basic principles for the design of mental-measuring instruments are emerging ; in validation we see now that the practical criterion is of primary importance and that this resides in actual personal or vocational adjustment of the individual.
– factorial validity is of equal importance ; critical and experimental study of general vs . specific traits has established the rich variability of human personality, revealing it as a complex of many group factors, integrated with a welter of specific abilities.
– similarly the concept of reliability has been clarified, the former single crude statistical coefficient of reliability being replaced by several more specific ones .
– a cautious attitude has developed concerning the early tendency to measure maturity by means of age – mental, educational, etc. ; the present tendency is to avoid composite "achievement ages" and to emphasize "subject ages ."
– test construction and interpretation tend to emphasize the use of standard scores and of other variability measures; for example,
the "Deviation IQ" is being offered as a more reliable measure of "brightness" than the Ratio IQ .
– we now distinguish clearly between "evaluation" and "measurement"; a vast body of critical appraisal of the evaluation of
personality is now available and good beginnings in measurement of its three raw materials – physique, temperament, and intelligence.
– the group mental ability test can now be said to stand on its own scientific foundations of design principles, validity, and reliability.
– marked success has been achieved in building aptitude tests – either trade, military, or scholastic ; especially established by the achievement of the psychological profession during World War II."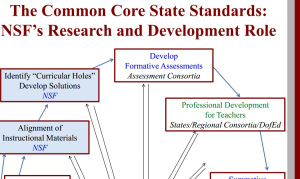 National Science Foundation:
What do you know about this mighty arm of our federal government? Why would I use 'mighty arm of our government'? Look at its position in relationship to the White House, the Cabinet. Look at its funding. Look at its mission. Science is the common link between the past and the present, folks! If not, WHY is so much effort in embedding STEM into Common Core? Why so much focus on the mind mind? In a word? 'control'.
This word, 'control' is the common link in most things connected to CCSS and education. If I can better understand your mind, I can better manipulate IF I so choose to do so. Guess what? The Common Core Machine has proven over and over again..it is choosing to do so! In the graphic above you see the NSF and CCSS are most definitely connnected. Here's the rest of the document for you to have. (http://www.gohnow.com/goh/wp-content/uploads/2011/10/EHRAC_CCSS_FINAL1.pdf) If you cannot access the rest of the pdf, here's the final question asked of the reader of the NSF/CCSS report, "Beyond the CCSS—How might NSF/EHR leverage the CCSS initiative to help achieve excellence in STEM education at all levels and in all settings by 2035?"
*note EHR stands for Education and Human Resources
Also noteworthy:
'NSF is also able to  be  well-positioned to support innovative research and development efforts on alignment, implementation, impact, and ongoing improvement of the CCSS.
 Existing programs/initiatives (e.g., ATE, DR K-12, ISE, ITEST, MSP, NSDL, REESE, and TSL), cross-directorate initiatives such as SEES, and future initiatives such as TLF can be leveraged in the short term to promote catalytic research and development efforts at little or no additional cost.'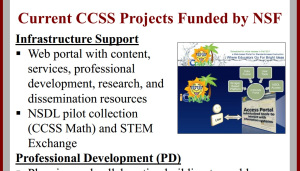 So, how do you fight the CCSS Machine? 
Consistent pellets of truth, is one way. Leave a comment on this post as to how you have fought the CCSS Machine. I look forward to seeing what you can share. Who knows how it can go on to help others in our collective fight to preserve our students minds from the overreach of our government.
Oh wait, how is NSF linked to the US Government? 'The National Science Foundation (NSF) is an independent federal agency created by Congress in 1950  "to promote the progress of science; to advance the national health, prosperity, and welfare; to secure the national defense…" With an annual budget of $7.2 billion (FY 2014), we are the funding source for approximately 24 percent of all federally supported basic research conducted by America's colleges and universities. In many fields such as mathematics, computer science and the social sciences, NSF is the major source of federal backing.' See more: 
http://www.nsf.gov/about/glance.jsp)