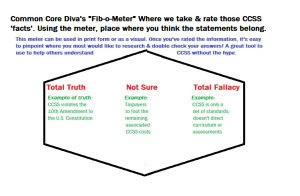 Every Friday, since I began blogging, you've been treated to the "Fib-o-Meter" and how it measures various Common Core documents, groups, and other related parts of the CCSS Machine. Today, you're in for a treat…we will be tackling Achieve, Inc's. "Post-Secondary" foray into education.
A Tiny Bit of History for Achieve, Inc.:
This pro CCSS group has been in America since 1996 when it was begun by various governors and business leaders. P3s (public private partnerships), in other words, crafted this group. If you've been fighting CCSS long, you are familiar with how toxic the P3 effect has been in education.
Achieve, Inc. has been involved in CCSS related activities for some time, now. Guess what? They show no signs of slowing down any time soon. To see all their checkered past, http://www.achieve.org/history-achieve
The Post-Secondary Efforts:
Before I share with you how Fib-o-Meter rates the efforts, I wanted you to see the Achieve logo, if you've not seen it before.
"All students should graduate from high school ready for college, careers and citizenship."
In 2014, Achieve, Inc. published a paper detailing a 2013 meeting which involved ME, VT, RI, CT, and NH. This is a "Total Truth".
Since 2013, other states have joined these 5 listed above.
It was in another meeting in 2014 that a newer purpose was shared. That purpose? (also, a "Total Truth") Here's what Achieve, Inc. shared,
"create a national movement for post-secondary leaders to signal their support for proficiency-based and competency-based high school diplomas and transcripts." 
Also shared during this 2014 meeting is that it's the 'first of its kind'. It will also involve more 'stakeholders' than you can shake a stick out. "Stakeholders" typically means more P3 involvement as well.
The Document:
Yes, Achieve, Inc. has a policy brief about this all important, 'first-of-its-kind' meeting. Fib-o-Meter will take us through the main points and reveal "Total Truth", "Total Fallacy", or "Neutral". As always, you'll be privy to the document for your own researching.
Titled "PostSecondary Support for High School Competency-Based Transcripts: Lessons from the Compentency-Based PostSecondary Transcripts Convening" (screen shot below reveals more than Achieve's participation)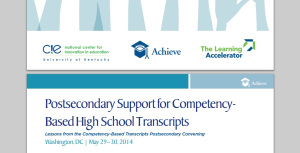 Page one reveals that the need for competency-based transcripts is due to parental concern about their children not being able to get into colleges.
Fib-o-Meter is purposefully waiting to rate this statement until the parents in the 5 states are able to share with me if this is, indeed true, or if this is another way to push a P3 agenda through and pass it off as a 'do good' move. So, my anti CCSS warriors in VT, RI, CT, ME, and NH: Fib-o-Meter's waiting for your input! Please, share what you can about this!! 
Page one also shared that the NESSC (New England Secondary Schools Consortium) helped answer this need in participating in the creation of competency-based transcripts. (Here's an excerpt,  "New England states, among the pioneers in promoting competency- or proficiency-based approaches to learning, have been working together through the New England Secondary Schools Consortium (NESSC) to address this concern and provide evidence to parents that their children will not be disadvantaged when they transition to college")
NESSC's View:
We have Achieve's side, so let's see if NESSC's reveals anything useful.
NESSC's website: http://newenglandssc.org/
Well, the CCSS wasn't too hard to find, or so the Fib-o-Meter found it to be!
On NESSC's 'about' page, the educratic buzzwords were a clue enough. but it is the partnership capacity that nails this "Total Truth" to the wall! Nellie Mae Foundation, Great Schools..UGH! (to see how Nellie Mae is a CCSS 'hussy': https://www.commoncorediva.com/2014/12/19/fom-friday-ed-reform-sans-common-core/) As far as Great Schools? Maybe the screen shot below will give you an idea of their allegiance to the Core: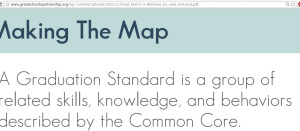 Another partner for NESSC? The Gates Foundation! (see below)

The Other States:
Achieve's brief shares that other states outside of New England have jumped into the competency based diploma pool. CO, DE, KY, MI, OH, and OR. Another "Total Truth"?! Let's see what Fib-o-Meter can find.
What Achieve didn't mention in the announcement of the brief (link is below in "Related") was the fact that even more states are in the CBD pool! "Total Truth" (at least from Achieve's view) The other states not mentioned before now? IL and OK. See: http://www.achieve.org/CBP
The Theme Grows:
If you were able to access the page immediately above, you should notice the theme of all of the competency- basing graduation is to level the college entrance field, ensure a readiness for college and career, continuing the rhetoric about career pathways, more rigor, AND continue to tie us to the high stakes assessments of PARCC and SBAC.
Now, if you are saving the link until later, Fib-o-Meter just gave you some more "Total Truths" to use in your fight against CCSS.
The Competent Leaders?:
The leaders of the 2014 meeting are seen below. Note how many foundations or groups you know to be CCSS supportive. Then, consider who is checking their competency levels to secure that we, the citizens, should trust their leadership in education? Most of the supportive groups in CCSS, are P3s, and have absolutely no formal educational classroom experience. However, Fib-o-Meter will remain "Neutral" on these people until such evidence can be found to support a 'truth' or 'fallacy'.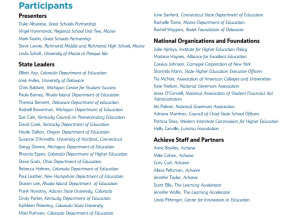 One More Thing:
Something that struck me in researching all this is that throughout the Achieve, Inc. brief the phrase 'disadvantaged students' kept popping up. If you've been following the HR5 saga, you might begin to wonder if the dots are connected.
What do I mean? Several writers have pointed out the tremendous number of students who would become Title One classified IF HR5 is passed as it is right now. Title One funding is reserved for schools with a certain number of 'disadvantaged students'. Think about it! If the schools can get an increased amount of Title One funding because it has an over abundance of 'disadvantaged students', then that means more control from beyond your local level!
Other Related Resources about Competency:
If you'd like to see Achieve's other post-secondary documents: http://www.achieve.org/publications/postsecondary-support-cbp-transcripts-brief (you'll need to look on the right hand side to access them)
To see how the Great Schools Partnership is already working on getting Next Generation Science Standards into the mix with CCSS and Project Based Learning alignment, see: http://www.greatschoolspartnership.org/wp-content/uploads/2014/03/PBLS_Standards_Language_Crosswalk.pdf
To see the other NESSC partners: http://newenglandssc.org/about/partners 
For a guide on a  clear picture of what competency based learning is from the post-secondary viewpoint (*Note: it's all about affordability of college and not so much knowledge seeking..meaning it's more economically driven in movement than it is educationally based) See: http://www.collegeaffordabilityguide.org/blog/competency-based-education-why-moocs-and-independent-learning-are-tomorrows-course-credits/ *Note, in this blog entry, you'll notice Western Governors University, it's CCSS supportive in the fact of the foundations and corporations funding it. Usually where pro CCSS money goes, so goes the CCSS education. You'll also see "SmarterThinking", an on-line tutoring company. It's 100% Pearson Publishing! To learn your own "Total Truth" or "Total Fallacy" about the other groups mentioned, be sure to look at the 'about us' pages, the funding information, or just search for 'common core standards' in the search bars.
For a guide to the competency based degrees in America, http://www.cael.org/pdfs/2012_competencybasedprograms
Fib-o-Meter was also able to locate a website, not related to Achieve, Inc., detailing IA's competency based alignment, see: https://www.educateiowa.gov/pk-12/standards-and-curriculum/competency-based-pathways/iowa-cbe-collaborative) So, check your state's department of education. They, like IA could have their own CBD thing going on.
To see Western Governors University funding groups: http://www.wgu.edu/about_WGU/governors_industry
To see SmarterThinking's website: http://www.smarthinking.com/