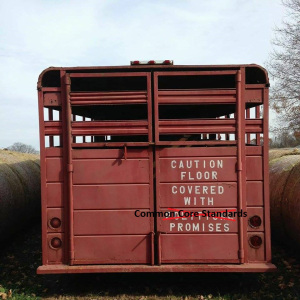 Common Core aligned projects, initiatives, and assessments appear to be a dime a dozen these days. So when a new one pops up, many don't really notice.  For example, did you know the U.S. Dept of Education AND the U.S. Dept of Defense are partners in data mining your students information??
Read all about it:
"The Learning Registry" as it's called debuted back in November 2011. Hyped as a clearinghouse type of information resource sharing for educators. Don't take my word for it, read what Arne Duncan had to say, "Learning Registry addresses a real problem in education, by bridging the silos that prevent educators from sharing valuable information and resources," said Secretary of Education Arne Duncan. "The Registry also allows content developers, curriculum coordinators, principals, counselors, and everyone else who supports good teaching in the classroom to benefit from the combined knowledge of the field."  How much did this cost the taxpayers of America? "The project was made possible by a $2.6 million investment, with the Departments of Education and Defense contributing $1.3 million each to the effort."  The press release goes on about how data will be mined, but it won't be much, BUT does include standard aligned information.  Wait, what? You mean Common Core Standards aligned information?? Well, my friends, that's a tremendous amount of data! Think about it. (the entire press release, http://www.ed.gov/news/press-releases/departments-education-and-defense-launch-learning-registry-tools-and-community)
The Federal Learning Registry:
Website: http://learningregistry.org/, Notice the 'federal' part is dropping. They wouldn't want you to feel spied upon, now would they?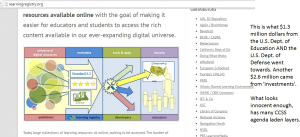 Yes, the website looks innocent enough, BUT how can I tell it's laden with CCSS agenda? Who were those 'investors'? Before we answer those, let's look at a few contributors. By looking at what organizations are involved, we may find the answers to investors/agenda…
NSDL (National Science Digital Library) is a contributor. Here's a bit of background on them from the Learning Registry's website, "For more than ten years, NSDL has been active in the aggregation, contextualization, and dissemination of digital learning content generated through NSF grants and other  federal agencies, as well as non-profits such as museums, research labs, and professional societies." While you consider that tidbit, listen to the pretty lady in this short clip about what THEY say is going on with all that data, this video clip is from 2012:
Now, you may be thinking something like, 'Well, I didn't hear anything that connects the dots, so what's the point?' The point is no matter if it's 'paradata', 'metadata', or 'aggregated data', when it comes to education, especially in the filters of Common Core, it's all used for tracking..aka data mining.
Consider this, "Each time a teacher or a learner interacts with an Open Educational Resource (OER), these interactions produce data. This "interaction data" includes "artifact data" routinely captured during any online interaction by Web server logs (e.g., users' browsers, users' IP addresses) and "social data" created during Web 2.0-style interactions with resources (e.g., tags, comments, ratings, favorites). Interaction data can serve a number of purposes in a period of increased interest worldwide in OERs quality and uptake. First, interaction data is a valuable source of analytics about OERs and typical audience profiles. Second, combined with metadata, interaction data can enhance searching, ranking, and recommendations of learning resources. However, obtaining this data is not always easy since OERs, in particular, are generally dispersed among different systems where the interactions between resources and their users take place. This paper describes approaches to unlocking, collecting and aggregating this interaction data." (Source: The Magazine of Digital Research Libary's May 2013 article which I encourage you to read in its entirity, http://www.dlib.org/dlib/may13/massart/05massart.html)
Other Partners of the Federal Learning Registry with CCSS ties:
Better Lesson, Inc. received over $3 million from the Gates Foundation for the express purpose of Common Core alignment. (from the Gates Grant Finder page, "Date: October 2012
Purpose: to support the development of courses, aligned to the Common Core State Standards, for the purposes of helping teacher's transition to common core and increasing their students' ability to master the content /Amount: $3,527,240 /Term: 36 /Topic: College-Ready/Regions Served: GLOBAL|NORTH AMERICA /Program: United States/
Grantee Location: Somerville, Massachusetts /Grantee Website: http://betterlesson.com/")
Benetech, Inc (aka Beneficial Technology, Inc.) received $250,000 from the Gates Foundation to not only develop more data tracking but to work with another company devoted to data tracking. 'Date: October 2012/Purpose: to develop an accessibility metadata specification and support adoption by Schema.org in coordination with LRMI/Amount: $250,000/Term: 18/Topic: Strategic Partnerships/Regions Served: GLOBAL|NORTH AMERICA/Program: United States/Grantee Location: Palo Alto, California Website: (http://benetech.org/) For Schema's: (http://schema.org/) If you don't recognize either company, you may be familiar with some of their work. For Bentech, MathMLCloud; For Schema, they make searching the Internet easier to find things using data tracks. Schema also got included in another Gates Foundation Grant award to help build the LRMI (Learning Resource Metadata Initiative). That award went to the Association of Educational Publishers. Details: "Date: March 2012 /Purpose: to support acceptance and implementation of the Learning Resource Metadata Initiative (LRMI) framework among educational publishers, inform the Schema.org adoption process, and encourage ongoing support of LRMI among educational content creators /Amount: $458,055 /Term: 13/
Topic: Strategic Partnerships /Regions Served: GLOBAL|NORTH AMERICA /Program: United States /Grantee Location: Wilmington, Delaware /Grantee Website: http://www.aepweb.org 
*Note: The Executive K-12 Council of the Association of Educational Publishers has at least 6 members from CCSS profit making giants. Pearson Publishing, Houghton-Mifflin, Harcourt, Cengage, Scholastic, and MacMillian. Pearson Publishing also has a spot on the Board of this group.
There are others on the Federal Learning Registry with Common Core ties, but for the sake of the post, I think you get the gist of what my point is. The data amassed by all these open educational resources has a distinct tie to CCSS. However, let's ponder (since it is Monday, after all) the question of what about those high stakes tests? I know, many folks have delved into this very subject but could it be that the pretty lady from the video above wasn't only referring to the "Learning Registry" but to those mammoth monsters SBAC and PARCC?? Let's see…
A Press Release:
 Jan. 31, 2012 – "The SMARTER Balanced Assessment Consortium and the Partnership for Assessment of Readiness for College and Careers (PARCC) today announced they have awarded a contract to Pearson to develop a new Technology Readiness Tool to support states as they transition to next-generation assessments. This new open source tool, with the assistance of the State Educational Technology Directors Association (SETDA), will support state education agencies as they work with local education agencies to evaluate and determine needed technology and infrastructure upgrades for the new online assessments to be launched by the two consortia in the 2014-15 school year." Then a bit further down, "SMARTER Balanced and PARCC both received grants from the federal Race to the Top Assessment Program to work with states to create next-generation, comprehensive assessment systems. The development of the Technology Readiness Tool is one component of their initiatives to establish infrastructure and content for common online assessments. Intended to launch in spring 2012, the tool will be developed using open source technology, allowing the consortia free access to the source code. Data will be collected twice annually through 2014 to provide updated information on technology and infrastructure readiness." (source: http://www.parcconline.org/press-release-new-technology-readiness-tool)
NSDL and PARCC:
Remember how the pretty lady in the video clip was so bubbly about all that data intersecting? Look where it intersected, an announcement on the NSDL's website seeking requests for proposals for Indiana's involvement in the PARCC's field testing of the high stakes assessment.
 http://nsdl.library.cornell.edu/websites/nsdlnetwork/content/story/1510/paarc-releases-rfp-testing-assessment-elements.html
PARCC's Own Document:
From's PARCC's "Technology Architecture" publication, which is a 'living document' (meaning it's subject to change) is a mother-lode of information. I encourage you to not only download this, but to go through it with a fine tooth comb. The publication was found on a website for the Indiana State Government. Here's a sample screen shot for you. Get the entire  document: parccdocinfo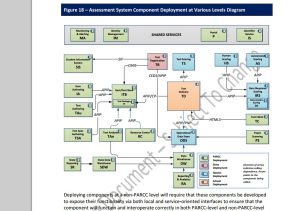 Here's another shot, this one depicts where all that metadata, paradata, and aggregated data will land: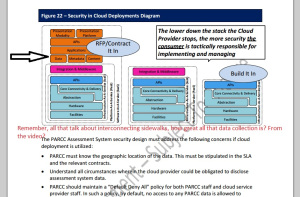 What about the SBAC?:
According to the SBAC website, members of the Technical Advisory Committee included Linda Darling-Hammond and  David Conley (both well documented CCSS supporters) among the 14 member panel. Below, the screen shot from their technology architecture shows what's to be shared, but notice how open ended the categories are: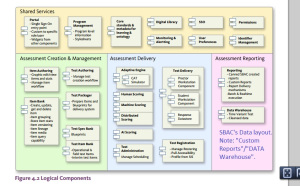 On page 25 of the technology report, you'll see where the aggregated data lands. Then scroll back up to page 24 to see what happens the second your student register at  their SIS (Student Information System). Page 34 gives the low-down on where metadata is shared. Page 44 describes what each data warehouse will need to support all the sharing of information necessary. A quote from the page,   "This will allow complicated data mining
capability".  Pages 47 and 48 have a graphic you'll need to see IF you're an SBAC member state. This report is dated 2012. Like it's wicked relation PARCC, SBAC is ready to use open access networking. I encourage you to not only download this report, but to examine it closely, as well. SmarterBalanced_ArchitectureReport_120321
Closing: 
So, we didn't find all the investors behind the Learning Registry, but I think we better focus our efforts on who has the data and where it's going. To date, my research has uncovered that the U.S. Dept. of Education, Labor, Health and Human Services are tied into CCSS either through the Standards or via the Career Pathways/Workforce. Now, we see that the U.S. Dept. of Defense has joined the crew. As I ponder over this, I wonder why this is the case?!….