In Yesterday's Fib-o-Meter Friday post, there was quite a reaction to the revelation about CCSS in more ways than we're being told about showing up in Christian private schools. After the mountain of responses I received, there was one from a mid west state (OK) who asked if I could help her get her family's struggle out to others.
The Mom:
(names have been changed for privacy's sake) Bobbie has an " 8 year old" student who attends a private Christian school in a large city within Oklahoma. Here are Bobbie's words about the teachers views in regards to WHAT they teach:
"Insist they don't use common core and told me it is their duty to teach my 8 year old about "difficult social subjects like drinking, drunk parents, drugs, and curse words!" This was after I found my 8 year old with an assigned book that had an alcoholic mother who abandoned her child, curse words, descriptions of several types of alcohol, and name calling." 
Bobbie's Fight So Far:
Here's what Bobbie asked I share with others wanting to fight CCSS in Christian private schools, "I raised heck….It has been so frustrating." Bobbie has also seen books assigned to her 8 year old about alternative lifestyles. Like many parents, the alternative lifestyles aren't so much the issue as to WHEN they are taught, HOW they are taught, and by WHOM they are taught!! Parents, like Bobbie, who've shared similar experiences have echoed this many times over! Why are the school leaders NOT listening? Another part of Bobbie's fight you need to know, "I specifically told them that they did not have my permission to enlighten my daughter about sex, drugs, etc and can not believe what I'm reading!" Here's what else Bobbie noted about teachers, " they let the 3rd graders have a free for all with the 7th grade books apparently. I know 2 inappropriate books went out the door at least and I know from experience that I am the only 1 of 19 parents that even pay attention to what comes home."
One of the books Bobbie shared with me her 8 year old had to read is Judy Blume's "Just As Long as We're Together". Here's a screen shot Bobbie sent me.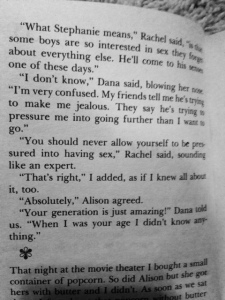 Oklahoma's Private School Stance:
Believe it or not, I have a 2009 U.S. Dept. of Education pdf file that details  each of the 50 states private school regulations. Here's an excerpt from the Introduction, "State Regulation of Private Schools provides a brief description for each state of state legal requirements that apply to K–12 private schools in the United States. This document is intended to serve as a reference for public and nonpublic school officials, state policymakers, researchers, and others. This report is an update of the 2000 publication by the Office of Non-Public Education (ONPE), State Regulation of Private Schools, which in turn was an update of the 1993 publication by the (then) Office of Private Education, The Regulation of Private Schools in America: A State by State Analysis." 
According to the Report, here are the topics each state has legal jurisdiction over: "Accreditation/Registration/Licensing/Approval, Teacher Certification, Length of School Year/Days, Curriculum, Recordkeeping/Reports, Health and Safety Requirements, Transportation, Textbooks, Testing, Special Education, Nursing and Health, Technology, Professional Development, Reimbursement for Performing State/Local Functions, Tax Exemption, Public Aid for Private Education, Homeschooling, and Information Resources."
 Now, for Bobbie's sake, and parents who are like her in OK, you will need to access the document and turn to page 226 to begin OK's policy. Here's what the Report says for Accreditation, "For accreditation, private and parochial schools must comply with the standards prescribed for public schools and members of the faculty must hold state certificates as required of teachers in public schools. Okla. Stat. Title 70, §3- 104." Now, since it's 6 years later, I wanted to see if the State Statute has been updated since this Report. Here's what the latest one I could find says about private schools in OK, "Private and parochial schools may be accredited and classified in like manner as public schools or, if an accrediting association is approved by the State Board of Education, by procedures established by the  State Board of Education to accept accreditation by such accrediting  association, if application is made to the State Board of Education  for such accrediting;" (to see the entire OK Education General Statute, http://oklegal.onenet.net/oklegal-cgi/get_statute?99/Title.70/70-3-104.html)
So, this leads us to wonder just which organizations accredit private schools there. So, let's see if we can find out. (If you haven't read Friday's post, I share with you how to get to those organizations which hold our private schools, especially the Christian ones, accountable.)
Before we answer THAT question, however, let's FINISH up what the U.S. Dept. of Ed's 2009 Report stated about the REST of accrediting schools. "No requirements for registration, licensing, or approval." Further down, any private school teacher must be certified for private schools which are accredited. There's more under the Length of the School Day..like this, "A school day shall consist of not less than six hours devoted to school activities, except that a school day for nursery, early childhood education, kindergarten, extended day program, and alternative education programs shall be as otherwise defined by law or as defined by the State Board of Education." 
Bobbie, I wish that were all, but look at this about those internet based programs your 8 year old is more than likely using, "Each district board of education shall adopt policies and procedures that conform to rules for Internet-based courses as adopted by the State Board. Such policies shall include criteria for approval of the course, the appropriateness of the course for a particular student, authorization for full-time students to enroll in Internet-based courses, and establishing fees or charges. No district shall be liable for payment of any fees or charges for any Internet-based course for a student who has not complied with the district's policies and procedures. Districts shall require students enrolled in Internet-based courses to participate in the Oklahoma School Testing Program Act. Students participating in Internet-based courses from a remote site will be responsible for providing their own equipment and Internet access, unless the district chooses to provide the equipment. Credit may not be granted for such courses except upon approval of the State Board of Education and the district board of education." 
Here's where it gets interesting..Curriculum! According to this Report from 2009, "The Oklahoma Heritage Association coordinates annual observance of "Oklahoma Heritage Week" and includes parochial schools in its efforts….Proprietors of private and parochial schools have a duty to display the flag of the United States of America… As a condition of receiving accreditation from the State Board of Education, all students in grades nine through twelve shall enroll in a minimum of six periods, or the equivalent in block scheduling, of rigorous academic or rigorous vocational courses each day, which may include arts, vocal and instrumental music, speech classes, and physical education classes."
To see the entire 2009 Report for all the States, http://www2.ed.gov/admins/comm/choice/regprivschl/regprivschl.pdf
Now, back to the question we've yet to answer: Which organizations hold the accreditation reins in OK??
NAIS (National Association of Independent Schools):
http://www.nais.org/Articles/Pages/Commission-on-Accreditation.aspx, once on this page, be sure to click on the "Model Core Standards" highlighted words. Here's an excerpt of what you'll get, "Model Core Standards are those which define the culture of independent schools and relate directly to the first of the Criteria for Effective Accreditation. While they do not serve as a template, these standards reflect the core elements of our schools and their operation and should be represented in some form in a regional or state association's accreditation instrument. " Okay, sounds 'innocent', but let's look a bit deeper, shall we?
If you type in the general search bar "CCSS" you'll get over 4 pages of information the NAIS has on the Standards, from assessments to resources, and more. (see:  http://www.nais.org/Search/Pages/Results.aspx?k=common%20core%20state%20standards) Here's a screen shot for you, Bobbie (it's from the NAIS 2014 published Annual Report for fiscal year ending 2013).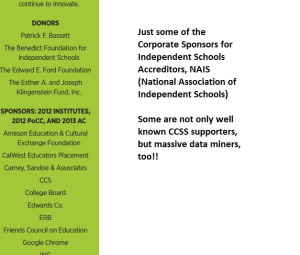 To see the entire Annual Report, NAIS_AR2012-13_4web
OPSAC: (Oklahoma Private School Accreditation Association Consortium)
Website: http://opsac.org/
This Consortium assists the OK State Board of Education. Here's an excerpt about HOW they assist, "Any private school that is accredited by an OPSAC-recognized accrediting association is recognized by the State Department of Education as an accredited school. This acknowledgment of accreditation ensures that students are able to transfer between public and private schools and that the service of state certified teachers in accredited private schools is recognized by the state. The intent is that all privileges extended to state accredited private schools be also extended to private schools accredited by OPSAC-recognized accrediting agencies." Now, the website does say the schools aren't expected to give up what makes them unique. (see: http://opsac.org/about-opsac)  Since the OK State Board of Education is the one group which began the OPSAC (1995), it won't have an annual statement that I could find. It won't necessarily have corporate partners either. BUT as an entity of the State Board of Education, it should have reports to the OK state legislative body. FIND those, Bobbie! See if you can connect the dots from there to those who support the Common Core. I can tell you by looking at the main web page for the State Board, the one 'smoking gun' is SREB (South Regional Education Board). Here are 2 articles I've written exposing all the CCSS alignment from SREB.
See: https://www.commoncorediva.com/2014/10/10/fridays-post-breaking-news-you-need-to-know/  AND
https://www.commoncorediva.com/2015/01/07/wybi-wednesday-icaps-common-core-and-more/
Lastly, just by having College Board as one of the government funded CCSS supporters involved, would be a HUGE indication that those private school in OK would have more entrenchment than you can shake a stick to, Bobbie. Where did I find that? On the Independent Schools Association's website, http://www.isasw.org/about-isas/affiliations/index.aspx
Closing/ Action Steps:
To step up the fight in OK, or any other state you're suspecting the private schools have aligned more so than they are admitting to OR to have them respect your rights as a parent, try these steps.
1) Request Freedom of Information Act Requests and be diligent in pursuing receiving them! It's 'strange' how many FOIAs get 'lost'.
2) IF there are corporate sponsors, know which ones, where they are tied in to education (these are called P3, public, private partnerships). Are they members of the Business Round Table or the State's Chamber of Commerce Common Core Coalition?
3) IF the group you're researching is part of the State level government, there should be accessible documents to the citizens. Search the archives for the General Assembly (or whatever your State Senators and House of Representatives call themselves).