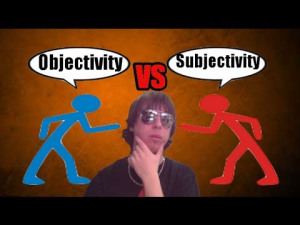 Let me ask you a question, my fellow anti CCSS warriors. When it comes to objective critiques, do you ask yourself or someone very close to you for the help? If you're like me, you determine to ask someone who ISN'T in your immediate circle of influence. That way I know I can better rely on things I didn't take into consideration. I also know when I do this I can spare my close family/friends any fallout that may occur over whatever needed critiquing in the first place.
However, like we've seen with the CCSS Machine before, objectivity gets blown out the door when it relies on its own resources to APPEAR 'on the level'.  Let me give you the recent announcements that surfaced late last week as evidence about CCSS's lack of objectivity.
The Washington Post's article:
Many of us rely on this famous newspaper for objectivity. This article (link is below) appears to be no exception. The writer tells you there's a new "Consumer Report" like non profit called "EdReports". It tells you the group found several CC aligned materials, including textbooks,  lacking (gasp, say it isn't so!) in their ability to successful meet the CC Standards. If you'd like to read the entire article for  yourselves, http://www.washingtonpost.com/local/education/new-consumer-reports-for-common-core-finds-learning-materials-lacking/2015/03/04/3153d264-c1f6-11e4-9ec2-b418f57a4a99_story.html?postshare=6321425571619494
The author even goes on to share that the following Foundations which GAVE to CCSS to help create it, push it on us are the VERY same ones funding THIS 'non profit', "Consumer Reports" like group!!
Here is what the EdReports 'About Us' page stated, "EdReports.org is funded by Broadcom Corporation, the Bill & Melinda Gates Foundation, the Helmsley Charitable Trust, the William and Flora Hewlett Foundation, the Samueli Foundation, the Charles and Helen Schwab Foundation, and the Stuart Foundation."
Now, while I couldn't be happier to see real evidence that the CC aligned textbooks and other resources didn't measure up, I have to wonder HOW truly objective EdReports can be. We know the CCSS Machine grinds out rhetoric, materials, and more lies than you can keep up with BUT to also state their own stuff stinks?? While on one hand this tactic can be consider brave (as in "I've made a discovery about myself and I can change it for the better."), I am leaning more toward the side of 'they're up to something'. Think about it…too much time, energy,  and money has been poured into CCSS! In my researched opinion this move is more like placing a screen door on a submarine and hope it doesn't sink!
How EdReports Made Up It's Mind:
Website: http://www.edreports.org/ According to their March 4, 2015 Press Release, much help was sought out in creating these 'first ever, free reviews'. When did ER begin? Who was there? ER was a think tank creation from the " Annenberg Retreat at Sunnylands by a Design Team of the nation's leading minds in math, science, K-12 and higher education in response to fill this gap by reporting on the alignment and quality of instructional material programs." Then, there's this,  "Instructional materials that claim to be Common Core-aligned have saturated the market. Yet we know many of those claims have not been verified by a reliable source. Without an independent review to identify quality materials, the promise of Common Core cannot be realized."
Notice in the above, who created ER is somewhat identified, but there's no date. Why the Annenberg spread? Why not the local schools or civic meeting houses? I think we warriors might be able to guess when you read what level of leaders meet at Sunnyland.
(see: http://www.annenbergfoundation.org/) The website tells you world leaders meet here, top educational folks, diplomats, and many others convene here to shape many things which impact us all.
Annenberg's Ties to CC:
The website for the Foundation has much evidence that we anti CCSS warriors know connects more dots in the puzzle of all things CCSS related.
When I looked at some of the grants that the AF has given I noticed something we need to know.
Annenberg Foundation has given several millions to well documented CCSS supporters/creators of initiatives. For example, one of the biggest recipients is Harvard University. Oh, Harvard hasn't created CCSS initiatives or resources, you may say. However, they have done exactly that. If you've heard of the Pearson/Harvard "Pathways to Prosperity" initiative, that's adult level CCSS via Career Pathways. Many of our fellow warriors (including myself) have written about the efforts of Harvard and how CC was the recipient. (for one example, see the "What is CC" blog's 2013 article, https://whatiscommoncore.wordpress.com/tag/harvard/
You can see some of the other grantees when you look at the "Milestones and Moments" timeline. (see: http://www.annenbergfoundation.org/about/milestones-and-moments) See if you can immediately spy any other CCSS tied groups.
More Ties from Annenberg to the Core:
Annenberg Learner Express (http://www.learner.org/series/modules/express/) Has STEM and CCSS modules
This 2013 EAG News article lays out how Coleman (aka "CC architect"),  and the Annenberg Challenge, which tie him to Billy Ayers and the sitting President. See: http://eagnews.org/common-core-architect-david-colemans-history-with-the-ayers-and-obama-led-chicago-annenberg-challenge/  You can also see "Before It's News" and their 2013 article about the Coleman/Anneberg/Ayers relationship,
 http://beforeitsnews.com/opinion-conservative/2013/06/david-coleman-common-core-rewriting-psats-sats-coleman-connections-obama-bill-ayers-chicago-annenberg-challenge-2667402.html
The Annenberg Institute for School Reform (housed at Brown University) is a big time champ of changing not only public education, but impacting charter school, college and career readiness, etc. See the link for all the resources CC related from their website:
http://annenberginstitute.org/?q=search/node/common%20core%20standards
As far as education dollars spent, look at the screen shot of the Annenberg's Interactive Grant Locator. You can click on the bubbles with figures to get more information. When I clicked on some, not information was available at all. Two of the CA grants was for EnCorp Teachers. That's a group to increase the number of science and math teachers in the state. To see the grants, use this link and click on 'interactive grant map'. http://www.annenbergfoundation.org/grantmaking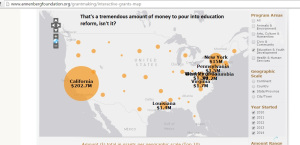 Let's Go Back to EdReports, Shall We?
While the Annenberg tie is key to our anti CCSS fight, let's go take a look at HOW EdReports graded CCSS. Here's the pdf of methodology, EdReports Methodology
What was measured was ONLY the student text and the teacher text. So, if there are homework resources, for example, those DIDN'T get the EdReport "Consumer Report" like treatment. So, while the one page says they critique quality materials, anything OUTSIDE of the text books isn't being measured. Remind me, how's THAT objective? You have to look at all the resources, otherwise it's a false positive! C'mon, does the CCSS Machine think we're really that fallible?
If the CCSS material or resource got at least a 10% market share, it was critiqued by the over 20 hours of ER training those who perused the resources received. If at least 2 state level educationally minded groups approved or has suggested the resources for use, it was critiqued.
See this screen shot of the 'quality control' model for finding out if the CCSS materials/resources are up to their task.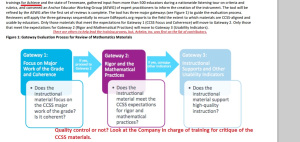 According to the report for quality and measuring, the following excerpt, "The tool builds on the experience of educators, curriculum experts and leading rubric developers and organizations – such as Achieve, Inc., the Council of Great City Schools, the Dana Center, Illustrative Mathematics Project, the National Council of Teachers of Mathematics and Student Achievement Partners, among others – that have conducted reviews of instructional materials, lessons and tasks. To create the evaluation tool, EdReports.org conducted research into the use of more than 11 commonly-used rubrics, observed review process." In the footnotes were the names of other groups. Brookings Institute, Cambridge, and Harvard received special notice. See the entire document, EdReports-Quality-Instructional-Materials-Tool-K-8-Math
Now It All Makes Sense:
It wasn't until I watched the short video provided by EdReports that I understood WHY those in support of the Core created this 'Consumer Reports' like non profit. It's to ensure that if a product says CC aligned, it better be aligned 100%. See the video for yourselves and see what you take away from it.
[youtube https://www.youtube.com/watch?v=oliWmoZTrnk&w=560&h=315]
Oh, by the way, EdReports calls Durham, NC home. That was buried on the 'Contact Us' page of ER's website.
 So while we don't know when exactly ER was crafted, we at least know which way the CC wind is blowing.
Closing:
I can't help but be reminded of whom ever leads our leaders, is in control. If we look at the CCSS Machine's creation of a supposedly objective task, add the CC subjectivity and then glory in the fact that a collaborative group gave it the pass or fail, we can then somehow rest than all is well in CCLand. What a load of crap, CCSS Machine! What an insidious thing to do to your country.