Anti Fed Ed Warriors, we've made it! The final installment of my "The Prudence Files" series. Before we go on, I want to pause and thank those who've sent information, especially for Part Four. I want to thank each of you for coming back to find out the real truths not being given via mainstream media, too.
In this article, the last 2 Presidential hopefuls; private citizens. Howard Schultz (Former Starbucks CEO ) and Andrew Yang (Venture for America). Will either of these 2 offer We the People a glimmer of hope, as far as education? Let's see what we can find out.
Schultz's Bid:
Warriors, while some sites say Mr. Schultz is considering running, the original source I used in Part One is where I learned he was. I did find his campaign website, so I'm pretty sure that's a 'winner'. Below is a picture of the website: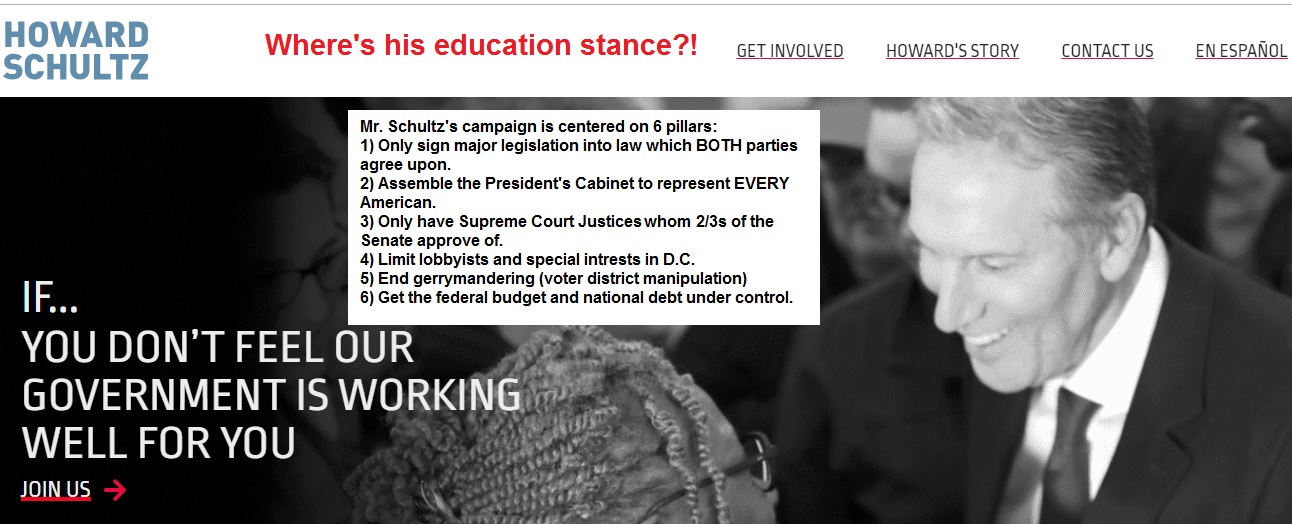 Schultz is running as a 'Centrist Independent' candidate. In his words that means 'governing from the middle'. According to the Centrist Party, these citizens and/or candidates have no party lines. As such rather than go with what's popular, they go by what is right. Below is their stance on education.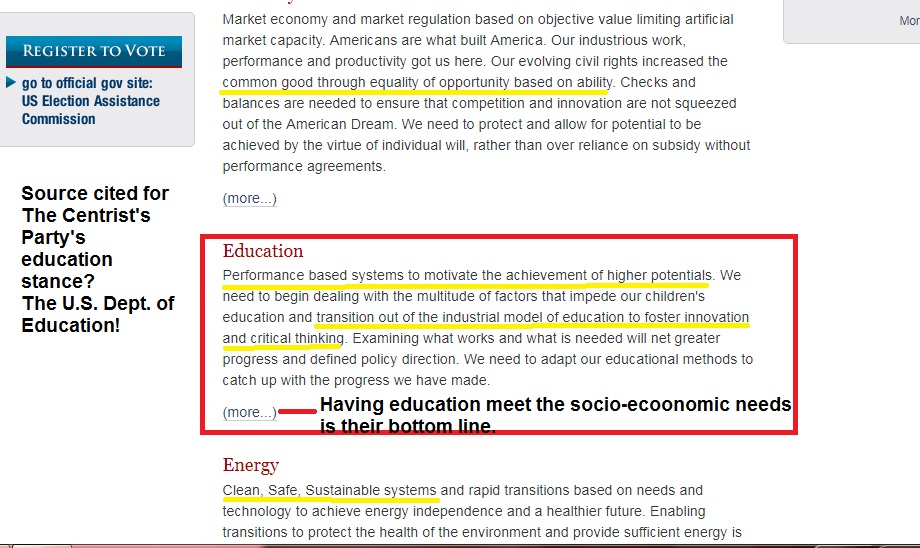 Warriors, it's very important for me to say that Mr. Schultz is NOT the Centrist Party's candidate. However, I wanted you to see how the Party leans. By contrast, the American Independent Party is completely different. They believe in the Judea-Christian values of our Founding Fathers (Schultz is Jewish). They also believe in States Rights for education. Again, Mr. Schultz is NOT the Independent Party's candidate either.
So, I think it's safe to say this 'Centrist Independent' COULD be a mix of the two principles. But, we also have to factor in Mr. Schultz has been a Democrat for many years.
I think you'll understand why I wanted you to have some context before I show you what I found about Schultz's education stance.
Where was his education stance 'hiding'? It wasn't in his pillars. No, it can be found in the "Howard's Story" page on the website. I'll admit the video has a catchy tune, there are bright colors and smiling faces. It's all designed to 'build you up'.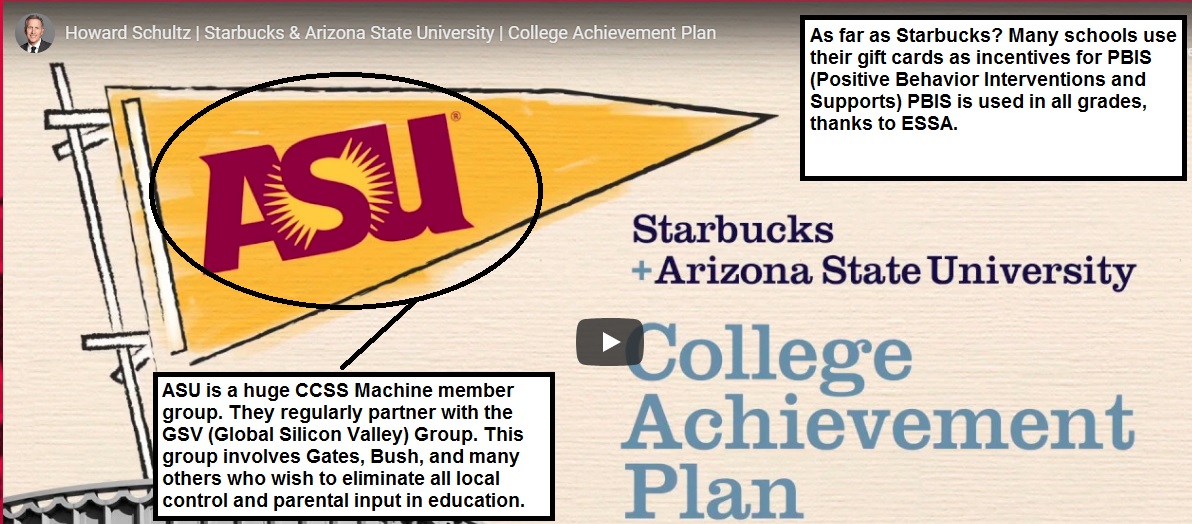 Warriors, if you didn't know it, ASU has been involved with some pretty horrid things for K-12th grade education. Back in 2016, I wrote about their part in a YouTube Red Channel movie called "The Thinning". It was all about students literally dying or someone they loved die if a certain score wasn't made on the standardized test.
If you didn't see it, I also wrote about Starbucks and the PBIS system.
Finally, on this candidate, I'll share this with you: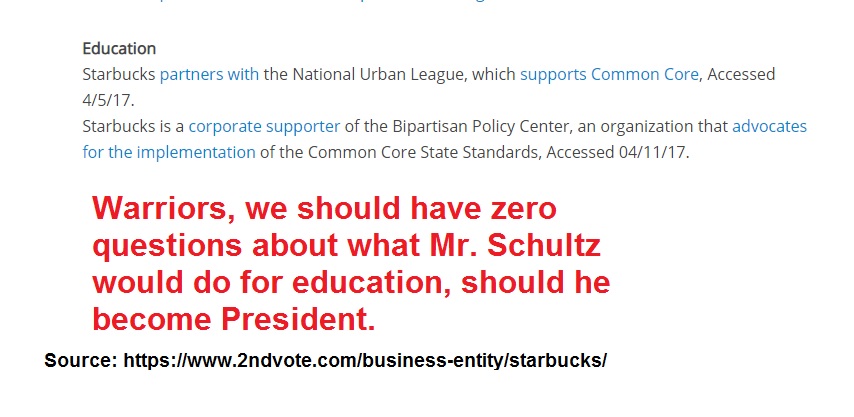 If you'd like to see the rest of the stances Starbucks takes on other 'hot button' issues, visit here.
Mr. Yang:

Warriors, if you've not heard of Venture for America, that's ok. I'll be sure to link the evidence for you.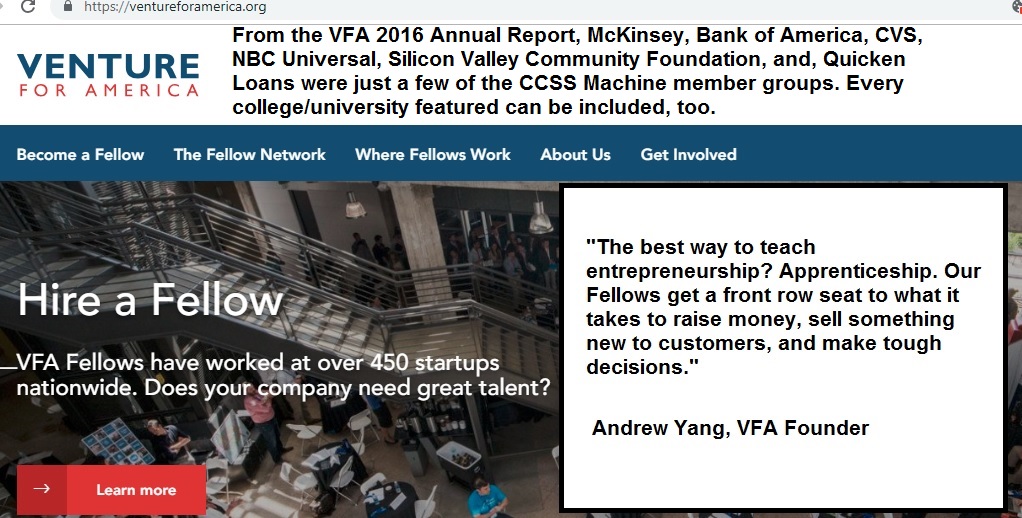 (Main Website)

To access the 2016 Annual Report, go here.
Warriors, if you use Netflix and have seen "Generation Startup" that's the feature film about what VFA does. Jobs/economic for the community's sake. While that's good, the tag line for the movie has to do with 'learning to fail'. That's a key concept the CCSS Machine loves to use. By the way, Netflix is among the CCSS Machine members/groups seeking to destroy local control.
So, you know a bit about the company Yang founded. Let's look at his 2020 Presidential campaign.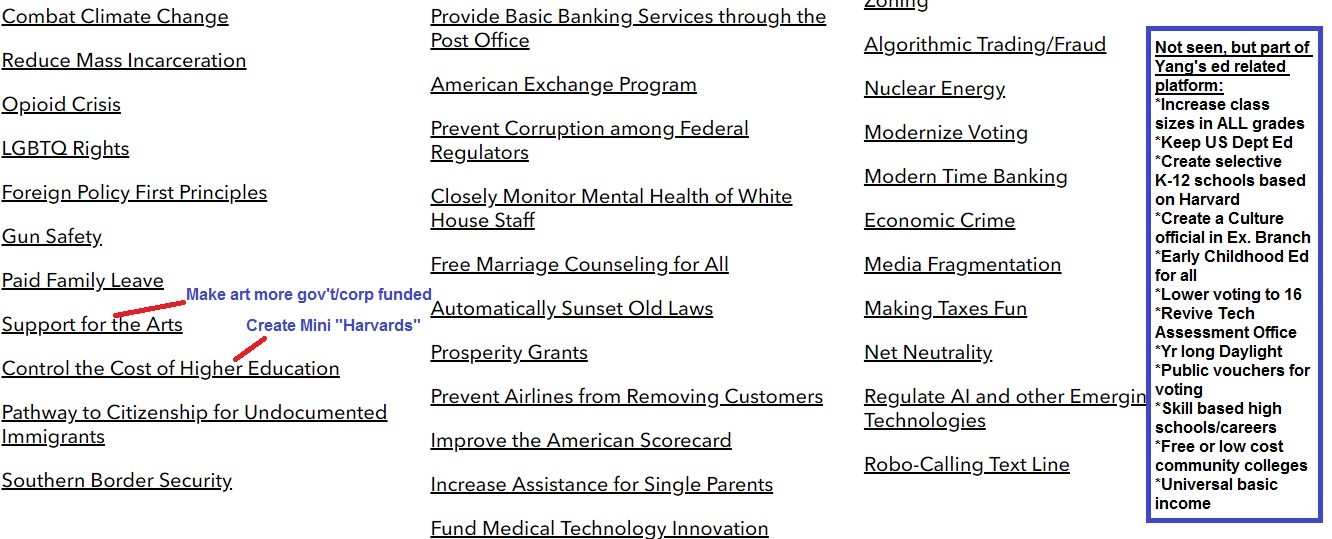 To see all his policies/issues, visit this page.
Warriors, if you read "Andrew's Story", he'll tell you he was raised to go after the American Dream. You'll learn his ties to Brown Univ. as well as Columbia Univ. (Both universities are CCSS Machine member organizations. In Part 4, I shared both their ties to the Tavistock Inst.)
You'll also see he tells you he had an education company, but doesn't share the name or what other group(s) bought him out. Look below: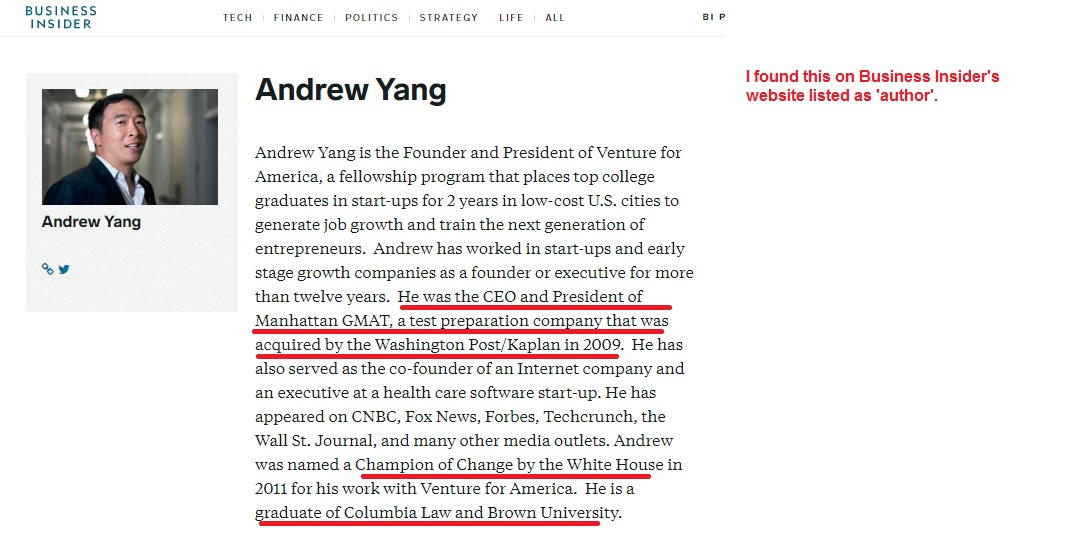 You may find this related article helpful in connecting Yang's for profit testing company to Knewton.
Warriors, I hope you see the toxic ties to the CCSS Machine very clearly. It appears neither of these is the Anti Fed Ed champ we need.

Warrior/Citizen Actions:
Well, Warriors, we've done it, taken 5 articles to lay out education/educratic stances of the 20 candidates (and possible candidates) running for President in 2020. As you know the campaigns are on-going. As you know, they will only step up in appearances.
So, what DO we do with all the information I've given you? Yes, it's been grueling to slog through all their websites (or lack of), but the reason I wanted to do this for the nation, especially you, my fellow Warriors, is we HAVE to make as much noise as possible!
I told you in Part One I wouldn't tell you whom to vote for. However, whomever you see you most like among the 20, do this:
1) Attend as many meetings of his or hers as possible. Forget party allegiance, the politicians certainly have. Is this risky? Absolutely, BUT, gladly risk your comfort zone for the children, I am. So can you. Don't develop tunnel vision, watch for debates, shows, etc. Listen to what's said (or not said).
2) We all know in war (War Vs the Core) you have to hang out with the enemy from time to time. Just be prudent and don't go alone. Whatever you do, be respectful, there is going to be enough strife. If you are rude in making your points, you'll be discounted. Remember, these are people, not punching bags (words or fists).
3) Take the points about the candidates which trouble you the most and speak out! Steer the conversation, don't give up! (Written ones are the best and provide a copy with facts and links to point to Anti Fed Ed truths.)
4) Write open letters, letters to the editor, call in to like minded radio shows, no matter how big or small. Request private media shows centered around these Anti Fed Ed truths the nation needs to know and hear. Make your own video and share.
5) Speak up, hold them accountable! That is part of a prudent voter/Warrior's 'job'.
6) Write to them, show them the roots to the agenda, the globalization of our nation via education, let them know, it's unconstitutional, it's criminal and they shouldn't be a part of it!
7) Don't kowtow or get star struck by these candidates, don't worry about making a scene. Remember who you are fighting for: our kids, our young people, our freedoms, our choices.
8) Pepper their websites with Anti Fed Ed truth, not mainstream subjective BS.
9) Participate in citizen forums, round-table discussions. If you didn't know what you know now, think about all those around you who will remain clueless, unless you speak up. Use your circle of influence. Stay in communication. Host 'Did Ya Know?' type neighborhood events. While we're about serious business, we can have some fun, too.
Use this type of event to bring to light the candidates on education. Compare notes and discuss maturely.
(Think along the lines of "Horton Hears a Who", ALL our voices, united against the CCSS Machine is imperative!)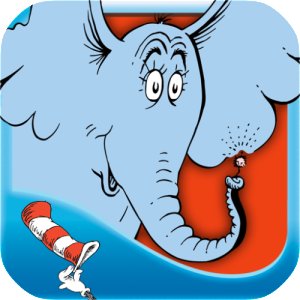 (photo courtesy of Clipart)
What if you don't like any of the 20 candidates?
1) Choose the one most closely related to your beliefs and WORK with them to bring them around to the truth.
2) These people MUST be reminded they are seeking to represent WE the People, not the special interests groups, lobbyists, or Big Corporations.
3) If the candidate isn't willing to work with you or accept the truth, then you know they are 'bought and paid for' by the CCSS Machine and move on.
4) IF you find that out, share the news, so others will know. It's better to be called an idiot for being right than a silent partner in the grinding down of American education.
5) Apply any of the other action steps above you desire.
6) Inform and 'use' your circle of influence. Provide updates for them.
Upcoming Election Resources: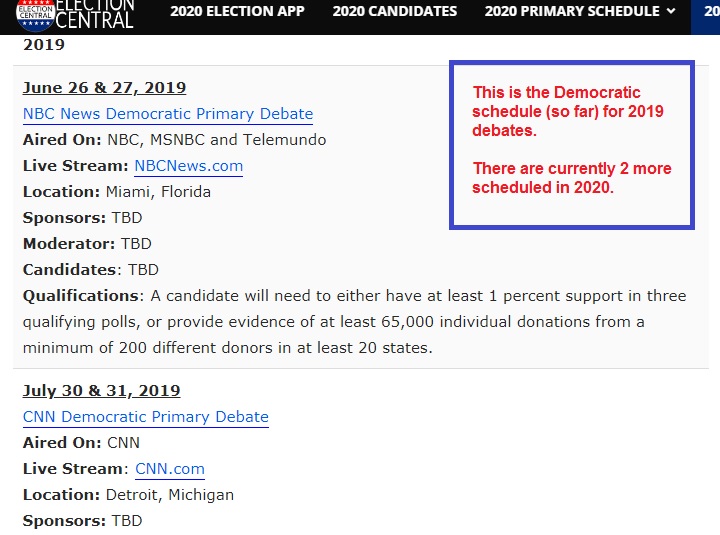 (Source)
As of this article, I can find no Republican Debate schedule. Back in 2018, the National Republican Committee voted to disband the Debate organizers and team. That doesn't mean there may be no debates, but it means we need to be watching for them.
I did find this website, which has both the Ds and Rs information in one location. Use at your discretion.
Use the Commission on Presidential Debates for news updates. I've embedded the link to their Debate Applicant locations. (*Note: no 2019 or 2020 sponsors have been announced, but look at previous sponsors. Are there CCSS Machine member groups represented? If so urge a non-bias organization to step up.) You can also access previous Debate transcripts. These might be helpful in writing your letters.
The location for the Republican National Convention is Charlotte, NC.
The location for the Democratic National Convention is Milwaukee, WI.
(*Note: Are there any Warriors near either of these cities? If so, we should plan to meet somewhere. I live in NC, and, it just so happens not too far from Charlotte. I'd love to see a group near Milwaukee, too. We could do live presentations or updates.) 

The Democrats will conduct their Convention in July 2020.
The Republicans will conduct theirs in August 2020.
"The Prudence Files: Part One"
"The Prudence Files: Part Two"
"The Prudence Files: Part Three"
"The Prudence Files: Part Four"