Will CCSS/CTE (Common Core State Standards/Career Tech Ed really become embedded in the re-authorization of the HEA? Let's take a trip back in time to see if our answer lies there.
The U of P/New America Effort:
Back in November of 2014, the University of PA and the New America Foundation hosted a panel discussion centered around the efforts to re-authorize the HEA (Higher Education Act). I recently wrote about it and how it can be tied to CTE/CCSS (Career Tech Ed/Common Core State Standards). Today, we'll focus on this discussion. However, before you watch the video,  you may appreciate a bit of background on each of the hosts.
New America:
A non partisan think tank..funded by Gates. Just this year, over $2 million for 'post secondary success'. See the GF grant information: http://www.gatesfoundation.org/How-We-Work/Quick-Links/Grants-Database/Grants/2015/01/OPP1125829
If you'd like New America's policy brief on CCSS and college, you can visit their website: www.newamerica.net OR you can access the pdf here, NewAmericaCC
Now, what's interesting is that, in the brief it'll tell you there's 'no standard' for higher education. Then, I'd like them to explain away this: CCRStandardsAdultEd (*If you 'd like to see the original article I published about these "Adult Standards", see: https://www.commoncorediva.com/2014/09/04/common-core-after-high-school-reality-check/ ). This is just one of the many documents I've included with my articles about CC beyond high school, yet time and time again, it is denied by those who know the truth, but don't want to acknowledge it.
How does New America feel about CCSS? Look at the screen shot: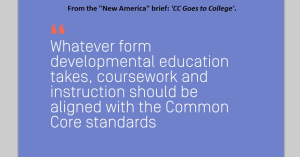 One more thing, The Foundation has a Post-Secondary Policy branch, but the website page was inaccessible. So much for accountability and transparency. I wrote about New America earlier this year (Jan. 21, 2015). The mindset of New America? 'Pre K to High Pay'. There is SO much more you need to know about this group, so here's the link to the original article, https://www.commoncorediva.com/2015/01/21/wybi-new-america-ed-central-pre-k-to-high-pay/
University of PA:
Specifically, it was the College of Law which partnered with New America. So, what does the U of P have in connection to CCSS besides influencing those who will be helping uphold and or shape our laws? Let's see if we can find out.
I can share with you that the Graduate School of Education at Univ. of PA is considered a world leader in the field. In fact their GSE Faculty portion of the website has an entire page full of Common Core opinions, studies, findings, and more. This is the institution where you'll find Dean Andy Porter, who is considered an expert on NCLB. Oh wow! What a leap from NCLB to CCSS. Here's the link to the 'experts': http://www.gse.upenn.edu/pressroom/faculty/common_core
You'll also want to know that Univ. of PA is part of a Consortium for Policy Research in Education (CPRE). Other members? Teachers College, Columbia; Harvard University;
Stanford University; University of Michigan; Northwestern University; and the University of Wisconsin-Madison. Each of these universities has been in some portion of CCSS and/or CTE at some point. The funding sources? Oh, you'll love the list, here's the excerpt:
"CPRE has received funding from many sources. These include: U.S. Department of Education, National Science Foundation, William T. Grant Foundation, Spencer Foundation, Atlantic Philanthropies, Bill and Melinda Gates Foundation, Carnegie Corporation of New York, Goldman Sachs Foundation, William and Flora Hewlett Foundation, Joyce Foundation, Merck Institute for Science Education, National Center on Education and the Economy, Pearson, Pew Charitable Trusts, Rockefeller Foundation, Student Achievement Partners, General Electric Foundation, SRI International, and others." 
The Consortium's mission? Preschool to age 20 improvement in education. Among their publications is a guide about British education and how it can impact America; how CCSS was present in 2014 elections, how education should be top/down built, and more. (*NOTE: you can find these and more on their website under "Publications".)
The Video, Will Reauthorizing Save the Higher Education Act:
[youtube https://www.youtube.com/watch?v=ser7C6Jt97c&w=420&h=315]
The video is about 1 hour long. Thirty minutes or so is devoted to a panel of 'experts', while the remaining time is devoted to Q and A with the audience. Below, I have the key concerns for you. However, be sure you listen on your own to hear the exact words each 'expert' utters. The Panel consisted of Ted Mitchell, the U.S. Dept. of Ed Undersecretary (also was a former New Venture Schools Fund employee); Laura Fern of the PA Higher Ed Alliance, specializing in state policy; Kevin Carey of New America Foundation, and considered an education expert; finally, Nick Anderson of the Washington Post who has authored several education based articles.
1) The host shares that the reauthorizing of HEA will be a change from within over the next 10 years. Listen for how he says connecting with policy makers in Washington plays into all this.
2) The panel was unanimous in wanting the new HEA to pass. Listen to Mr. Mitchell's description of what the proposed Higher Education Act is and can do. "Garden project", streamlines all; will simply or eliminate FAFSA; will encourage all to think about college earlier; we must be all about accelerating the completion of school. Oh, and that the states (meaning the 50 of them) need to make stronger efforts.
3) An interesting set of comments will center around the value of the constituency (meaning us as citizens). Somehow, in all this we can't be overlooked. REALLY? What about before now? We've been overlooked plenty thanks to the CCSS Machine! But now, we can't be 'minimized'?
4) The new Federal Rating System for Education is focused mainly on outcome based results, not quality. Again, the goal of education is attainment, not a desire to learn more or even well.
5) People haven't been given enough guidance to figure out the higher education system, so we must have more classes or ways to teach us to figure it out. It was heavily suggested that the reason so much student debt was around is because we've not given good enough guidance into which post-secondary option is just right for our students. Yet, we landed a man on the moon without CCSS or CTE!
6) Incentivize the states. Make sure students graduate 12th academically ready for college.
7) A national federal higher education policy needs to be strengthened.
8) Pipelines in degree or credit bearing classes.
9) High quality schools mean something to the labor markets, that's why more are partnering with community colleges. I believe the exact phrase was 'credit bearing pipeline'.
10) The 2014 WIOA (Workforce Investment Opportunity Act) in regards to students not on a 4 year college path is 'truly vibrant'.
11) WIOA is an enabler of people.
12) The Dept. of Ed. basing all their actions on outcome based education and expansion of the federal role. (HR5 will accomplish much of this as well as increase the power of Local Education Agencies (LEAs) or SEAs (State Education Agencies)). Between WIOA and HR5 our school districts will have almost no say!
13) Questions, while not appearing to be staged, might of well have been given the very specific material of them. In other words, you'd have to know the HEA's language very well to ask such detailed questions. The first up dealt with CCSS and its political football status. Watch and listen to the answers this one gets. During the questions, the reporter heralds Sen. Lamar Alexander's bill (referring to HR5). He stated higher education would be a 'quieter discussion' in Congress. He appeared to be confident that our Congress would go for the 'hot issue' of K-12 education, which hasn't been updated in quite some time.
14) A helpful tip from all the questions was look at the appropriations bills coming through Washington. Plausible policy changes (in education ) will be embedded in these. Why? Money! The Dept. of Ed. will be watching and cheering on any bill which focuses on the 'big prize'..the student's best.
15) Lastly, and this is what I want to leave you with. At about 44 minutes into the video, the New America 'expert' really shows his colors. Listen for the new federal program he discusses about student loans. Basically, if you have student loan debt, set payments can be made. Then go to work in the public sector and in 10 years whatever debt is left is forgiven! So far, the students signing up for this are a disappointment.
Closing:
Warriors, I hope you can see the dangers the re-authorization of the HEA is not what's best for America. It's what's best for the agenda. Look at the similarities between what you know about the Student Success Act (HR5) and the HEA (Higher Education Act). Help raise awareness, folks! Is CCSS/CTE there in the Acts? Yes..both of them!