Could it be possible to have an independent federal agency for humanities align us all via Common Core? That's the riddle for today, April 12, 2015.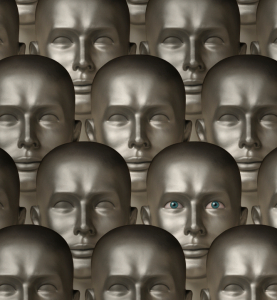 NEH, National Endowment for the Humanities:
Before we get into what NEH does or who is involved, let's assume you aren't familiar with 'humanities'. According the Act of 1965 which gave us a federal level organization, here's the definition the NEH uses:
"The term 'humanities' includes, but is not limited to, the study and interpretation of the following: language, both modern and classical; linguistics; literature; history; jurisprudence; philosophy; archaeology; comparative religion; ethics; the history, criticism and theory of the arts; those aspects of social sciences which have humanistic content and employ humanistic methods; and the study and application of the humanities to the human environment with particular attention to reflecting our diverse heritage, traditions, and history and to the relevance of the humanities to the current conditions of national life."
Related Note:  the National Arts have been Common Core aligned since June 2014 (see: https://www.commoncorediva.com/2015/02/15/rmt-ccss-hits-the-sour-notes/ )
So, if it's an independent federal agency, where does the funding come from? The screen shot below is the NEH's budget from 2015.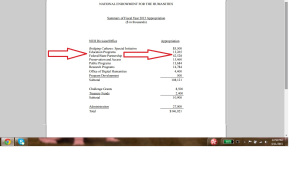 NEH activities don't just impact K-12 education, their work goes on to post-secondary educational institutions, to communities. Due to the Act that gave us the NEH, the mandate requires all this interaction with we, the people of the U.S. Many partners, both public AND private partner with the NEH to ensure teachers, leaders have educational resources to promote all that humanities encompasses. So, knowing what we know about P3 involvement in education AND the federal overreach into education, what could possibly point me to the 'Common Core-ness' of the NEH? Is it, in fact there? If so, where? Let's see if we can find out.
Clue #1: The economy merits a mention even in culture. Why if we aren't cultured properly, we won't have a proper economy. (see page 2 of the NEH's proposed 2016 budget request submitted 02/15)
Clue #2: The vast impact in numbers: "The nation's 4,500 institutions of higher learning employ approximately 125,000 humanities faculty who teach millions of students. More than 3 million teachers dedicate their lives to teaching humanities subjects to tens of millions of school children who attend the more than 128,000 K-12 schools across the country. In addition, the nation's 17,500 museums and historical societies, which greet 2.4 million visitors daily, and the state humanities councils, which annually reach millions of citizens of all ages, help form the cultural backbone of cities and towns across the country. Collectively, these institutions, and the people they employ, buttress our democracy, strengthen communities, and represent a significant part of the American economy." (from page 2 as well)
Clue #3: Presidential nominated (means hand picked for a reason) and Congress approved leader requested over $5 million dollars for the "Common Good" Initiative. From page 3: "… enabling legislation to demonstrate "the relevance of the humanities to the current conditions of national life." To bolster this essential component of NEH's work, the Endowment has launched a major new initiative, The Common Good: The Humanities in the Public Square. The initiative will be an agency-wide effort designed to demonstrate the critical role the humanities can play in our nation's public life. NEH requests $5.5 million in support of The Common Good in FY 2016."
Clue #4: The Common Good initiative continues the rubric set forth from a previous one titled "Standing Together". Pages 3 and 4 lay out how much the community will be involved in both of these initiatives. Be sure to look further into exactly what the ST and CG initiatives will do (near pages 11 and following) in regards to current public attitudes, policies, and issues. Pages 14 and 15 spell out some of the main agenda points.
You'll want to note how proud the NEH is of the contribution from the Mellon Foundation. What the budget request won't tell you about the Mellons, is they are in on the educational list of interlopers. (see: http://www.aaup.org/article/when-billionaires-become-educational-experts#.VSllWvnF-hQ ) While I suspect there are other donations from Mellon on behalf of CCSS, I did find this one, http://www.hamilton.edu/wellin/wellinformed/wellin-museum-receives-100-000-from-mellon-foundation
Clue #5: "Lifetime learning", "strengthen teaching", and "strong networks within states", all on page 5.
Clue #6: Encouraging more P3 involvement in educational endeavors to enhance the 'Common Good' program. Including a direct union with the National Science Foundation (I've already exposed how deep into CCSS the NSF is, see both articles: (https://www.commoncorediva.com/tag/national-science-foundation/ )
Clue #7: Found on page 7, Verizon's union with the NEH. Verizon is an unabashedly proud supporter of CCSS. "EDSITEment" is Verzion's CCSS laden offering to NEH and to we, the people. You can search the internet for more articles, but here are my three, (https://www.commoncorediva.com/?s=Verizon) Here's an excerpt from page 7 in NEH's own words, "The website, EDSITEment, now contains over 500 scholar- and teacher-developed lesson plans for the K-12 classroom and links to more than 400 peer-reviewed sites selected for their high quality humanities content and interactive design. More than 3 million visitors—teachers, students, and parents—avail themselves of EDSITEment's rich resources each year."
Clue #8: Dangling grant money in front of communities and towns. Sound familiar? See page 15 for the two types of grants we get to compete for.
Clue #9″ The use of the word 'common' in relationship to the USA's heritage. While that in and of itself may or may not be bad to you, it's something to keep an eye on in HOW this is taught. We've already seen what the CCSS Machine has done to history. Oh, and one of the ways to accomplish a 'common heritage'? Placing resources in libraries and other public locations. If you've not already noticed how 'cleaned out' your local library is, then you may want to know WHY it has recently gone through such a culling of resources. See:
(https://www.commoncorediva.com/2014/10/27/monday-musings-hitting-the-books/)
Clue #10: That federal and state partnership found on page 17. Pardon me, but shouldn't the correct order be States and federal?! See the U.S. Constitution for Amendment 10.
Follow the Money, Honey:
Making sure we all get as much Common Core as humanly possible, check out the NEH's budget request for teacher prep: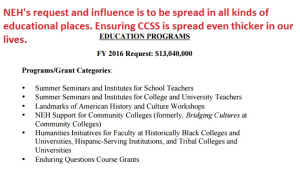 Under this breakdown, you'll find the almost laughable concept of the U.S. Dept. of Ed's 'support' in many educational areas. I think all of us, as anti CCSS warriors are more than familiar with the 'support' overreach. If you'd like to have the entire NEH 2016 Budget Request: neh_request_fy2016
As far as the "Edsite", CCSS tie? Yep, not only that, but a CCR (College/Career Ready) Standard plug as well.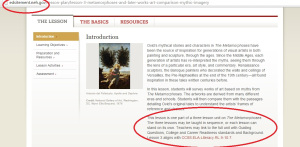 How can CCSS impact homeschooling beyond assessments? If you'd like to know NEH also impacts those AP U.S. History resources too! See: http://edsitement.neh.gov/lesson-plans for ALL the latest news.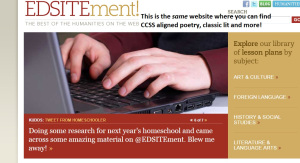 Closing:
This isn't the last national grasp at our nation by the CCSS Machine, folks. We've answered the riddle for today. Now we must contact local elected officials who aren't afraid to stand up for our country! If we can have a movement to defund the College Board, why can't we defund other national organizations using CC as a weapon of mass indoctrination?! We, the people, must continue to raise awareness of ALL the places CCSS, CCR, CTE, and all the other creations of Common Core are lurking in plain sight.