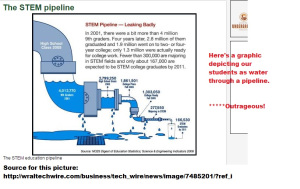 Some months ago, I shared with you that I'd dug into how STEM and Common Core are related. It's not a popular subject. Why? Most folks don't want to see how the two are directly hinged together. However, if we're going to effectively FIGHT CCSS, we must know all the places it lurks!
Did you know the CCSS Machine has rolled out yet another 'new' portion of education reform? Yes, it's called "STEM to STEaM". In the first of multi day installments, I'll share with you what else I've been able to uncover.
"STEM to STEaM", What Does It Mean?:

We know STEM is short for "Science, Technology, Engineering, and Math". Those supportive of Common Core aren't content (are they ever?) to leave education alone. No, it appears a constant barrage of 'new' standards is always upon us. So what does the "STEaM" portion of the above phrase mean? "Science, Technology, Engineering, the Arts, and Math". I've also shared with you, in the past, how the Arts have already sold out to Common Core via the National Arts Common Standards (see:
a) https://www.commoncorediva.com/2015/02/15/rmt-ccss-hits-the-sour-notes/ and b) https://www.commoncorediva.com/2015/04/12/rmt-national-humanity-common-core-style/ )
Enter CCSS: a Vehicle for Education Reform:
According to the publication I've referred to many times, "Common Core: A Global Education" by Berit Kjos, the roots of what we now know as CCSS began about 100 years ago. Then, in 2004, an agreement between Bill Gates and UNESCO was entered into. The purpose? Global curriculum. (See: http://www.lighthousetrailsresearch.com/blog/?p=13825) Contrast those few facts with these following nuggets I found in the PCAST (President's Council of Advisors for Science and Technology) Report from Sept. 2010.
1) What we know as STEM now, in their report, came alive in the 1980s and its purpose was to have aligned and benchmarked education standards. 2) To ensure this happened, as well as securing a way for the other agenda items PCAST had laid out, it was decided the BEST way to accomplish ALL of this was by inserting them into the CCSS as it was just getting off the ground. (remember, this report is from 2010, and the Common Core was just being unleashed in the States via Race to the Top funding.) To access the 2010 Report:
pcast-stemed-report
Enter STEM, the Driver of the Vehicle:
Using this same Report, let's look at some of the exact words from page 12. These 5 items will lay out the agenda hiding behind what we've always had in education: science and math. We've also had engineering and technology. But, when you take these subjects and filter them through national standards, the 'engine' begins to grind down to a halt.
"STEM-capable citizenry, a STEM-proficient workforce, and future STEM experts, the Nation must focus on two complementary goals: We must prepare all students, including girls and minorities who are underrepresented in these fields, to be proficient in STEM subjects. And we must inspire all students to learn STEM and, in the process, motivate many of them to pursue STEM careers."
It is on this same page and the ones immediately following that you will see the Council's plan unfold: use the Common Core Standards, train STEM certified teachers who will be the ones teaching STEM subjects, create more federal programs, initiatives that encompass the entire community (such as "Inspire", "21st Century Community Learning Centers", etc.)
Here's an excerpt: "Stronger leadership, coherent strategy and greater coordination are essential to support innovation in K-12 STEM education. Toward this end, the Federal Government should (i) create new mechanisms, with substantially increased capacity, to provide leadership within each of the Department of Education and the National Science Foundation; (ii) establish a high-level partnership between these agencies; (iii) establish a standing Committee on STEM Education within the National Science and Technology Council responsible for creating a Federal STEM education strategy; and (iv) establish an independent Presidential Commission on STEM Education, in conjunction with the National Governors Association, to promote and monitor progress toward improving STEM education." Funding for STEM (the federal government has earmarked billions of dollars)  and the number of programs connected (at least 220) is staggering. The public private partnerships participating, not only in the classrooms, but in the lesson planning, STEM related contests, community outreach programs, and including even our public libraries,  all are part and parcel of the federal plans for our students. Something else  you need to know about STEM: 'The National Science Foundation is the only federal agency whose primary mission includes supporting education across all fields of science and engineering. As such, funding for STEM education at the NSF impacts not only, but also the entire federal STEM education effort.' See the resource for the Funding: stemfund
The question I'm sure you have by now is 'why'? Why is all this attention being paid to STEM? In a short and simple phrase, 'the American greater good'. From the viewpoint of the Common Core, 'the global economy' and 'being career and college ready'.
By participating in STEM programs( which are made available to every educational choice out there: public, private, charter, parochial, homeschool), we are in essence allowing an agenda that is not our own to be a part of our family, our school, our curriculum and lesson plans. STEM extends well beyond 12th grade and does, in fact, present itself in community colleges, proprietary post secondary schools, public and (some) private universities and colleges. In short, as we've seen with CCSS, if the school receives federal money, STEM is there.
Related resource: http://www.districtadministration.com/article/helping-stem-take-root (an article detailing federal overreach into education via STEM)
Related resource: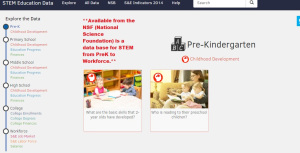 Federal, top down control of any choice in education is not only wrong, it's illegal. In case you missed it, not only is the Dept. of Education mixed in this, so is the NGA (National Governors Association)…half owner of the CCSS copyright.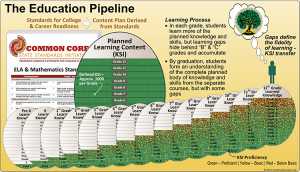 Closing:
Coming in the next installment: the 'gas' for the vehicle (CCSS) that's needed for the driver (STEM) to succeed…STEaM. It will be packed with 'can't miss' information!