***Fourth in a Series Highlighting the 116th Congressional session of federal overreaches in the name of education.
Anti Fed Ed Warriors, over the years we've had quite a bit thrown at us in order to confuse us. No where does this seem to reoccur more than Congress. Especially at the CCSS Machine's direction.
During the past 3 articles, I've shown you the massive federal educratic overreaches into our homes, forcing a false 'choice' agenda, and, uniting with the (United Nations) UN's STEM (Science, Technology, Engineering, and, Math) to basically do the same thing: data track us from cradle to grave. It's not about academic education, it's all about jobs and workforce training…just as the UN and the CCSS Machine have been plotting/carrying out.
Thank goodness, that part's not confusing! So, what is confusing, you may be asking?
Two federal bills with different numbers from the SAME Chamber of Congress!
In the past, on my blog and writing for the Patriot Institute, I shared with you the long used practice of Congress having 'sister' bills, but those would come from BOTH Chambers, not one. (*Note: Congress uses this system, from what I've seen in education research to accomplish one goal: get the agenda through from one side or the other.)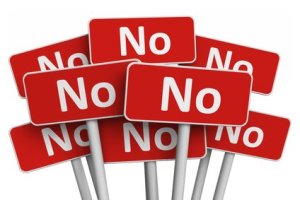 Every Congress member should know our position when it comes to fed led education!So, let's see what these two bills are from the same Chamber.
HR 150 and HR 50:
HR 150, "Grant Reporting Efficiency and Agreements Transparency Act of 2019" aka GREAT Act (12 pages long)
HR 50, GREAT Act aka "Grant Reporting Efficiency and Agreements Transparency Act of 2019" (12 pages long)
Both are sponsored by Rep. Virginia Foxx of NC.
HR 150 has 15 co-sponsors, has had 1 roll call vote and is in the Senate already (Committee on Homeland Security and Governmental Affairs).
HR 50 has no co-sponsors, is in the House Committee of Oversight and Reform.
Of the 15 co-sponsors for HR 150, 7 are from the introduction (1/3/19), the others have co–sponsored since then. Original House Representatives: Gomez (CA), Quigley and Kelly (IL), DesJarlais (TN), Palmer (AL), and Kilmer (WA). The other 8  Representatives are: Rouda and Harder (CA), Meadows (NC), Norman (SC), Axne (IA), Kline (VA), Stauber and Emmer (MN).
Before we look at the text of HR 150/HR 50, let me remind you of Rep. Foxx's stance on 'quality' education: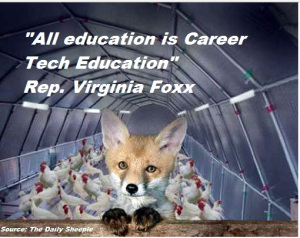 What HR 150/50 Say and Do:
Warriors, here's a list of what we can expect:

1) Either will modernize the federal government's grant reporting system and 'other purposes'. What this means is if you received a federal grant or are in a cooperative agreement with the federal government, you're about to be more data tracked than ever before. How this can related to education is via all the grants, sub-grants, and cooperative agreements mandated in ESSA, Every Student Succeeds Act.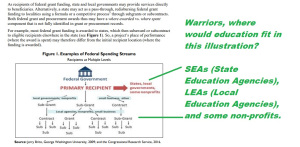 2) An imposition of data standards will be visited upon each recipient and participant of grants, sub-grants, and, cooperative agreements.
3) In charge of the imposition of data standards AND implementing data streams will be the Director of the Office and Budget Management. Why THAT director? To be in compliance with the Federal Funding Accountability and Transparency Act of 2006 (31
7 U.S.C. 6101 note).
The purpose? From Page 2 "which includes the development of a ''comprehensive taxonomy of standard definitions for core data elements required for managing Federal financial assistance awards'' .
How this will play out for you and I is whatever data is taken it will be quicker, less burdensome for P3s (public private partnerships), and better manage us, at least as far as our data.
4) These bills will strengthen the federal government in oversight and management of all the grant recipients and cooperative partners.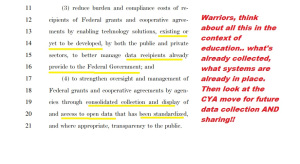 5) Both bills will amend Subtitle V (5) of Title 31 of the United States Code by creating a brand new chapter titled "Data Standards for Grant Reporting". Title 31 deals with money and finance, subtitle V deals with general assistance administration.
Look below at where Chapter 64 would land between: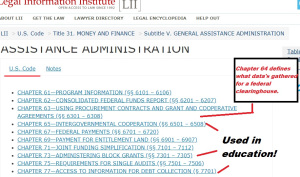 Within this new chapter you'll find that 'core data elements' mean they aren't specific to what program, but are still required by the federal government for all or most of all the grants, awards, cooperative agreements, and sub-grants.
You'll also learn that what the federal government defines as grants, sub-grants, awards, and cooperative agreements isn't always in money form. As such, it's up for grabs to be data tracked. While the federal government is setting these data standards, the States must comply. At the bare minimum, unique identifiers for federal awards and their groups will be tracked government wide.
How it is determined which federal agency set these data standards? The Executive agency which has the MOST activity!! What is this? Grade school games?!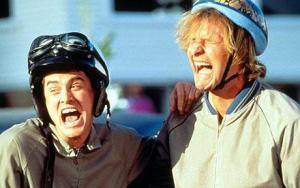 Who gets tracked? Basically everybody.

Supposedly whatever data is collected is to be 'fully searchable and machine readable' as well as 'non-proprietary' overseen by 'voluntary consensus standards bodies'.
All the while this is going on the U.S. Treasury will act as consultant. Other consultants could include any head of a federal agency (giving the awards), those receiving awards, the private sector experts (including privacy ones), and State/local governments.
6) Guiding all this data collection? The federal government. The federal government will explore new opportunities to involve modern technology in the data collection/sharing. All this is to take place with 2 years of the bills becoming law. Within 3 years, all future data collection/standards/sharing must be in full compliance.
7) On page 9, you'll find one of those 'other purposes' coming to life. It's called the Single Audit Act. This is where the 'federal clearinghouse' for data is dependent on the new Chapter 64 that HR150 and HR 50 put into place.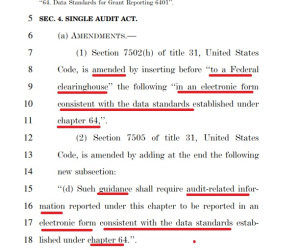 8) By 4 years after HR 150 and HR 50 become law, data is to be made public. It's here that you'll see that the Director of the Office Management and Budget determines 'reasonable restrictions' to personal and private data.
Is this determination at the federal government's definition or of 'We the People'?
Ah..the answer is whatever's shareable by the Freedom of Information Act, is what can be shared in the future…
9) On the bottom of Page 10, you'll find the Director and the Secretary of whichever federal agency gives the most grants, etc. set what data is 'non proprietary' or what isn't. By  the last page of these bills you'll find a classic federal government CYA statement about no new data which isn't already fair game for the government will be used.
Warriors, if you're wondering about the difference of 'non proprietary' data as far as the federal government, it means data they produced or generated. However, take into consideration that 9/10 of the data the government collects comes from proprietary (meaning your personal property) data/information.
Again, CONTEXT, Warriors. Think what Chapter 64 means for education. Think about the algorithms needs in those high-stake assessments or behavior interventions. Think about the biometrics involved.
Lastly, note that HR 150 has been slammed through the House and is in the Senate. This Bill needs to be killed. HR 50, needs to die in its Committee. Call, email, text, or use social media. These Bills, HR 150 and HR 50, are data raping pimps to be used by the federal government. Look at the future plans being made here!!!!
Related Resources:
1) To access the 2018 government tracking grant information from a citizen's aspect (as well as where you'll find the grant stream picture above), go here.
2) I tried to find a recent list of the top grant awarding federal agencies. The most recent I could find was 2010: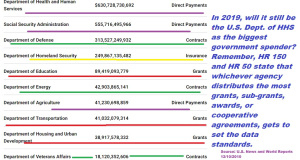 Closing:
Are you confused yet, as to how much the federal government means to track us from cradle to grave? We shouldn't be, Bills like this exact pair are super dangerous. Let D.C. know you're not going to allow this!!
My next article in this series will look at the educratic/data rape aspects for Medicaid, TANF, and everyday Moms.