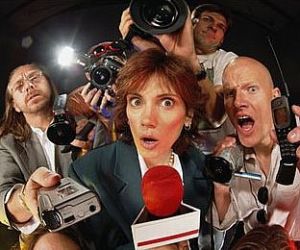 Warriors Against the Core, maybe you saw it this past week, and maybe you didn't. What am I referring to? The news that NC had given Common Core the boot. I saw it surface on several anti CC Facebook pages where folks were expressing jealousy over the fact they wished their state would be so bold; others giving the citizens of NC a big 'well done'.
Sadly though, it is a rumor. Well timed, but a alas, not true. See below: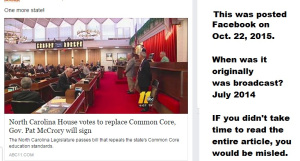 What the truth is, is that a bill was signed by the Governor, but instead of 'repeal' or 'replace' CCSS in NC, we got stuck with a REVIEW of it. I'll spare you the Keystone Cop routine of how the Committee has been treated by not only the Governor, but the legislature, the State Board of Education, etc.
Here is an excerpt from my Oct. 2014 "Monday Musings" about the whole mess, "But..as the media will tell us a committee was, indeed formed. How it was formed is an embarrassment to the taxpayers and an affront to our legal system."
If you would like to read the rest of that article: https://www.commoncorediva.com/2014/10/20/monday-musings-if-i-were-on-a-repeal-common-core-committee/
Why is it important to clarify the truth NOW? Because, the Review Committee is about 2 months away from its final report. That's right, in Dec. 2015, the NC Academic Standards Review Committee  (NC ASRC) will hand over their findings and suggestions for what NC SHOULD do with CCSS. We may, in fact, get to see a total repeal of CCSS. That is what the vast majority of citizens is pulling for. We might see  a tweaked CCSS, or we might get the shaft via a rebrand. Who knows?! In the meantime, however, here is what else is going on to feed the rumor mill…..
"The Nosy Observer" aka the Raleigh News and Observer: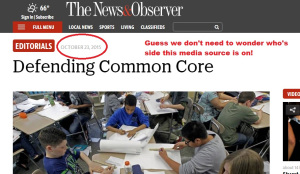 Read part of the defensive article, "When students don't measure up, some Wake County school board members rightly note, that isn't the fault of Common Core. It may be teachers, it may be parents who aren't helping their students at home, it make be students wrestling with tougher courses than they've had in the lower grades." (read the rest, if you think you can stomach it,
http://www.newsobserver.com/opinion/editorials/article41241507.html)
I would encourage you, as an anti CCSS Warrior to respond to the editorial, even if you are outside NC! I hope you'll look for my response, it is a zinger!
Other Not SO Great News about NC's Education via the CCSS Machine:
These next two events are true. Some of what is stated, however, is fallacy based.
Regardless, each of these moves are bad news for NC…and the nation.
Jeb Bush's Foundation for Excellence in Education's Denver Conference.
I learned of this event from one of the elected legislators of NC this past week. His name? Rep. Craig Horn. He was gloating about the great work NC has done to push digital education in NC and that he'd been a part of it!
Here are his comments, via screen shots:
The first one announced his arrival.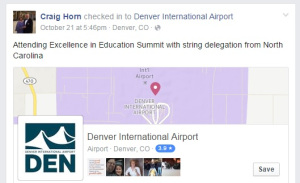 The second one shares his joy at being there.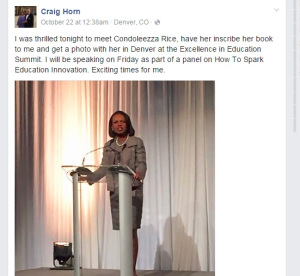 The third shows you his involvement in NC education.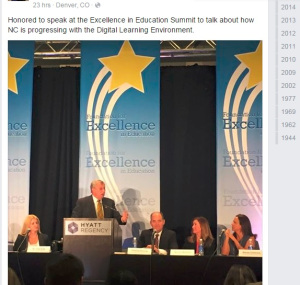 Comments made beneath the picture showed support of his work from his friends.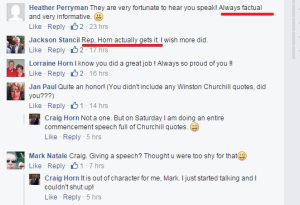 Rep. Hugh Blackwell of NC was also in attendance at this event. To see the entire agenda, the people speaking, and the topics, see:
http://excelined.org/national-summit/2015-agenda/
To read the 2014 NC State Board of Education newsletter where the digital push in education is highlighted, see: http://stateboard.ncpublicschools.gov/sbe-newsletter/2014-newsletter/03newsletter.pdf (*Note: notice that the NC Lt. Governor (who has said he is against CCSS, is included in this digital push. I guess the 'college and career readiness' of CCSS doesn't phase him.)
If you'd like to see all the digital education pieces there are for NC, see:
Ab3cb1hux6m4&cof=FORID%3A11&ie=UTF-8&q=digital+education&x=0&y=0&siteurl=www.dpi.state.nc.us%2F&ref=www.google.com%2F&ss=5923j3041399j23

Former U.S. Dept. of Education's Margaret Spellings as the President of UNC.
I first wrote about Ms. Spellings' report back in June 2015. It was included as a 'related resource' in my article about Higher Education, Sen. Lamar Alexander, and the "Next America". Read it, you need to. As an anti CCSS Warrior what is shared there is vital.
https://www.commoncorediva.com/2015/06/11/tech-thursday-more-alexander-hea-and-the-next-america/
Here's a quote from the Raleigh News and Observer, "As UNC president, she'll oversee the state's public university system with 17 campuses and 222,000 students, succeeding Tom Ross, 65, who will step down early next year at the board's request. The board gave Spellings a 5-year contract with a base salary of $775,000, plus deferred compensation of $77,500 annually and potential performance bonuses." (the entire story:  http://www.newsobserver.com/news/local/education/article41183490.html)
Here's a quote from the Huffington Post about the news, "In her initial comments after Friday's vote, Spellings talked about the importance of ensuring quality education for all, especially poor and minority students. "We must close the achievement gap at all levels," she said." (Read their entire article: http://www.huffingtonpost.com/entry/margaret-spellings-unc-president_562a622fe4b0ec0a38944016)
My fellow anti CCSS Warrior, Nancy Bailey made some great comments about Spellings on Facebook. See the screen shot below.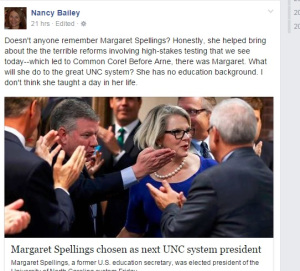 Why would I point out this as a problem for the nation? University of NC graduates go all over the nation, and the world, for that matter. Think UNC isn't involved in the CCSS Machine? Think again. I've written several articles of their known and documented involvement! As President of UNC, Spellings will oversee the following:
*Data tracking for life via CCSS/CTE(career tech education):
CCSS Follow Up System: More than Money Will Follow Your Students

* Citizen Solider Program is CCSS tied:
 https://www.commoncorediva.com/2015/07/07/ftf-this-just-in-military-bases-economy-and-ccss/
*Job Development Grants/Economic Growth(CCSS/CTE tied):

*Educational Research (which ties in CCSS, STEM, CTE, and RttT):

*Center for International Understanding (global education; teacher graduates ; ties CCSS, CTE and more):
https://www.commoncorediva.com/2015/02/04/wybi-the-gtn-of-north-carolina/
With all this CCSS Machine effort going in NC, adding a former creator is NOT a smart move for NC or the nation! Warriors, we MUST use these events, this information to help STOP Common Core in ALL its forms!
Other Related Resources:
To see the entire ABC 11 article: http://abc11.com/192299/
To read some truth about the NC ASRC: http://ladyliberty1885.com/?s=ASRC
(she has several pages of reports from the monthly meetings)
To read my take on the NC ASRC:
https://www.commoncorediva.com/2014/12/16/breaking-news-ncs-asrc-committee-on-review/
To read some truth about the NC Chamber of Commerce's CCSS 'dog and pony show' for the ASRC:
https://www.commoncorediva.com/2015/06/17/wybi-nc-businesses-and-common-core/
When the ASRC met with the Drs. Stotsky and Milgram:
https://www.commoncorediva.com/2015/03/18/wybi-the-elephant-in-the-ccss-room/
To see how NC, as a member state, is involved with GEAR Up (which directly involves our colleges and universities):
https://www.commoncorediva.com/2014/11/18/ftf-tuesday-ccrec-college-and-career-readiness-evaluation-consortium/