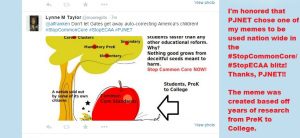 For this edition of my "Weekend News", here's a takeaway 'spoiler': No matter where you are in the War Against the Core, there's something for everyone in this edition. Regardless of educational choice, CCSS is set to control education.
If you are involved in traditional public education, the CCSS Machine is the most well known. But what about those NOT in traditional public education? It's solidly there as well. When you look at the agenda behind the illegally based education reform, the goal is total alignment, not just for education, but for our entire nation. Why? Workforce, the economy, and global citizenry.
Common Core and the Special Needs Students:
Here's the latest information I found from the Learning Sciences International (which is tied to Robert Marzano). You can find out how this social emotional, pro CCSS push is targeting special needs students, their families, their teachers, and other educational staff.
https://www.commoncorediva.com/2015/11/03/ftf-new-ccss-unpacking-guide/
This article, which was published near the end of October 2015, is one you'll want to read due to its increased push for data mining; parent alignment from the U.S. Dept. of Education, and much more. It also ties to the re-authorization of the ESEA.
https://www.commoncorediva.com/2015/10/26/monday-musings-the-ccss-are-you-kidding-me-files/
This article, from mid October 2015, reveals how IDEA funding and more, are being abused for the post-secondary alignment to all things CCSS, CTE for students with any sort of special needs, or 'at risk' students. Even if you do not have a student in either of these populations, it is OUR tax money which funds IDEA. 
Common  Core, Career Tech Education, Career Pathways, STEM, and the ESEA Re-authorization:
Congress is poised to be voting anytime now on the combination bill where the HR5 and S1177 (Student Success Act and the Every Child Achieves Act, respectively)  This article gives you a review for those who've been fighting CCSS for awhile, and for those who are new to the fight, this article can give you a quick look at why we MUST call our Senators and Representatives as soon as possible to HALT the re-authorization!
https://www.commoncorediva.com/2015/11/05/tech-thursday-ccsscte-low-down/
This key article is certainly one anyone needs to read or re-read! If you think the STEM Act of 2015 is a 'good thing' for education, I urge you to reconsider!
Common Core, Career Pathways, and STEM for the Babies:
While we've heard and read many articles about the mental damage the CCSS brings students; the Universal PreK push, this article gives you a NC based pro CCSS initiative geared for those with children who are newborns all the way to age 5! While this is NC based, it reaches untold numbers outside NC. You can also find another financial institution meddling in education. To date, I've been able to find 3 different such cases: one for post-secondary CCSS, CTE alignment; one for the youngest of USA citizens, and one for promoting anything the CCSS Machine grinds out!
https://www.commoncorediva.com/2015/11/02/monday-musings-alignment-for-wee-ones/

Common Core Entities Aligning School Personnel and Others:
This article was geared for a "Halloween" theme, but regardless, it is still vital 'need to know' information. During all the research I've conducted, I've shared many groups seeking to align our school counselors, principals, school board members, and, school superintendents, across the USA. Especially readable for those who are new to battling against the CCSS Machine.
https://www.commoncorediva.com/2015/10/31/weekend-news-those-ghouls-in-our-schools/
Here's another article where I reveal yet financial institution meddling in USA education for purposed endorsement of all things related to Common Core! This article shows exactly how P3s (public private partnerships) ruin education in support of anything Common Core related.
https://www.commoncorediva.com/2015/10/27/ftf-measure-twice-cut-once/
This article is very detailed in its look at several national groups committed to targeting school personnel. From teachers, on up the 'ladder', if you weren't aware these groups existed, this information is key to your state's battle.
https://www.commoncorediva.com/2015/10/18/weekend-news-ccss-school-officials-alignment/



Common Core, STEM for Schools via the Export-Import Bank Re-authorization:
If you've followed my writing long, you know I've shown you how CCSS, CTE, STEM is embedded in legislation that supposedly has nothing to do with education at all, yet, we find pro CCSS programs somehow embedded in them. We saw it in the WIOA of 2014 (Workforce Innovation and Opportunity Act of 2014), and it's there in the current E-IB (Export-Import Bank) re-authorization! If you missed this one, this is an important article!
https://www.commoncorediva.com/2015/10/29/tech-thursday-stemccss-push-making-it-american/
The Common Core's "Career Tech Pledge":
If you are new to fighting Common Core, you may not know that the Career Tech Education is an 'adult version' of the CC Standards. I've been able to provide evidence to support this since I first began blogging. However, this article is some of the latest information. It encompasses several states, including those states which chose to NOT adopt the CCSS (example: Texas). You'll see many other states involvement in the "Pledge", see what catchy names are being used to 'hide in plain sight' the CCSS/CTE alignment, and see how 'action plans' for special needs students, homeschool students play into the "Pledge"….and all in the name of 'college career readiness'!
https://www.commoncorediva.com/2015/10/15/tech-thursday-career-readiness-pledge/

Closing:
As you can see, no educational choice is safe from the CCSS Machine, the more we can help others realize this, the more we can stand together AGAINST the Common Core State Standards Initiative (CCSSI)!