Greetings to you, my fellow anti CCSS Warriors. We've been hearing the phrase 'end federally led education' for some time now. We've heard citizens, leaders, and others state their desire in closing down the U.S. Dept. of Education. We know how hungry for an anti CCSS (Common Core State Standards or whatever other names it hides behind) educational change Americans are.  We now have an organized group ready to serve John King (the U.S. Dept. of Education's Secretary) and the rest of the "Fed Ed" their just desserts!
I am honored to help introduce the U.S. PIE (United States Parents Involved  in Education). US PIE is 50 healthy portions of parents who have had enough of the CCSS Machine's ruining their children's education, running their lives, and grinding the staff down. U.S. PIE is 50 united land masses working together to stand for U.S. Constitutionally protected state sovereignty in education. A dedicated, as well as well known group of anti CCSS Warriors has been working behind the scenes for months now to get this PIE ready to be served. However, since America is such a large nation, we need more PIE servers in each of the 50 states. There is safety in numbers, by having as many PIE servers as we can, our leaders can know we are very serious about the educational menu our schools are offering. In like fashion, there is a PIE Pledge we are EXPECTING our leaders/legislators to sign to show their seriousness AND willingness to work with us to 'END Fed Ed'!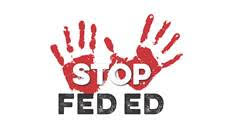 In helping share this timely news, I have included the PIE Pledge, as well as the other resources you will need to find out how you can help your state serve up educationally minded just desserts. See below for them.
Before I close today, please let me state this: Those of us working to shut down the U.S. Dept. of Education know this is one of many steps needed to take our educational system back. We know there will be other federal departments which are in need of some just desserts of their own. (for example, the U.S. Dept. of Labor has a huge federally led overreach into education via the WIOA, Workforce Innovation and Opportunity Act of 2014). I pray and hope these other federal departments are destined to be met by U.S. PIE as well, but for now, we have the U.S. Dept. of Education in our sights! Join us, we need you, your schools need you! Your nation cannot survive without you.
To see the You Tube version of the U.S. PIE official announcement. Here you will see some  well known anti CCSS Warriors speak out:
[youtube https://www.youtube.com/watch?v=aJvk80poiGk&w=560&h=315]
To download the U.S. PIE Candidate Pledge:
USPIE Candidate Pledge final
To see the US PIE Iowa Press Release in print given during the Iowa Caucus:
NEWS ADVISORY FOR IOWA
To see the US PIE Texas Press Release in print given during the It's About the Child Conference:
NEWS ADVISORY FOR TEXAS

If you would like to access the US PIE flyer with an inserted link to click to join:
updatedpie