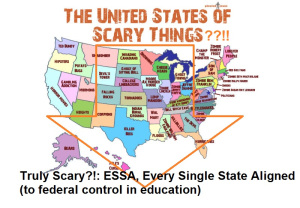 To my fellow Anti CCSS/Fed Led Ed Warriors, I have gathered the following miscellaneous Pro Common Core fodder. Why? Since ESSA (Every Student Succeeds Act) is now law, the propaganda from the CCSS Machine is working overtime to produce as much BS as it can.
If you haven't seen the following items, you should! While the false facts are flying, we have to work HARDER to share the truth! Is this a challenge? Of course it is! Can we do it?! Sure we can!! Share this article with other anti CCSS/Fed Led Ed Warriors, discuss what you can do to help those in your area find out what REALLY is going on, not what the CCSS Machine cronies say!!
First up, the President of the NEA (National Educators Association) gives us a rundown of all teachers do in today's classrooms. Notice where the true education ends up in her list. Notice the arrogance in her face as she runs down this list and then remember ALL the latest CCSS Machine moves, resources, and legislation which has been produced in the name of parental right being usurped or taken away! It is no wonder the CCSS Machine claims kids don't need parents!
[facebook url="https://www.facebook.com/thisisinsider/videos/1502768973363829/" /]
Secondly, as one of my fellow Anti CCSS Warriors stated, 'who needs the truth, it just gets ignored.' This particular video gives us a look into MORE of what is happening in our schools. I guess the NEA failed to mention this on their snarky list.
[youtube https://www.youtube.com/watch?v=ERFGuUGgdqg&w=470&h=264]
Third, The ESSA has embedded a tremendous amount of behavior modification activities, supportive programs and services, as well as other RTI (Response to Invertion) methods. Yet, it spite of it, the real evidence is coming out…RTIs are NOT working!! Yet, MORE are being planned, created, and will be used!! The CCSS Machine is most certainly on a BS mission with this portion of the ESSA!! See: http://www.makespecialeducationwork.com/response-intervention-falls-short-2/#sthash.DVCN7NbT.Aq1YzW81.dpbs
Related: Where are the RTI items in the ESSA? For one thing, they will appear via 21st Century Community Learning Centers/Full Community Schools and through Promise Neighborhood Programs. See: https://www.commoncorediva.com/2016/01/04/meet-your-new-neighbor-essa-seriously/
To help illustrate this, see the screen shot below from my first article in a series of 3 where I laid out the 2017 Federal Budget Education Requests (think almost $70 billion dollars). The link to the article is immediately beneath the screen shot. You can access it to not only get the ESSA Final Conference Report download, but you can access the other two articles detailing the Budget plans, as well as how it fits in the ESSA. The Budget Requests will also reveal how entire communities, the post-secondary educational system, teachers and leaders, and each State will be impacted.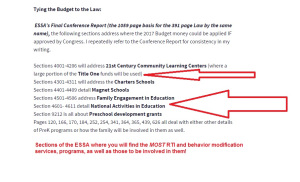 Related to RTIs: How will the educational leaders help 'sell' these services, programs, and provide resources? See: https://www.commoncorediva.com/2016/03/28/principled-leadership-in-the-essa-era/
To see Pearson Publishing's rapid moves in the RTI portion of education, be sure to read this article from last month. The second portion exposes the main programs used for RTIs. https://www.commoncorediva.com/2016/03/07/pearsons-gi-more-alignment-in-the-workplace/
Closing:
I hope you will continue to help me raise as much awareness to what the REAL truths are about the ESSA. Do not be discouraged if you feel NO ONE is listening. Among the Warriors, we have heard the term 'crickets' when we think no one cares.
It is easy to believe no one is hearing you, especially when life is so busy. However, please know that your voice is probably being heard by someone. It is your voice those around you need to hear LOUDER than those spewing lies and making light of how our educational system in being ruined and transformed into a nanny's house. Remember, to speak LOUDER doesn't mean we have to shout, it just means we have to use a firm, knowledge based voice.
To say something is fine, but to have the actual language and what it means is what will make your voices BOOM! Still not sure about HOW you can make a BOOMING voice without yelling? Look at the screen shot above. That is a start. It gives the specific sections you can point others to. Think your legislative/local leaders have actually read the over 1,000 page ESSA Report OR the almost 400 page ESSA Law? I doubt it. Why? If they had, they would be jumping up and down with anger of just how this Law will HARM America, not FIX it! If you would like my 2 and 1/2 page PDF document which is very similar to the screen shot above. While I made it for my NC State Legislators, it is suitable for ALL the States. HOW? Each of our States will experience the SAME mandates of the ESSA! NCedover
If you need to add your contact information, please do. If you need to address this to your State, please do so, as well. Should you need me for any reasons connected to this War Against the Core (or you wish your Legislators to contact me), all my information is included.