Goodbye, September…Hello, October! Fellow anti CCSS Warriors; Warriors Against the Core; and Anti Fed Ed Warriors, you know life is changing for us all on a daily basis. You know we, as a nation are being impacted every day by the CCSS Machine in some way.
I'm a bit more angry at the continued overreach in education from all the levels it SHOULD NEVER be getting. I've also seen an increase (again) in being blocked, so some of my latest research isn't getting out there quite as good as it once did. Still, I press on.
However…………………..
We've reached a point, in the War Against the Core, where the 'poop' is hitting the fan at almost breakneck speed!
At the beginning of the week, if you remember, I said we had 5 days of which to survive U.S. Congress's moves concerning their part of the CCSS Machine's overreach in education legislation. Mid-week, I said it didn't appear much was happening on the Hill, but there was plenty going on elsewhere in D.C. (Dr. King and the U.S. Dept. of Ed)
All the while, the blocking of all that I'd researched and written grew. Then, last night, at least for me, the poop really hit the fan when I received an email from the U.S. House of Representative's Education and Workforce Committee.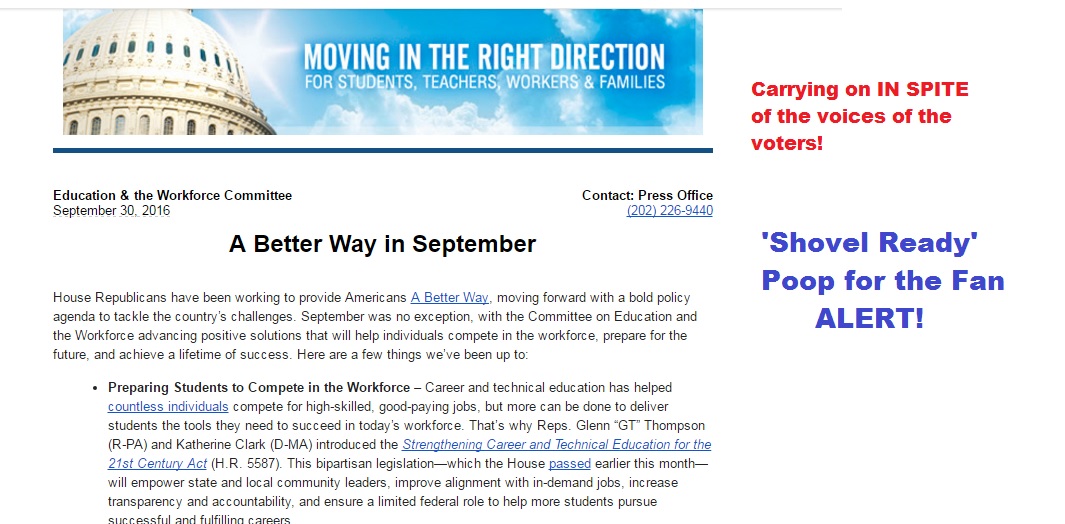 The email goes on to share all the other education/job reform projects. Then, the letter is ended with, "All of these reforms will provide Americans "A Better Way" to pursue successful, fulfilling lives and work toward a brighter future. And there's more where these came from. September may be drawing to a close, but House Republicans know there is more work to be done."
If you wish to read the entire message,
http://edworkforce.house.gov/news/documentsingle.aspx?DocumentID=401106
(*Note: The H5963, is included; the Higher Education Forum Rep. Kline spoke during, also there. As you know, I've written on both of these to expose the real rotten, stinky logs of poop.)
Let me backtrack from here. Ed/Workforce had been sending plenty of emails out this week, so I'd seen an increase in the 'poop factor'.

Other Poop Factors:
1) Literally starting today, Oct. 1, a new fiscal year. The CCSS Machine's gotten its claws in the federal budget. See:
https://www.commoncorediva.com/2016/09/26/the-last-5-days/
2) The 'King sized sack of poop' being dished up:
https://www.commoncorediva.com/2016/09/27/home-for-me/
(*Note: near the end of the bad news I shared in this one, you'll see all the information on how you can sling some 'poop' of your own on Oct. 17th, 2016)
3) The new Family Engagement Ambassador Program from the U.S. Dept. of Ed and other CCSS Machine members has begun. This article has the framework for HOW the Fed ED will take over your family as a 'nanny' to align all to the CCSS Machine's plans for education. https://www.commoncorediva.com/2016/09/28/bon-voyage-hello-grinders/
4) The Rep. Kline speech on higher education poop,
https://www.commoncorediva.com/2016/09/28/bon-voyage-hello-grinders/
5) How the CCSS Machine, via McGraw-Hill, is doing its best to align the Nov. 2016 elections: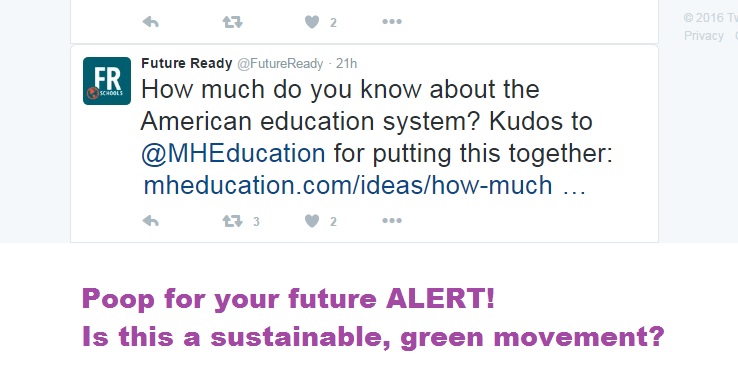 "Got Poop?"
From the articles above, you'll be able to see how much poop is currently flying. However, during the course of this week, there was a 'new' bill Ed/Workforce trotted out, HR6094. The official name, "The Regulatory Relief for Small Businesses, Schools, and Nonprofits Act."
HR6094 is to put a delay of 6 months on a rule made by the U.S. Dept. of Labor.
So, we know the U.S. Dept. of Labor is a big CCSS Machine organization. The rule has to do with overtime pay. See: http://edworkforce.house.gov/uploadedfiles/6month_02_xml.pdf
Okay, so now we are talking something to impact our national economy. We know, also, that national economy is a key platform FOR the CCSS Machine's rhetoric for a stream-lined, workforce based education. Any time you see workforce, education, and the economy, you'll see at least 4 alphabet soup CCSS Machine names. CTE, WIOA, ESSA, and HEA. (Career Tech Education/Workforce Innovation and Opportunity Act/Every Student Succeeds Act/Higher Education Act).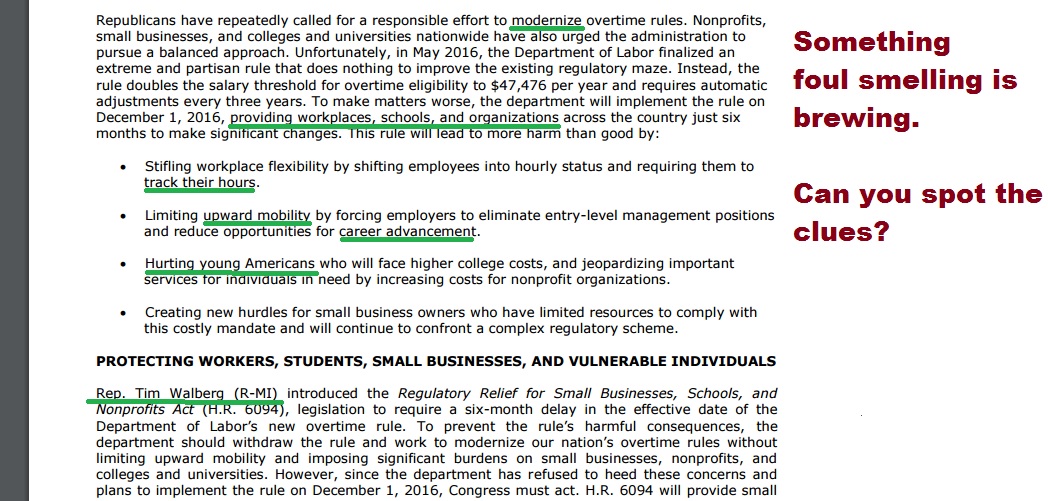 Walberg from Michigan, is the main Representative behind HR6094. He released a statement about it earlier this year. See:
http://edworkforce.house.gov/news/documentsingle.aspx?DocumentID=399190
Oh, his stance on CTE which is the adult level for Common Core? He voted 'Yes' to the HR 5587 on 9/13/16. As you know I extensively researched HR5587 and exposed all the CCSS Machine ties. See: https://www.commoncorediva.com/2016/08/09/congress-loves-cte/

Walberg also voted 'Yes' to the ESSA back in Dec. 2015. His vote for WIOA back in 2014? Also a 'Yes'. As far as the HEA, Walberg shared quite a bit of news he was so proud of: http://walberg.house.gov/news/documentsingle.aspx?DocumentID=372550
Delaying the rule may be a good move, it may not. However, when you have a federal level committee churning out CTE bills faster than ever, you know it's going to be bad by the time all the poop flushes down the toilet. Add to these facts, it appears Walberg is holding the tissue paper, we'd better see EXACTLY  what U.S. Labor Dept. rule needs a delay.
"Wages and Fair Standards Labor Act" or FLSA. See: https://www.dol.gov/whd/flsa/
Why should we, the Anti CCSS Warriors give this a moment's concern? Since ESSA expands Career Tech Education, P3s (public private partnerships), aligns to learn-to-earn initiatives, and more, We MUST pay attention! ESSA also builds on the mandate for more career exploration activities. The FLSA shows a detailed list of what is covered and what's not when it comes to wages and related activities. (*Note: access the above FLSA website and look for 'handy reference guide'. Also, look at the child labor information: http://webapps.dol.gov/elaws/whd/flsa/cl/default.htm
Knowing how the CCSS Machine is bent on breeding young workers, we NEED to know what, if anything will be changing.)
If you wish to see the U.S. Representative's Ed/Workforce spin on HR6094 via their 'Fact Sheet': http://edworkforce.house.gov/uploadedfiles/fact_sheet_-_h.r._6094.pdf
Meet the Plungers:
When I saw the tweet earlier this week, about how 'great' this bill is, I knew in an instant, that something foul is in the making.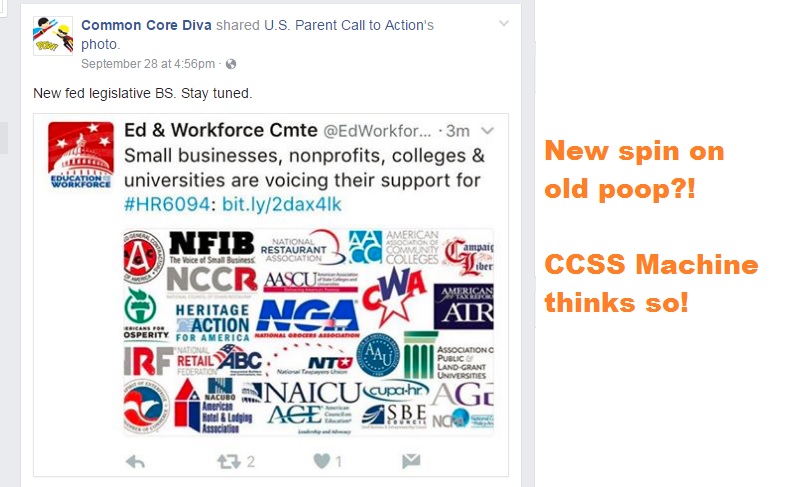 So, how do I know these groups are 'plungers'? First off, I do not know if every single one of these groups is a CCSS Machine member.
However, looking at the above picture, I can easily spot several CCSS Machine members/groups. For example: the APLU (Association of Public Land Grant Universities) is up to their necks in education alignment to the CCSS Machine.
See: https://www.commoncorediva.com/2015/01/06/ftf-more-evidence-for-aligned-ccss-higher-education/
`
Another easy one to spot? The AACC (American Association of Community Colleges)
Here's my latest article on them. They are a notoriously known CCSS Machine member group. https://www.commoncorediva.com/2016/08/23/local-schools-open-for-wioa/
What other group do I have research on? The AASCU (American Association of State Colleges and Universities).
The U.S. Chamber of Commerce is a HUGE CCSS Machine 'plunger'!! One of my past articles about them: https://www.commoncorediva.com/2015/05/22/fom-chambers-pot-of-lies-for-ccss/
Then, more recently, I shared how the State Chambers of Commerce (which get big bucks from the U.S. Chamber):
As far as groups like the NCPA, Heritage Action, etc. I do not know their stances on CCSS or any of the aforementioned related materials. HOWEVER, I would caution ANY group willing to work with these known CCSS Machine member groups.
Flush the poop, clean your hands of the CCSS Machine's agenda, and get out of the bathroom. Helping align our nation in ANY way to the workforce based education, is a sewer-worthy move.