Recently, my fellow Anti CCSS/ESSA/Fed Ed Warriors, I shared with you how BOTH Chambers of Congress have chosen to use our tax dollars to continue the illegally based education reform.
Included in the continued overreaches are funds for aligning entire communities to the ESSA (Every Student Succeeds Act) mandates. There are other items as well which should be of concern. If you missed either one, but sure to use the bottom left arrow at the end of this article. It will send you back to the Senate article ("Setting Us Up"). Embedded in the Senate article, you'll find the House's article ("Sure Fire Disaster: Fed Ed")
The remainder of today's article is in response to a reader's comment/question.
I had posted the House article on Sunday to the Facebook page "Moms Against Duncan". In the article was the fact that Museum and Library Grants (M & L Grants) are tied to the CCSS Machine. I not only shared how the House is using FY (Fiscal Year) 2017 funds to keep this up, but I linked my previously published article with details on HOW M & L Grants are being used by the CCSS Machine (before, during, and after ESSA's passage into law).
One reader responded with the fact her local area had a Millage Tax vote for their library and wondered if this tax is somehow connected to all the education alignment. She also shared that scare tactics were used before the vote took place. The rhetoric was pretty much vote 'yes' or libraries will be forced to shut down.
This reader sent me the link to all these events to see if I could dig out the truth.
The News Source:

Warriors, here is the link I was sent: http://yes4muskegonlibraries.org/
As best as I can tell, Muskegon is located in Michigan.
What's a 'millage' tax? Basically, its a unit used to calculate how much your property is worth. This is usually done for personal property taxes. However, from a quick internet search, it seems many communities are using the millage rate tax calculations as a way to raise money for expanding libraries.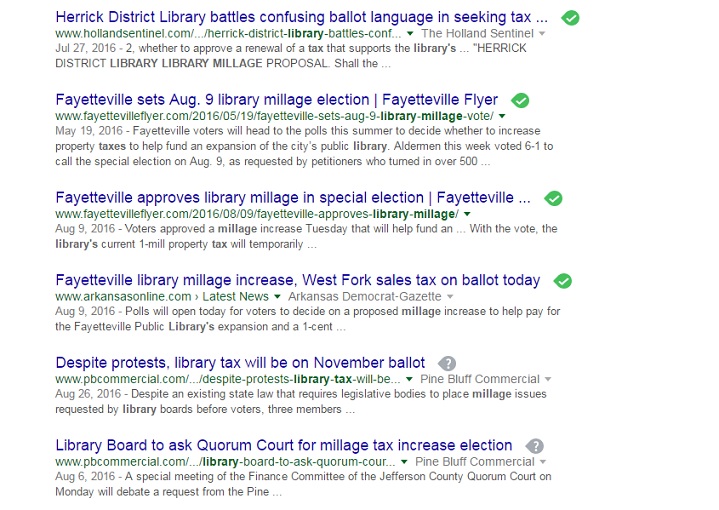 If you're like me, the "Despite Protests" article jumped out at you. I clicked on it and found that in SE Arkansas, a battle was brewing. Here's an excerpt from the full article,
"Despite an existing state law that requires legislative bodies to place millage issues requested by library boards before voters, three members of the Pine Bluff City Council voted Friday to ignore that law, shooting down a request by the Jefferson County Library Board to place a millage increase initiative on the November General Election ballot." To see the entire article for yourselves:
http://www.pbcommercial.com/news/20160826/despite-protests-library-tax-will-be-on-november-ballot
Wow, this raises a question to consider. Are our local communities doing this?
I wonder if Muskegon did. Let's see what else we can find.
According to the Muskegon Library article, the millage tax proposal didn't pass. However, this sent the town leaders on a goose chase for how to FUND the library.
Going To Follow The Money?
The library article also mentioned the Muskegon Area District Library asking its patrons to vote (August 2016), as the current millage expires 12/16. Eighty percent of the Library's funding comes from the millage tax. The District Library even hired an outside firm to conduct a survey.
Mitchell Research and Communications. The head of Mitchell is also a board member of the Michigan Chamber of Commerce. (Hhmm…a big CCSS Machine warning bell there. Remember, Gates Foundation gave the U.S. Chamber of Commerce millions so they could pass on the money to the State Chambers. The express goal? Alignment to Common Core, Career Tech Ed)
Below is a screen shot you may find interesting about Mitchell Research's OTHER education related activities:

To learn more about Mitchell Research: http://mitchellresearch.net/
Back to the Muskegon District Library's website. Would I find any CCSS Machine clues there? Would I be able to find out more about the millage tax and/or the Museum and Library Grants?
To access the District Library's website: http://www.madl.org/
In their 2015-16 Budget I didn't find any M & L Grants, but I did find that between the local taxes and the State Grants (including those for special needs), this District has quite an income. To see their budget: http://www.madl.org/images/pdfs/BUDGET2015.2016merged.pdf
While that may seem like a dead end, we need to see what money the State received in the way of grants to determine if an M & L Grant was awarded. Remember, where you find the M & L grants, you find the CCSS Machine and its agenda. Part of the agenda in ESSA is community alignment in the name of 'student success'.
The other part? Communities will be held accountable for their part in your child's education. Another CCSS Machine 'benefit' of the M & L grants? It ties to WIOA, Workforce Innovation and Opportunity Act. How? Those seeking jobs who don't have access at a home computer will likely use the local library's. Add that to the fact the library is a public place, job training sessions will also be held there. This all ties into the technology infrastructure and data mining, too.
Before we leave Muskegon District Library, get a look at their agenda (aka 'strategy'):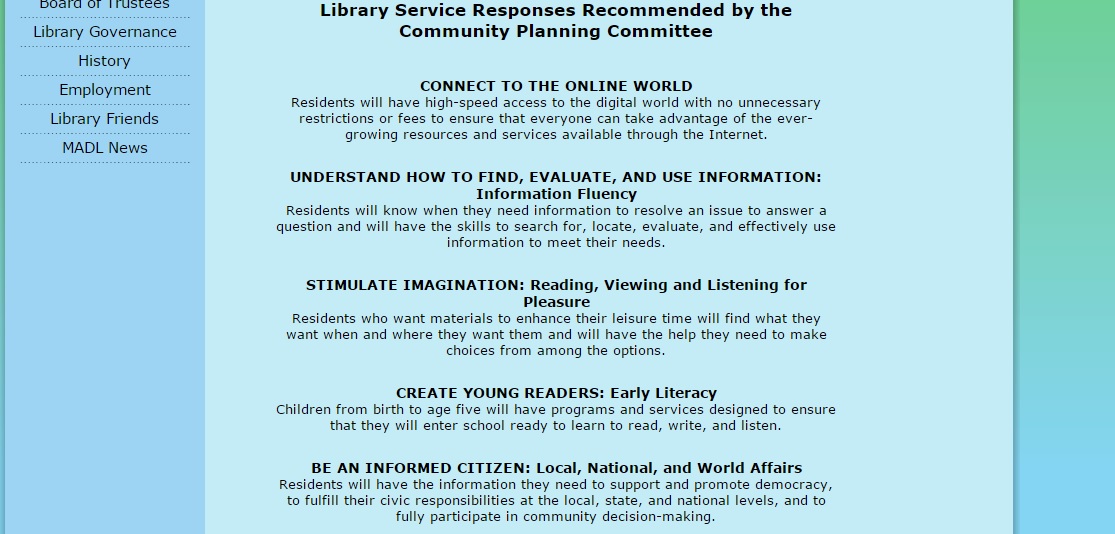 MI State Grants for Museums and Libraries:
Over the past 5 years: $21,824,354.00 awarded to MI from the Institute of Museum and Library Services. (see: https://www.imls.gov/grants/grants-state/state-profiles/michigan)
The grants support upgrading/maintaining technology. They are based on population (guess where that information comes from? The U.S. Census) These grants do a whole lot more, too. If you refer back to my articles "Hitting the Books" and the "Hitting the Books, Part 2", you can find out TONS of truth you won't find elsewhere when it comes to the CCSS Machine and our communities.
According the 2011-2015 Michigan 5 Year Evaluation for being eligible to receive M & L Grants, it appears the Governor eliminated governance over the State's Library and that power now rests with the Dept. of Education.  See this excerpt, "During the plan period the Library of Michigan experienced tremendous change in both funding and its location within the Michigan state government. The agency experienced cuts of up to 20% in its annual budget as well as substantial decrease in staffing levels. Since 2000 the Library staffing levels have decreased from approximately 75 positions to a current 33 positions, not all of which are currently filled. In addition to these internal issues the organization as a whole was declared to no longer be an independent state agency and was moved under the Department of History, Arts and Libraries, HAL. In 2010 the Governor eliminated HAL and moved the Library of Michigan once again. Currently, the state library is under the authority of the Department of Education as a departmental unit."
This Evaluation also revealed a sub-grant called "Modeling the Future". The sub-grant information below is a bit dated, but the agenda isn't. Innovation is a huge, top-down mission for education.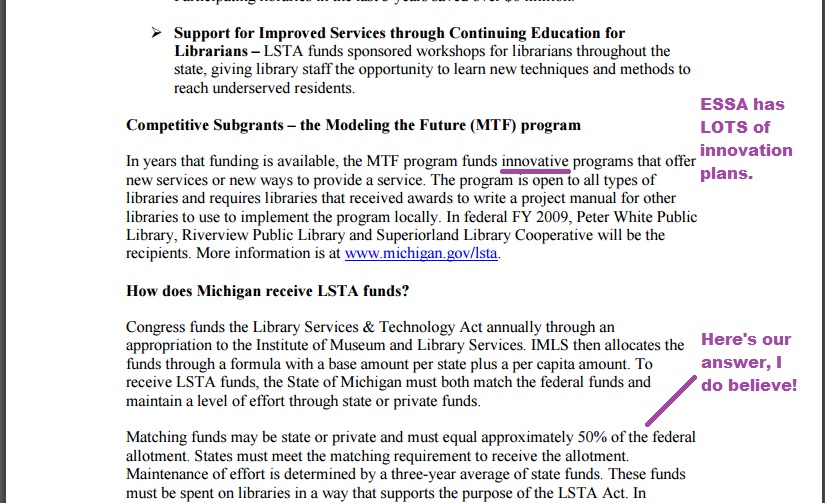 Warriors, I do believe I've found the answer as to WHY Muskegon's District Library was pushing so hard for the millage rate. IF States can't match the fed led grants, they cannot qualify! Those libraries are hardly in danger, but by using the scare tactic, I can see how it was successful!!
To see where I got this from:
https://www.michigan.gov/documents/hal/lm_LSTAfactsheet08_287053_7.pdf
Closing:
Warriors, while the reader was concerned about MI, know that the M & L Grants are nation-wide as well as applicable to all US Territories.
Once again, I thank each of you who trust me enough to find the evidence you seek. By doing so, we are helping others to know where to look in their local areas for how the CCSS Machine is grinding them down.