We've all had discussions about education. Some of these 'talks' are pretty easy; some others aren't. With most of us back home and resuming our post-Thanksgiving lives, it is easy to think about what was said around the table.
My family is no exception. Most of the family's offspring are up in age. A few, however, have little ones. By little I mean '10 years and younger'. My most 'in-depth' education conversation wasn't with one of the grown-ups. It was with a 7 year old.
Here's what this child is experiencing daily in a summary form:
 "I got a new teacher when I went to my new school. I like this one much better because he gives me good colors. My old school teacher gave me bad colors. I don't like the bad colors. She was mean."
My heart still hurts when I recall his face and body language.
Warriors, I do not know about you, but this was something, no one, not even a Warrior Parent had shared. Since parents are being left out of education so much, these Warriors may not know about the 'good color/bad color' strategy in the classroom. Maybe they do and are fighting so hard against it, it's assumed everyone knows.
It doesn't matter. What DOES matter is looking at how this strategy is reshaping (literally) our children's mindset.
Behind the Color Wheel, An Old Agenda Awaits: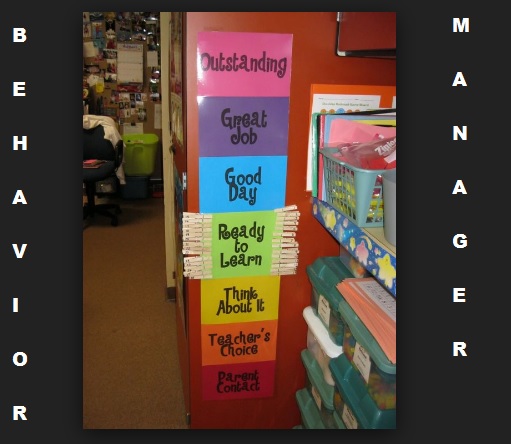 Warriors, I found this example on Pintrest, along with hundreds of other color behavior management charts. Since I do not know exactly what school my young kinsman attends, I cannot access his school directly.
I did find his school district's website. No mention about color controlled behavior management was available. (You can also find via an internet search how colors are replacing report cards. We know that in some States report cards and diplomas are being phased out totally.)
So, where's the 'agenda'? PBIS (Positive Behavior Interventions and Supports) While the screen shot you see above may or may not co-ordinate with the particular school district I'm referring to or not, the PBIS, thanks to ESSA, (Every Student Succeeds Act) is only going to get more invasive. An added 'bonus'? The amount of money to be made by private companies which partner with schools. ESSA gives that opportunity many times in the Law.
Earlier this year (2016), I shared with you the Pearson Behavior Management System (Review 360) and how it uses P3s (Public Private Partnerships) for conditioning not only our students, but our school leaders, too. See Part 2 of my article:
https://www.commoncorediva.com/2016/03/07/pearsons-gi-more-alignment-in-the-workplace/
Also from earlier this year, I shared with you how ESSA and the 21st Century Community Learning Centers were set (or, are being set in place) for whole family behavior managing. The agenda? If the entire family is on the same track, the student will have better success in life (aka: student achievement/student outcome). See: https://www.commoncorediva.com/2016/04/10/ccss-machine-potpourri/

Related to what is happening NOW in behavior management, is this screen shot from a 2014 article I published which revealed to you the Behavior Standards used in schools which aligned to Common Core.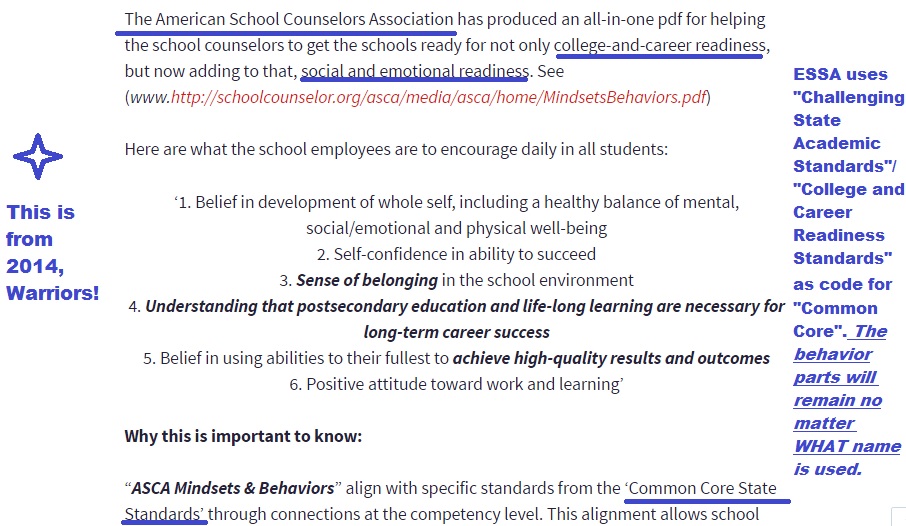 You can see how the PBIS will fit into schools. It doesn't matter what name the States use for educational standards, the behavior portions will remain in place and yet, will INCREASE in overreach!
If you wish to access the Behavior Standards and Mindsets:
https://www.commoncorediva.com/2014/11/08/sic-em-saturday-common-core-minding-our-manners/
Above, you noticed I stated 21st Century Community Learning Centers. Here's a screen shot of how the PBIS will fit: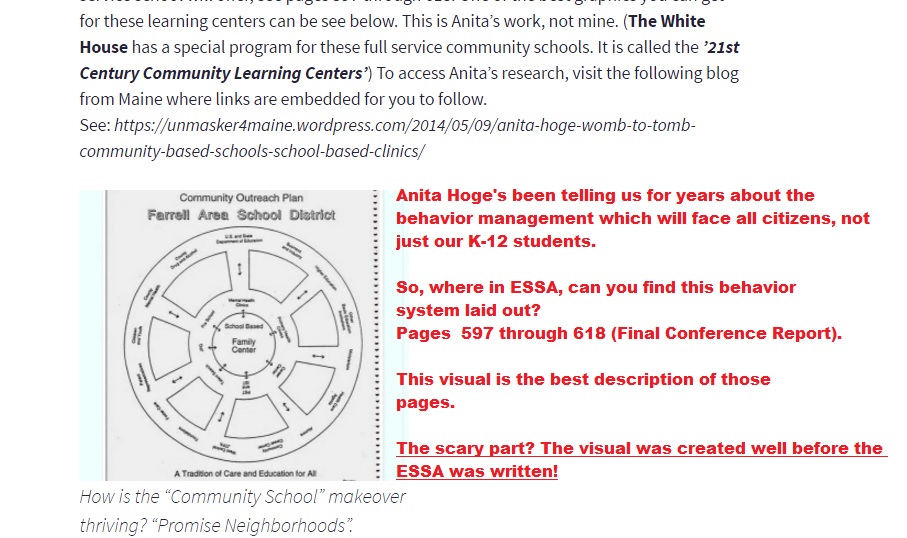 If you'd like the entire article (with links):  
PBIS In Real Time:
From the school district information I found that the Positive Behavior uses not only colors (think a traffic light), BUT coins as rewards to use for 'shopping'.
In this 'new way' of behaving, kids are taught that 'fail' doesn't mean the opposite of 'success', as it is traditionally taught; no, it represents  an 'opportunity to try again', 'failing is another word for growing', or 'first attempt in learning'! Warriors, do you sense the importance of this shift?! (Do an Internet search for the images of these phrases, you'll be surprised at the shift in traditional critical thinking.)
So, what is the school district I found using for PBIS?
It's at every grade level; it uses Starbucks Rewards cards; weekly school 'shopping' trips;
colors as 'good' or 'not good' ('bad' is not an option); and, levels of keeping behaviors in line with every other student (for example: blue level or gold level, the higher the color, the more the responsibility).
It's important to note that the school district is Greenville, SC. According to their website, they are SC's largest school district and the 51st largest in the entire nation. They also are accredited by AdvancEd (a huge CCSS Machine member group which manipulates behavior.)
To see Greenville's PBIS description (to be used anywhere learning can happen):
https://www.greenville.k12.sc.us/monaview/Upload/uploads/PBIS.pdf
To see how PBIS is used for elementary students: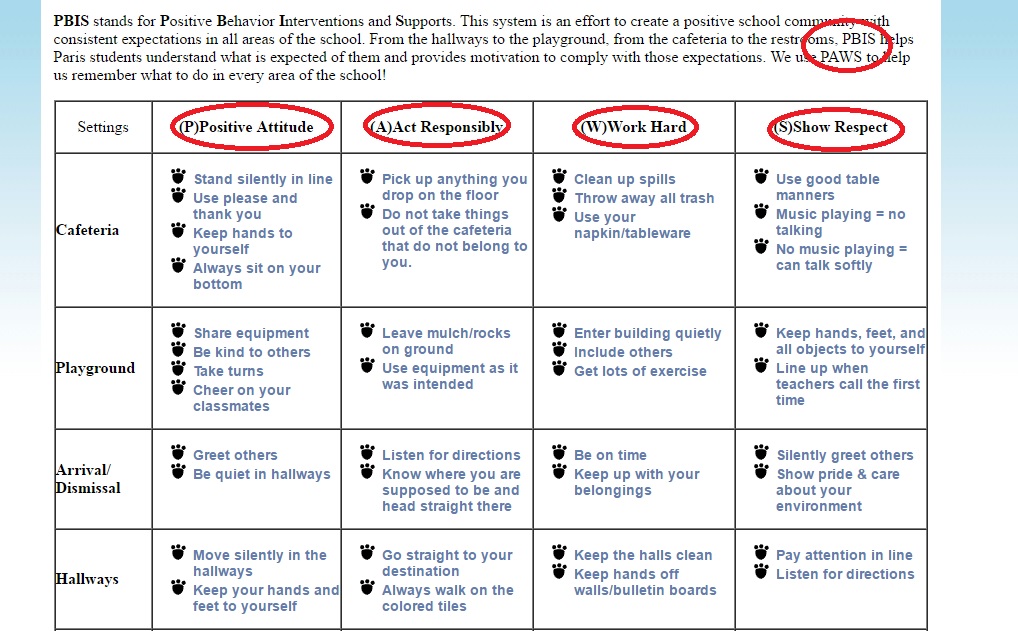 Warriors, do you see how music is used in the cafeteria?! Do you see how much silence is expected?! Do you see how often lines are to be used or order is to be kept?!
To see the entire chart: https://www.greenville.k12.sc.us/parise/students/0809/pbis.asp
PBIS for older special needs students (self contained)? Greenville's School District offers a specific teacher's letter. In it PBIS is described as a "Behavior Management System". The introduction states a Unique Learning System (a Standards based on-line curriculum) is also used. To see the traffic light/shopping trip plan for behavior: https://www.greenville.k12.sc.us/rms/syllabi/KellettSelfContained.pdf
To see the Unique Learning Systems SC Standards Base (College and Career Readiness Standards; code for Common Core State Standards): https://www.n2y.com/unique-learning-system/
What's interesting is that Greenville's School District AdvancED accreditation'more information' link is broken. However, I did find the information at the Greenville Economic Development Board's website. (see: http://www.greenvilleeconomicdevelopment.com/greenville-county-schools.php )
(*Note: AdvancEd is big into the the 2030 UN Agenda for an educated workforce. See:
https://www.commoncorediva.com/2016/08/31/this-is-our-choice/)
Why would school information be located at an economic website? The workforce agenda!!
"College and Career Readiness" doesn't just involve education, it arches over into jobs.
Jobs drive the local economy. ESSA and WIOA (Workforce Innovation and Opportunity Act) use Career Tech Education and Career Pathways (sometimes Career Clusters). The Higher Education Act (HEA) also plays into this!
The Ultimate Goal for the students in Greenville School District (as well as a national goal we see playing out in 'real time')? The screen shot shows only a portion of the information. The entire 2 page brochure reveals the 'building' begins in Pre-school!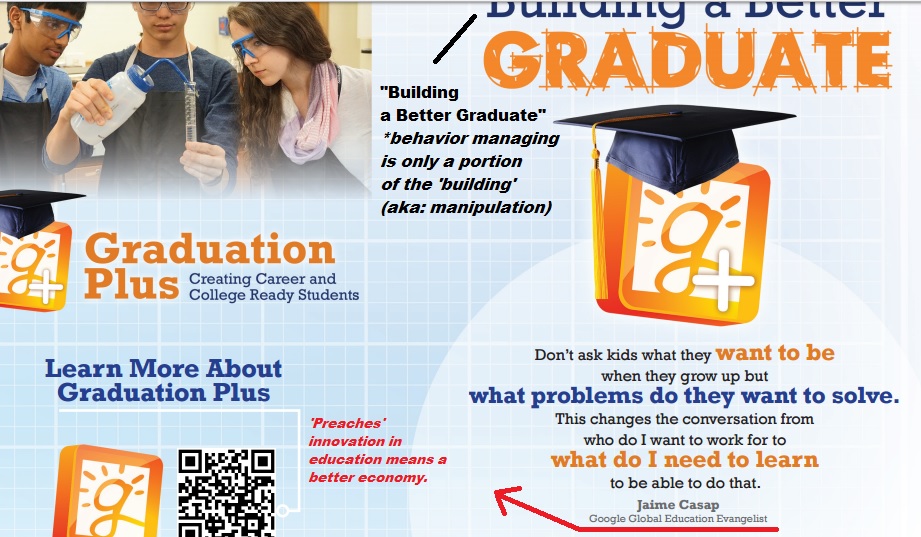 To access the brochure: https://www.greenville.k12.sc.us/Parents/docs/gradplus_brochure1611.pdf
As far as the "education evangelist"? He's preaching innovation in education for the economy's benefit! See for yourselves:
[youtube https://www.youtube.com/watch?v=cL_WJ5yXOgE&w=560&h=315]
Closing:
Warriors, we all are at risk of losing our students to the CCSS Machine's workforce agenda. It doesn't matter how young or old our students are. By using colors to encourage or discourage young minds, we condition them unjustly. By using music as cues to be ourselves and chat with others or not, we are restricting personalities. By showing instant gratification for 'good' behavior, we are seeing the entitlement programs increase in society.
What's my little kinsman's future?! Sadly, like all the rest of ours. A 'color coded credential for work' where we are all 'bronze, silver, gold, or platinum' workers…not free people with hopes and dreams.
(see: https://www.commoncorediva.com/2015/09/03/tech-thursday-just-say-no-to-nocc/)
So, the 'education evangelist' is truthful about one thing 'who do I want to work for?';
the rest of his message? An empty vat of lies.