In the waning days of November 2016, there are many  mixed emotions among us as the Anti CCSS/Fed Ed Warriors.
No doubt you've seen days worth of articles both in support of President-elect Trump's choice for the U.S. Secretary of Education AND opposition of his choice. Most of the Anti CCSS/Fed Ed Warriors have been extremely diligent in bringing forth much needed evidence as to WHY Mrs. DeVos is a TERRIBLE education champion, yet this evidence is ignored by Mr. Trump and his Transition Team.
In the days since the announcement, once again, the suggestion that Bill Evers is the BEST choice for the Secretary of Education has been raised. Others, like myself have suggested Dr. Peg Luksik as superior in choice. Not only has Dr. Peg been an educator in almost every grade level created, she's written tons of reports, spoken numerous times, been featured as an expert witness as to WHY national standards, school choice, and over assessing ARE BAD for AMERICA. She's even created a paper for HOW to end the 'fed-led-ed'!! That can be accessed here: statement-on-education-policy
Warriors, the bottom line: We CAN storm our Congress to deny DeVos as Ed Boss! We raised holy hell when it was Dr. King up for confirmation! Yes, he was still confirmed, but we narrowed the margin of 'yes' to 'no' votes quite a bit. WE CAN DO IT AGAIN! I've seen posts on social media during Thanksgiving urging us to call our Senators. There was a petition started to. (As of this writing, there are only 10 signatures and a goal of 100 signatures.) See: https://www.change.org/p/donald-trump-rescind-nomination-of-betsy-devos-to-education-secretary
Put aside the worn out "Make America Great Again" when it comes to education. Education in America can be NO less than 'SUPERB'. 'Great' is a mere shadow of 'superb'.
IF and only IF the Trump Team wants to end federal overreach in education, then they MUST listen to us, as Warriors, NOT the educrats with fists full of agenda and money. As of yet, I've seen no one successful in having the upcoming administration contact any of us who have DAILY contacted them.
Contacting U.S. Senate is accessible: http://www.senate.gov/senators/contact/
*Note: any Senator who voted for ESSA needs even more pressure. Mrs. DeVos is good buddies with Sen. Lamar Alexander, too.
Bottom line: We, as Warriors are like David vs. Goliath on steroids. That said we MUST be consistent, in large number, and visible. To win this battle in the War Vs the Core, we have to be seen AND heard!

Scorned? Use These Facts!
1) Common Core IS  located in more than traditional K-12 public schools!
2) Common Core has been rebranded so many times, the educrats not only know the buzzwords, they use them against the nation!
3) Common Core IS Career Tech Education! Common Core IS competency based, project based, collaborative efforts which groom students for workforce NOT academics!
4) Common Core IS written into the ESSA (Every Student Succeeds Act), the WIOA (Workforce Innovation and Opportunity Act), and is present in the HEA (Higher Education Act). Of these 3, only the HEA remains to be completely re-authorized. It is the LAST nail to be hammered into the 'seamless transition for birth to career education' to create 'a bridge for lifelong learning'!

More Scorn:
1) My dear friend, Kevin Ohlandt, at "Exceptional Delaware" wrote this about the DeVos appointment:
https://exceptionaldelaware.wordpress.com/2016/11/23/america-is-getting-bamboozled-with-betsy-devos-she-is-all-in-on-the-true-agenda-cradle-to-grave-workforces-of-tomorrow/
2) This one by a hard hitting reporter exposing DeVos family ties to less than great American patriotism:
http://www.debbieschlussel.com/83731/betsy-devos-affirmative-action-pimp-islamo-panderer-guess-who-her-brother-is/
3) This one reveals Diane Ravitch's support of the DeVos appointment (red flags all over this one): http://www.schoolsmatter.info/2016/11/ravitchs-pick-betsy-devos-is-also.html
4) This one from Mother Jones media:
http://www.motherjones.com/politics/2016/11/trump-chooses-dark-money-betsy-devos-education-secretary
5) One of the earliest articles I saw which debunked the main stream media spin of how great DeVos's appointment was, appeared in the Conservative Review: https://www.conservativereview.com/commentary/2016/11/betsy-devos-as-education-secretary-what-you-need-to-know-about-trumps-pick
6) My dear friend, Alice Linahan at Voices Empower, shared this detailed set of facts:
Search for her Trump/DeVos Truth article at http://www.voicesempower.com/
7) My good friend, Nancy E. Bailey, also shared with the nation why the choice of DeVos is highly suspect: http://nancyebailey.com/2016/11/26/privatization-and-school-buses-thoughts-please-betsy-devos/
8) Breibart News' article features a good friend of mine, Karen Braun. Karen lives in Michigan and has been fighting CCSS since before it was dubbed "CCSS". Pay attention to her part of the article:
http://www.breitbart.com/big-government/2016/11/23/bush-praises-trump-choice-betsy-devos-education-secretary/ (*Note: we also need to note the other parts of the article where vouchers/education savings accounts are going to be spun as 'great' when they are truly not.)
9) Here's what Forbes has: http://www.forbes.com/sites/chasewithorn/2016/11/23/trump-picks-betsy-devos-daughter-in-law-of-billionaire-amway-cofounder-for-education-secretary/#4830ee4f5313 (*Note: the Jeb Bush ties surface again.)
Anti CCSS/Fed Ed Warriors, if you see nothing else from this small list of informative facts, NOTICE, far left or far right; on the fringes or in the middle, the same conclusion: DeVos as Ed Boss is a disaster for our nation!

The DeVos 990 Forms:
While you may find my article, so far, scornful or just plain annoying, you cannot argue with what the 990 Tax Forms for DeVos show. My dear friend/researcher Karen Bracken has provided the following evidence.

In short: 2012's IRS Form 990 show:
$10,000.00 to Bridges of Understanding Foundation (exposes her ties to the Muslim teachings in schools.)
$50,000.00 to FEE (Jeb Bush's Foundation for Excellence, which supports school choice, education savings accounts AND Common Core!)
$10,000.00 to the Heritage Foundation (which is a huge education savings accounts/school choice proponent and an entity we've been warned about as being part of the education problem, not solution.)
From 2013's IRS 990:
$20,000.00 to  Bridges of Understanding Foundation, $100,000.00 to FEE, and $5,000.00 to Heritage.
To see the 2012 form: 2012-irs-990
To see the 2013 form: 2012-irs-990
As far as can be proven, the 2014 Tax Documents were extended to November 2016.
DeVos as  Digitally Connected?
We all know, as Anti CCSS/Fed Ed Warriors, that the digital transformation in American education is a huge plank in the bridge for workforce aligned, global citizens. As a 'change agent' for transformative education, DeVos will have a key position IF she gets the job. However, Trump has stated he wants transformation AND innovation in education.
Warriors, Obama has laid a large digital technology net in his education initiatives! The CCSS Machine has spent billions in creating digital overload. ESSA continues both Obama's digital overreach as well as the CCSS Machine's!
Trump's also been contacted early on by the Center for Education Reform to continue the innovations/digital technology via 'incentives'. Warriors, ESSA, WIOA, and HEA (in its current form) all embed and continue the data for a workforce based education.
So, how does DeVos possibly fit into this puzzle even more so?
For a brief illustration, look below: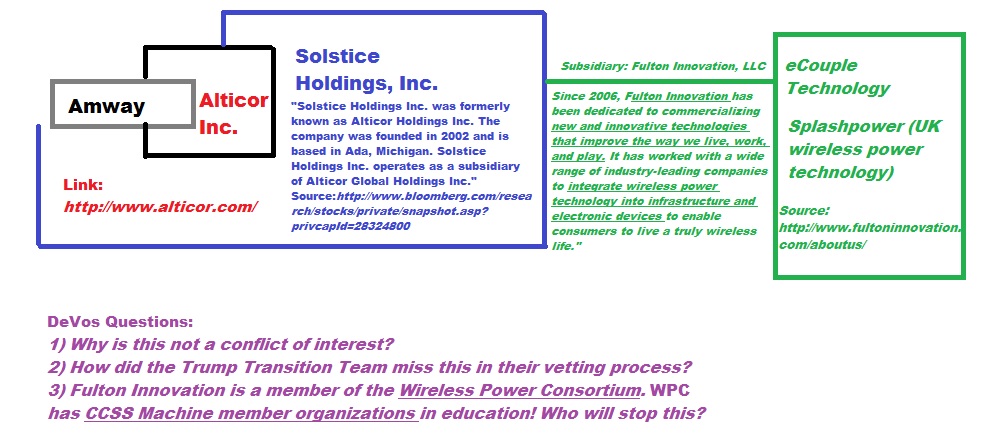 How I arrived at these questions:
a) Bloomberg's website with some of the connections:
http://www.bloomberg.com/research/stocks/private/snapshot.asp?privcapId=28324800
b) Relationship Science reveals more:
http://relationshipscience.com/solstice-holdings-inc-o85504
c) eCouple's news about Fulton Innovation buying Splashdown:
http://ecoupled.com/content/fulton-innovation-acquires-assets-splashpower-ltd
d) Where I found Fulton Innovation's Wireless Power Consortium relationship:
http://www.fultoninnovation.com/latest-news/fulton-opens-portfolio-for-licensing/
e) Where you can find the Wireless Power Consortium and its CCSS Machine members (examples are Toyota (huge CTE supporter) and Verizon (huge CCSS supporter):
https://www.wirelesspowerconsortium.com/
f) The "Un-Educated on Wireless Power" presentation by Fulton Innovation. (*Note: among the timeline, you'll see Leggett and Platt as partners (among others). L & P are based in MO and are big Career Tech Education supporters nationwide.) 
Get the presentation: wireless_power_overview
See the Leggett & Platt  connection to the CCSS Machine's CTE: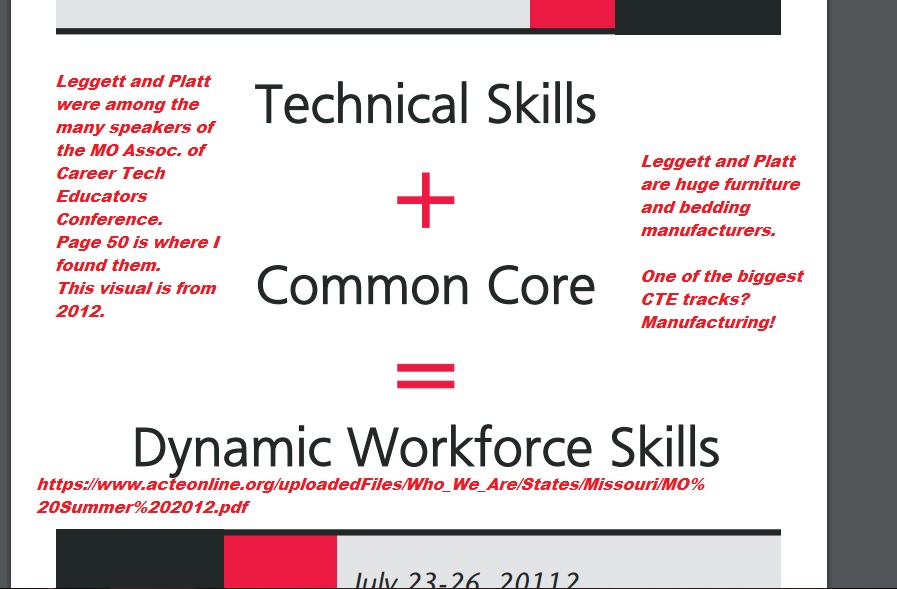 Closing:
Warriors, regardless of anything or anyone, our goal/focus MUST remain on our students of all ages and making sure the system which has marginalized us, doesn't get the opportunity to scorn them.