Anti Fed Ed Warriors, we've known for quite a while that the CCSS Machine was going to go after the HEA (Higher Education Act). Among the EOGs and EOCs back in April and May of 2017, Congress* didn't 'disappoint'. While graduations were celebrated and aspirations for each of our students was plotted out, the CCSS Machine's agenda ground down the existing HEA (orginally introduced in 1965; it's last re-athorization was 2008).
(*Currently, S806 and HR 1880 have been introduced as amendments to the HEA, but read more like replacements.)
We also have known from this blog and similar ones that the HEA is the LAST link in the chain of education laws which must be re-written to complete the top/down; global to US transformation in converting 'education' to glorified work training.
IF we look at the supportive side of education reform (which embraces the global worker shift), it's no surprise that their illusions are being shared and spewed out everywhere.
For example the NEA (National Education Association) has said the rewriting of the HEA is needed. It'll be great to have more affordable college, recognition of professors as 'stakeholders', and, improve teaching PD (professional development). Warriors, as we know, all these buzz phrases are code for two CCSS Machine agenda goals:
                                          Control and alignment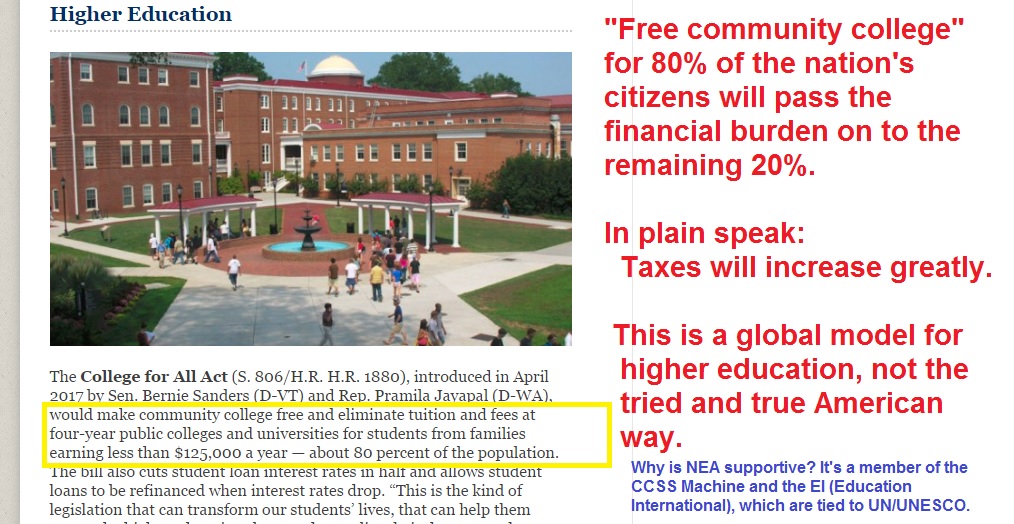 If you'd like to see how I traced the NEA (and the AFT) to the Education International and how they all tie back to the UN/UNESCO, find it here.
*Is the American way of paying for higher education in need of help? Absolutely! However, as I've stated before (based on mountains of evidence and research) funneling EVERYTHING through the CCSS Machine's education reform is the WRONG way to correct our system!!!

Warriors, the rest of this article will dive into the Senate's Version of the College for All Act of 2017; The House's 1880 Bill will be covered in a separate article tomorrow.)

S 806's Bill/Language:
Warriors, what DOES this bill the NEA is foaming at the mouth about, REALLY say?
1) Was introduced 4/03/17 and is in the hands of the Senate HELP Committee (under Sen. Alexander's thumb). (*Note: Warriors, remember when ESSA (Every Student Succeeds Act) was signed into law, Alexander promised us with vigor that the HEA was next. His 1980s 'prophecy' of alignment babies to a life long track is playing out.)
2) The Bill is 51 pages long. You can access it here.
3) There is one main sponsor and 5 co-sponsors: Sanders, Warren, Harris, Blumenthal, Murphy, and Gillabrand.
4) Short title: "College for All Act of 2017"
Student and State information:
5) Title 9 will be amended for use as a federal/state partnership in funding to eliminate tutition. Grants will be used as the illusion for greatness.
6) Will impact those students in the ESSA age range (preK to 12th grade) in early college programs, dual enrollment, or concurrent enrollment. (*Note: this is a back door access to the educational choices outside the traditional education system.) The illusion of attainment is used here.
7) Since this is addressing a post-secondary education law, all ages will be impacted and aligned. The illusion of equity and equality is used here.
8) Grants awarded will be at the Secretary of Education's choosing to enable the States.
The illusion of State led eduation is used here.
9) There's a 33% 'non federal funds' clause on Page 6. It's a requirement, not an option.
The illusion of 'stakeholder' control is used here.
10) The Secretary of Education is given power to challenge the States in their projected enrollment formulas (bottom of Page 15 into 16). On Page 17, it shows the GDP for the State being challenged as coming into this formula's equasion. The illusion of State led education is being used again.
Other notes: parents tax records, independent students and their tax records, data tracking, targeting the working class and the low-income class, Sec. of Ed deemed requirements by each State annually in applying for grants, and more.
Teacher and PD Information:
11) Of the grants and non federal funding received, any money left AFTER applying to the students will be applied for teachers and their training (includes on-going PD).
An illusion of 'stakeholder' importance is used here.
12) An increase in staff (full-time, tenured or tenure-track), especially 'instructional faculty'. The illusion of true teaching is used here.
13) Provisions for anything a faculty member could need (includes the office). PD supports…and shared goverance. With so many of the PD opportunities available to schools now being aligned to the CCSS Machine's agenda, this one has the illusion of objective leadership.
14) Part-time, outside the classroom work will be compensated. Again, Warriors, who is footing the bill for all this?? We are!! An illusion of economics is used here.
15) Increases in dual enrollment, concurrent enrollment, early college, and any other 'student success' program as deemed appropriate by the Sec. of Education and the Peer Review Group, not your State or local leaders. The illusion of leadership, power, and school choice factor in here.
16) TRIO and GEAR UP Programs (a federal education effort) will be increased. I've covered how aligned to the CCSS Machine's workforce/education plan these programs are. The illusion of State-led leadership, yet again.
17) Increases in Work Study programs will most certainly be found in S806. There will also be a recalculation in the funding of Work Study Programs.  Expect billions of taxpayer funds and private money to pay for these. The illusion of living within our means as a nation is played up here.
You'll also find what the fed/State funding and non federal funding cannot be used for (such as building a new stadium or paying the school administrators). I hope you are ready for the price tag of all this 'free' higher education, Warriors. Look below: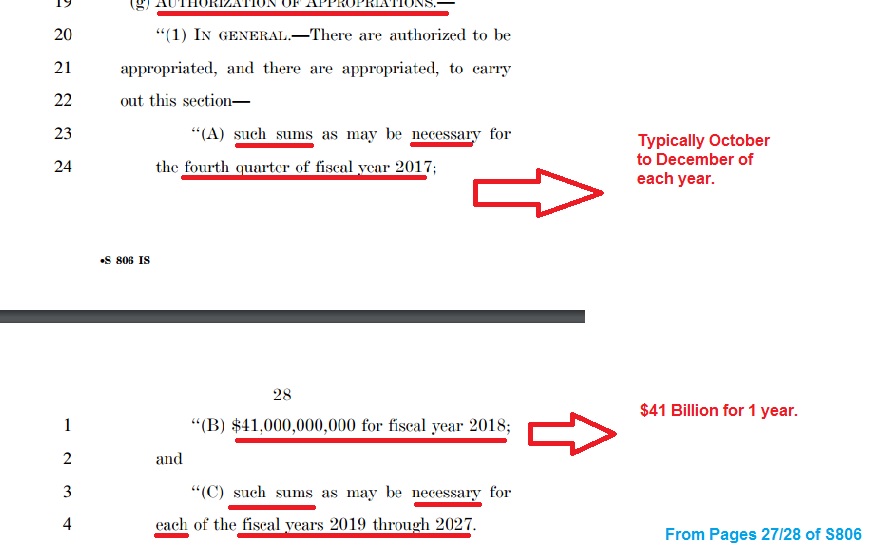 At LEAST $41 Billion in funds. Notice the language leaves the final business quarter for 2017 and the entire years from 2019 – 2027 wide open to whatever is necessary!! If you read the next paragraph after the above screen shot, you'll notice that the language includes federal obligated funds from Oct. 2016 to Sept. 2017. Just in time for the 2017's 4th quarter to begin. It would appear an illusion of purposed and pre-planned alignment is being used.
***The price tag for the increases for TRIO and GEAR Up reach into the trillions for each year between 2018 and 2027 (Page 41)
***Work Study Funding by each fiscal year is on Pages 41/42. Warriors, note that it is at the Sec. of Education's decision, not the States'. The power doesn't stop there. Any regulation surrounding the calculations of the reformulation of these Work Study Programs is also given.
The 'career readiness' and how it will be tied to Pell Grants can be seen on Page 43. It will be part of the increases in Job Development Programs and their locations. This directly ties to the U.S. Dept. of Labor. Again, Warriors, the union of these 2 federal agencies overreaching into education is visible.
*Note: If you have student debt, or know someone who is about to apply for funding college, you'll need to read the fine print from Pages 44 to 51. While it appears undergrads will have a lower interest rate, it also appears grad students will see an increase. Since I am not a financial expert by any stretch, please research this language carefully.
Closing:
Warriors, as you can see, our Senate has totally betrayed us. Being a free nation should mean we honor our Constitution first and foremost. We know the CCSS Machine has shredded its importance. If not, we would not see the trillions of dollars ear marked to further the illegal overreach into education. What will the HR 1880 (a 'sister' bill) hold for us? We'll find out tomorrow.
In the meantime, contact your Senators and tell them, NO to 'free' college! If we don't go broke paying for it, our future generations will. "Free" college is a collective, good for the Socialists movement, not an independent freedom of choice based on the ideals of our Republic.