Anti Fed Ed/CCSS Warriors, have you heard of "International Mother Language Day"?!
If not, here is what we really need to know:
UNESCO (United Nations Educational, Scientific, and Cultural Organization) established this annual awareness day back in 1999. The goal is to promote 'linguistic diversity and multilingualism'.
Our current Congress has a Resolution setting Feb. 21st aside for "International Mother Language Day". It is House Resolution 141.  It was introduced on 2/16/17 and is currently in the Committee on Oversight and Government Reform.
From the text, an excerpt, "Whereas according to the UNESCO Atlas of the World's Languages in Danger, out of the over 6,000 existing languages in the world, more than 200 have become extinct during the last three generations, and 2,279 other languages are classified as "endangered"; Whereas the United States Census Bureau has identified at least 381 languages spoken in the United States, 169 of which are distinct Native American languages; Whereas according to the UNESCO Atlas of the World's Languages in Danger, 145 languages in the United States are classified as "endangered". "
The Resolution goes on to tell us the House of Representatives supports the goals and ideals of "International Mother Language Day".
So, why is our Congress creating these types of actions? Look below at the screen shot for what could be the exact answer we've been searching for, Warriors!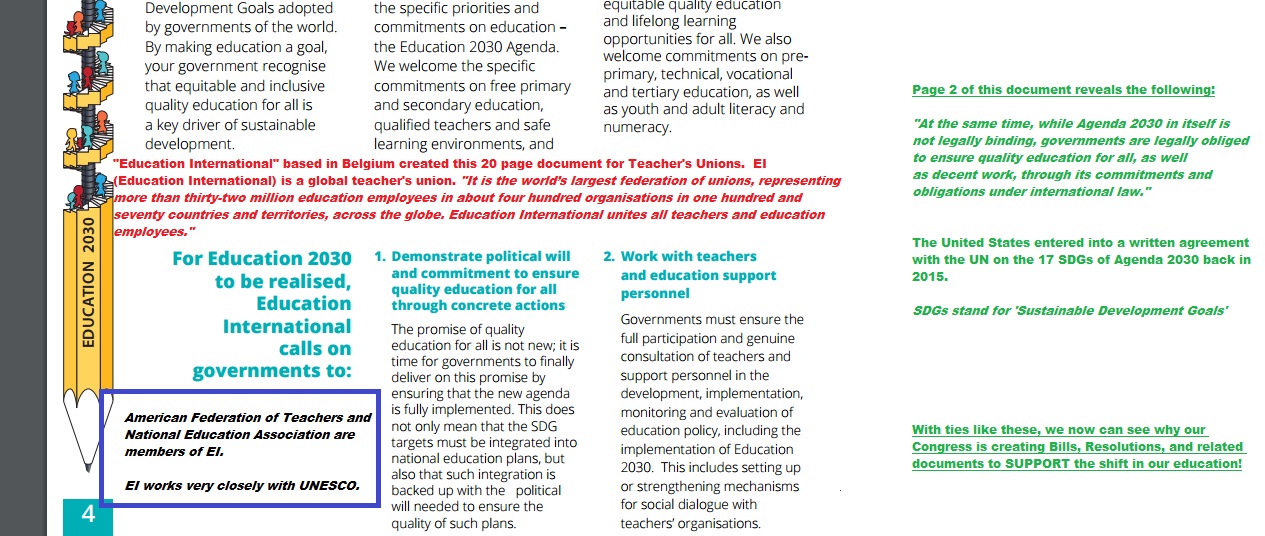 The screen shot is from a 20 page brochure published by the EI (Education International). EI is a global organization with strong ties to UNESCO. It also is the largest global teachers union. The United States of America's  NEA and AFT are members of EI. Access the document here. ei2016_sdgs_brochure_final_facing_en
From the language in Point #1, it appears our Congress members are puppets in a global theatre of education reform. From the language of House Resolution 141, it appears full support is backing up Point #1, as well.
Warriors, did you notice Resolution 141 from the U.S. House of Representatives is in the Committee where Government Reform is happening? Does this Committee have any influence on education? If so, how does all this tie back to the CCSS Machine? Will this point back to ESSA (Every Student Succeeds Act), WIOA (Workforce Innovation and Opportunity Act) , or,  the HEA (Higher Education Act)?
Committe on Oversight and Government Reform:
The website: https://oversight.house.gov/subcommittee/full-committee/
What they do: Basically (after a quick glance at the latest Committee Rules, 2015), the Committee makes sure the federal government and all its agencies and activities  run smoothly. There are several subcomittees of the overall Committee. While I did not see the Dept. of Education specifically mentioned, it is included by default.
The Oversight/Government Reform Committee also makes sure the federal laws are carried out without too much fuss and bother. Some of the agencies the Dept. of Education works with ARE specifically mentioned in the Committee Rules.
I did also see the Committee has quite a bit of interaction pertaining to what happens digitally (technological), across America. Warriors, with the shift to a global education comes 'connectivity'. Connectivity is a direct issue in education reform. ESSA has massive amounts of funding earmarked for all students being connected through the internet for digital access to anywhere, anytime learning.
We Have Our Answers!
Above, I asked if all this somehow tied back to the CCSS Machine and/or the federal education/workforce laws.
Included in the Oversight/Reform Committee are Task Forces. One such Force is called the
"Task Force to Build a Better America". On the website page, you'll see Rep. Paul Ryan displaying his bold agenda called "Better Way". Included in Better Way is education, mainly through Career Tech Education (CTE). CTE is what I have referred to as 'adult Common Core' for years. CTE IS the arm of Common Core which streamlines education to a workforce result.
CTE is embedded in all 3 federal laws I mentioned above. (WIOA, HEA, and ESSA)
CTE ties many federal agencies to the CCSS Machine, as well. For example, The U.S. Dept. of Education, U.S. Dept. of Labor, U.S. Dept. of Health and Human Services, the State Dept., and more!
So, we've answered the questions about the ties, but what about International Mother?
A 'Global Mama' For Us All: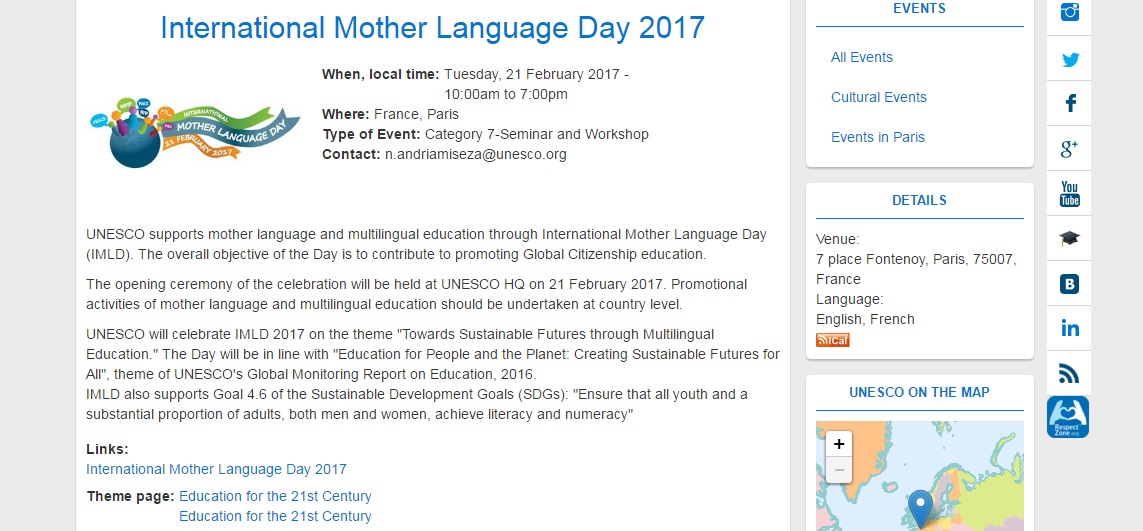 Above is the announcement for the Day. A symposium for International Mother Language Day (IMLD) is to be held in France. IMLD's official website reveals this quote, "On the occasion of this Day, I launch an appeal for the potential of multilingual education to be acknowledged everywhere, in education and administrative systems, in cultural expressions and the media, cyberspace and trade."  Irina Bokova, UNESCO Director-General
Warriors, if you have no idea how the UNESCO Director-General is tied to Communism, please refer to my friend and anti CCSS Warrior Journalist, Alex Newman's article for New American News Magazine. Alex also followed up on how the UNESCO is overshadowing America when it comes to textbooks. The Global Education Monitoring Report Alex featured in the textbook article is mentioned below in another Report by UNESCO.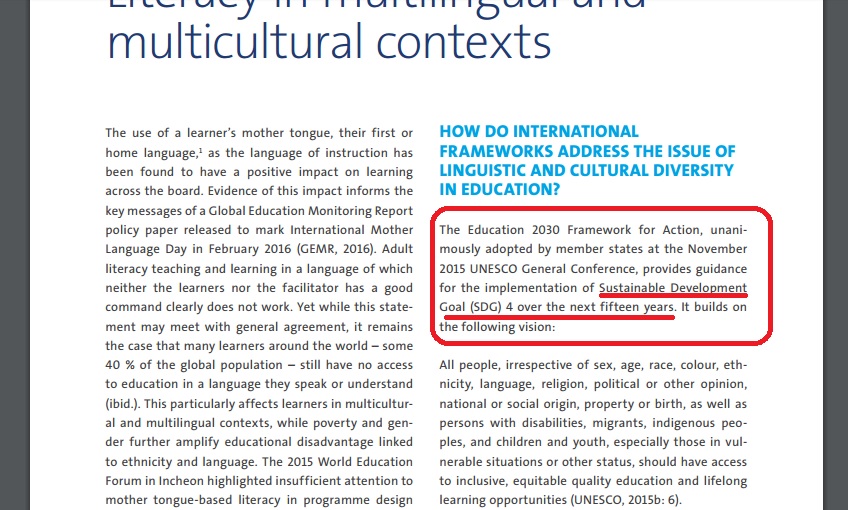 There's an infographic promoting International Mother Language Day 2017. Here is the top portion's main point.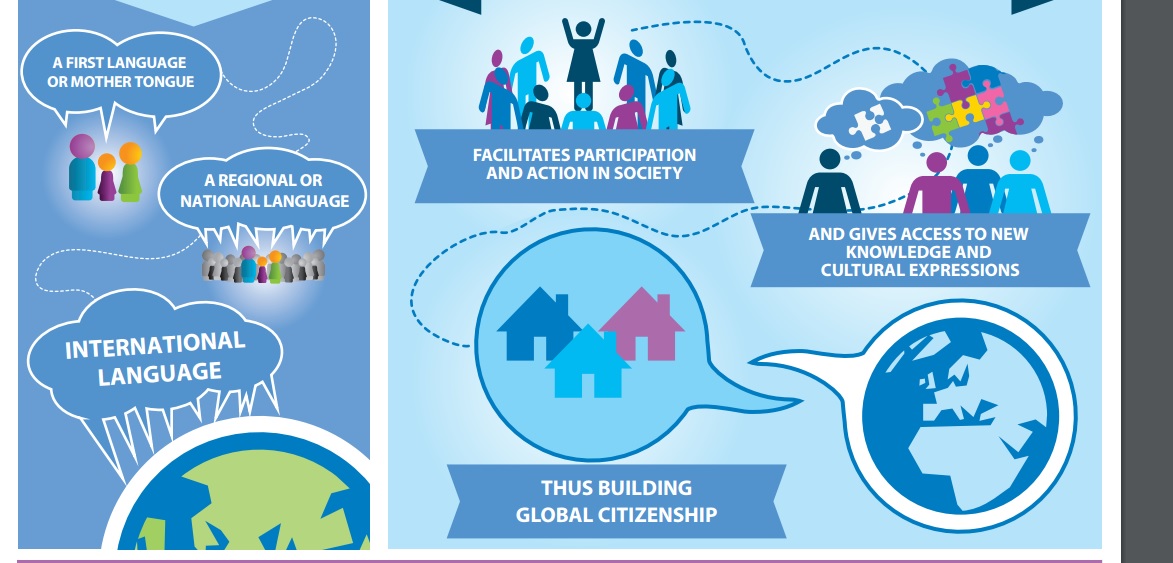 Here is the bottom portion. Note the main point featured.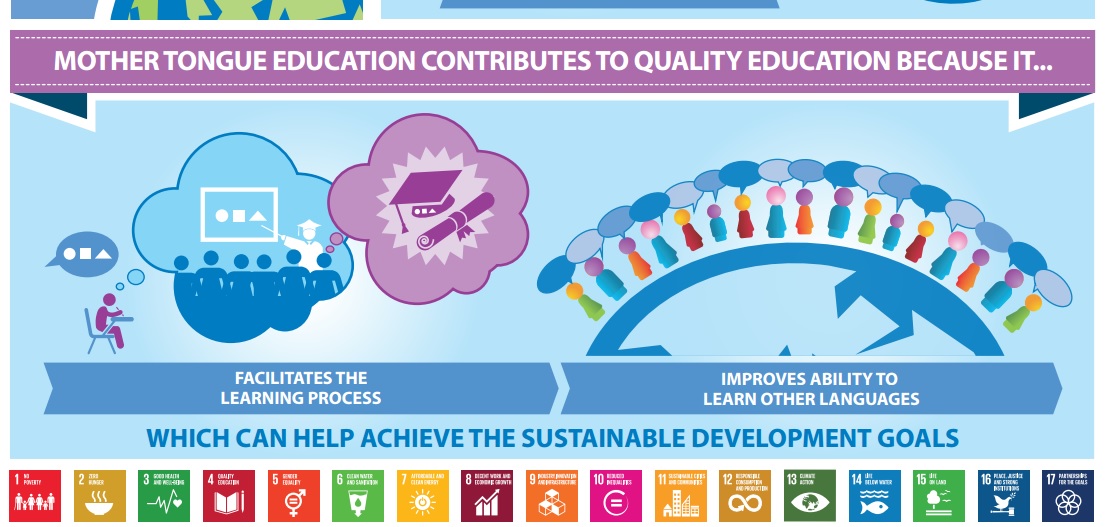 Don't Forget the IB Schools Are UNESCO's!
Warriors, if you have been reading my blog for a long time, you know how I've tied the International Baccalaureate Schools to UNESCO and the global agenda for education. You also may recall I was able to find in ESSA how IB Schools are included in the mandates.
Below is a screen shot from the IB's Common Core English Language Arts document for dual language learning.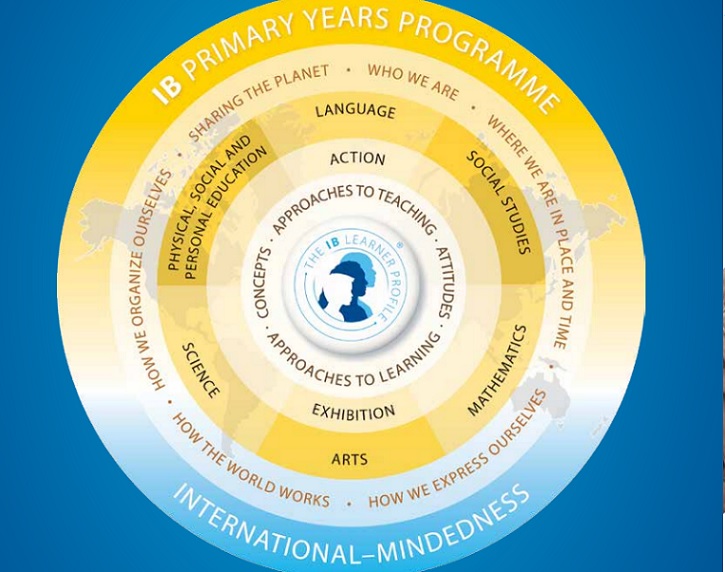 You can find the IB Schools in ESSA. Also, keep in mind many of ESSA's pages are devoted to English Language Learners. You can find both of these groups in my previous article.
Closing:
So, Warriors, who decides what the International Language is to be? Will it be up to any of us who have the biggest 'stake' in the educational realm (parents)? So far, those types of decisions have been taken away from us. Will it be our federal government which is creating UNESCO supportive legislation? Or, will we soon see our government usurped by the United Nations and thus have UNESCO dictate our schools?