Anti Fed Ed Warriors, it is crystal clear where the heart of our Congress members is these days. At almost break-neck speed, we are seeing proposed bill after bill hastily written at the beck and call of the lobbyists and corporations. No longer is Congress, or our current adminstration, being shy about drowning out the voices of America's people when it comes to education. When Congress was established it was to SERVE the citizens and REPRESENT them. In the ever-present march to globalization, however, we see Congress SERVING citizens up as pawns on an international chess board. Congress has chosen to REPRESENT the lobbyists and corporations instead of her people.It appears our administration has sided more on the side of global good than true American greatness.
While we are hearing from D.C. many mixed messages about ending federal overreach in education, we are NOT seeing it. Rather, we are seeing an INCREASE. Warriors, thanks to the U.S. participation in the U.N., G20, and all the other international clubs bowing to the UN's GEF (Global Education for All) scheme.
Warriors, quite simply, America is being detracted from the truth.
How? For example, while there's an order to halt the federal overreach in education, it only stops at the U.S. Dept. of Education..it does not include the other Cabinet level agencies also actively involved in the federal overreach! That's like saying I have a roach infestation and only kill the one roach which dared to cross my path. Several others are lurking about. 
So, what's a Warrior to do? Fight like hell. Get so angry you actually stop Congress. Like bugs which dare to go out alone, we'll be squashed. BUT, if we unite more focused than ever, WE can STOP Congress. Our forefathers and mothers certainly had no problem using gumption and truth, neither should we.
Consider for whom you fight everyday in the War vs the Core. Is it your children? Is it a family member? Is it a neighbor? Are you fighting because you are sick of illegally based federal power causing so much damage and abuse?
Why should we continue to be armed and fight the CCSS Machine? (remember, the Machine is made up of corporations, legislators/legislation, the people in each and connected, as well as the investors.) It should be because it's the right thing to do or a similar motivation.
As you know, earlier in the summer, I shared a 4 part series available on You Tube. The series is designed to arm all of us involved in education with important facts based on research, not corporate propaganda. More recently, a quarter of Warriors, created a 2 part interview with the latest Congressional deception bills (for 'free college'), as well as HOW these 'American ideas' tie directly to the global models of continuted education overreach.
ICYM Them or want to be as armed as possible…
You Tube Series:
Part One: Shifting Education to workforce needs not academics will harm every education choice and impact every citizen.

Part Two: How the digital technology and data mining lurk to unite work and education to a global good, not an American greatness.

Part Three: Probably the most damning of all the shiftiness in education is 'school choice'. ESSA and global education use 'choice' as a tool against us, not for us!
https://www.youtube.com/watch?v=CwjtYi63syk
Part Four: Who is really in control in 'local education'? It isn't who we think!

One of our active Warriors recently created the screen shot you'll see below to sum up the angst among us over the workforce/global federal overreach into our classrooms. My thanks, to Paul Raymond for this.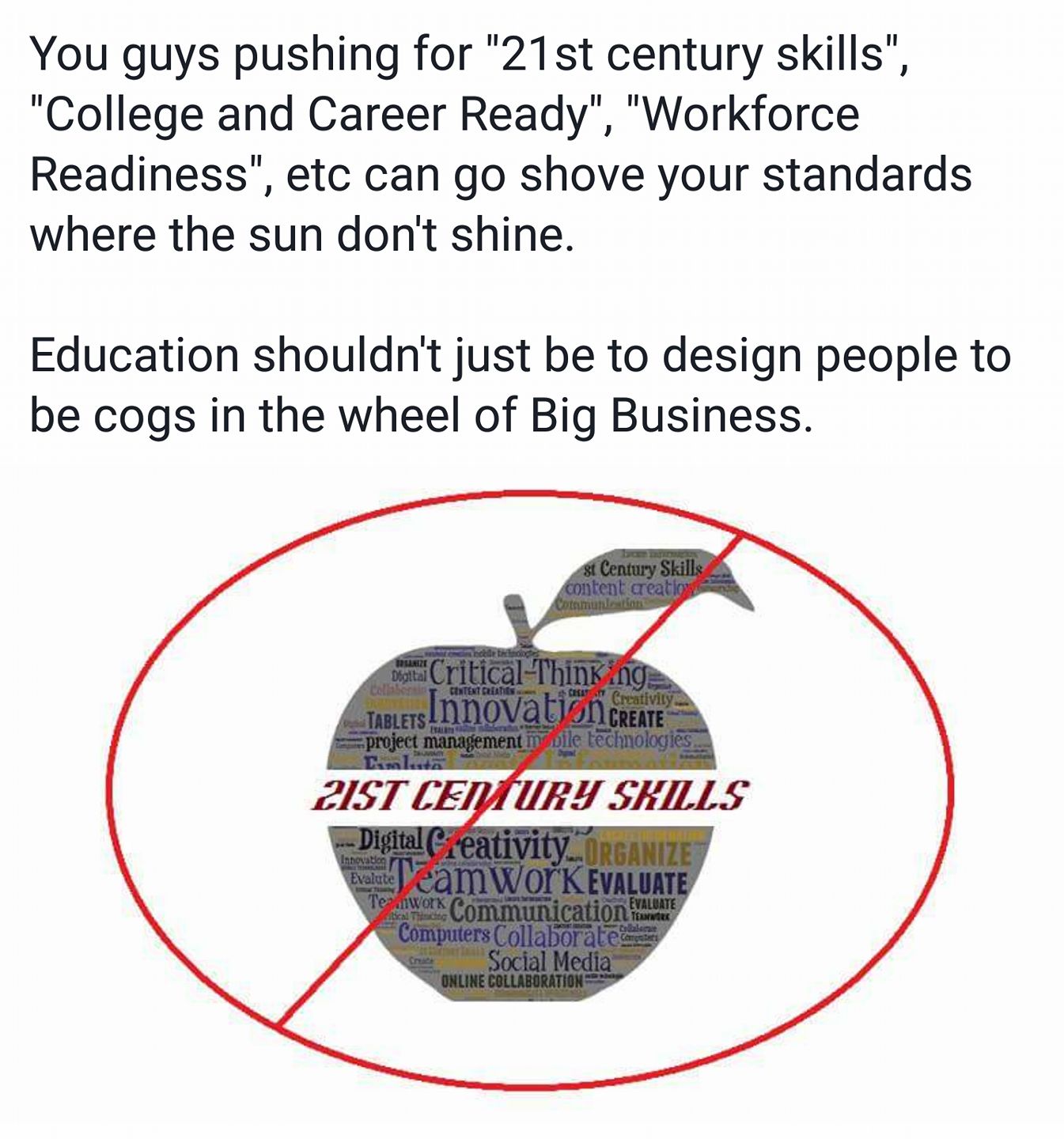 The Pair of Interviews:
Recorded July 21, 2017 on the broadcast Truth for Our Time with Tamara Scott.
Part One as seen on Facebook Live:
https://www.facebook.com/136140356452494/videos/1407451732654677/
Part Two, same date and social media access:
https://www.facebook.com/136140356452494/videos/1407509879315529/
A D.C. Hearing Set For July 26: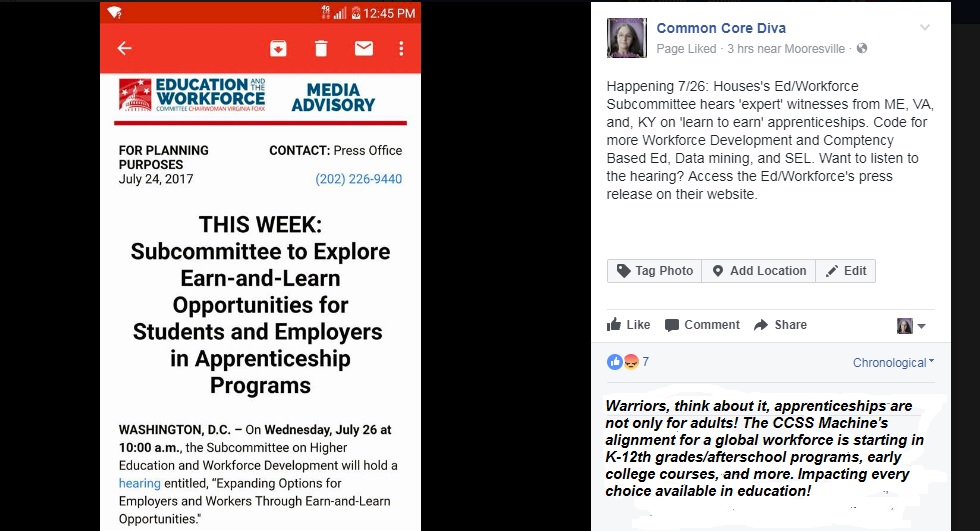 I found similar news in England, Warriors. According to the publication, The Guardian, a government levy (tax) is to be imposed by 2020 for business funded apprenticeships. The article suggests the apprenticeships are a 'comeback kid' for their nation. If we heard any news from D.C. last week, it included American goods made in America. Warriors, that means jobs. Jobs mean apprenticeships are a distinct possibility. We know from previous research how deep the union between work and education goes.
If you wonder if America's Congress will have business fund more items in education, you should know that ESSA increases the footprint for business/corporate intrusion. So do the 'free college' proposed bills currently in Committees of both the House and Senate. (You'll find that information in the Truth for Our Time, Part Two segment.)
Related to the Global Push for American education:

The first UN higher education facility is underway. How soon will we see this in our nation?
A new report  (2016) for grooming teachers and students in the UN way, can be found here. As I asked on Facebook, if your teachers were being groomed in this manner, would you still send your kids to school? The report specifically states that the guiding force is not American, but adheres and supports the Sustainable Development Goals (education is #4) and how education is the perfect change agent.
How apprenticeship legislation from America (and other countries fits the global framework (look for the 'human capital' circle at the bottom of the picture) You can access the map for yourselves (will be easier to read), just scroll down the page until you see the same as below.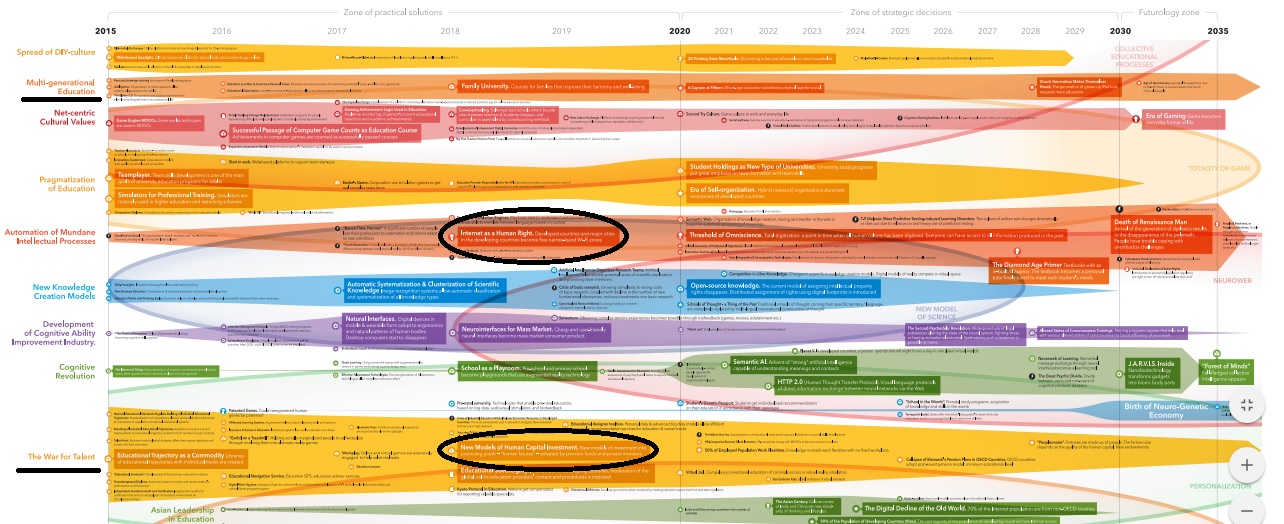 To learn even more about Global Eduation for All (and how business is a key participant), find that here.
How does the UN 'measure' humans? You be able to learn how in the embedded 2016 Report. See the 'why' (below).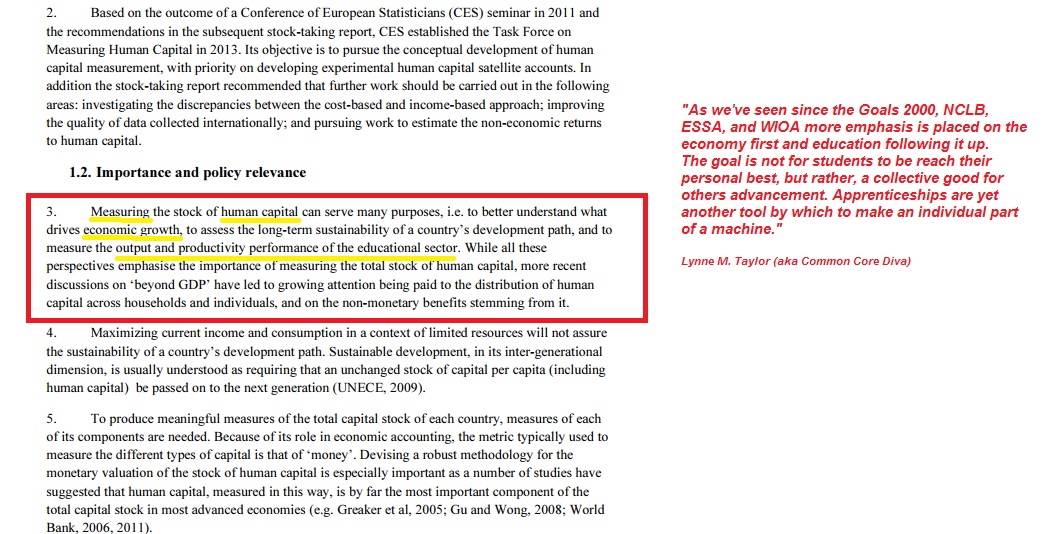 Closing:
Warriors, as you can see, a lot is going on. We cannot be complacent. We must use information such as this to keep not only ourselves ready for fighting, but those around us. Warriors, it's not just about education..it wasn't supposed to be. The American reform we are seeing and living in is more about reshaping our nation. Education just happens to be the favored conduit by which to quietly align America with. Question is: will we make noise?!
Finally, Warriors, trust no one in D.C. when it comes to education. After all, that is none of their business!