Hello, my dear Anti Fed Ed Warriors! Have you heard in the main stream media that "Common Core" is behind us? Maybe you've heard the phrase that "Common Core is dead". 
Since those words are meant to divide those of us fighting to preserve REAL school choices (which we have now AND include private education). In many of the United States, home education (aka: homeschooling) is 'protected' by being included in private education.
We've also been able to prove MANY times over that not only is "Common Core" still alive and in use, it has reached over into private schools of all kinds, INCLUDING home education. If you are new to my blog, you may have missed the many articles I'm written after researching HOW "Common Core" has infiltrated our homeschoolers' community. 
(*Note: I'll be happy to provide any of the articles you may need. Please let me know via the comment section following this article.)
Since we are in the ESSA* era (as I have come to call the education reform's latest time period), you may find this article the MOST helpful.
(*Note: ESSA is short for "Every Student Succeeds Act".)
From another of my researched articles showing how ESSA will render 'school choice' as null and void, this image: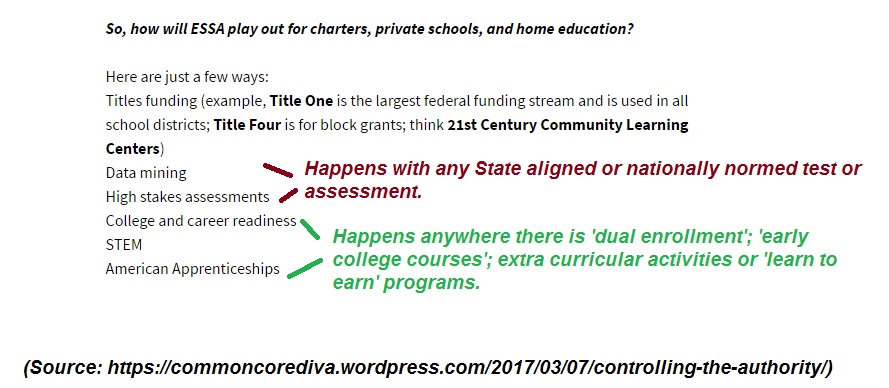 So, what is the LATEST I can share with you about ESSA, Common Core, and homeschooling? Read on, my Warriors…
NC Leads the Alignment Way…Again!
Look at this image I took from my local newspaper.