Greetings, Anti Fed Ed Warriors!
For my 'musings' for this Monday, I wanted to bring out some research behind some 'education' advertisements. These are inserted carefully between games on your smart phone. If you play word games, the education ads are more frequent than if you play games with matching fruit.
While we know the CCSS Machine is everywhere, it's not surprising we see the in-our-faces propaganda showing up like this. The simple solution? Stop playing the games on your phone. However, while you may stop, what about the millions of others who won't and thus those ads continue to be seen?
Below, I've going to show you 3 such examples. 
Curio Learning's Advertisement: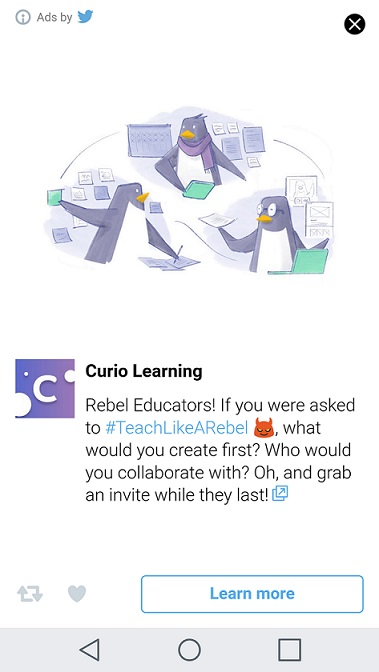 Warriors, note this one is targeting teachers. We know how awfully teachers are treated by the CCSS Machine.
What's interesting about this free app (Curio Learning) you can download to your smart phone or computer: is by invitation only.
It's also all on-line, so the 'education technology' (aka 'data rape') component the CCSS Machine pushes is totally intact. Curio Learning uses cute penguins for their logos.
Curio Learning is also seeing education as something to be improved upon globally. The founder of Curio Learning is Ashley Lamb-Sinclair (KY's 2016 Teacher of the Year). Her inspiration for creating Curio Learning, LLC? The Bill and Melinda Gates Foundation.
(*Note: be sure to read all 4 pages of the above embedded article so you can see which teachers are targeted.)
********************************************************************
If you check out the blog for Curio Learning, you'll see a definite global agenda in the posts. For example, "Treat Your Classroom Like a Temple of Heaven". This one was written by a NJ Teacher of the Year (2016)  and featured by Lamb-Sinclair. In the "Heaven" article, the writer reveals that the NEA (National Education Association) is behind the globalization efforts aimed at teachers.
Of course, Warriors, NEA's ties to the UN (United Nations) and other global agenda carrying education reform groups is no secret. It's also no secret that NEA is the group behind all the "Teachers of the Year" awards.
********************************************************************
If you are curious as to how Curio Learning, LLC got its funding, it's NOT the Gates Foundation, it's KY based Kale and Flax (Human Centered Design Company).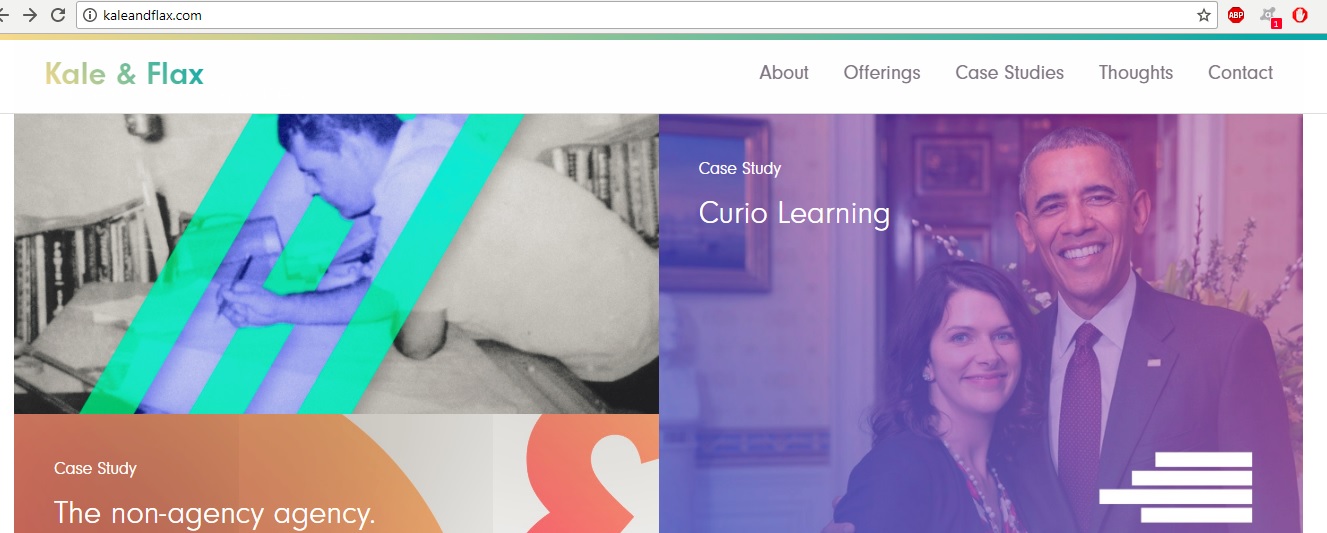 ************************************************************************
Why Penguins?
(*Note: Warriors, if you'll remember, National School Choice Week also used penguins dressed in yellow scarves. Why are so many CCSS Machine member groups using innocent penguins? Penguins ARE cute, they also live in a huge community. They are seen as 'cool', too.)
What teacher doesn't wish to be 'cool'? What family doesn't wish to have their school choice as 'cool'? For a more psychology based look at why we are seeing more penguins in our education ads, read this 2014 article. The CCSS Machine is diabolical. Using anthropomorphism (humans seeing their characteristics in animals) is one of them.
***********************************************************************************
Next Up, ICivics' Advertisement: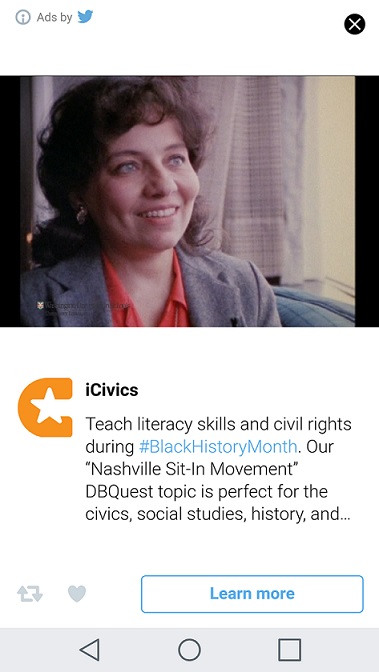 Warriors, note right off the bat the social justice aspect is focused on here. "Literacy" should be reserved for English, or, as it's been re-branded, ELA (English Language Arts). "Civil Rights" belongs in Social Studies. We've seen a dangerous mix of social justice in subjects it has no business being inserted into.
According to the iCivics website, you don't just learn civics, you 'play' them. As in, on-line gaming. Founded by former Supreme Court Justice, Sandra Day O'Connor, you'd think iCivics could get the most basic of American concepts correct: that we are a Republic, NOT a democracy!
On Page 3 of the iCivics latest Annual Report, you'll see that over 5 million students 'reaped benefits' of the on-line games. (*Note: you'll need to scroll down the page to the Annual Report.)
On Page 7, you'll learn how Civics is being used as a tool to drive student's behaviors.
Page 9 reveals how iCivics will grow to over 10 million students by 2020 via PBLs (project-based learning). PBLs are code for CBE (competency based learning). CBE is used on a global scale as a 'one-way-to-learn-so-you-can-earn' system.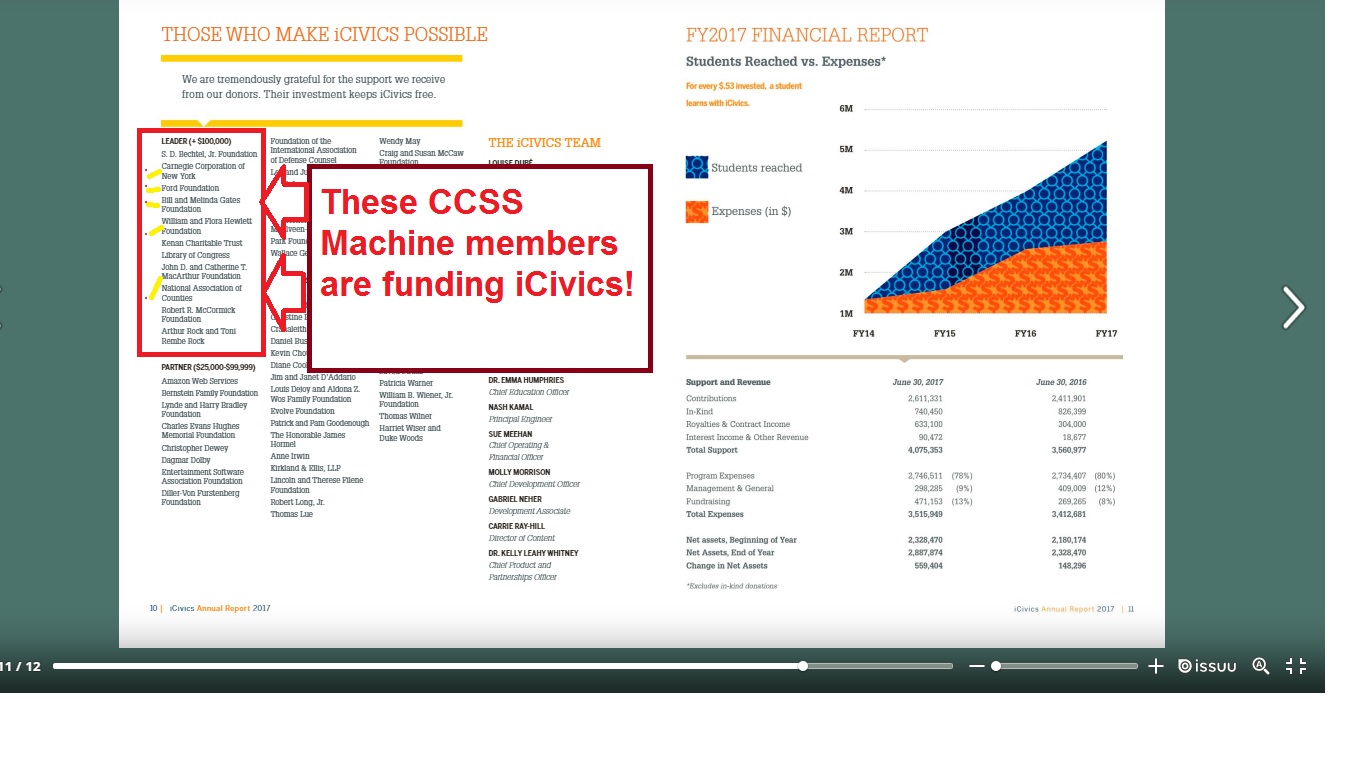 Warriors, if you cannot read from the screen shot which CCSS Machine members are funding iCivics, here are the ones I highlighted: Carnegie Corporation, Bill and Melinda Gates Foundation, Hewlett Foundation, and, the MacArthur Foundation.
Is it any wonder true American civics is being replaced by social justice initiatives? Below, from the iCivics' "About Us" page (scroll down to the "Evidence" links), how "Next Generation Learning" is tied to Common Core and iCivics: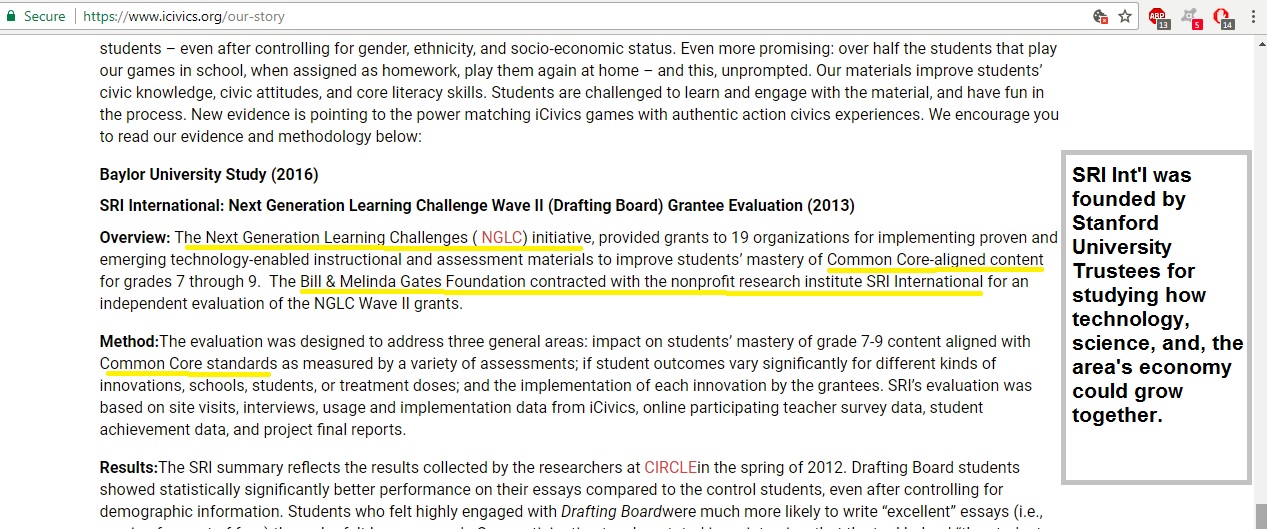 (Source of SRI's history can be found here.)
Warriors, be sure to go to the SRI website, too. Why? You'll see how teacher professional development is still tied to CCSS (Common Core State Standards), how SRI is in bio-research for health care, and, more.
Otus' Advertisement:
For the last advertisement, we'll find out what or whom is behind Otus.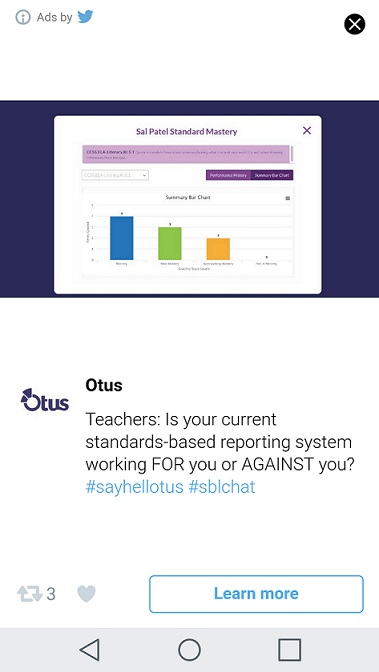 Warriors, this company exists to streamline data collection. It also is targeting all school leaders, not simply teachers. It's got its data tracking aimed at assessments, too. Why? So you can see learning 'in real time'. ( I am going to be a bit 'cheeky' here for a moment. If you want to see learning in 'real time', it won't be on a computer!)
In the above screen shot, you see a sample image for a student. Notice how it's "Standards Based Mastery". While I didn't find the exact image used in the advertisement, I did find one very similar on the Assessments Management page. You'll need to scroll down to 'new and old gradebooks'.
(A 2017 Blog article reveals the Standards will be CCSS/NGSS and accessible by third parties.) (*CCSS: Common Core State Standards/NGSS: Next Generation Science Standards)
Among the Otus partners is CCSS Machine member organization, NWEA (North West Evaluation Association). If you've not heard of NWEA, maybe you recognize their 'work': RTI scale (Response to Intervention) and MAP (Measures of Academic Progress). This organization is an insult to any parent, student, and educator. Why?
While their advertising brags of 'measuring what matters', it is data raping in its most evil form: SEL (social emotional learning). What's more is MAP is used outside public education! Private schools, home education, and faith based schools use MAP. My former research has proven this time and time again.
Also helping Otus be as CCSS aligned as possible, especially for assessments, is Khan Academy. Khan is among Otus's shared educational resources. If you wish to learn more about the 'free' educational resources Otus offers, look at their 'Classroom and Learning Management' page. Look for the 'behavior tracking' tool/resource.
Look further into SEL, RTI, and MAP, you'll find Robert Marzano. Marzano is notoriously known for things like "Rigor Walk". (Teachers and leaders are led around the schools with data tracking tools to measure students without consent.) My evidence on this is also research based and previously published on this blog.
You can access both my NWEA and Marzano articles here. (*Note: one of the NWEA leaders believes that if students letter 'better', they will score 'better' on these assessments. If they score 'better', they'll be 'better citizens'. "Better citizens" create a healthy economic system so everyone can benefit. I pointed this out in one of my NWEA articles. Look for it.)
Finally, from Otus's Blog, an article from January 2018, will show you how to choose the best on-line formative assessment. The research Otus is relying on for helping schools choose the correct assessment? The George Lucas Educational Foundation!
Closing:
Warriors, before we part for today, I wanted to share with you a June 2017 article I wrote centered on the HARD and SOFT Goals embedded in SEL and Common Core. This article is not only vital to understanding why technology can be used against us in education and assessments, it's vital to see how it ties to education in 2018 and beyond.