If you were reading my blog last week, you may remember I shared there was a day long webinar featuring the Departments of Education, Labor, and Health & Human Services. In selecting my file for the week to share for today, I remembered I have one from April 2009. In while Common Core is NOT named (as we can easily identify it), an urgent need for health education reform IS. Fast forward to 2014, and you can find health education reform/CCSS are more entwined than the latest hospital romance.
A Symposium:
"Converging Health Care Reform and Medical Education Reform" (document is below) occurred April 2009. Markel Foundation, Mayo Clinic, Paley Media Center, Emory University, MIT, Health & Human Services Sr. VP from University of CA comprised the panel at the symposium.
Key statements to look for, "Medical education must play a crucial role…including specific curriculum designed to increase value, student selection criteria, instruction methods, assessment, and financing." "All panelists agreed that the educational system must be redesigned to break down professional silos, creating an educational environment in which physicians, nurses, other allied health professionals, community health workers and family caregivers learn to work together on behalf of the patient." "Physicians need to be comfortable not being at point all the time." "Curriculum must incorporate elements of engineering and health delivery science in addition to biological science." "…current education system encourages learners to focus on the accumulation of knowledge rather than innovative ways to deliver health care to individuals." "…novel assessments, including measurement based upon patient outcomes, teamwork, and individual performance." "We need to move away from the GPA and standard examinations as our primary or sole assessment tools, there is no correlation between these tools and how students perform in practice." "We are in control of health professional education..it's ours to win or lose…"
20090428_mayoclinic_summary_0 ( another related article, http://www.ncbi.nlm.nih.gov/pmc/articles/PMC2755804/)
Mayo Clinic:
Mayo's been around for as long as I can remember. It is highly respected. Which is why I was surprised to read the report and find those key statements. Researching the symposium and some of the notable the groups involved, it dawned on me that the relationship so highly praised last week (between the Education, Health/Human Services, and Labor) is making more and more sense as to WHY they'd want the Workforce programs to be such a hit! (Refer back to my CC and the Workforce post)
Getting back to Mayo, however, according to their website page for 'academics', (see: http://www.mayo.edu/mshs/careers), you won't see any glaring reference to Common Core. However, if you go beyond what's at face value, let's see how easy it is to find CCSS.
First up, I chose a cardiovascular program from the 'academics' list. (http://www.mayo.edu/mshs/careers/cardiovascular-invasive-specialist/cardiovascular-invasive-specialist-minnesota) Then, I clicked on "curriculum" (see the left hand menu). Now, I have looked and STILL do not see "Common Core", okay, but look at WHERE the cardio program is taught..at a partner school!
Rochester Community & Technical College:
The Rochester Community & Technical College. (http://www.rctc.edu/), Now notice if you will what greater school system the RCTC belongs to: Minnesota University, which is a member of the Minnesota State Colleges & Universities. Here's a clip about them: "The Minnesota State Colleges and Universities (MnSCU) system is the largest single provider of higher education in the state of Minnesota and the fifth largest system of colleges and universities in the United States. The system includes 31 institutions (24 technical and community colleges and seven state universities) spanning 54 campuses across 47 Minnesota communities serving more than 430,000 students annually." I'll have to hand it to the folks who put this website together. The ties to Common Core took me a while to find BUT find them I did! "Hidden" in the publications of the school is a beauty of a document from 201o, "Obama's address on Community Colleges as the best kept secret". Then when I search through some other publications, I found the 2013 updated form of 'what to expect as a student of RCTC'. The school uses the Accuplacer test, Common Core aligned as well as owned by the College Board, a known Common Core profit making company. College Board also owns other assessments. The RCTC also uses curriculum from the Minnesota public colleges & universities. If all this isn't enough, check out this 2010 document from the MN legislature aligning Preschool through College: http://www.leg.state.mn.us/docs/2010/mandated/100197.pdf (you'll see the MN State Colleges & Universities is a banner member of this alignment). Oh, as a bonus for MN, they are really big into STEM and Next Generation Science Standards. CCSS is all over this state.
Back to Mayo Clinic for just a minute:
Mayo Clinic has partnered with 'Sophia' to feature CCSS aligned courses! (http://www.sophia.org/news/sophia-to-feature-mayo-clinic-learning-pathways) Here's an excerpt:
"SOPHIA currently features more than 200 learning pathways aligned to the national Common Core standards in math and science for students in 6th grade through the first two years of college. The pathways are full-course curriculums consisting of hundreds of bite-sized tutorials with multiple lessons provided on each concept taught by a variety of teachers, offering students Many Ways to Learn. The tutorials feature a multitude of multi-media elements including screencasts, images, video, audio podcasts and text that appeal to different learning styles. Students work at their own pace along a sequenced journey of tutorials and are quizzed along the way to determine mastery of each concept. Tutorials in the learning pathways are created and reviewed by teachers to ensure academic credibility. Teachers also have the ability to review a student's progress by monitoring analytic reports.
In addition to the Many Ways learning model, SOPHIA.org also provides resources to help teachers flip their classrooms, a new method of teaching that is shifting the way teachers teach and students learn. SOPHIA also recently introduced SOPHIA Pathways for College Credit, which makes a college education affordable and accessible."
MIT, Emory, and University of California:
MIT was super easy as far as finding the connections between itself, as a legendary school and Common Core: (http://www.commoncoreconversation.com/general-resources-for-all-subject-areas.html#sthash.NmgCCTRI.dpb)
You'll find Massachusetts Institute of Technology about 3/4 of the way down the page. Look on the left hand side of the screen. **Added bonus, you now have a plethora of CC aligned resources to avoid, research, and share!** MIT is also 'buddies' with the College Board, especially those Advance Placement assessment scores (see: http://web.mit.edu/firstyear/prospective/ap/index.html)
Emory University just won a competition for best CCSS implementation plan. See the "MarketWatch" article: (http://www.marketwatch.com/story/emory-university-goizueta-business-school-presents-winning-recommendations-for-implementing-common-core-state-standards-2014-05-0) As far the Emory University's website, you'll not find Common Core by those words, but you'll find plenty of STEM (and remember, where there's STEM, there's CCSS). You can also find out about the National  Institute for Health's new initiative for students. NIH is an arm of the NHHS (National Health/Human Services). http://www.gs.emory.edu/about/special/imsd.html (you'll be 'happy' to note, this is graduate student level)
University of California, this also was an easy find in searching. UC is SO supportive of Common Core, you can earn a degree to teach it! See: http://www.extension.ucr.edu/academics/certificates/common_core.html **Make a note, "Teaching Common Core" is considered an 'advanced teaching skill'.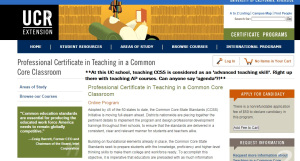 I don't know about you:
Well, if you re-read my post about CC & the Workforce, THEN consider health care is a huge portion of those "Career Clusters", THEN add this information on top, I hope you'd agree with me that our quality of life may be facing never before experienced challenges. Frankly, I'm extremely thankful that all the childbirthing, surgery, etc. I have faced are behind me. I certainly wouldn't like to consider having a CCSS trained doctor attend to my needs. I LIKE the fact the doctors, nurses and specialists my children have seen have been a fantastic TEAM without Common Core! I'm glad to know my doctors are professional enough to take the lead & be held accountable for what's going on! I think memorizing certain medical information is not only absolutely necessary, it can make the difference between living and dying. Since Common Core Standards are founded on illegal and questionable moral ethics, I will 'thank' Common Core to stay OUT of my health care–it's MINE to win or lose!! As always, leave a comment, share your views, or experiences and let's help spread the word about Common Core and it's awful impact.