Common Core Back Story for Today's Post:
Back in July of 2014, I wrote a guest post about Common Core Standards taking over the leadership clubs our students can belong to. Clubs like the FFA (Future Farmers of America), DECA (Distributive Education Clubs of America), and others. Funny thing is, these clubs are available to ALL students regardless of their educational choice. This means private, parochial, home, charter, post-secondary schools (like 2 year or 4 year colleges), and proprietary schools (those for profit schools). 
The facts I discovered weren't all that well received, I wonder how they will be now. Very few want to consider that CCSS isn't JUST for those in public school (and that it ends once the students leave the building) OR is K-12 only. Very few are willing to see ALL the other places CCSS is hiding. However, we MUST look! We must continue to dig..so that anyone who wishes to see, CAN see where CCSS is tucked away right under our noses.
In the original article, I first told all about CTSO (Career Tech Student Organizations) Today's "Tech Thursday" will take an updated look at the CTSO movement..all thanks to Common Core! To access the article I wrote in July 2014,
http://ladyliberty1885.com/2014/07/03/guest-post-common-core-standards-usurp-leadership-clubs-in-our-schools/
Today's CTSO: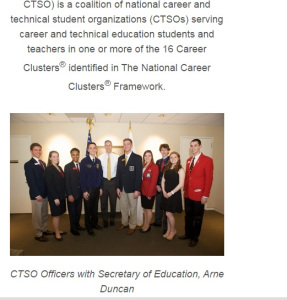 Fiscal year 2015 funding for Career Tech Education is well over $1 billion dollars. One of the organizations in the CTSO consortium is worried about 'inadequacies'. See this excerpt, "On March 4, 2014, the Obama Administration released its budget request for Fiscal Year (FY) 2015. The budget proposes to level fund the Perkins Basic State Grant at $1.118 billion in FY 2015, with no increase for CTE National Programs either. ACTE is concerned that continued inadequacies in state Perkins funding are negatively impacting high schools, CTE centers, community and technical colleges, employers and millions of CTE students nationwide. Congress must make building our federal investment in CTE a top priority!"  The Association of Career Technical Education, ACTE, has more about this on their website, https://www.acteonline.org/funding/#.VNKQ8J3F-hQ  *Note: while you're there, be sure to access the blog feed for the latest in federally funding post-secondary CTE (remember, Career Pathways, Career Clusters begin in secondary schools.)
So, the CTSO in your state: 
If you'd like to see the colorful flyer the CTSO has for each member (upon becoming one), see: http://www.ctsos.org/wp-content/uploads/2014/02/CTSOTrifoldNoMembership.pdf
Want to get the 'facts' about your state's CTE efforts via these clubs?
http://www.ctsos.org/advocate/state-ctso-fliers/
Just to see what KIND of facts are available,  I looked at NC (the introductory picture showed VT's). I was able to see that over 57,000 CTSO members live in NC. Of those over 57, 000, I got a breakdown of how many CTSOs are in EACH Congressional district. (useful tool for anti CC Warriors) *Note: Given the fact there's a ton of federal AND state money tied up, knowing the Congressional districts is key to helping educate those who are ELECTED to serve, we the people with HOW 'Adult CCSS' IS Career Tech Education!
You can also get a 'State Profile' so you can see just how great an aligned CTE/CTSO state can be. Without NC specific material, I thought you'd more like to see the general rhetoric in the profile. Here's the excerpt, "ACADEMIC AND TECHNICAL SKILLS Align with National Curriculum Standards CTSO programs and activities, such as competitive events, are aligned with National Curriculum Standards in sixteen career clusters recognized by the U.S. Department of Education. Integrate Into Classroom Instruction CTSO programs and activities are designed to provide authentic, experiential application of essential skills and knowledge obtained through classroom instruction. Industry Validated The sixteen career clusters and their National Curriculum Standards are based on research conducted by and through industries associated with each career cluster. Assess Classroom Learning CTSOs use a variety of assessment models that are reflective of industry practices. Each requires the student to apply the knowledge and skills learned in the classroom to industry situations through a variety of assessment techniques such as comprehensive exams, role-plays, presentations, demonstrations and case-studies." More of the rhetoric? Those ready for 21st Century Skills, global collectiveness, and engaging everyone! Also, in your state's profile are all the CTSO member organizations–again broken down by Congressional districts.
*Note: be sure to look over all the secondary AND post secondary schools involved.
Sponsors Involved in CTSOs:
Cystic Fibrosis Foundation, Dupont, Farmers Feeding the World, Finish Line, Ford Motor Company, Geico Insurance, G-W Publishing, H & R Block, Hospital Corporations of America (HCA), Hilton, John Deere, Journeys, LifeSmarts, Marriott, MasterCam, Medical Reserve Corps, Men's Warehouse, Microsoft, Monsanto, NAPA Auto Parts, NCL (National Consumers League) NFIE Young Entrepreneur Foundation, Office Depot, Otis Spunkmeyer, Pioneer (part of Dupont), PITSCO Education (This is related to the  STEM part of CCSS), PostNet, PLTW (Project Lead the Way; more STEM), RFD-TV, Rockwell Collins, Safeway Foods, SHRM (Society for Human Resource Management), Sygenta, U.S. Army, Public Health Service, University of Phoenix, USA Today (Gannett Publishing), Vector, Verizon, Visa, Walgreens, and Zoetis.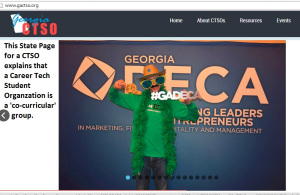 Related resource: 
If you want to get to the U.S. Dept. of Education's website for all things CTE related, be sure to visit: http://www2.ed.gov/about/offices/list/ovae/pi/grntprgm.html