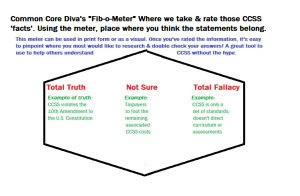 What Could Possibly Be 'Right' About Common Core? In today's post we'll measure the latest 'new evidence' about Common Core in the classroom. Let's get the Fib-o_Meter fired up!
First, the organization:
ASCD (formerly, The Association for Supervision and Curriculum Development) The website: www.ascd.org
"Total Truth", each state has an ASCD Affiliate. So do several countries across the globe. The purpose? "Common values and goals". (see: http://www.ascd.org/about-ascd/Affiliates/Directory/Affiliate-Directory.aspx )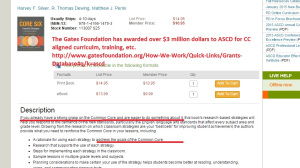 Next, The Book:
The new book that's got the Fib-o-Meter all fired up? "17,000 Classroom Visits Can't Be Wrong" by authors John V. Antonetti and James R. Garver, the designers of the Look 2 Learning model of classroom walkthroughs. ASCD is so proud of this book that you can not only buy a copy off the website, you can get a sample download of the book.
Fib-o-Meter's guess is this is so you, too, as an educator can get started right away 'doing IT correctly'.  Let's see what we can find. Now, while I can't give the download sample, I can point you to where to get it for your own research. Fib-o-Meter will help guide you on some of the biggest CC points. To get the sample: http://www.ascd.org/Publications/Books/Overview/Seventeen-Thousand-Classroom-Visits-Cant-Be-Wrong.aspx (be sure to click on the 'excerpts, pdf' near the bottom of the page)
Fib-o-Meter Spied The Following From the Sample: 
From Page 4: there was talk about 'benchmarks' being used as school effectiveness tool. "Total Fallacy" when you consider the entire 'benchmarked CCSS' myth has been busted open long ago. (see: http://pioneerinstitute.org/blog/blog-education/blog-common-core/common-core-was-neither-internationally-benchmarked-nor-state-led/ )
Page 4 also shares about "PLCs" (professional learning communities) guiding thoughts..Hhmm..when you consider the multitude of PLC workshops expressly for CCSS, I guess the guiding thoughts would be all about Common Core. (for example, see: http://www.schoolimprovement.com/how-to-make-friends-and-influence-people-with-the-common-core-standards/ ) If this isn't enough for you, check out the agenda behind those 21st Century Community Learning Centers, which are also helping guide thought, blur lines, and so much more. (see: http://www.p21.org/). "Total Fallacy" for this entire topic! Why, a true PLC shouldn't shove agendas, it should encourage individuality of the teacher, the respect for him/her to know what would be applicable, and the trust to pull it all off. You can't have any of that when you are constricted by the CCSS. (see: https://whatiscommoncore.wordpress.com/tag/teachers-against-common-core/ )
Page 5 introduces the "TIMSS" (Trends in International Mathematics and Science Study). Well, let's see what the Fib-o-Meter can share. "Total Truth" that this study exists. However, bear in mind it's part of the U.S. Dept. of Education. SO, objectivity is going to be somewhat skewed in regards to CCSS, don't you think? (see: https://nces.ed.gov/TIMSS/)
"Total Fallacy" that we should even try to use the TIMSS in regards to CCSS, as revealed in this article by a guest for Pioneer Institute. (see: http://pioneerinstitute.org/news/why-common-cores-math-standards-dont-measure-up-by-guest-blogger-zeev-wurman/)
Other Things to Consider:
Fib-o-Meter found these things worth considering:
One of the authors was a featured speaker at a Carnegie function "Teaching Excellence Institute" See: http://www.carnegielearning.com/resources-support/events-webinars/summits/tei  (Carnegie's tie to CCSS?, you ask? There are many, I've provided at least 2 for you, here, however. Both expose "Total Truths": http://www.huffingtonpost.com/2014/01/10/common-core_n_4537284.html AND/OR: http://ladyliberty1885.com/2014/06/18/guest-post-homeschoolers-warning-about-common-core/ )
"Colleagues on Call", considering they influence others, you want to note that the author featured in the Carnegie event is a co-founder of 'C on C'. Think influence in education isn't a big deal these days? You may want to consider where 'C on C' goes. According to their website, "ongoing partnerships with many schools, districts, service centers, professional organizations, and departments of education." It is because of groups like this why we need to look further at who's pushing the districts, the superintendents, and others straight into the CCSS Machine at break-neck speed (see the 'related' below). 'C on C's' website: http://www.colleaguesoncall.com/our-work.php
Related to All This, Because They Handle School Leaders:
From a post I wrote as a guest on LadyLiberty1885's blog last year is this excerpt. It shows that influences among leaders in schools, etc.
"One such  "group known as NASSP (National Association of Secondary School Principals). According their website, they have much help in aligning not only honor societies to Common Core, but they have a guide for school counselors. Look down at bit on the page and you'll see the Hunt Institute, the Council of Chief State School Officers, IDEA Partnership, Council of Great City Schools and others. (Link)" (See the entire post: http://ladyliberty1885.com/2014/06/29/guest-post-how-common-core-standards-are-taking-over-our-national-honor-societies/)
To find out more "Total Truth" about the NASSP's love of all things Common Core (like College/Career Readiness, Career Tech Education, ESEA Re-authoritzation, and more): http://www.principals.org/Legislative-Advocacy/Learn-the-Issues
To find out some "Total Truths and Fallacies" (I'm sure you can correctly match the truths/fallacies to the boldly highlighted words) from the American Association of School Administrators (AASA), see this excerpt below (the entire document: AASA_CCSS_Report):
"The CCSS-aligned tests were designed to assess student achievement, and any effort to rush implementation of them that includes using the test data to inform teacher evaluation is ill-conceived. Frustration over an arbitrary deadline to implement tests in a manner for which they were not intended threatens the good that stands to be gained from successful implementation of the CCSS and related assessments. Whatever happens in the news and the political debate, districts are already hard at work implementing these new standards and their related assessments. In order to see how the implementation of the new standards is faring, AASA conducted a survey of superintendents and administrators throughout the country in April, 2014. With 525 responses representing 48 states, the survey provides a glimpse into the planning and implementation of the new standards and assessments as well as the support superintendents are receiving from the state and community. Overall, most superintendents have already begun to implement the new standards, which they see as much more rigorous than previous standards. The new standards will increase students' critical thinking skills and ensure that they are more prepared for college and the modern workforce than previous standards did. School and district staff are viewed as prepared and engaged in implementation of the new standards."
Even Further Related to AASA:
AXA (partners with both the PTA, NEA, and the AASA). Interestingly enough, they also give out lots and lots of scholarships in America. (Find out what AXA is: https://us.axa.com/home.html) *Note: be sure to look at the Foundation arm, as well as the corporate one.
Aramark, helps uphold not only school leaders, but school meals. Here's a document they have helped in supporting a  "Superintendent Forum" full of CC alignment. See: WP-NYSF_2013
Hobson's, partners of AASA, as well. See their P-20 (Preschool to age 20) work: http://www.hobsons.com/about-hobsons/p-20-summit/
*Note: Be sure to look at all the curricula resources under the "Learn What We Do" tab.
NASSP Partners and Related Information:
Not to be left out of all the CCSS support from afar, the NASSP, has 'friends' too.
Prudential: Hardly the only insurance company to back the CCSS Machine, this one is special in the amount it has given to not only education, but Workforce alignment. (see: http://preventcommoncore.com/?p=1154)
Wallace Foundation: See all 357 Common Core resource papers they have. http://www.wallacefoundation.org/Search/Pages/results.aspx?k=common%20core%20standards
Minnesota Life: Not only partners with NASSP, but insures "Coverage is also available to NASSP employees and advisors with: National Association of Student Council, National Honor Society, National Elementary Honor Society, and National Junior Honor Society." (refer to these groups above to see again how CC aligned they are)
Closing:
Well, I'm not sure about you, but I think the Fib-o-Meter's dealt enough "Total Truth" for one day AND exposed enough "Total Fallacy" as well. The original statement the ASCD folks claimed was "17,000 Classrooms Can't Be Wrong". I know as long as Common Core is involved, those 17,000 classrooms will be grossly under-served. Right along with the millions of other classrooms left OUT of the book!
As far as those 'Classroom Walk Throughs' and how they relate to Common Core?..that's another article unto itself.