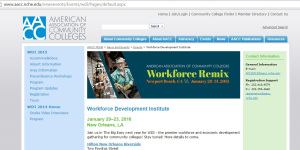 Yesterday, I introduced you to the big push for Career Tech Education (the adult version of Common Core) from the AACC's WDI (American Association of Community College's Workforce Development Institute) perspective. There was quite a bit revealed. From the acknowledged partnership of  the Gates Foundation, but the Gates Foundation grant recipient (the grant was to purposefully align to CCSS), Khan Academy, to the AACC's desire to help align K-12 through college.
However, there was SO much MORE in between.
Today, we will learn a bit more about the organization and go into a bit more detail about some of the 'loose ends' from yesterday's article. If you've not had the opportunity to access the article, here's the link:
https://www.commoncorediva.com/2015/05/06/wybi-upskilling-america-part-1/
I've also included the link to the Tamara Scott Radio Show where she invited me to discuss the "Upskilling of America". Here's the link to the archived discussion. My portion will begin at the 18:51 time mark. http://www.ustream.tv/recorded/61959153
Picking Up Where I Left Off:
In yesterday's post there were several groups or CCSS/CTE geared activities I said I've reveal more in Part 2. This is that section. I'll be going in order of those indications. If you need to open one window of your internet browser with "Part 1" and another with "Part 2", that would help you keep as much organized for future reference as possible.
A) Cengage's tie to Career Tech Ed (therefore it's tie to CCSS):
First, the website: http://www.cengage.com/us/
What they do (in their own words): "Cengage Learning is a leading educational content, technology, and services company for the higher education and K–12, professional and library markets worldwide."
(*Note: Since data and the privacy of it is a 'big deal', I'm including the link to the privacy statement. Why? Be sure to see how special conditions are laid out (for example: Cengage and all its websites may have different privacy parameters)

The Common Core/Career Tech Ed tie?: Yes, it's there. If you've heard of "Ed2Go", that's Cengage. If you've used a Delmar course book or used a National Geographic educational resource, that's also Cengage. Here's Cengage's National Geographic CCSS page: http://ngl.cengage.com/assets/html/ccss/ ; Here's Cengage's Workforce CTE partner page: http://solutions.cengage.com/WorkforceDevelopment/Partnerships/
(*Note: Related to this is Cengage's involvement with ACTE (Association for Career and Techncial Education). ACTE is also in unison with P21, Partnership for 21st Century Skills, and the NASDCTEc (National Association of School Directors of Career and Technical Education Consortium). Read the announcement: http://www.p21.org/news-events/press-releases/986-acte-nasdctec-and-p21-release-qup-to-the-challengeq-report)

Even more about Cengage:
If you've fought CCSS very long, you know Houghton Mifflin Publishing is also CCSS aligned (as are their CTE items). However, Cengage was able to buy HM's higher education assets. Cengage has a global impact. Here's the (undated) press release from Cengage's website: http://news.cengage.com/higher-education/cengage-learning-completes-acquisition-of-houghton-mifflin-college-division-assets/
Here's a screen shot you'll need to see: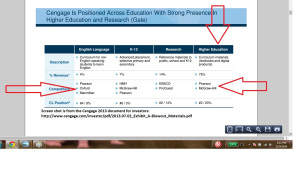 Who's invested in Cengage? I found one group called APAX Partners (a UK based private equity firm). APAX was worth over $40 billion on 12/31/14. They list Cengage as worth $12 billion. (See Cengage's page on the APAX site: http://www.apax.com/investments/traditional-media/our-investments/cengage-learning/ then, APAX's funding page: http://www.apax.com/inside-apax/company/funds/) There's an article I found that tells MUCH more to the story of APAX and Cengage's interaction. You'll need to read it for yourselves to fully appreciate the situation–especially when you read Cengage whisked away Pearson Publishing's Chief Education Salesman. See: http://www.ctpost.com/news/article/Apax-buys-Cengage-debt-with-equity-in-danger-4428532.php ,Then, http://www.bloomberg.com/news/articles/2012-12-12/cengage-hires-pearson-s-education-sales-chief-stone
One last tidbit about APAX, they were vying for the Pearson IDC (Interactive Data Corporation). Here's an excerpt, "Apax Partners has dropped out of the auction for Interactive Data Corp. (IDC), the U.S.-listed financial data provider majority owned by U.K. publisher Pearson PLC (PSO), a person familiar with the situation told Dow Jones Newswires Wednesday. Pearson, which also publishes the Financial Times newspaper and owns a large U.S. educational publishing business, hired Goldman Sachs (GS) in January to conduct a "preliminary review of strategic alternatives" for IDC in which it has a 61% stake." To see the entire article, http://www.advfn.com/nyse/StockNews.asp?stocknews=IDC&article=42111039
One last thing about Cengage (be sure to enlarge it to see the 'slap in the face' title):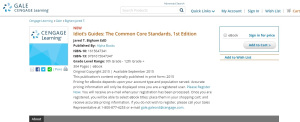 B) Dr. Bumphus and "Camelot":
If you've been able to watch the video I shared in yesterday's article, you've been able to hear Dr. Bumphus' words about community colleges. In yesterday's post was just one of the articles laying out the parts that make up this "Camelot" time for community colleges. However, I wanted to see if we could find more.
For starters, I first wrote about Dr. Bumphus back in April 2015. I was looking into CHEA (Council for Higher Education) and its links to CTE and CCSS, boy did I find a tremendous amount of information! I won't repeat all of it here, but I do encourage you to read the article. There is SO much you can use in your fight against the CCSS Machine! See: https://www.commoncorediva.com/2015/04/14/ftf-chea-cte-ccss-and-america/
As far as another one of those "Camelot" speeches or bullet points, I was able to find this one from Winston-Salem, NC. In it you'll be able to read how not only that he is an inspiration to some, but where he used to work (Voyager Expanded Learning's Higher Education division), and that among his closest friends is the head of the NC Community College's governing body, Dr. Scott Rall. Notice also that he's served on several presidential task forces. As far as Dr. Randall's influence, consider his NC General Assembly report.
Scott Ralls – CTE in NCCCS
Now, why would I include this report? In the article from Winston-Salem, Dr. Bumphus made sure he called NC's community colleges a success. As a leader who is brimming with "Camelot" talk, 'success' is part of that feeling. It also can't hurt that if we're so busy trying to align all our post-secondary education, that we use each other's models to continue the 'collaboration' factor involved. Dr. Rall's report also shows those national certificates that Tamara and I were discussing in the radio interview.
Related:
If you'd like to learn a bit more about Voyager, here's an article I found about Voyager being sold, http://www.prnewswire.com/news-releases/proquest-company-to-acquire-voyager-expanded-learning-75817707.html When you read it, notice how expansive the Voyager reach was. Notice the partners like Smithsonian and Discovery Channel…both are 'all in' when it comes to CCSS/STEM and CTE. To see Discovery Learning's (notice how many channels are involved) CCSS page: http://corporate.discovery.com/search/?search_what=ALL&search_terms=common+core+&search_by=0
Smithsonian's page: http://www.si.edu/Search/Index/default/1?q=career%20technical%20education
(*Note: where you find one: CCSS, CTE, or STEM, you'll find the others)
Dr. Bumphus also mentioned that he laid out all the "Camelot" talk in a C-Span 45 minute video. Here's the link:
http://www.c-span.org/video/?323798-5/washington-journal-walter-bumphus-community-college-plan
C) Those Aligned School Superintendents:
Back in Sept. 2014, I wrote a series of 3 articles featuring several state superintendents who've sold out to CCSS/CTE. I'm providing all the links. Each article has many useful links embedded in them.
First one: https://www.commoncorediva.com/2014/09/19/fib-o-meter-friday-state-superintendents-common-core-standards/
Second one: https://www.commoncorediva.com/2014/09/26/fib-o-meter-friday-more-cc-aligned-superintendents/
Third one: https://www.commoncorediva.com/2014/10/03/fib-o-meter-friday-even-more-state-superintendents-common-core/
If you read yesterday's article or viewed the video, you know Dr. Bumphus called out the upcoming meeting between the Association of School Superintendents and the AACC. The meeting is to accomplish MORE alignment between K-12 and local colleges. AASA (American Association of School Administrators) is the official name of the group known as the "The School Superintendents Association". I've also written about their sellout to all things CCSS, CTE. Both articles AASA are featured in are from 2015.
First one: https://www.commoncorediva.com/2015/02/13/fom-friday-ccss-cant-be-wrong/
Second one: https://www.commoncorediva.com/2015/04/23/tech-thursday-caps-via-career-pathways-is-still-ccss/ (*Note: as I always do when I write, all links are provided for your use in your battle)
D) That Re-engineering Ed Conference from Feb. 2015:
Dr. Bumphus also mentioned a conference which was set aside for 'redesigning education'. Here's the AACC's page dedicated to that Feb. 2015 event: http://www.aacc.nche.edu/newsevents/Events/nsrde/Pages/default.aspx
The "Action Plan" presented at the event: Houston Community College
E) Snap-On and Other Corps in CTE Mix:
For this section, I'm including my "Wow!" article about some of the biggest CTE supporters. Snap-On's main guy was the featured speaker in yesterday's video. Snap-on is hardly alone in aligning workers via CTE. I'm not spilling the beans of some of the big names supporting it either. I want you to read them for yourselves. See:
https://www.commoncorediva.com/2014/11/16/rmt-vp-unions-career-tech-and-common-core/
If you accessed the Cengage Workforce/CTE partners page above, Skills USA was among them. I point this group out because this was one brought up several times in the video from yesterday. To see how devoted to CTE and STEM, Skills USA is: http://skillsusa.org/about/why-career-technical-education/stem-and-cte-alignment/
Related:
To read about other post-secondary aligned publishers like Cengage (above):
https://www.commoncorediva.com/2014/12/11/tech-thursday-post-secondary-pulisher-cc-alignment/
To read about the Adult Standards for CTE, CCSS, etc.:
https://www.commoncorediva.com/2014/09/04/common-core-after-high-school-reality-check/
To learn about the National Career Pathways Network:
https://www.commoncorediva.com/2015/01/08/tech-thursday-national-career-pathways-network/
To learn about CCSS and the Post-Secondary Research:
https://www.commoncorediva.com/2014/11/12/wybi-wednesday-national-center-for-post-secondary-research-and-ccss/