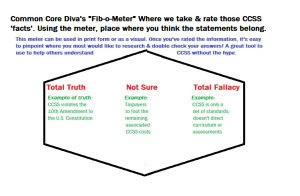 How many times have we heard that ONLY public schools have Common Core Standards? If you're like me, you've heard this out and out fallacy TOO many times. However, how many folks have you met who still think Christian universities are exempt from the Standards? Yes, you read correctly, Christian universities. Many of us anti CCSS bloggers have covered the ways in which Common Core has been inserted into K-12 Christian schools, but yet, many don't stop to realize, the post secondary world of education for those who are Christian is just as full of Adult CC.
First on the Fib-o-Meter, Concordia University:
Originally founded over 100 years ago by the Lutherans in Missouri, today CU has 3 physical campuses and on-line classes as well. All campuses, on-line or on-site are committed to the highest educational standards, care, compassion, and a Christian viewpoint. Hmmm….then why are there master degrees available for Common Core Standards, Career Tech Education, STEM? (see below)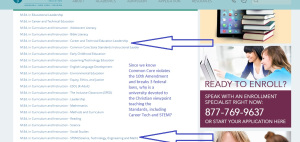 For this undeniable proof, rating this on the Fib-o-Meter will be tough. Why? No statement saying 'we don't support Common Core' is on the website I accessed, yet they are clearly teaching how to teach Common Core. Thankfully, Dr. Karen Effrem with the Education Liberty Watch was present at a California meeting recently. Dr. Effrem was speaking against Common Core, one of the supporters? Dr. Doug Grove of Concordia University. Dr. Grove is the Assistant Provost for Adult, On-line, and Graduate courses. (see the minutes from the Orange County School Board Meeting: http://www.ocde.us/Board/Documents/11.12.14%20BOARD%20AGENDA%20PACKET.pdf, scroll down to page 16) To access Dr. Effrem's report: http://edlibertywatch.org/2014/11/elws-dr-effrem-participates-in-major-debate-on-common-core-with-national-experts/
So, NOW we can run this through the Fib-o-Meter much easier. Sorry, Concordia, you teach "Total Fallacy" with Common Core aligned classes. Concordia's website address, should you want to look deeper, http://education.cu-portland.edu/
Oh, I almost forgot, another "Total Fallacy" for offering each new student a laptop ready to data mine! (visit the website to see what I mean)
Next up, Regent University:
Here's another big named Christian based university. Let's see what we can find out about their adherence to CCSS, if any. Website: http://www.regent.edu/ Their tag line, "Christian Leadership to Change the World".
Well, one of the first clues they are Common Core friendly is the offer to Veterans. Now, do not misunderstand me, I love our Veterans! However, because of the federal funding attached to their higher education, I already know the university will HAVE to be CCSS aligned. Under the newer version of the Perkins Act is the first alignment, then under the new Workforce Investment and Opportunity Act (for more about the military financial aid and how it's tied to the U.S. Dept. of Ed, http://www.military.com/education/money-for-school/federal-student-aid.html)
Then there are the CCSS aligned required textbooks for education majors,
1. Teaching Common Core Math Standards, Author: Muchala, Publisher: Jossey-Bass
Ed: 1st, 2012, Nook ISBN: 9781118237281; Hard Copy ISBN: 9781118108567
2. Learning to Love Math, Author: Willis, Publisher: Association for Supervision &
Curriculum Development, Ed: 1st, 2010, Nook ISBN: 9781416612285; Hard Copy ISBN: 9781416610366
There are even more books in the education major that will more than qualify. Pearson Higher Ed is used for teaching literacy. There are books on social emotional learning, too. If you want to access the entire textbook list, http://www.regent.edu/acad/schedu/pdfs/textbooksFA14.pdf
Sorry, Regent, if this is your idea of Christian leadership, I'd have to pass. For misleading vets, "Total Fallacy" (not to mention disgraceful). For implanting CCSS into future teachers, 'boo'..and a "Total Fallacy".
What if my Christian College is part of a larger denomination's umbrella?
Great question! For example, the Southern Baptist Convention has a very large co-op/partnerships with colleges and universities in 19 states (and not just in the South). So how does a set up like this avoid Common Core, if at all possible? First, let's consider their statement of relationship status. Right off the bat, the Convention's listing tells you it is a courtesy to have all this information in one location. The next part is a bit tricky, so here's a direct excerpt, " With the exception of the five theological colleges associated with our SBC seminaries, the Southern Baptist Convention has no direct connection with any of these institutions. It provides no funding. It elects no trustees. Each institution is related to one of our partnering Baptist state conventions."  After this distinction comes the money part. There's a co-op agreement between the colleges/universities, the churches AND the Convention. Any scholarship or financial funding must come from each separate school as per their requirements. So, you have to search each and every school's website to find out if there are tied to Perkins, or any other U.S. Dept. of Ed. funding. Then, you'd need to see if they participate in early college (formerly known by dual enrollment), International Baccalaureate or Advanced Placement programs (both of which are tied to Common Core). To rate each of the 19 states on the Fib-o-Meter at once wouldn't be feasible for this unique situation. So, while the Convention itself has tried to distance itself from CCSS, each of the colleges/universities may not. Fib-o-Meter will have to rate this as "Fallacy". To see the entire list of states and all the schools therein, http://www.sbc.net/colleges/
Even more CC alignment:
Bob Jones University had Barbara J. Rooks (one of the co-authors for "Elements of Literature" published by Bob Jones Press) give a CC implementation presentation. Here's the workshop description, "Common Core Standards are garnering attention in education. What are they? How can they help teachers and administrators? This workshop offers tips on implementing these standards into the English classroom." The University offers no other information. (to see an up close look at the BJU stance, here's a link to Lady Liberty 1885's Guest post from July 2014, http://ladyliberty1885.com/2014/07/07/guest-post-common-core-in-charters-private-homeschools/) There's quite a bit about private Christian schools from the K-12 perspective. For being a fence rider (this is someone who straddles a fence much like a horse and expects to not get splinters), "Fallacy" on the Fib-o-Meter.
Liberty University's faculty blog writer Dr. Ackerman shared her thoughts back in 2013 that are quite sadly supporting the CCSS, but you need to see the way in which the support is written. The assumption is just because some are Christian, their CC should be better than other's CC. To see the post, http://www.liberty.edu/index.cfm?PID=9720&blogpid=20067&id=697181 Sorry, Dr. A, but this is "Total Fallacy". For using Pearson Publisher Higher Ed textbooks in Math (which will be CC aligned), "Total Fallacy", this may fit in with your version of the Christian way, but I'm not interested. Oh, before I forget, "Total Fallacy" for STEM goes to your school as well.
Brigham Young University (BYU), in their on-line newsletter, http://universe.byu.edu/2014/11/11/to-teachers-common-core-is-not-such-a-bad-apple1/ will get a "Total Fallacy" for many reasons, but read this excerpt, "Tim Morrison, an associate chair of BYU's Department of Teacher Education, said he believes the consistency of Common Core makes it better for children in a mobile society." There are other comments like that (but I want you to see for yourselves).
Loyola University Maryland (http://www.loyola.edu/) is truly into Common Core Standards. Not only do they teach their undergrads, grad students how to be CCSS aligned, they help host pro CCSS Forums. Their associates include the Fordham Institute, as well. "Total Fallacy" for each of these. Learn about their most recent CCSS Forum, http://www.loyola.edu/news/2014/0821-leading-minds-common-core For more about their other CCSS projects, http://www.loyola.edu/search-results.aspx?&q=common%20core%20standards
Notre Dame (specifically their Institute for Educational Research), http://iei.nd.edu/, "Total Fallacy" ratings for STEM Academy, AP Training Incentives (which increase college/career readiness), and for its partnership with the U.S. Dept. of Ed (see: http://iei.nd.edu/our-initiatives/education-research/)
Closing:
Before we part for today, please know the following:
1) I have nothing against the Christian higher education students
2) I have no bone to pick with the idea of Christian based higher education
3) There are hundreds more Christian higher education institutions I've not covered. Why these? Because I wanted a cross section of the more well known schools for you to see just how far CCSS has infiltrated our society.
4) I am deeply troubled that those who profess to honor the Lord AND are in charge of educating others would want to have their students adhere to godliness in certain ways, yet uphold Standards based not only on lies, but that seek to discredit the Christians themselves.