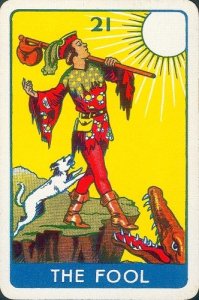 Today's "Riddle Me This" is all about a new effort accredited by AdvancED (so CCSS friendly it's downright shameful) and growing in NC. We'll also delve into which other states are involved.
The Context:
Many of us who are fighting CCSS, have already been able to connect the dots between AdvancED and CCSS. However, I know many of us may need a refresher OR may be so new to fighting CCSS, they haven't made the connection. To help you establish what AdvancED does, here's an excerpt from my guest post I wrote on LadyLiberty1185's blog in mid 2014: "AdvancEd is an online company dedicated to helping your school be the best. Just look at their Common Core Standards page. My personal 'favorite' is the reinvention of the report card into digital badges. Read it for yourself. Note: the author is from NASA — as in the guys who went to the moon." Access the report:  http://www.advanc-ed.org/source/reinventing-report-card
If you'd like to read the entire article on Lady's site, http://ladyliberty1885.com/2014/07/07/guest-post-common-core-in-charters-private-homeschools/
Here's what AdvancED has to say about themselves: "AdvancED is the largest community of education professionals in the world. We are a non-profit, non-partisan organization that conducts rigorous, on-site external reviews of PreK-12 schools and school systems to ensure that all learners realize their full potential. While our expertise is grounded in more than a hundred years of work in school accreditation, AdvancED is far from a typical accrediting agency. Our goal isn't to certify that schools are good enough. Rather, our commitment is to help schools improve."
What you need to know about AdvancED:
1) They fully support the re-authorization of ESEA (as in the HR5 federal legislation).
2) To support their position of the re-authorization, their report on 'Diagnostic Review' explains how they will use school data to an extreme. Get the report: Diagnostic-Review
3) In AdvancED's latest Annual Report, the non profit shared many vital details we, as anti CCSS warriors need. FYI, the organization is worth over $16 million dollars and is purposed to reinvested everything into continuing to change education. Get the report: AE-AnnualReport2013-14
4) Partners of AdvancED include quite an extensive list of faith-based schools as well as State Boards of Education. Partners link: http://www.advanc-ed.org/services/partnerships State Boards link: http://www.advanc-ed.org/services/state-departments-education (*Note: among the State Boards is CCSSO, as in the Council of Chief State School Officers–you know, half owner of the copyright to Common Core Standards)
The New Push:

Now that you have that information, here's how AdvancEd is pushing their CCSS support into NC via a 'new' school….
Called "North Carolina Connections Academy" (website: http://www.connectionsacademy.com/north-carolina-virtual-school/home.aspx) How did I discover this new school? I received a colorful flyer in my regular mail. The big banner at the top of the mailer states that the school is a 'tuition-free virtual public school'. All the in-person, 'get-to-know-all-about-us' meetings are held in nearby locations (here in NC). However, the return mailing address gives me a Maryland location. Hhmm….not surprised. Here's the website address for the home office in MD (it's called "Connections Education, LLC"): http://www.connectionseducation.com/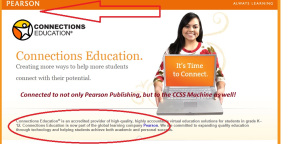 The first clue to CCSS allegiance is 'public school'. Virtual public schools in NC are still rather new, therefore, not totally understood. Here's an excerpt from an article by UNC's WUNC. "The General Assembly required last year that the state create a four-year pilot program for two virtual charter schools. Only two schools applied: North Carolina Virtual Academy, run by K12 Inc.; and Connections Academy, to be managed by Connections Education." (entire article: http://wunc.org/post/virtual-charter-schools-coming-nc)
The second clue is the curricula publishers list. (Pearson, MacGraw-Hill, and many others) Every page of this "NC" school has Pearson's logo of "Always Learning" at the bottom.
The third clue: Talent Networks (includes STEM)
The Board of Directors: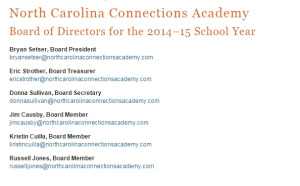 "Connections Education" was a 2013 "Best Places to Work" winner. See: http://www.connectionsacademy.com/news/ce-named-among-2013-best-places-to-work
Pearson's Connection Education is not only in NC, but the following locations:
International Connections Academy, AZ, CA, CO, FL, GA, IA, ID, IN, KS, LA, MA, ME, MI, MN, NM, NV, OH, OK, OR, PA, SC, TX, UT, WI, and WY. Here's the link to see what the names of the schools are (most are the state's name followed by "Connections Academy", however, "Nexus" and a couple of other names are used as smoke screens): http://www.connectionsacademy.com/online-school/availability
The Pearson run entity also offers CTE (Career Tech Ed) courses, so those Career Clusters/Pathways can occur in the virtual student's life as it does in the students' lives in the brick and mortar schools. (look under the 'curriculum' page for proof).
Of course, with Pearson in charge, you know your student's information will be data mined all over the globe.
See a related news announcement: http://www.connectionslearning.com/connections-learning/news/advanced-academics-acquisition.aspx
Closing:
While it's no secret how tied to CCSS North Carolina is, I do wonder if the NC General Assembly did their digging into finding out what organization is behind Connections Academy before they approved the educational experiment with not only our students, but, our tax dollars. If you live in NC, pass this information to your legislator. IF you live in any of the states listed above, share this with your legislators. Hold them accountable! No CCSS in our states MEANS No CCSS, CTE, CCR, or other sly rebrand, rename dreamed up.