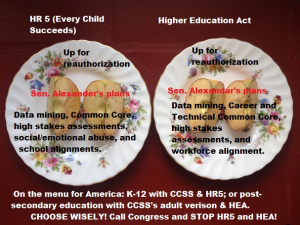 Warriors against Common Core, make no mistake, Common Core isn't only going to be set in stone for the next 7 years IF the HR5 re-authorized bill headed up by Sen. Alexander is passed; it will also be set in stone IF the HEA re-authorized bill headed up by Sen. Alexander is passed, as well!!
Many warnings have been given over the past months–by others who've researched both bills and in my articles. I've researched the HEA one especially.
While HR5 is set to impact K-12 students, teachers, and their schools;  HEA's Common Core tentacles will grasp all citizens no matter what educational choice they had in the past. This means if you were homeschooled, attended a private charter, or private faith-based school for K-12: Common Core via its adult version of Career and Technical Education (or Career Pathways, Career Clusters, American Apprenticeship Initiative, Workforce Training) will be there. This means if you just graduated from a public charter school, a public school of any kind, your introduction to Career and Technical Education (or the other names above) has already begun! This means that if  you're hold a job which requires you to further your education via post-secondary education, Common Core will ensnare you, too! This means if you're going back to school to begin a new chapter of life, Common Core is your 'welcome back' to class!
Both bills, HR5 and HEA contain data mining, high stakes assessments which encompass not only students, but the teachers, professors, and/or instructors.
Both bills are being sold to America as improvements for education. HR5 will give the states sovereignty again. HEA will save taxpayers money. Again, both of these points have been proven to be smoke in our eyes to blind us from the stark reality of what is really written in both bills! Both bills are the babies of not only Sen. Alexander, but a wide array of the CCSS Machine members–both public and private citizens and/or their corporations. Many hours by dedicated researchers have shared all of the above and even more tied to BOTH bills.
So, what can you do? Tell your Congress members to kill BOTH bills..not just one. Where one dies, the other can live on and be implemented even moreso in our laws. Don't let the CCSS Machine continue to use the law to hide behind or be embedded in when Common Core (and all that goes with it) are ILLEGAL in the first place!
We don't have time for emails, snail mails, we MUST call ASAP!
Call the United States Capitol switchboard at 1-202-224-3121.  The switchboard operator will connect you with the office you request. Call your Congress members, call the Congress members who don't represent you. Call every single Congress member on the Education and Workforce Committees; the Education Appropriations Committees; the Early Education Committees; the Committees overseeing alternative education, special education. Make your voice be heard, Warriors..our country needs you..NOW! Remember, we've been given an educational menu of apples gone bad. We need a different menu for our students.