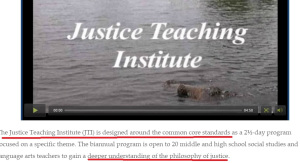 I learned about the NC Bar Association's Justice Teaching Institute while doing some other Common Core research. I thought I was reading incorrectly for a moment. Isn't the law supposed to be objective? Aren't our state laws to uphold the Constitution?? So HOW can you do that with Standards that are ILLEGAL?
JTL:
The Website: http://www.ncbar.org/public-resources/law-education/programs/justice-teaching-institute/ Be sure to watch the short video featuring teachers thrilled to be there. Listen to how they extol the virtues of how well they'll be equipped to lead students (remember, CCS aligned) through history, law, and justice.
One of the Publications:
Used in the classrooms are study guides the NC Bar has available for free on their website. Just think, CC aligned publications for CC aligned lessons. For example, here's one study guide for conflict resolution is co-authored by the National Endowment for the Arts (the CC aligned National Art Standards were released by them back in the Summer of 2014), the Educators for Social Justice, AND the U.S. Dept. of Justice's Office of Juvenile Justice and Delinquency Prevention. (their website: http://www.ojjdp.gov/) *Note, when visiting the OJJ site, notice the 'global youth justice training event for 2015. As far as the Educators for Social Justice (their website: http://engagingschools.org/) If the fact that at least 3 of their major funders are CC backers (see: http://engagingschools.org/about-us/funders/) then maybe their "Rigor" Course will help out. As a teacher you can help your students become "Activators" (CC aligned of course). Want to know more? See: http://engagingschools.org/store/index.php?main_page=product_info&cPath=19&products_id=101
To get the study guide from above for conflict resolution: http://www.ncbar.org/media/95353/The-Art-in-Peacemaking.pdf
 While you still may not get the direct "Common Core Standards" link between the National Endowment/Office of Juvenile Justice, look what I found on the U.S. Dept. of Justice's website that DOES prove alignment: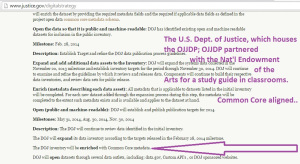 Find out more about the Common Core digital plan: http://www.justice.gov/digitalstrategy
To find out more about how CC aligned the National Endowment for the Arts is: http://arts.gov/sites/default/files/spring-2014-grants-discipline-listings-rev2.pdf (gives you the winners of grant money across the nation for the purpose of supporting the arts; note how many are using funds for CC alignment) OR see this site for the National CC Art Standards: http://www.arteducators.org/research/nccas
As far as other NC publications and their CC alignment? I will not say all of them are CC aligned, but considering how much social justice is being slammed into CC for that 'global citizen' effectiveness, it doesn't fill me with much confidence that I have discovered one study guide for the tense topic of conflict resolution to be CC aligned. Here's another one titled "Justice For All" and is backed by the the trio: American Bar Association, Kettering Foundation, and the National Issues Foundation. (see: http://www.ncbar.org/media/95337/And-Justice-For-All.pdf) What's a bit disturbing about this study guide is not only the repeating theme of 'removal of….', is the exit survey (last pages of the guide). No, you won't see "CC aligned", but you don't have to wonder where the road is leading.
To hear how the National Issues Forums are aligning so much in the vein of CC:
https://www.nifi.org/en/groups/stream-changing-world-work (listen to this entire audio for all the collectiveness you can stand, the announcement of P16 groups nationwide) Among the special guests, a representative from the U.S. Dept. of Education. To get the download of the 'Changing World': Changing_World_of_Work_0_0
As far as Kettering? Read for yourselves: http://kettering.org/periodicals/higher-education-and-our-collective-future/ (this is from 2012). The entire issue of their "Connections" periodical from 2011 is certainly worth looking into. (see: http://kettering.org/periodicals/connections-2011/)
Back to the Bar:
From the American Bar Association, a 2013 Presentation titled, "Achieving Diversity in the Legal Profession through the Educational Pipeline" (get it: rev_diversity_in_educational_pipeline_slides_oct2013.authcheckdam) Inside the presentation? Robust pathway, educational data, 'leaks' in the pipeline, and more of what we've come to recognize from those supportive of CC: misuse of truth!
More from the Bar? Sure, check out their feature of Lynne Munson's (Ms. CC) 2008 Report (see: https://www.americanbar.org/newsletter/publications/law_matters_home/publicationsSPR08.html, scroll to the bottom) Then, here's another serving:  LRE (Law-Related Education) Here's the link to the ABA's Public Education LRE page: http://www.americanbar.org/groups/public_education/resources/law_related_education_network.html Here you'll see Next Generation Social Studies Standards, C3 Framework (which is CC aligned now)
Another source I was able to connect to via the Bar's is called "iCivics" and is 100% CC aligned. Here's the link: https://www.icivics.org/teachers
So, what actions are they to take?
Saturday's posted article wouldn't be complete without Action Steps, so here goes:
1) If you want to learn more about C3's Framework Common Core ties that stretch much further than you can imagine, see my 2014 article, https://www.commoncorediva.com/tag/international-assembly-for-social-studies/
2) Want to know about those National Social Studies Standards? Here's an excerpt with a tip from my article about "Silent Classrooms", "National Social Studies Standards, over 100 CCSS aligned workshops will be held at the upcoming  National Conference for Social Studies. See: http://www.socialstudies.org/conference/CCSSsessions" (see: https://www.commoncorediva.com/tag/cool-math/ )
3) Check out the CC aligned Social Studies Conference from 2014:  http://www.socialstudies.org/conference/CCSSsessions
4) Read the letter of support for Sen. Alexander's updated ESEA from one the National Council on Social Studies, one of the American Bar Association's biggest Law-Related Education resource links. ESEA_LamarAlexander_letter1
5) Find out about your state's LRE programs. What are your state level law groups doing? How are you seeing the community changing to better embrace all the community collectiveness so ripe in all the lessons surrounding social justice? Some of the states, like Florida's LRE, have everything in an easy to see, front page on their website. If your state is like Ohio, their CC aligned LRE has its own YouTube Channel (see: http://ocss.org/resources/ocss-pd-channel/) All you have to do is click and dig in. (see: http://www.flrea.org/) Other states?You may have to dig a bit deeper. JUST don't give up!
6) After you've done all this…get up, get out and share! Our legal system..the very system that is so rooted in truth is being undermined by illegal standards! Talk about conflicts of interest?! If you've got a lawyer in your family, ask them: What do they know about this? How do they feel? Are they willing to fight this GROSS miscarriage of justice? If you don't have a family member/lawyer, consider your friends, your associates WHO ARE lawyers. Are they supportive of such an undertaking to help reshape our entire nation?! (I'm not being 'alarmist diva' here, think back to the information above where the collective, social justice theme is taking us)
7) Think about the U.S. Dept. of Justice and let an elected official know what you've uncovered! How DARE they?! Stop Common Core, NOW!
8) Finally, if you just need some 'cheap therapy' to calm down after all this injustice, consider the FREE resource the NC Bar even has for your little ones to learn to love the law.  (adaywithalawyer)