Today's article will feature a variety of informational tools you can use (aka 'accoutrements') for our continued War vs. the Core.
Money Talks In This War:
1) ICYMI: My no-holes-barred look into President Trump's Proposed Budget. The CCSS Machine's education reform takes money to keep up its agenda. Our government has been a party to this for long enough. If we are to see the end of Common Core during Mr. Trump's service, we MUST use truthful evidence to hold ALL of D.C. accountable, not just a select few.
2) My 7 page "Anti Fed Ed Common Core and all Its Related Activities" document. Within these 7 pages is a breakdown of priorities, we as Warriors must address surrounding the federal budget. See: AntiFedEdCommonCoreandallItsRelatedActivities
Within Mr. Trump's plans, I found 85 ways his requests KEEP the CCSS Machine going. My priorities list gives you a mountain of accoutrements to use, just look for the highlighted words, you'll be able to access years worth of researched evidence to support the priorities.
We have no time to waste in crunching numbers to wipe out nationally led education.
(*Note: Mr. Trump's Proposal must be approved by Congress. We've also yet to see what Congress has laid out for education reform.)

As we learned before, all federal Cabinet Departments are in on the transforming education from academic based to workforce training.
Control From Above:
1) 'New' State Templates for Writing Your 'Own' ESSA Plans.
Yes, my Warrior friends, the U.S. Dept. of Ed recently released an updated version for how our States should formulate their educational plans. However, with the first ESSA deadline a few days away (April 3, 2018), how much difference is really in the new version? If a State is to be free enough to formulate its own education plan, is the Dept. of Ed still micromanaging?
ICYMI, the press release is embedded above. I include it so you can not only read the 'feel good' language  has chosen, but you can see embedded links to the Council of Chief State School Officers (CCSSO), Great Schools of America, etc.
(*Note: In the U.S. Dept. of Ed's letter to the CCSSO, you'll find how DeVos chose to promote a 'concerted effort' between States and the organization.)
Here's your Warrior accoutrement! From Page 2 of the 'canned' U.S. Dept. of Ed's ESSA State Plan.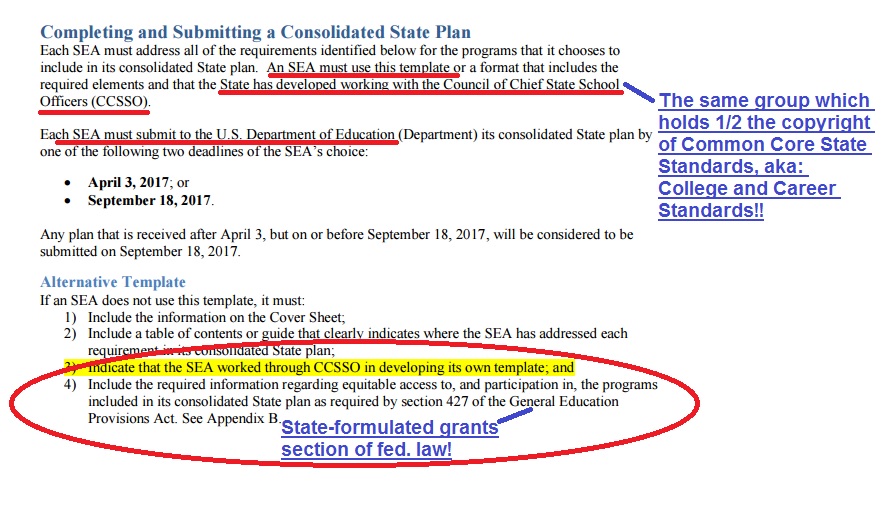 You can find the new ESSA States guide, here.  States are not being given an option when it comes to working with the CCSSO.
Compare the above screen shot to the one below and see what changed from Dec. 2016 to March 2017: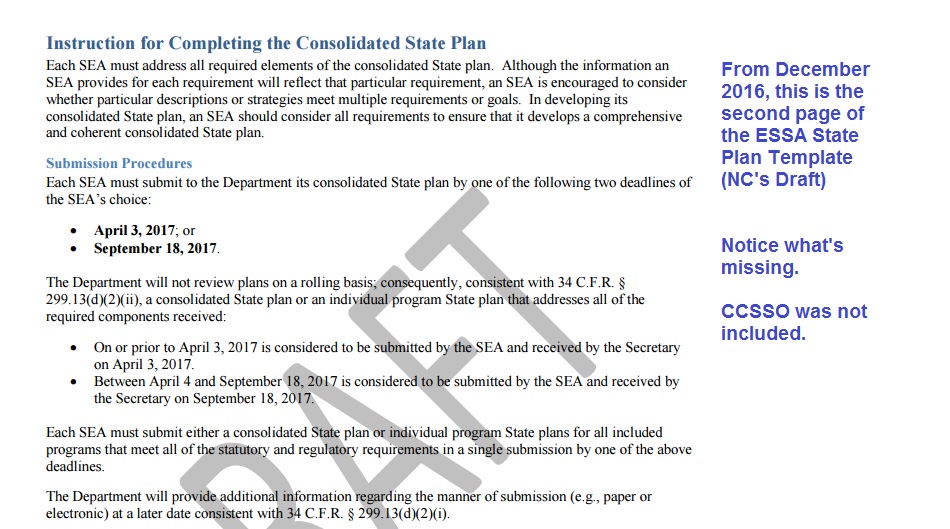 2) CCSSO, AdvancEd, and the Aspen Institute
Back in Sept. 2016, North Dakota Dept. of Public Instruction staff traveled to a CCSSO Meeting held in Atlanta, GA. As it happened, AdvancED was also holding a Symposium which fit right in with this meeting.  AdvancED even suggested you do some pre-Symposium reading. The goal of the Syposium? To supply State leaders with pre-formatted State Plans devoloped by AdvancED .
The topic of both the CCSSO's and AdvancEd's meetings? ESSA Implementation at the State level. While I've been unsuccessful in finding evidence of the CCSSO's meeting held at the same time. I did find the ND notes about the meeting. See below: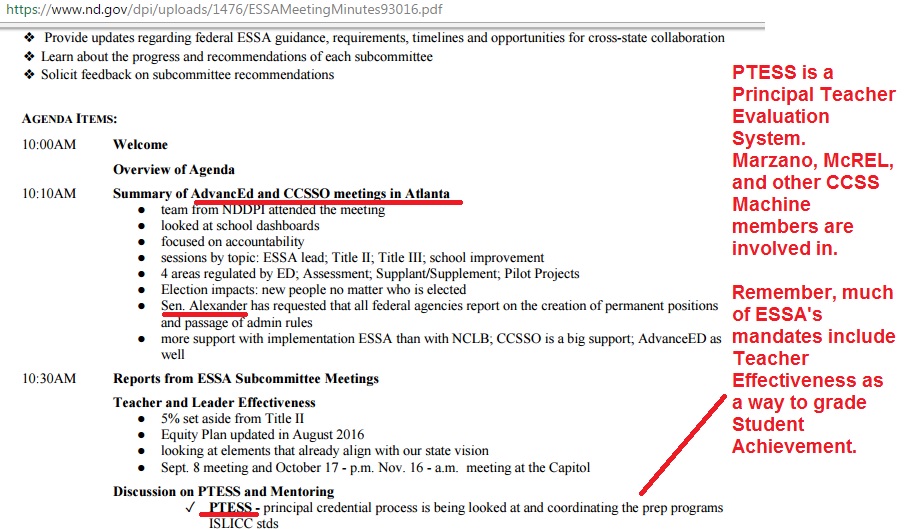 If you'd like more information on PTESS, click here.
Not long after the duo of CCSSO/AdvancEd influence over our State Education leaders, CCSSO teamed up with the Aspen Institute for another ESSA 'guiding tool'.
Warriors, for us, it's an accoutrement! How? It reveals how these pro CCSS groups are telling States how to act, what to do, what to say, and where to seek help.

What About Asssesments?
Warriors, it's no secret we're in the 'opt out' season. We've seen the ESSA evidence about keeping the 95 percent assessment rate. States, via ESSA's mandates, will include the participation rates.
Where? In the State's accountability reports. States will have to turn these into the U.S. Dept. of Ed. Why? To keep receiving state-formulated grants.
1) An accoutrement we can use is the Fair Test's latest on why and how to 'opt out'. However, this comes with a warning. Fair Test is backed by the CCSS Machine and is tied to the New World Order Foundation. Much of the ideology held by NWOF is tied back to the global mindset found in the UN (United Nations). National Education Association (NEA) is also a key backer for Fair Test. Taking into consideration how sold out to the CCSS Machine and ESSA, the NEA is, don't trust their advice!
2) What about the global push for assessing education?
Warriors, we know Programme for International Student Assessment (PISA) isn't  going away. PISA is a tool of the OCED (Organisation for Co-operation and Economic Development). OCED loves to work with the UN.
Here's an accoutrement you can use. The Center for Curriculum Redesign (CCR), has published a series of articles about the need for MORE skill based assessments. This is only one part of the puzzle the CCSS Machine uses for advancing CBE (Competency Based Education)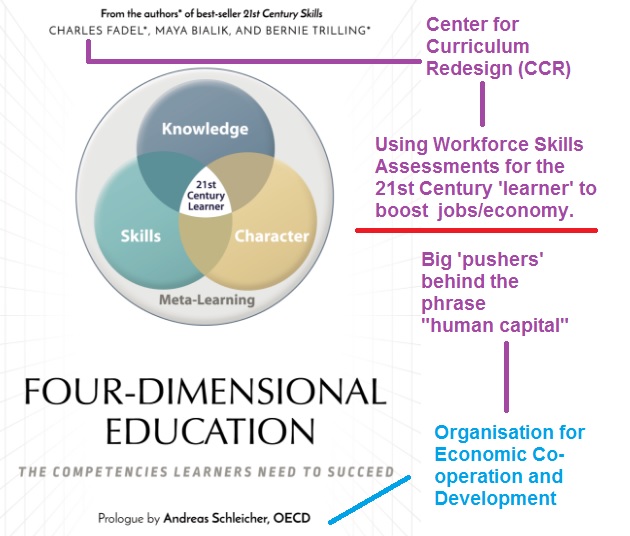 I found out about this when a stranger posted to my Common Core Diva Facebook page with the message to help save future doctors, workers, etc. Since I'd never heard of this person before, I wanted to check it out. Here's the article. Below, see the screen shot from the end of the competency based assessment article. I've underlined 4 easily identifiable CCSS Machine supporters.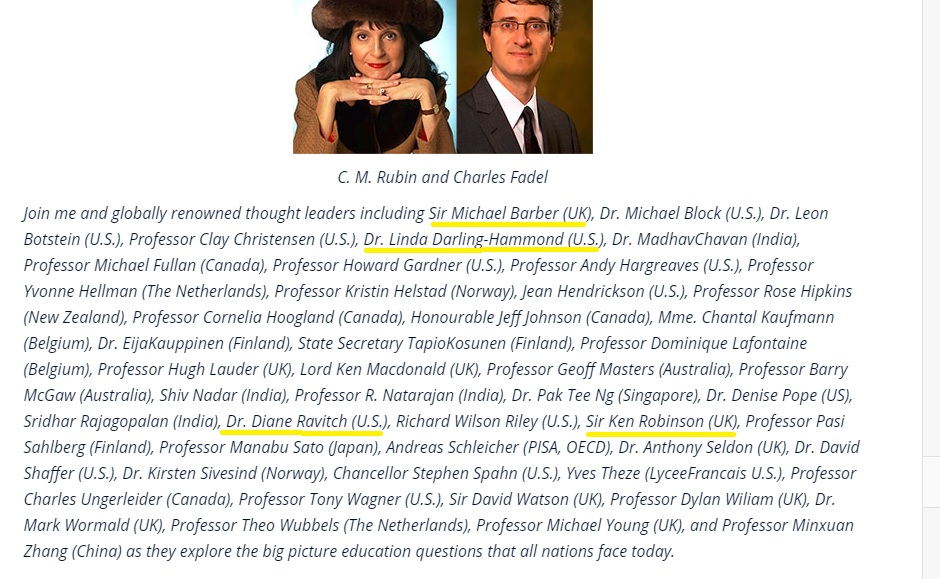 The CCR has 2 'must have' accoutrements. The first addresses the 21st Century need for more assessments. The second addresses the workforce/skill based 'needs'.
Why these are such a prize set of accoutrements is they are designed leaders and the more corporate minded education reformer. These will tell us what is coming and how our students will be over-assessed to fit a job slot, not their minds.
(*Note, Warriors, take your time exploring the CCR's website. You'll find international education groups, participating countries (example: Finland, which may be why we're constantly comparing America to them), corporate partners, philanthropic groups, and more.)
Closing:

Warriors, our fight is far from over. Grab your shields, gather your fellow Warriors, and let's use these accoutrements with 'gusto'!