Warriors Against Fed Ed, we know that the overreach in education is NOT contained in the K-12th grade levels. We also know it's not restricted to public education, but spills over into ALL educational choices.
We can thank federal laws for that. The 'holy trio' of WIOA, ESSA, and the HEA (Workforce Innovation and Opportunity Act of 2014; Every Student Succeeds Act of 2015; Higher Education Act of 2008, and, currently being re-written to become re-authorized.)
I believe Congress is preparing the way for the 'new' HEA by creating Bills now which amend the current HEA. Why is the 'new' HEA a concern for Fed Ed Warriors? It's the last 'link in the chain for a cradle to career streamlined education for workers'.
I've written about other Congressional Bills which also are laying the trail to the new and improved HEA. However, there's a new Bill in town…
Bringing on the Bipartisanship:
S718 (The Making Education Affordable and Accessible Act (MEAA)
**As of this writing, there is no text version of the Bill available from Congress.gov)
**Because the Bill's acronym is so close to  'meow', I'm using a cat theme for the rest of the article.
Quick facts:
1) There are 4 Senators aponsoring/co-sponsoring this 'cat-nip' bill: Franken (MN); Peters (MI); Cassidy (LA), and, Boozman (AR).
2) Because "bipartisan" can be claimed, so can the 'litter box' contents that come with this Bill.

3) Because it helps lay a deceptive 'mouse trap' for citizens involved in higher education, we need to watch for the 'claws' being used to pull us in.
4) Since the text version of S718 isn't  available just yet, we can find out much information about it from the Sponsor's official press release. Senator Peters' website reveals the following 'cat treats':
5) Not only do we have 4 Senators behind this Bill, there are also 2 House of  Representatives involved in this: Polis, CO and Reed, NY. This makes the Bill 'bicameral'.
**Warriors, this should be a sign that federally led education is NOT a single party creation! Both mainstream parties are extending the overreach. Think of it as the 'litter box smell' that can't be contained.
6) This is not the first time a Bill seeking to make college 'more affordable and accessible' has been attempted in recent history. It's the same 'mouse trap', just designed a bit differently.
7) The targeted group for S718? High school students! The 'stealthy' Bill will 'providing grants to eligible institutions of higher learning to create dual and concurrent enrollment and early/middle college programs..'
**Warriors, ESSA's State required accountability reports must include dual enrolled, concurrent enrolled, and early/middle college programs. It also streamlines ALL education in high schools OR these programs to be aligned to WIOA's requirements for post-secondary readiness! It also streamlines teachers and their training. Talk about 'claws' being dug into our citizens…
8) Sen. Peters' comments included: "Some form of higher education or technical certification is increasingly essential to joining today's workforce, and the rising cost of tuition should not be a barrier that keeps students from getting the skills and education they need to succeed," said Senator Peters. "I'm proud to introduce this bipartisan legislation that helps students save money while getting a head start on their college education. The Making Education Affordable and Accessible Act will help ensure students are well-prepared for their chosen careers and employers have trained workers to fill the jobs of the future."
9) Sen. Cassidy's comments included: "In order to bring high-skilled, well-paying jobs with good benefits to Louisiana and our nation, we need a highly capable workforce. This bill provides a next step in training American workers for the jobs of tomorrow."
10) AR's Senator: "This legislation creates an affordable opportunity for students to develop real-world skills employers need while pursing higher education. These programs have been beneficial in Arkansas by helping prepare students to enter the workforce as future employees for local businesses," Senator Boozman said.
11) Sen. Franken's:  "Our commonsense, bipartisan bill would help more high school students earn college credits before they pay a dime in tuition—and it could also support professional development opportunities for educators in Minnesota who teach courses in dual enrollment programs. " (*Note: to see Sen. Franken's other workforce based education offering, click here.)
12) From CO: "Allowing more students to attain college credit while still in high school puts them on a clear track to achieve a college degree and excel in the workforce," Representative Polis said.
13) From Rep. Reed: "Dual and concurrent enrollment programs offer students quality educational options that will prepare them for meaningful careers. "
14) Look below for the seemingly innocent 'meows' from CCSS Machine member groups. Warriors, it's not innocent. It's a purposed, planned, and 'roar-like' call for conformity!
(*Note: Sen. Peters' press release has all the CCSS Machine reguritated supportive statements from each of the Groups below.)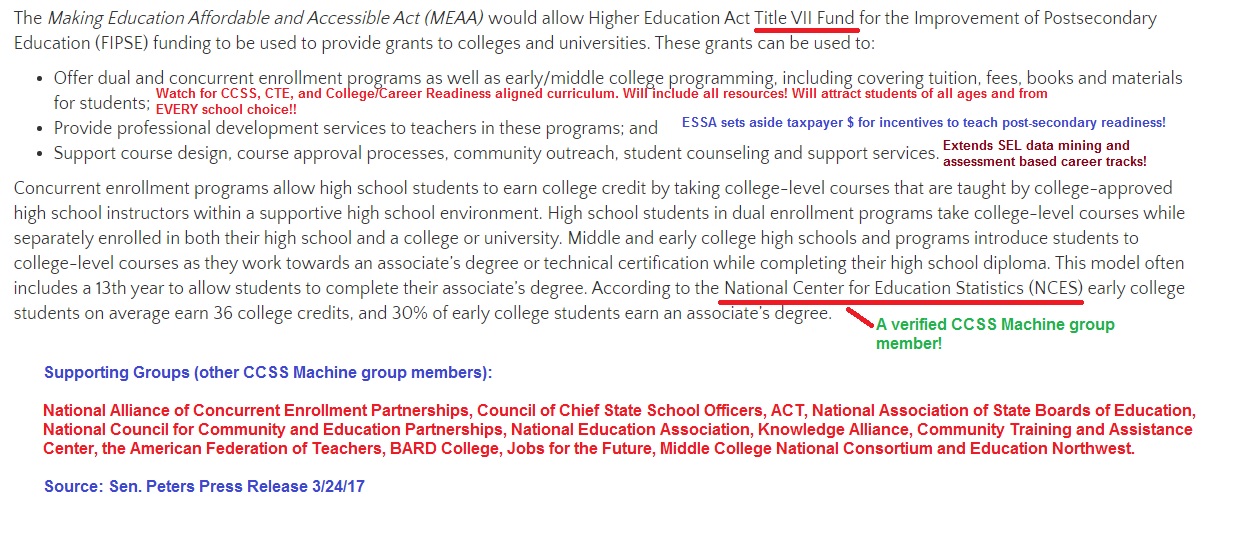 Closing:
Warriors, we MUST rein in the federal overreaches! We can no longer act like kittens when it comes to our nation and the aligned direction it is being set to. We must be the tigers and tigresses. If you live in any of the States these Senators and Representatives are from, be encouraged to reach out to them concerning this.