To my fellow anti Fed Ed Warriors, we find that February 2017 is winding down. It's been a busy month for us. We've seen education history made, we've uncovered new evidence that our American education is disappearing into the global landscape, and we are about to see what OTHER moves our U.S. Congress is making to continue its 'Educated Workforce'  shift via CTE, Career Tech Education, CP, Career Pathways, STEM (Science, Technology, Engineering, and Math), and CC (Career Clusters).
(*Note, the above highlighted link will take you to all my published articles where you can search on your own for the documented research. Of most importance are the articles with a 2016 date stamp, most of these are still in the wings to be passed into law.)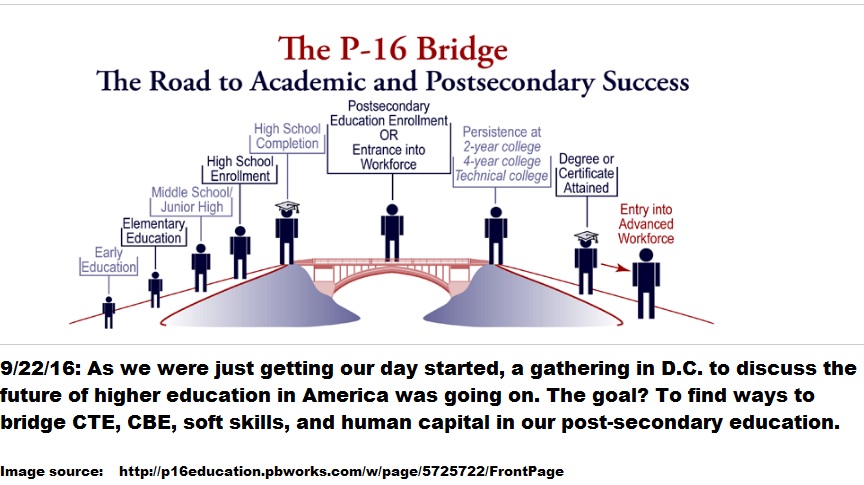 We've Seen The Road Behind Us, What's Ahead?
Currently, Warriors, Congress has several Workforce/Education Bills which have been introduced. From this group, most are in Committees. Below, the most concerning.
HR 52, "Earn While You Learn" or "Jobs, On-the-Job  'Earn While You Learn' Training, and Apprenticeships for African-American Young Men Act".  This Bill targets the African American male population (ages 18 to 39) while rebuilding America's infrastructure. HR 52 will bring in skill based apprenticeships. The CCSS Machine also includes apprenticeships. Many of America's Labor Unions are also named in this Bill.
Labor Unions have strong ties with the U.S. Dept. of Labor. Some of them also support Common Core. During the previous Administration's term, CTE, The Dept. of Labor, and some specific Unions joined forces for aligning education to workforce needs. 
HR56, "America RISING" or "America Realizing the Informational Skills and Initiative of New Graduates Act of 2017", will strengthen STEM in the workforce. You won't see STEM as it is written, but you will see the components of it. Here's an excerpt,  "Enabling recent college graduates to obtain employment with small businesses benefits the national economy by providing such businesses the human capital and technical expertise needed to compete and win in the global economy of the 21st century."
You also need to know the 'tag team' of the U.S. Departments of Labor/Education will work together to make this Bill a reality.
S144, "Promise Zone Job Creation Act of 2017", this Bill amends an IRS tax code to pave the way for creating more Promise Zone Neighborhoods. Several of the federal agencies already in the CCSS Machine's grasp are involved in the designation of where new Promise Zones will be. This means data tracking, mining, and sharing; it means aligned education for workforce needs; and, manipulating communities. Promise Zones were codified as federal law when ESSA (Every Student Succeeds Act was passed.) If you missed my article tying Promise Zones to more than ESSA, find it here.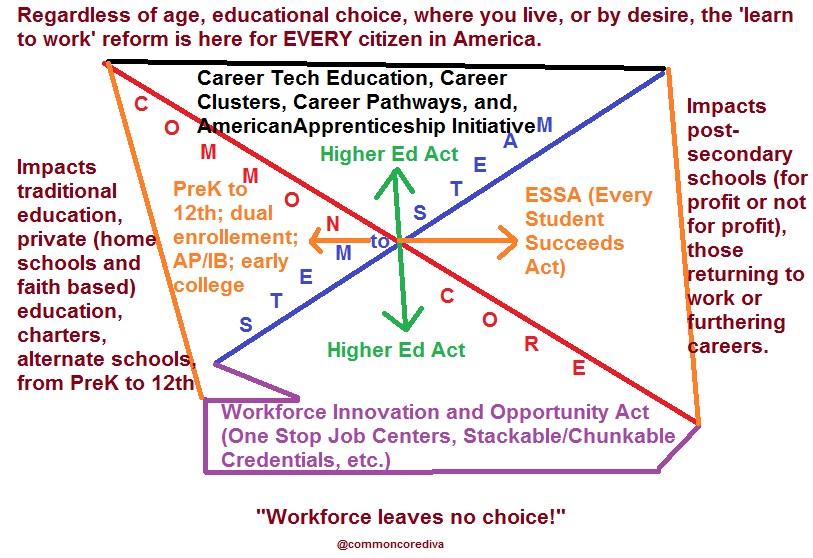 Road Trip to President's Desk:
H.R.321 – "Inspiring the Next Space Pioneers, Innovators, Researchers, and Explorers  Women Act" or "INSPIRE Act" is on its way to becoming a federal law. It also has a sister Senate Bill, S42. These two Bills target women as well as young boys and girls for STEM, espcially with NASA. If you are not sure how NASA is sold out to Common Core , see this.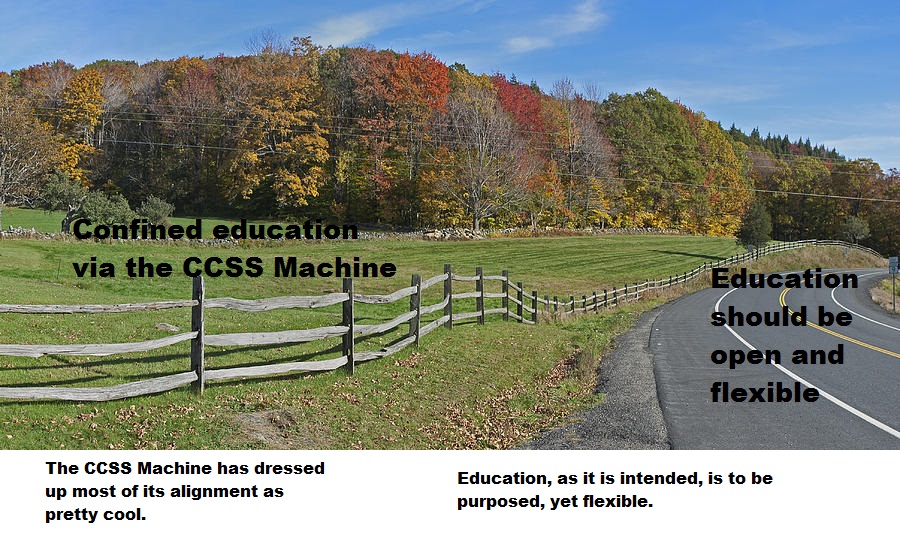 Future Road Trip Stops:

HR280, amends the WIOA of 2014 (Workforce Innovation and Opportunity Act) and supposedly will help dislocated workers find new jobs or start a small business. Why this bears watching: a) what part of taxpayer funds will be used for education/training and b) what part of the 'consulting' to take place will use data tracking/mining. If you missed how WIOA, ESSA, and Higher Education Act (HEA) are intertwined, look here.
HR159, if you have anyone interested in zoology, veterinarians, or wildlife study as an early college, college, graduate or higher education degree, you'll want to see how they will be 'encouraged' to strengthen the workforce. The Depts. of Interior, Education, and Labor are connected to this Bill.
HR49, this Bill would create jobs while tapping into America's natural oil and gas supply in Alaska. As we know, many Alaskans are Native Americans. Much of Alaska is also protected land via the U.S. National Parks. This Bill combines the Bureau of Indian Affairs, the Dept. of the Interior, the Dept. of Labor, and the U.S. Fish and Wildlife. Anytime you see 'job creation' remember that education/skill based workforce will be in the mix somewhere. No exceptions. If you missed how the Native Americans have been ensnared in the CCSS Machine, find that here. (HR228 is closely related. Called the "Indian Employment, Training and Related Services Consolidation Act of 2017", it amends a 1992 version. Education for workforce is included. The Senate has a sister bill.)
Other job creation/education related Bills:
HR353 (weather/science, STEM workforce)
S129 (Sea Colleges/oceans, STEM workforce)
HR533 (creates jobs/sets corporate income tax rates based off OECD, Organisation for Economic Co-operation and Development information; watch for public/private partnerships for education/jobs)
HR272 (Amends Title 20 of the Social Security Act for grants to create jobs. Also involves education. The Depts. of Labor, Commerce, and Education are cited)
HR338 (creates 21st Century  jobs for manufacturing and energy. Educated, skill based workers are the target results)
HR419 allows for manufacturing businesses which help pay for education/training to have tax credits)
HR150 (amends the Immigration and Nationality Act to have skilled/specialized temporary workers.Ironically it is called the "Protect and Grow American Jobs Act")
HR758 (targets U.S. Veterans for career transitions. Veterans and their educational funds are tied into Perkins Funding which is what CTE is also tied to in post-secondary institutions)
HR328 (also targets our U.S. Service men and women. This one will steer them toward STEM via renewable energy jobs)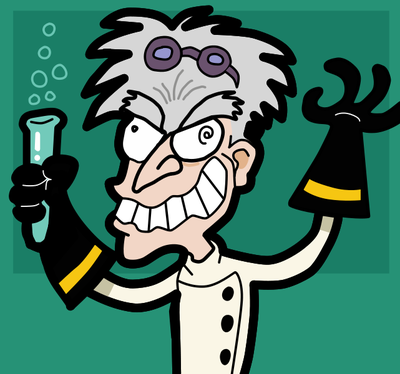 Closing:
Warriors, time and time again,  we've connected the CCSS Machine to the UN/UNESCO shift toward global education. A big component of global education is STEM. STEM wraps up the UN's Sustainable Development Goals rather 'nicely'.
As I look back on the above Bills, I see a host of STEM, CTE, and a sad road of aligned education for workforce based drudgery for our nation.
*Note: I'll be providing a follow up article to "Calling Mother!" (was published 2/19/17) very soon. I've been given vital anti CCSS/fed ed/global ed information. Between "Mother" and the "Road Ahead", this information will connect more dots for us to use in our War Vs. The Core.