Dear Anti Fed Ed Warriors, we've heard SO many times that we, as a nation, aren't investing enough in education. It's used as a wedge to get most citizens activated and involved. Those of us fighting the global-to-federal-to-state-to-local-to-you overreach, know the investment hype is just that..hype.
If investing in education were the fix, we would have solved the 'dumbing down' of America long ago.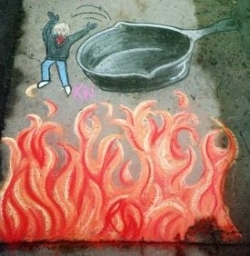 Since, ESSA (Every Student Succeeds Act), though, 'investing' isn't simply about money anymore. It's P3s (public private partnerships), it's 'in-kind' donations and contributions (meaning, if you can't give cash, give 'stuff') from anyone or any group approved by your SEAs or LEAs (State Education Agencies or Local Education Agencies).
The shifts in ESSA's funding, also are worth noting here. For example, the shift from per-pupil to whole school funds.
That, my fellow Warriors, was to increase the amount of money States received. (*Note: It's also the way to include all students in labeling them 'at risk' or 'in need of intervention'.)
Before long, it wouldn't surprise me to see either what I call the "PBS Beg-a-thons" (aka: pledge drives) or out and out auctions right outside the school buildings! Why? Because money solves everything!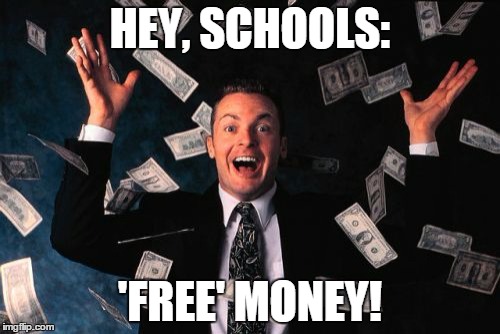 Now, Warriors, don't get me wrong, I know running a school costs money. However, when did Congress, the United Nations and all its partners, and our State leaders decide it was either money or technology devices which would be the saving graces to American education?!
HELLO!!! NEITHER money OR technology devices will save America's education demise! So, why is there more push than ever to ramp up the money as we ramp down the quality?
I can almost hear some citizen read this and ask me, "Why talk about this now? We're almost in the most festive time of the year, as Americans.. I don't wanna talk about it, I'll deal with it next year…." My response? "We need to talk now. Congress passed the FY 2019 Appropriations Bills which mean MORE money and 'stuff' will be thrown at education and hope it works. Then, we've just had elections, which means the new leaders will be taking office at the first of the year. We MUST be pro-active, not reactive!"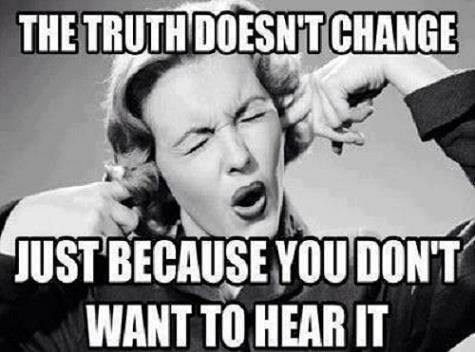 Warriors, believe me, the CCSS Machine is already talking about next year (and the years after) as far as money and 'stuff' to throw at education. Frankly, we need to catch up in the conversation. Quite simply, we need to change the narrative, not accept it!!
Where The Global Shift In Money Is Coming From:

Warriors, we already know the biggest source is the United Nations, the World Bank, IMF, Goldman Sachs, The Gates Foundation, the Middle East, the U.S. federal government,  and several other well documented groups which all belong to the CCSS Machine.  However, there are others driving the 'money and stuff' push on American taxpayers. We also know the global education push from groups like P21 (Partnership for 21st Century Skills) have also been well documented. Let's look, at some lesser known groups, though.
1) Campaignforeducation.usa.org (part of the Global Education Coalition)


(US Programs/Priorities Source)

Warriors, did you notice the huge amount of money? According to their website, the $39 billion isn't enough, they want MORE!
Did you notice the attitude is that not only can global/federal government GET the taxpayer funds to pull this off…they can manage co-ordination of its use, too! Are you kidding me?? How well has managing the States turned out?! For the globalists and federal leadership: SUPER! For the States and American citizens? MICROMANAGED to the smallest degree.
A few notes about the Campaign for Global Education-U.S.
a) When you access the embedded link above, look to your right for the 'quick actions' of our Congress. To see the Coalition Member Groups, go to the 'About' tab and select.
b) There, you'll see UNICEF, the NEA, AFT, and several other key CCSS Machine member organizations.
c) Embedded in the "Education for All" Act is a link to the "Right To Education Index". Read the introduction to the information, and you'll see data collection. The U.S., as a member, data mines and shares your student's information to reports like this.
d) Of course, the Campaign receives donations..what 'card carrying' CCSS Machine member group wouldn't.
Other Global Overreaches in America:
Each of these will need our money or 'stuff' at some point. If it's not our money or 'in-kind' contribution, it'll be big business, big pharma, big _________ (fill in the blank). Thanks to ESSA, the community mom and pop businesses, the State services will be roped in as well.
2) World Top 20 Project (website) For every person, world-wide ages 3 to 25. According to their Global Education Report 2017, those polled on the best education systems ranked more government funding as the second most important item. What group is behind World Top 20 Project? FIFA (International Federation of Association Football) FIFA's social responsibility is carried out in education for every child on the planet. Warriors, not only will FIFA invest billions in education, but advocates that governments up the ante!

3) Center for Global Development stated in 2016 that not only do we need globalized standard driven tests because they're more fair to those being tested as well as international testing is cheaper. Warriors, do you see the problems with this for Americans? I do.

4) Association of International Education Administrators (AIEA), here's their excerpt: "AIEA brings together international education leaders into dialogue with each other, their counterparts around the world, organizations that promote international education, and organizations concerned with the shaping and management of international higher education. AIEA gives members opportunities to join forces, share institutional strategies, and provide an effective voice on matters of public policy."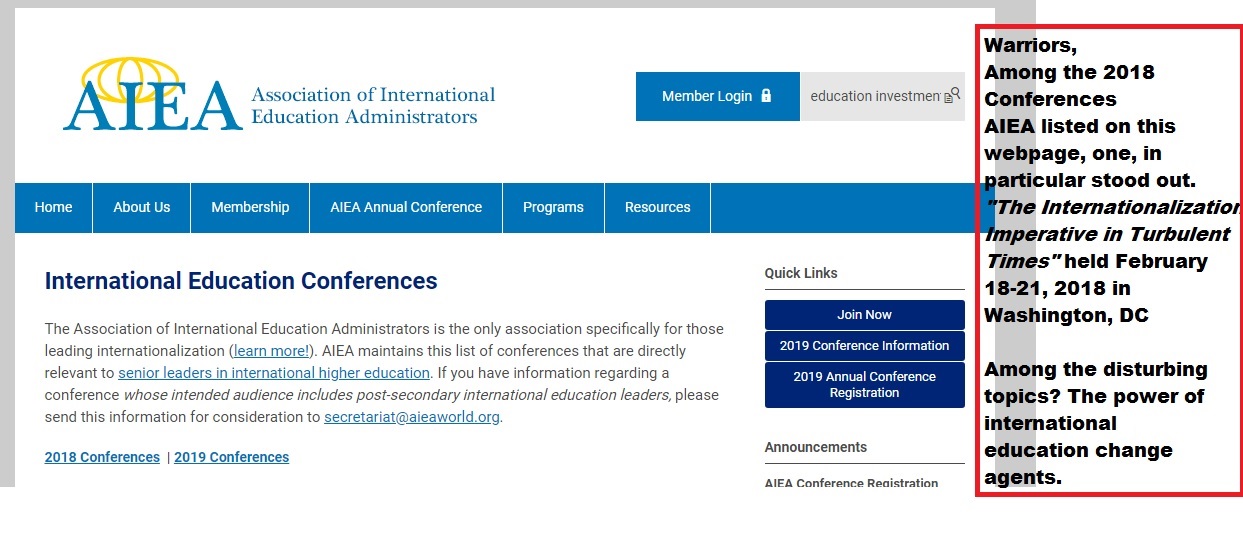 To learn about that Imperative Conference, go here.

5) Global School Network (GSN)is part of P21, Partnership for 21st Century Learning
(*Note: the website is up, but content is very minimal)
6) NASBE (National Assoc. of State Boards of Education)


To see the Students information, go here.  To see the CTE information, go here.
To see WV's Globaloria information, that's here.
7) Global Partnership in Education's got 8 charts to plead the case for more global education. Chart #4 is where the plea for 'we need more money' can be found.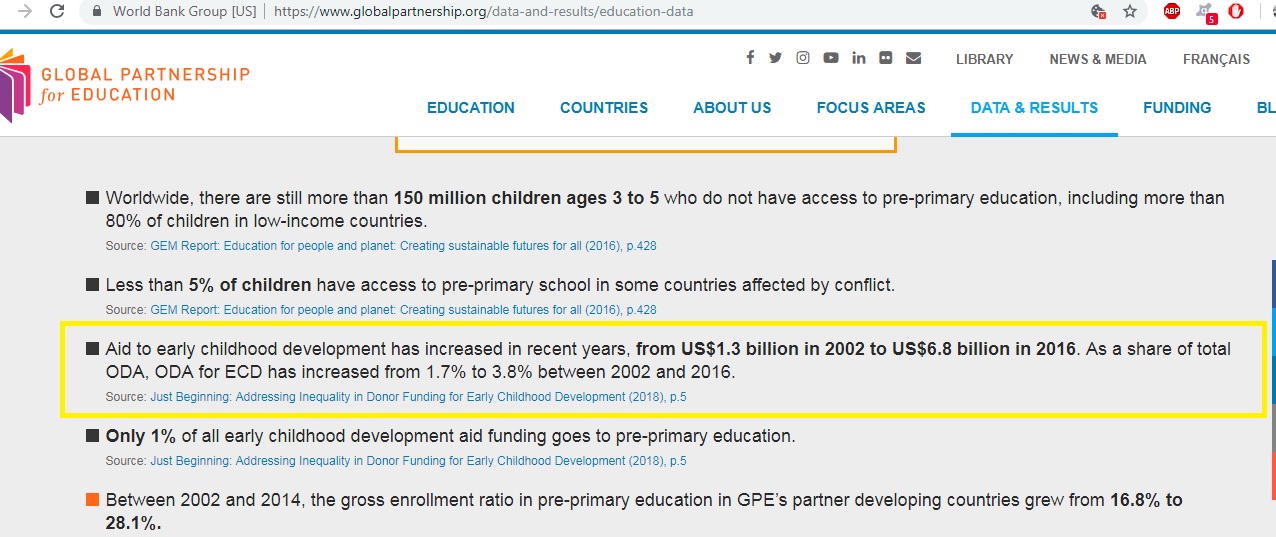 From the GPE, this excerpt: "Education reduces poverty, boosts economic growth and increases income. It increases a person's chances of having a healthy life, reduces maternal deaths, and combats diseases such as HIV and AIDS. Education can promote gender equality, reduce child marriage, and promote peace. In sum, education is one of the most important investments a country can make in its people and its future."
8)  State and District Network on International Education in the Schools (this Network is the results of a partnership between the Longview Foundation and the Asia Society). Their stance is that global education is required for graduation. See the rubric here (in a DOC file)
9) The United States Government (USAID) Education Strategy? Expansion of government and more money to invest in what is taught. As found on page 8 of the 98 page Strategy Plan, "Financial resources are critical to effective education systems". That cost or 'investment'? In the trillions, Warriors! The sources of all those trillions of dollars? Taxpayers, private corporations, and philanthropists. (Gee, I wonder which of the CCSS Machine billionaires is going 'first'?)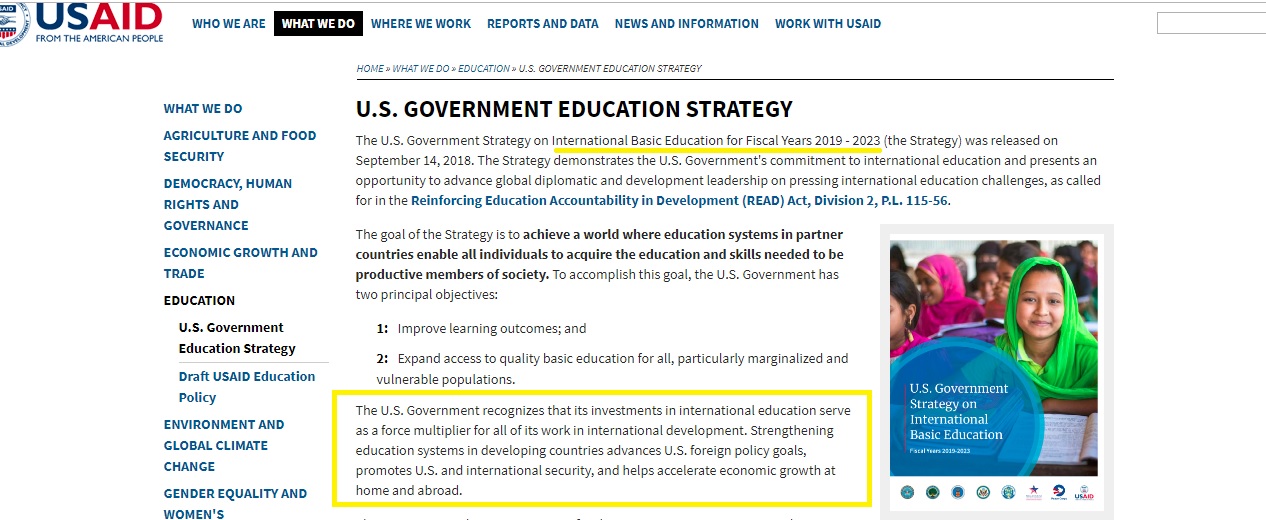 From The States:

Then, there are global overreaches in every State in America!
For example, look at CT's global education guidelines for all K-12th programs.
We saw WV, above. However, all 50 States will have some globalism in place and it will only keep expanding. How? Look at where I live, North Carolina.
The State Board of Education decides to embed globalism in education and the Department of Public Instruction carries it out. How?
Not only working with different countries, but tying education to the State level Dept. of Commerce (which will also tie education to the State level Dept. of Labor). NC's documents also show that as of 2015-16, the use of non government partners to influence school boards was to be put into action.
In fact, one of the documents I found shows how 16 NC Counties and 2 VA Counties were used as pilot districts to help create the Global School Network! (*Note: in the document, you'll notice the Global School Network was coordinated around 2012 by a group known as VIF, Visiting International Facility. VIF, used to train teachers (known as VIF Global Gateway Program), but shifted to focus on K-12 global education. As of 2017, VIF was re-named Participate. Today, Participate is 'igniting change and creating impact on a global scale'. How is Participate accomplishing this? Leading edge technology in school districts!
Closing:
Warriors, the investments in education, be they money or in-kind, aren't worth it. Not the way things are going. Taxation without representation might be theft, but overzealous philanthropists and private corporations CAN be put in their proper places..out of the classrooms! Question is, will we be that bold? Then, there's the government..we are ITS master, not the other way around. It's time to put DC on notice for 2019. We must, it's our citizen's duty as well as our patriotic responsibility.