Hello all you Anti Fed Ed Warriors! We've reached the next-to-the-last day of 2017. We've had many highs and lows in fighting our War Vs the Core this year. 
When I last wrote you, you learned about some ways in which not only education, but health care, is being used as tools for total alignment in our lives. The evidence shows a deeply sinister shift toward manipulation of our minds, as well as confinement for our students when it comes to what they will do with their lives.
It is my belief we should be looking more into things like this. Why? We can't fight what we do not see coming at us.
****************************************************************
In the "Educating Our Health?" article, you were able to see how gaming is being used as a weapon to target students. I also suggested you look at all the other NIH (National Institutes of Health) SEPA (Science Education Partnership Awards) projects which are helping fund moves like this. 
For example, while the NIH/SEPA gave NC State University big bucks to create and implement a game bent on steering kids towards pre-determined healthcare careers, funds were awarded in Denver for what's called 'citizen science'.
What's 'citizen science'? A screen shot below from the Project page (added emphasis is mine)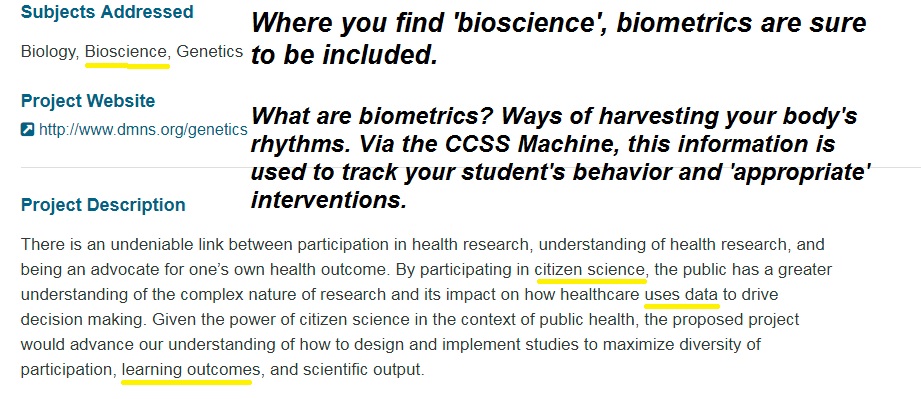 Warriors, we'll get back to the NIH/SEPA later, it's the thought of 'citizen science' I would like to stay in for a little longer. Why? It deals with Saturdays.

My TV On Saturday Mornings: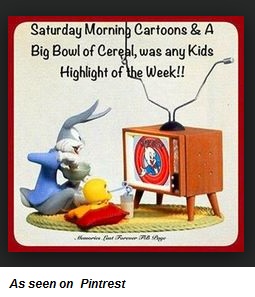 Warriors, when was the last time you turned on your TVs on Saturday morning and watched? I've seen what's there. IF you have access to the channels where you CAN find cartoons, that's great. However, what's the theme underneath those cartoons?
IF you're like me and you have removed that access, what's on the antenna channels on Saturday mornings? Education/informational shows! Shows filled with farces and fallacies when it comes to education. How? Read on, Warriors!
**********************************************************************
This is a screen shot of the official Xploration Station TV show. This image I've captured lasts only a few seconds before it's replaced with the STEM (Science, Technology, Engineering, and Math) award-winning show information.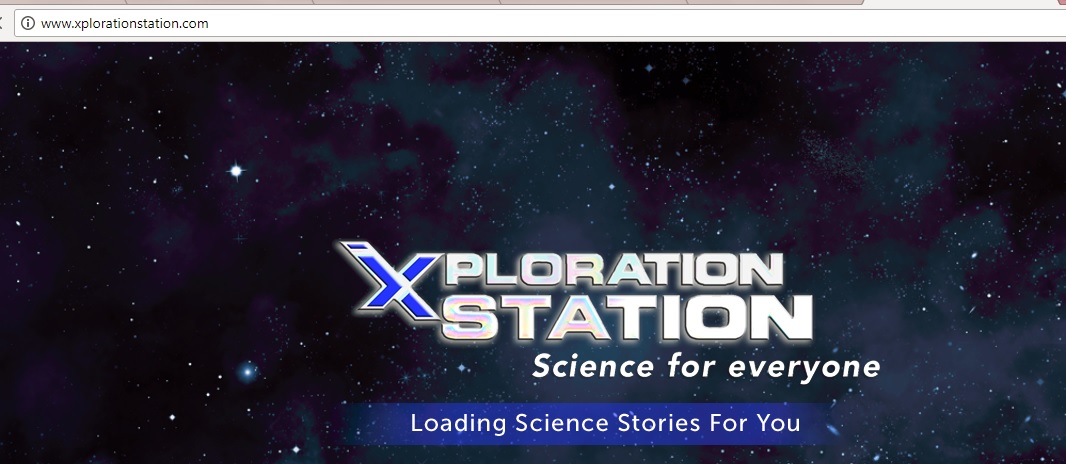 According to the "About Us" video (which continually flashes several images at you in rapid speed, along with a Carl Sagan quote), Xploration Station is where 'entertainment and science intersect'. If you visit the website, notice that the usually-only-seen-on Fox TV show is also available on Hulu, Amazon, Yahoo, and Netflix. This one show reaches over 4 million people.
Warriors, while I know there are other such shows on Saturday mornings now, I chose to use Xploration Station as an example because of what the spoken content was telling the audience. As the show comes on you hear the introduction of how this show is rated E/I (educational and informative). You also hear how this show is designed for the entire family to get involved in science.
Warriors, Xploration Station also 'is the country's ONLY broadcast destination dedicated exclusively to STEM EDUCATION for teens and families.'
Xploration Station has some pretty big partners, too. Zero Gravity (Zero-G) Corporation, National Geographic, and more. If you do not know about Zero Gravity Corporation, go here, scroll down to "About" and read how a former NASA employee started this company. To see the National Geographic information, go here.
Warriors, did you know there are federal education mandates for TV? Below, you'll see how Xploration Station complies.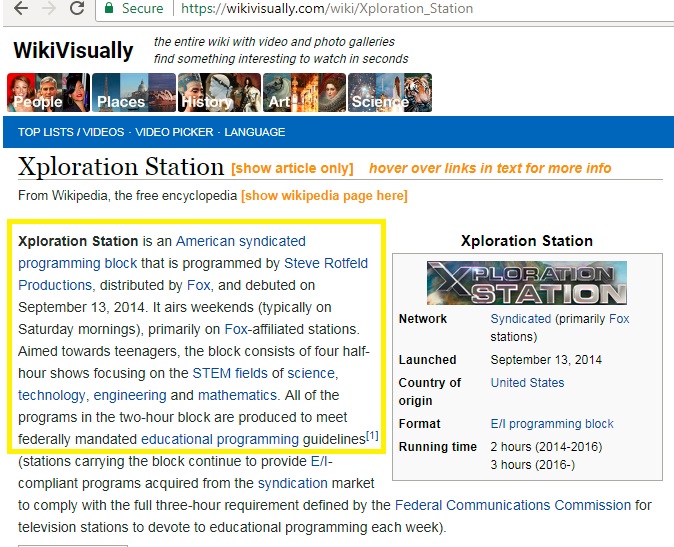 Just before the TV Show first aired (began in 2014), B & C (Broadcast and Cable) reported WHY the Xploration Station was being trotted out for early Saturday mornings.  It was because America, as a nation, was falling behind in STEM education.
Warriors, this one show is a block of at least 2 hours! When ESSA's (Ever Student Succeeds Act) mandates were signed into law, one of the ones I pointed out was how the push for increased overreach into our homes would be seen. The mandate of 24/7/365 access to technology for educational purposes was not a joke. The mandate for learning anytime, in any location, including your home has become a reality. We not only should 'starve the beast', we should turn off the technology!

Meanwhile, At NIH/SEPA:
The mentality of let's get the entire family on the STEM bandwagon is at a rabid pace.
In Seattle, WA, another SEPA winner has a family specific STEM program. Why? Because enough families aren't engaged enough with STEM.
The CCSS Machine's not done with us yet, look what's coming in 2018:



To access the grant information for both arms of the NIH programs, go here and here.
If you're not sure how STEM fits into the CCSS Machine, simply consider this for 2018 and beyond. The UN (United Nations) is a connector. 
Warriors, we KNOW the two are connected. Congress may or may not. Evidence proves that regardless of their knowledge of HOW STEM and CCSS are connected, they've turned a blind eye. I believe they'll solider on in compliance to all that is happening in our educational system. Is it wrong? Absolutely! Is it up to us to put a stop to all that we can? Indeed!
Closing:
Warriors, do not simply resolve to fight back against the CCSS Machine in 2018, plan your actions now! The window of opportunity for us to protect our students is closing faster than we want to admit. Be brave in 2018! Stand up in 2018! Speak out, even if your voice shakes. We were not born to be compliant people. We were born a free people. Free, we must remain!