It's Thursday! That means a look at Common Core Standards all grown up! As in 'adult education'. Now, this could mean a recently graduated high school student or an adult anywhere on life's path.
CTE (Another member of the Common Core Alphabet Soup):
CTE or Career Technical Education is a part of the NASDCTEc   (the 'National Association of State Directors of Career
Technical Education Consortium'). This Consortium, according to the website has been around since 1920. See (http://www.careertech.org/who-we-are) Back then, the group was a place for the state leaders of post secondary education to gather, to work together. Today, it's a Common Core aligned machine. Just read this & see if you can spot the rhetoric:
"Our mission is to support visionary state leadership, cultivate best practices and speak with a collective voice on national policy to promote academic and technical excellence that ensures a career-ready workforce." Here's a bonus 'fun fact', did you know that "CTE" is part of  a brand name?? Yep! Here's just ONE of the brand promises, see the rest: http://www.careertech.org/brand-promise
"Prepare students for success in both career and college, by employing The National Career Clusters Framework to ensure contextual learning and academic standards that reflect the goals and interests of all learners.."
Now, before we go much further, I shared with you via a previous Tech Thursday post, this very same group. However, we are really going to focus in on them for this post.
What's a Career Cluster? 
The website's version is that the clusters are 16 in number, with an array of more than 79 choices of work you can choose early in your schooling and bridge on into during post-secondary schooling. To help guide you are 'knowledge & skill statements for each of the clusters and choices!! So, for this post, I chose the 'Education & Training Cluster. Because I chose this, I now get to click on my 'knowledge & skill statement'. Oh, I can hardly wait to see what my statement says!! But, wait, it's not a simple statement, it's 27 pages long..this isn't a statement, it's a magazine! Wait…I've been directed to Business Management and Administration.. I wanted "Education & Training".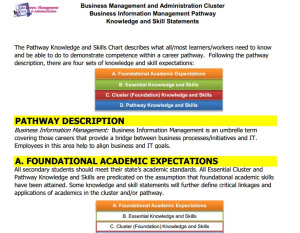 Oh, just so you know, only the first page of your 'statement' is so brightly colored. The remaining pages are boring black & white. Then, I have to find out what my 'performance elements' are. I'll let you see these for yourselves so you can see where the Common Core is literally in your face. http://www.careertech.org/sites/default/files/ED-CCTC-PerformanceElements.pdf 
After I've read through this, I feel more like I'm training for sainthood or a parent's role than I do that of an educator or a training person. But, what the heck, I guess I'll see what else is in 'my' clustered career path.
Next up, a 'plan of study'. Wait, am I sure I'm in 'adult education'?? This seems awfully childish up to now (speaking of childish, did you know you can earn career badges in CTE?). I look at my plan, according to what I see, I was supposed to start it way back in 9th grade and keep going until I graduated from college! What if I didn't finish college?! What if I'm starting as a seasoned adult on a second, or possibly, third career? Also, according to what I see, there are only 12 courses/concepts I have to master. Are you sure that's all? I thought there would be more? How can I teach with only 12 courses, concepts?! See what I mean:
(http://www.careertech.org/sites/default/files/PlanStudy-CareerCluster-ED.pdf)
Well, guess I'll see what the last place to click has to offer me. It's called the E&T Framework. It shows me all the many jobs I could get. Then I see this one key statement near the bottom that says:  'The Career Ready Practices include 12 statements that address the knowledge, skills and dispositions that are important to becoming career ready.' So, does this mean those 12 courses,concepts I saw are the same as the '12 statements'? See for yourself:
(http://www.careertech.org/sites/default/files/CCFrame-EdandTraining_0.pdf)
"Career Readiness Partnership Council":
This is also available to you as a CTE student in post secondary school. So, let's meet your partners?! (I hope your ready for a Common Core Standards Backer/Supporter 'Reunion'!)
Achieve
Alliance for Excellent Education
American Association of Community Colleges
American School Counselor Association
America's Promise Alliance
Asia Society
ASCD
Association for Career and Technical Education
Business-Higher Education Forum
ConnectEd: The California Center for College and Career
Corporate Voices for Working Families
Council of Chief State School Officers
The Eli and Edythe Broad Foundation
Ford Motor Company Fund
Gallup
James B. Hunt, Jr. Institute for Educational Leadership and Policy
The Manufacturing Institute
National Academy Foundation
National Association of State Boards of Education
National Association of State Directors of Career Technical Education Consortium
National Council of La Raza
National Education Association
National Governors Association
National League of Cities
National Youth Employment Coalition
Skills for America's Future, The Aspen Institute
Smarter Balanced Assessment Consortium
These groups, as your partners are the 'best' of education AND workforce COMBINED! They, as the 'experts' have written a 4 page guide to what it really means to be 'career ready'. This should be very interesting, because, as I've shared with you before via Tech Thursdays, there isn't any truth to the phrase, 'college and career ready'. I highly doubt these 'experts' were 'career ready' any more than any other human being on the planet. But, I digress… Here's the 'guide'(http://www.careertech.org/sites/default/files/CRPC_4pager.pdf)
Benchmarks! Yeah, right…
One last goody I'll leave you with is the Power Point Presentation from Summer 2014 in which 'benchmarked' standards for Common Core Career Tech are explained. If you'll keep in mind that I've already shared with you how the Adult Education standards were purposefully aligned with Common Core AND include more than math, you'll laugh when you see that the only 'CCSS aligned model' is math. http://www.careertech.org/sites/default/files/CCTC-POS-Industry-Standards-Webinar.pdf