Anti Fed Ed Warriors, we've officially begun 2019. As you know, wishes for your health and wealth are shared this time of year. Big Biz knows this. So do Big Pharma, Big Insurance, AND, the CCSS Machine.

Those well meaning wishes we, as Americans share, have suddenly become a twisted marketing tool by the CCSS Machine and all those 'Bigs'. Why? Your well being means money for them..all of them. From the schoolhouse to the morgue. How? SEL, Social Emotional Learning.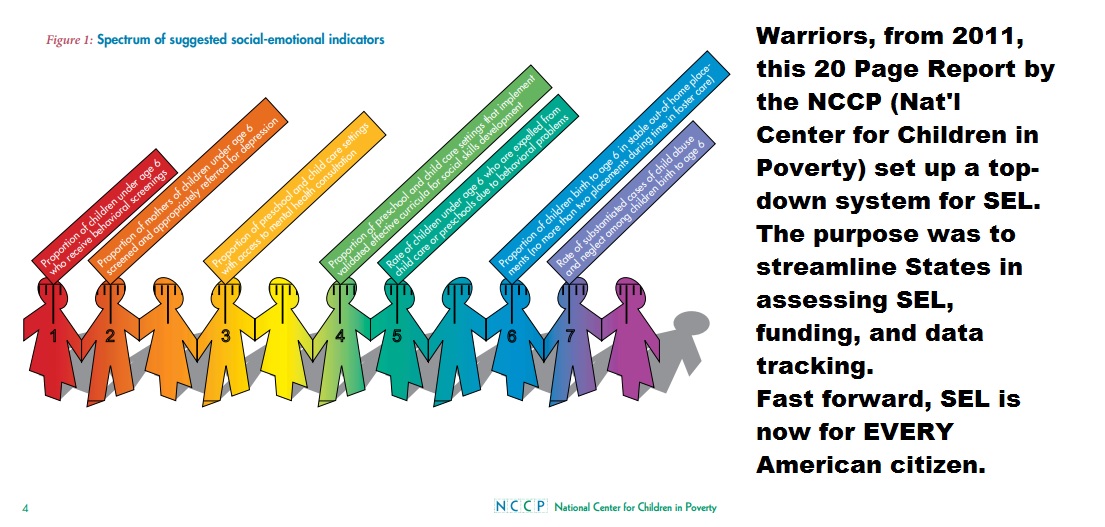 To access the 2011 NCCP Report, go here.
If you'd like to see a May 2018 CA Education Report which admits even though the SEL isn't working so well, they are continuing to use it in schools, go here.
To view a current example of SEL for all ages, watch this 1 minute video:

https://youtu.be/KUk0woHA8Gs



(*Note: the recent PSA (public service announcement which aired New Year's Day, during one of the major bowl games used different language as well as a different website address to visit. That address was firstbook.org/SEL The YouTube version above used firstbook.org/health.) 

Below is a screen shot from FirstBook.org/SEL (emphasis added is mine):



(*Note: if you type in 'firstbook.org/health' in your internet search bar, you'll be taken to a blog by FirstBook all about the new SEL campaign. However, the date of the blog is 2016)
Access the complete FirstBook Partner list (and you'll definitely want to see the groups listed). Also access the partner 'case study' tab. You'll find Pizza Hut's literacy program is included. 

So, Warriors, the question is, did the recent airing of the First Book 'ad' during a sports event which drew millions of viewer's attention, really from 2016 or more recent?

If you access the YouTube video above on the YouTube website, you'll find the video is from 12/16. So, its recent airing was a purposed move to draw attention to families watching TV.

Why would the CCSS Machine and all those "Bigs" do that? Timing and opportunity.

**Warriors, with the federal overreach into families and education, the net cast to find those 'in need of SEL interventions' is growing..daily.
**It's not just for Johnny and Suzy at the local school; no, the SEL movement is meant for every single citizen in America.
**How? The Resilience movement (also backed by the CCSS Machine and the "Bigs".)

So, Warriors, since the CCSS Machine and all those "Bigs" seem to want our $ (or more accurately to make $ off of us, let's look at them.)




FirstBook (FB):

FB has been non-profit since 1992. Charity Navigator has FirstBook listed as a 'youth education and programs and services' group. See below: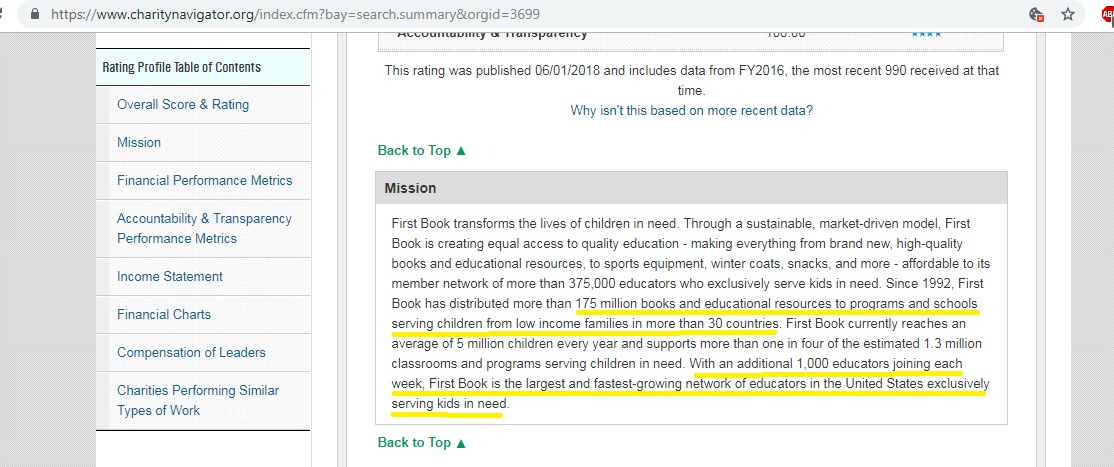 Also, FB is very global in their description of themselves , "First Book transforms the lives of children in need. Through a sustainable, market-driven model, First Book is creating equal access to quality education — making everything from brand new, high quality books and educational resources, to sports equipment, winter coats, snacks, and more – affordable to its member network of more than 400,000 educators who exclusively serve kids in need."

**Warriors, did you read the 's' word..'sustainable'. Gee, does FB have any connections to the UN (United Nations) and THEIR SDGs (Sustainable Development Goals)?! (The quick answer is yes, First Book has an entire line of STEAM (Science, Technology, Engineering, the Arts, and Math) books/resources*. 

Behind FB is Kyle Zimmer, a social 'mover and shaker' so to speak. She's been able to take the concept of getting education resources to those most in need, but the agenda which comes with those freebies fits right into the CCSS Machine, and now, the "Bigs". (*Note: you can find the STEAM information, the agenda driven resources all in the First Book 2017 Impact Report.) If you'd like to read Zimmer's view of using non-profits to disrupt society (as we've heard many CCSS Machine member groups support), read this column.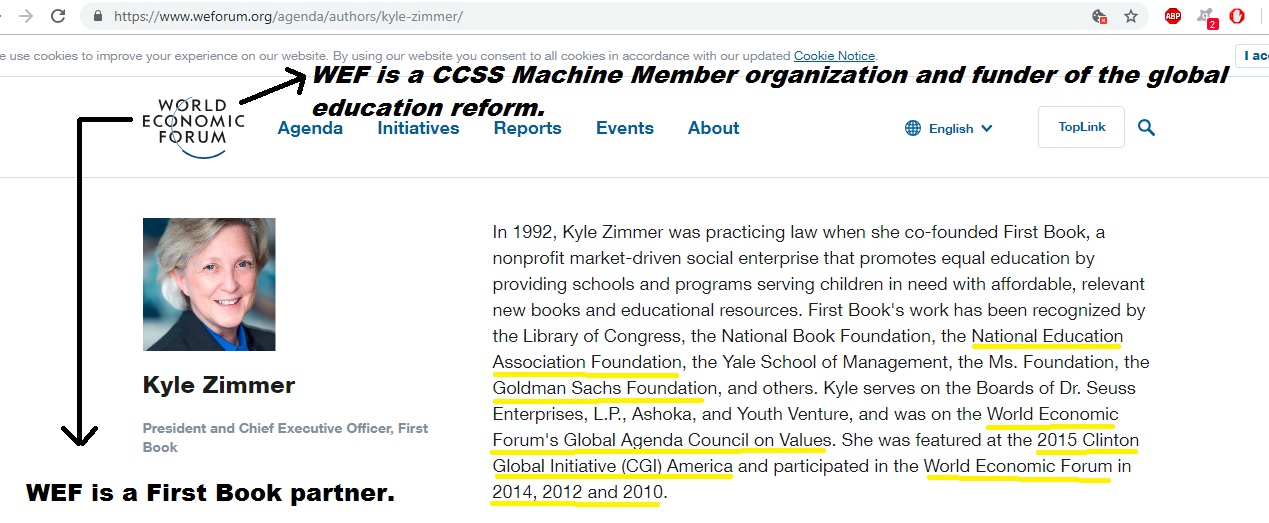 A 'Bonus' SEL Tied-In Group, World Economic Forum:

The World Economic Forum's view of Americans is pretty grim. It's 'human capital'. It's as un-American as you can get. Here's a screen shot from 2015 as to how this fits into the current SEL movement: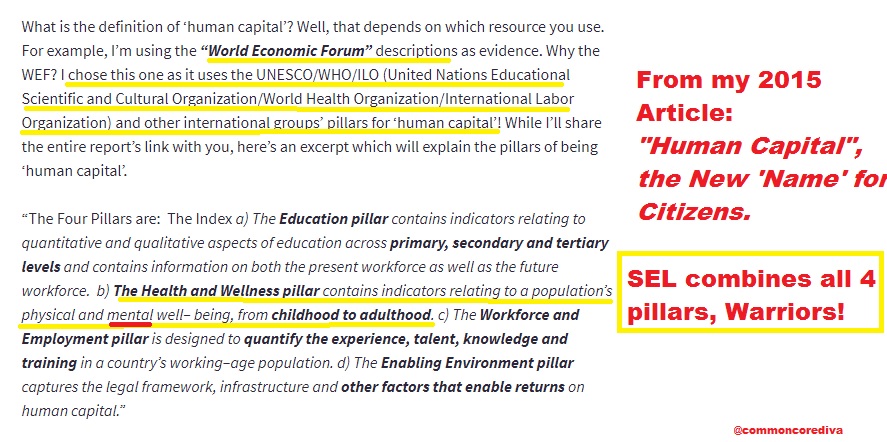 The NFF (NonProfit Finance Fund):

The NFF is also a case study partner of the First Book organization. If you've never heard of NFF, you'll know now. 
NFF has been around since 1980 and is big into social justice (gee, looking at the First Book groups backing it, providing free resources, and the alignment of global agenda, social justice is also part of the SDGs; it makes sense why these 2 groups are connected.)

Also part of NFF is partnering with others to bring about all the social change (aka: justice) via 'pay for success'. One of the biggest partners? Our federal government. Others include the Rockefeller Foundation and the Joyce Foundation. 





Another CCSS Machine member organization which is SUPER involved in the NFF, is the Robert J. Woods Foundation. Why is the Woods Foundation worth mentioning? They are also pushing the SEL/Resilience movement. In fact, much of what NFF is in this area. Back in May 2018, I tied Woods to CASEL and Rockefeller in this effort now sweeping our nation.



Molina Health Care:

This group contracts with 15 State Governments and Puerto Rico to provide all kinds of health related services. Those States are CA, FL, SC, IL, VA, MI, NY, TX, UT, WA, NM, MS, ID, WI, and OH. Warriors, note among these 15 which have ramped up the SEL in, not only the schools, but the communities.

You'll be able to trace federal funds through not only education, but labor, commerce, health and human services, and community outreaches. ESSA (Every Student Succeeds Act) increased these funding streams and purposefully used other outlets besides education to bring in community wide alignment. I've shared with you before how entire communities are to be assessed on how well they are creating college/career readiness (CCR). CCR is the ESSA re-brand of Common Core. ESSA also increased the P3s (Public private partnerships) and the Pay for Success models for education.

December 2018, Molina Health Care and Inovalon joined forces to 'innovate' health care data mining. Think about how this plays into SEL, especially when so much of the 'learning' is computer based as well as how often students are assessed (aka: measured).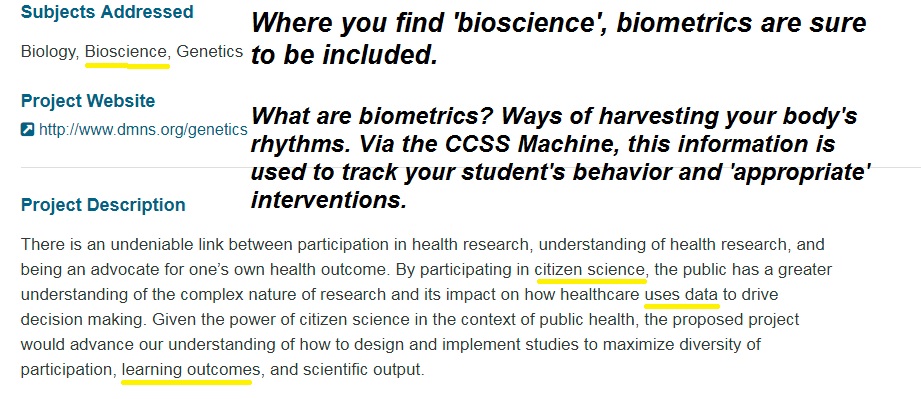 Because Molina Health Care is a Fortune 500 group, that means stock holders will matter more than people (aka: 'stakeholders') Molina is based in CA (scroll back up to find the unrelated California SEL Report). If you like to crunch numbers or are curious as to how the State contracts for health care are laid out, you'll want to access the 2017 Annual Report of Molina Health Care. I did a quick search and found money and the quest to make more is much more important than We the People.

This type of group also will practice 'social responsibility'. Molina is big on the 'green and clean city' aspect of the SDGs. Improving education is also on Molina's slate of 'responsibility'. 




One Last Thing, Warriors:

Remember that all this is connected to First Book in some way. It's all pertaining to micro-managing our minds. To find a global mold, not our God-given free thinking.
First Book is a non-profit.
**Do you know how many American non-profits are governed by the UN's Non Profit Guidelines? (These guidelines are really mandates, if you think about it.)
**Do you know how much data from these non-profits is collected, divided up and passed on, hidden in some way, so that We the People, do not think our privacy has been taken? We should all look closely at, first, this resource, then, to the other non profits serving us. 
 Lastly, I have no way of knowing for certain First Book participates in this type of activity, but given the ties, I wouldn't be surprised. It's all connected somehow.
As far as your new year (2019), I wish you good health and wealth. Too bad our government, the CCSS Machine and the 'Bigs' don't.