Anti Fed Ed Warriors, I know that we have heard SO many educratic lies about schools in America, we could scream.
Wednesday night (9/6/17) I was the honored guest on Women on the Wall's weekly anti CCSS Machine call. To say it was an easy topic, would be a lie. It wasn't, in fact, I stumbled through quite a bit. Not because I wasn't prepared, I was so upset about what is happening!
What was the topic? The upcoming broadcast of the EIF/Project XQ's "Super School Live". It's set for 9/8/17 and is to be aired on ABC, CBS, Fox, and NBC. I urge you to listen to the archived version (above). You'll need to have a pen and paper (or whatever you use to take notes) handy.
If you don't have time to listen to the archive, let me state as concisely as I can that the 'teamwork agenda' surrounding the broadcast is marketing lies to justify making over American education, especially at the high school level. (*Note: the announcement for the Call had the archived links to my researched published articles you may wish to access for the evidence showing the lies and deception.)
In a 'jiffy', you can access the 2006 "Redesigning High School" Report : Reinventing_American_High_School
(*This Report is by the Association for Career and Technical Education, or ACTE)
Later in this article we will revisit what the latest from ACTE is.
This effort is NOT new. It's NOT USA born or created, either. It's sick and it's twisted. The 'teamwork agenda' in spreading the marketing lies about education is set to one goal: weak-minded citizens trained for boosting the economy. To find out how you can connect it all together, please listen to the archived call.
Warriors, here's the entire You Tube video which was discussed at length during the Women on the Wall Call. I only discussed roughly the first 20 minutes of the almost 1 hour and 20 minutes.
More Teamwork Agenda Marketing Lies:
Warriors, what you see below is from my Common Core Diva Facebook page.  I posted this as a sort of follow up to last night's announcement about the Women on the Wall call and the marketing lies in education.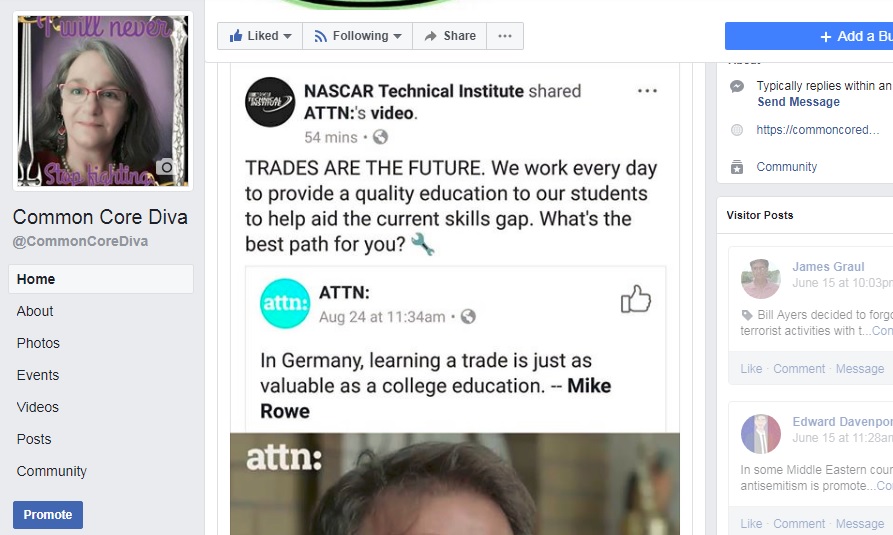 Here are my comments which lead up to the screen shot:
"Mike Rowe's first words are, " In Germany.."
Mr. Rowe has also been used as a puppet for Congress in their push to embed MORE CBE and CTE (Career Tech Ed, which is adult Common Core).
As far as the school mentioned? My husband's place of employment.
More marketing lies to justify the workforce based shift in education as well as treating humans as commodities, not blessings."
(*Hear him in the video. ***Warning! The ATTN: video does contain a blasphemous use of the Lord's name.***)
If you do not know "The ATTN:" social media site, it's a site where anything from the headlines is used to catch your eye. According to their website, 'compelling issue-driven content'. In other words: a marketing strategy used to inflate issues.
Warriors, how do I know the false marketing about an educated workforce is ripe in America? Look at the blow-back from my post on the CC Diva Facebook page: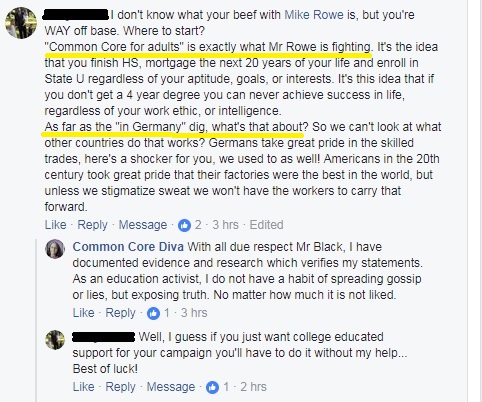 Followed by another person who has obviously woken up to the marketing lies: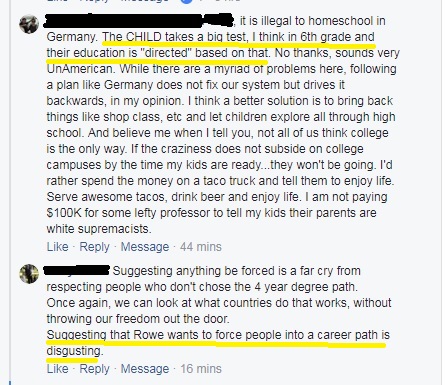 This was followed by my rebuttal points: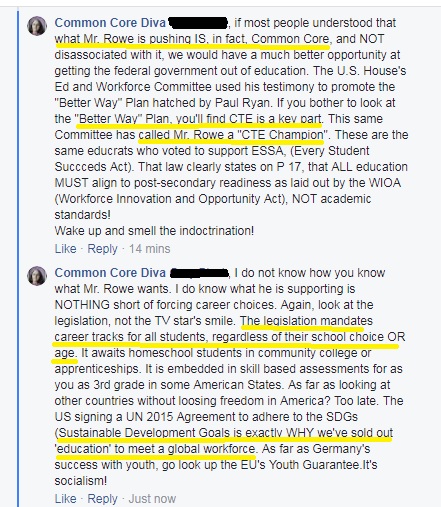 Warriors, then check out the next person who decided to agree with the disagreeable person who spoke first. You'll also see my reply to them: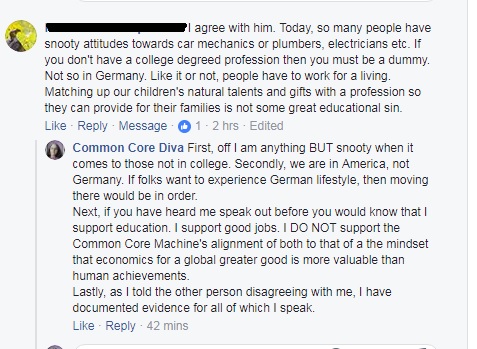 Warriors, here's a sampling of the other videos Mike Rowe has appeared in to push the teamwork agenda and marketing lies: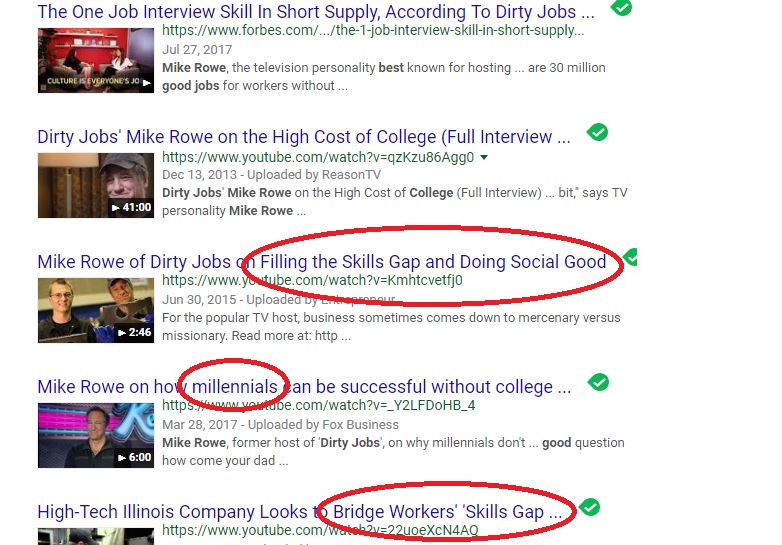 My research connecting the Congressional 'love' for such a celebrity and his 'star power' to push an agenda which supports the CCSS Machine was published back in early March 2017. (Please make sure you read the comment by Patriot Mongoose. The links provided by the Patriot are necessary to further help expose the marketing lies about 'skills gap shortages')
Related:
1) Congress's devotion to CTE (Career Tech Education) from 2016's session. If you want to see some of the same devotion in the early part of the 2017 session, find that here.
2) My open memo to CTE Teachers and Leaders everywhere is one we need to re-visit now that school has begun.
3) The current VP (Vice President) is a CTE believer and backer. This is huge in the current landscape of education.
4) A skills gap myth-busting article of mine, also from 2016.
Archived Rowe CTE Marketing Teamwork Agenda Lies: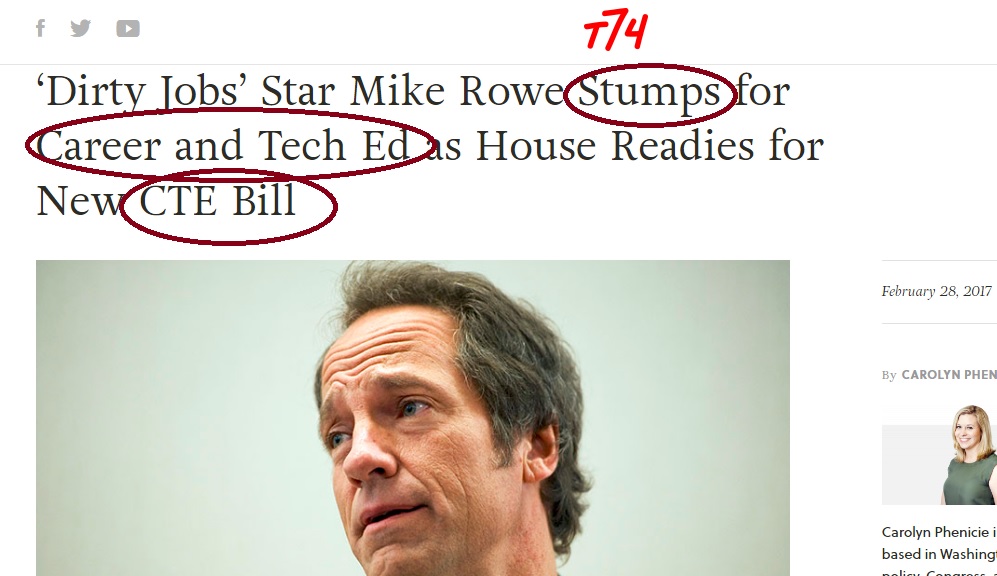 Warriors, you can access The 74 article here. If you do not have the time to read the article, here's what is the most important. Mr. Rowe has testified 2 other times before.
1) Rowe is a long-time CTE advocate.
2) Two of his tweets about CTE are seen on the right hand side of the article. One even plays up "Make America Great Again".
3) Rowe testified in 2011 and 2014. The purpose? A marketing makeover for CTE.
4) The 74 is a pro CCSS Machine member organization, so their spin on Rowe's activity for CTE. Of course, here, on my blog, you'll find there is no spin, only the researched facts behind the marketing lies.
NC's Spin for Teamwork Agenda:
Warriors, earlier in this article, I said we'd revisit the ACTE. Why? One of the latest headlines is about the wonderful news of NC's CTE unifying with this national organization.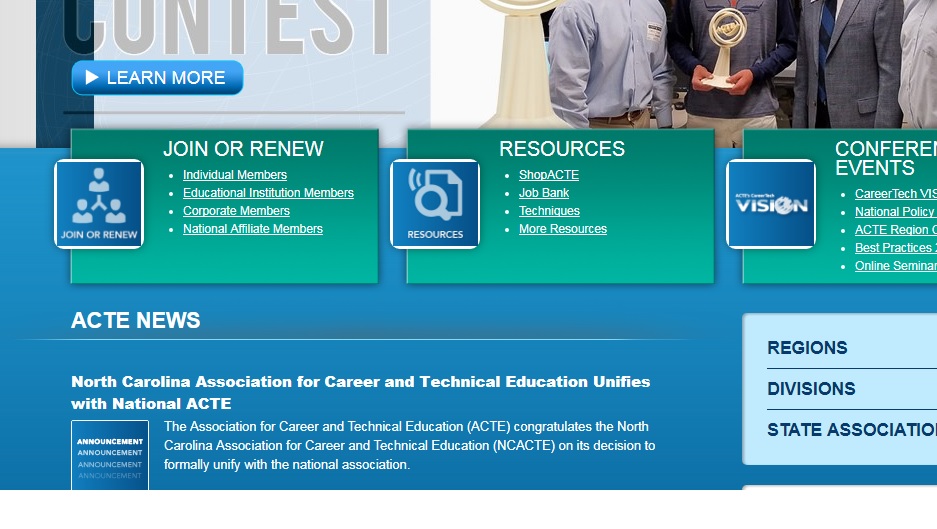 If that doesn't mean much, consider the screen shot (near the beginning of this article) from NASCAR Technical Institute promoting Mike Rowe. NASCAR Tech is in NC! (It's a branch school of the AZ based corporation.)
In NC, CTE offices are housed in the NC DPI (North Carolina Dept. of Public Instruction) for K-12th grades. In post-secondary education, the NC Board of Governors oversees it. Factor in the NC Dept. of Labor, as well.
Warriors, remember, because of the unifying forces behind the U.S. Dept. of Education and the U.S. Dept. of Labor, we have data tracking expressly FOR aligning careers to academics!
Let's also consider that CTE is embedded in job seeking assessments used by those one-stop career centers or job application sites as part of your State government. You'll find CTE in those skill based apprenticeships, too.
Warriors, I want to show you one more way the marketing hype has been used against us.
Here in my town, we're seeing a 2014 bond (was placed on the ballot for citizens to vote on) come to fruition in the form of a 'renovated' city high school.
The money poured into the ad campaign for the renovation was plenty. The write-ups in the local news sources were also quite numerous. The bumper stickers and T-shirts all encouraged folks to vote 'yes' for the Bond, because if you didn't, you somehow were being non-supportive and a terrible person.
As part of the Bond package, new spaces for CTE were planned on. Guess what? They've been built. There's even a Career Bridge Council to help utilize the teamwork agenda built on education lies.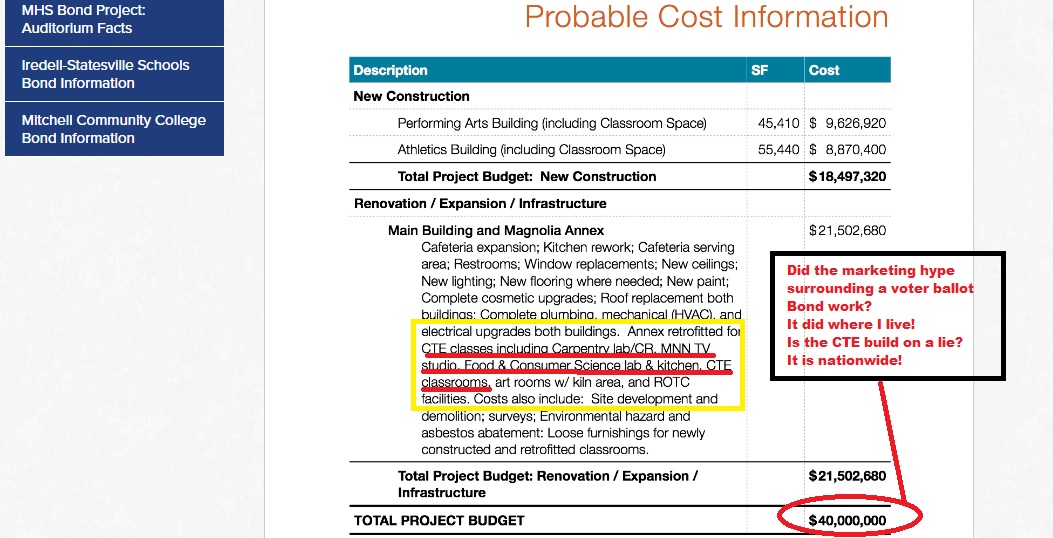 Closing:
Warriors, we MUST continue to expose these team driven marketing lies about education! To do any less is simply unacceptable!