Recently, one of my fellow anti-Common Core Warrior friends in Colorado shared with me (along with others on Facebook) about ICAPs and Colorado. Individual Career and Academic Plans combine not only Common Core Standards, but Workforce, College Career Readiness, Career Tech Education AND IEPs (for those with learning disabilities)! So, being who I am, I became curious…are there other states with ICAPs? Indeed there are! Let's dig in, shall we?
The U.S. Dept. of Education's Archives: Knowing the US. Dept. of Ed. has so much information on all things related to CCSS, I started here. By searching for "Individual Career and Academic Plan", I found the following archive, titled "THE RELATIONSHIP OF INDIVIDUAL CAREER PLANS TO PROGRAMS OF STUDY AND CAREER PATHWAYS "(see: http://files.eric.ed.gov/fulltext/ED521422.pdf). published in Jan. 2011, it shares that back in the 1960s/70s, ICPs (Individual Career Plans) were a tool used by school guidance counselors. Then in 1983, a researcher named  Gysbers provided an early definition of the
Individual Career Development Plan, which focuses on the development of an instrument and a process. She defined an ICP as "As an instrument, a plan can provide a place for people to record the aptitudes, interests, values, and competencies they possess, and an opportunity to itemize those they may wish to work on or acquire. It can become an organizer for personal, educational, and occupational information, which can then be
updated periodically. As a process, a plan can become a pathway or a guide through which individuals may use the past and the present to look forward to the future." 
Fast forward to modern day and Council of Chief State School Officers's new label of ILP (Individual Learning Plan) and their definition, "personalized student education plans that include information such as high school courses, post-secondary education and career interests, and extracurricular activities. State approaches to developing and implementing ILPs are as varied as the information that goes into them." From the report, here's a sample screen shot from IL (remember, this is from 2011) (as always, be sure to click on the picture to enlarge it)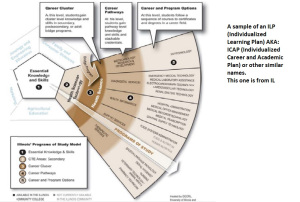 How It Works:
Depending on which state you live in, you may or may not already have an ICAP (or other similarly named program OR you may not know it's there. For example, my anti warrior friend told me about CO, but I've found VA and MS also have ICAPs. Below is a screen shot of sample ICAP I found on the state of VA's Dept. of Education website: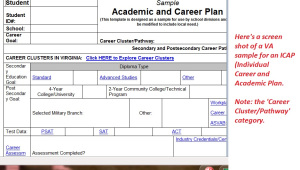 Questions in the ICAP are designed for students at the 7th grade levels, however, as I've found in researching college/career readiness and CCSS, we know plans start much earlier than 7th grade. For example, one set of questions asks the students about what talents they have. Another asks what they accomplish well. Then, there's a question about which family member has an occupation you like. Questions for the 9th and 10th graders are great about selling the post secondary CCSS aligned courses at community colloges, dual enrollment, etc. Both groups are asked if they are aware of the Career Clusters/Pathways and what they do outside of school that enforces their possible career. (See the entire document: acp_template Oh, one more note, according to the state's website, the template.
*Note: MS and OH also have ICAPs;  CA's is called "Linked Learning"; NC's is "Career and Technical Education". The names will vary, the agenda won't.
ICAP Task Force?!:
From the Council of Chief State School Officers (CCSSO)'s report on ICAPs (which falls under the 'college/career readiness' rhetoric), here are the members (note how many you've seen in other CCSS events, reports, panels, and other related capacities)
Members of CCSSO Task Force on Improving Career Readiness:
Terry Holliday, Task Force Chair, Commissioner of Education, Kentucky
Chris Minnich, Executive Director, CCSSO
June Atkinson, State Superintendent of Schools, North Carolina
Tony Evers, State Superintendent of Schools, Wisconsin
Lillian Lowery, State Superintendent of Schools, Maryland
John White, State Superintendent of Education, Louisiana
Brenda Cassellius, Commissioner of Education, Minnesota
John Barge, State Superintendent of Schools, Georgia
John Fischer, Deputy Secretary of Education, Vermont
Eric Spencer, Director of College and Career Readiness Bureau, New Mexico
Scott Ralls, President of the Community College System, North Carolina
Scott Stump, Dean of Career Technical Education of the Community College System, Colorado
Gene Bottoms, Senior Vice President, Southern Regional Education Board
Kim Green, Executive Director, National Association of State Directors of Career Technical Education Consortium
Tim Lawrence, Executive Director, Skills USA
John Fitzpatrick, Executive Director, Educate Texas
Gary Hoachlander, President, ConnectEd: California Center for College and Career
Maura Banta, Director, Global Citizenship Initiatives in Education, IBM
Jason Tyszko, Senior Director, Policy, US Chamber of Commerce Foundation, Education and Workforce
Chauncy Lennon, Managing Director, Global Philanthropy, JP Morgan Chase
Matt Gandal, Task Force Facilitator, President, Education Strategy Group
According to the report there's an urgent need to have college/career readiness. Why? Accountability purposes! To whom? To what? It appears to be the individual states labor markets! You'll also find the same CCSS supportive groups are cited as reliable sources for things like 'more rigor', 'global competitiveness', and 'closing the skills gap'. Who;s leading the charge in the community? It's not so much the schools…it's the businesses!
See the entire report: CCSSOTaskForceCareerReadiness120114
What's at stake:
From all that I can glean from the reports and research, it appears the diplomas of our students will be 'held hostage' to college/career readiness, ICAPs (or whatever moniker your state is using), and any other CCSS related post-secondary track available. ICAPs are sprouting up in colleges, too. If you go back and look into CO's ICAP system, you'll learn their community college network is all tied in. The same is happening in NC, where I reside. I can imagine your state's in the mix too. But what about those 4 year post-secondary schools? Yes. I found the below graphic from the Research and Curriculum Dept. of Mississippi State University's website: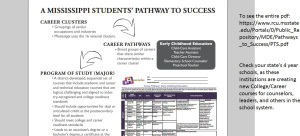 When you consider the aligned dreams CCSSO has for the 'cradle to career' movement, having schools groom college/career ready students (regardless of age or where they attend school) is a key component. If you're not aware of the other arms of the CCSSO, please refer to my previous posts about their efforts (see the entire collection, https://www.commoncorediva.com/tag/ccsso/)