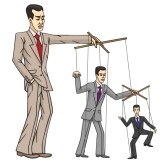 The Network:
If you've followed my blog long, you know each Thursday is devoted to Common Core beyond high school. Today is no different. If you've not been made aware of this network, you'll want to get to know about it. It's called the "National Career Pathways Network" and they have quite an agenda. (website: http://www.ncpn.info/index.php)
The Agenda:
Career Pathways is post-secondary Common Core and is coming at our students (regardless of age or school choice) via the recent Workforce Innovation and Opportunity Act of 2014. I'm providing the links to the 2 articles I wrote about CP/WIOA on the "Prevent Common Core" website. (see: http://preventcommoncore.com/?p=1187 from 09/14 and http://preventcommoncore.com/?p=1201 from 10/14)
According the the Network's website there are 10 agenda points for POSs (Programs of Study) for Career Pathways. So every time a student takes a CP course, you'll know these 10 are woven into it:
1) Legislation and Policies (ie: from federal, state, and local levels)
2) Partnerships (ie: more P3s or public/private partnerships)
3) Professional Development (ie: career tech alignment courses)
4) Accountability and Evaluation Systems (ie: more data mining)
5) College and Career Readiness Standards (ie: more Common Core disguised as not CCSS)
6) Course Sequences (ie: aligning the track between secondary and post-secondary schools)
7) Credit Transfer Agreements (ie: keeping the alignment accountable)
8) Guidance Counseling and Academic Advisement (ie: can't have trained workers without trained guidance)
9) Teaching and Learning Strategies (ie: more project based, collaborative learning)
10) Technical Skills Assessments (ie: assessments from federal, state, and local levels)
To see the entire pdf of  these 10 agenda items and to learn even more about HOW they factor into Career Tech Education/Career Pathways: 10ComponentsofPOS
The U. S. Dept. of Labor's Six Key Elements of Career Pathways:
From the DOL's website, a report dated September 2011, was written by an outside group for the DOL under the 'Career Pathways Technical Assistance Initiative' project. That outside group? Social Policy Research  Associates. The report is chock full of more ways to collaborate, to align, to join forces, more global competitive rhetoric, more skills gap pleas, and assessments to impact everyone involved.
Here's an excerpt of how CPs (Career Pathways) are defined by the Dept. of Labor, "WHAT ARE CAREER PATHWAYS? Career pathway-oriented workforce development has the goal of increasing individuals' educational and skills attainment and improving their employment outcomes while meeting the needs of local employers and growing sectors and industries. Career pathway programs offer a clear sequence, or pathway, of education coursework and/or training credentials aligned with employer-validated work readiness standards and competencies. This systems approach makes it easier for people to earn industry-recognized credentials (through more flexible avenues and opportunities for relevant education and training) and to attain marketable skills so that they can more easily find work in growing careers."  *Note: Repeatedly throughout the report, you'll see that the CPs were to target ADULT learners, CPs were to include those individuals who find they are displaced, or incarcerated. So WHY are we finding more and more CP alignment in elementary and secondary schools? Simple answer: Common Core.
So, what are those Dept. of Labor 6 keys to CPs? 1. Build cross-agency partnerships and clarify roles; 2. Identify sector or industry and engage employers; 3. Design education and training programs; 4. Identify funding needs and sources; 5. Align policies and programs; 6. Measure system change and performance.  In anti Common Core speak, these keys mean 1) sharing vision of outcomes, getting politicians to support vision; 2) have industry/business help lay out CP; 3) lessons taught follow the framework of #2; 4) find the money for leveraging purposes; 5) promotes the CP on a united front; and 6) assess, assess, assess. The Dept. of Labor has a nice picture graphic of the Pathway (oddly enough, in the shape of a circle):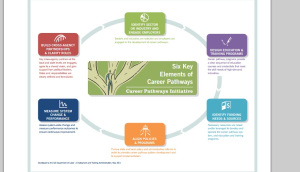 Meet the 'designers' of the Career Pathway, per the 2011 report,  see the picture below (click to enlarge it):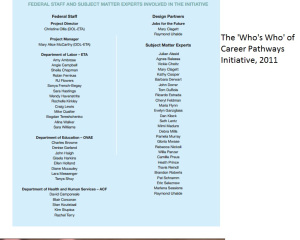 You'll definitely want to look at the entire report, it details the key people needed in your community to pull a successfully aligned Career Pathway off. See: CareerPathwaysToolkit2011
Has anything been updated since 2011 in the Career Pathway Initiative? Not too much has actually changed. There are still the 2011 resources seen above in use.
What has happened is the net that's cast has broadened. Website: https://learnwork.workforce3one.org/page/about 
( my previous post from 11/14 delved into more about Career Pathways/Tracks, etc.)see below:
https://www.commoncorediva.com/2014/11/06/tech-thursday-workforce-commissions-education-and-common-core/ *Note, links to connect more dots between CP and CCSS will be at the bottom of this post.
Selling the Career Pathway:
I'm including a 2012 Success School Network video that will help illustrate how CPs are being 'sold' to our schools. Speaking is the Ga. State Superintendent (John Barge). The Harvard study he refers to is one I've written on before "Pathways to Prosperity". It was a joint effort between Harvard University and Pearson Publishing. The Summit this video was featured in was provided by the School Success Network. All 3 (Harvard, Pearson, and School Success) have well documented ties to Common Core Standards. So, objectivity? Not a chance! By the way, the way in which we're being sold? State legislation!! Departments of Commerce!!
[youtube https://www.youtube.com/watch?v=PikTOa-xUNM&w=560&h=315]
Related: School Success Network to Common Core: http://www.schoolimprovement.com/products/common-core-360/
How to effectively implement CC: http://www.schoolimprovement.com/effective-common-core-implementation/
Tying Pearson, Harvard, and Common Core:
http://preventcommoncore.com/?p=1201
Another link to use in relation to Career Pathways, Pearson, Harvard, corporations, and the US Government:
https://www.commoncorediva.com/2014/11/16/rmt-vp-unions-career-tech-and-common-core/
Social Policy Research Associates can help you build a 'talent pipeline'at your school : http://www.spra.com/2014/07/15/building-a-smart-talent-pipeline/
Social Policy's 2013 Report/Study on a CA based Youth Workforce Project:
http://testspra.com/wordpress2/wp-content/uploads/2014/07/FINAL-DCYF-YWD-Mid-Project-Report.pdf (look for 'intentional skill building', employer engagement, etc.)