My Fellow Anti CCSS Warriors, Anti Fed Ed Warriors, and, Anti UN Led Warriors:
It appears we've reached the time in American history when the CCSS Machine is no longer concerned with 'back door' moves in education reform. It does seem that since ESSA (Every Student Succeeds Act) became law, the moves by the CCSS Machine are out in the open, even flaunted before us.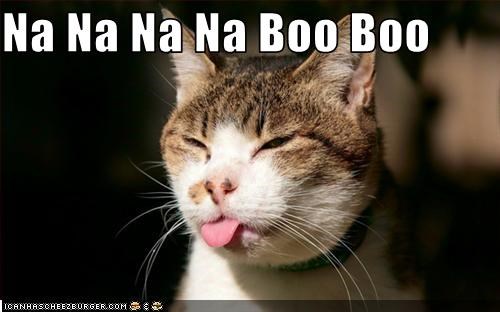 This type of attitude can drive us all buggy, right? So, what are some of the 'in our faces' moves by the CCSS Machine lately?
1) Ford Foundation's FREEBIE!
Yes, Warriors, the CCSS Machine member, Ford Foundation will send you FREE of charge (and to your home) a STEAM (Science, Technology, Engineering, the Arts, and Math) Kit! This type of in our faces move means lots of kids from all education choices will have access to this. It's fun, it's educational…it's also workforce based education alignment wrapped up in a 'nice' package. Where did I find this news? On a homeschooling Facebook page!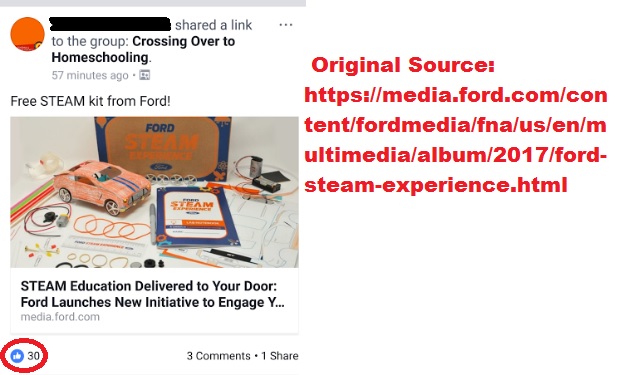 Ford teamed up with Academics in a Box to get this into as many student's hands as possible. Ford's media site tells us it not only has kids thinking like Ford engineers but instills STEAM's core principles. What are the 'core' principles of STEAM?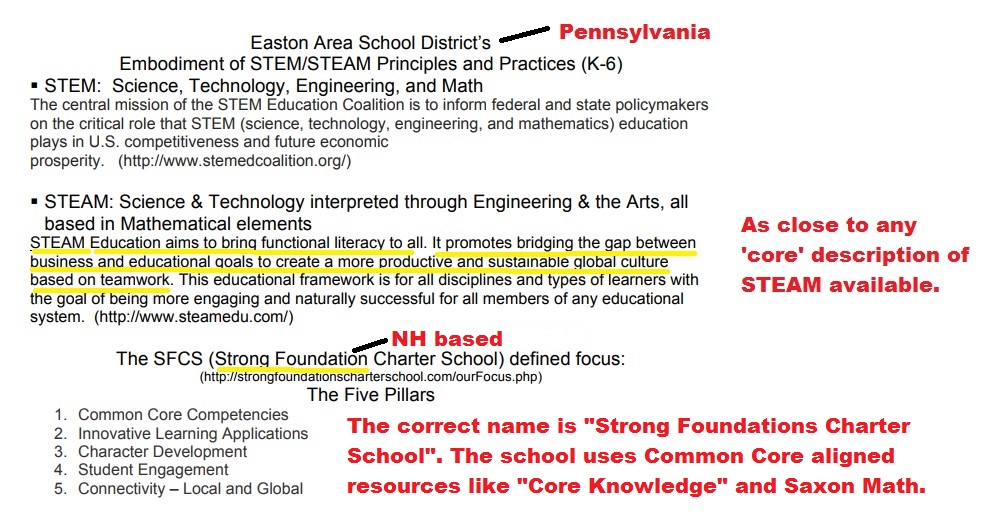 (*Note: if you are curious, the STEM "Core" principles appear more mandate-driven than guidance-driven.)
Below, is an unrelated site for home education and STEAM:


Now, Warriors, this article is not just for those who homeschool. We know STEAM is part of the STEM movement foisted on us by the UN. We know STEAM is in all education choices, too. Just like STEM, and Common Core. Don't think ESSA 'killed' Common Core, it cemented it into our nation like a stone marker.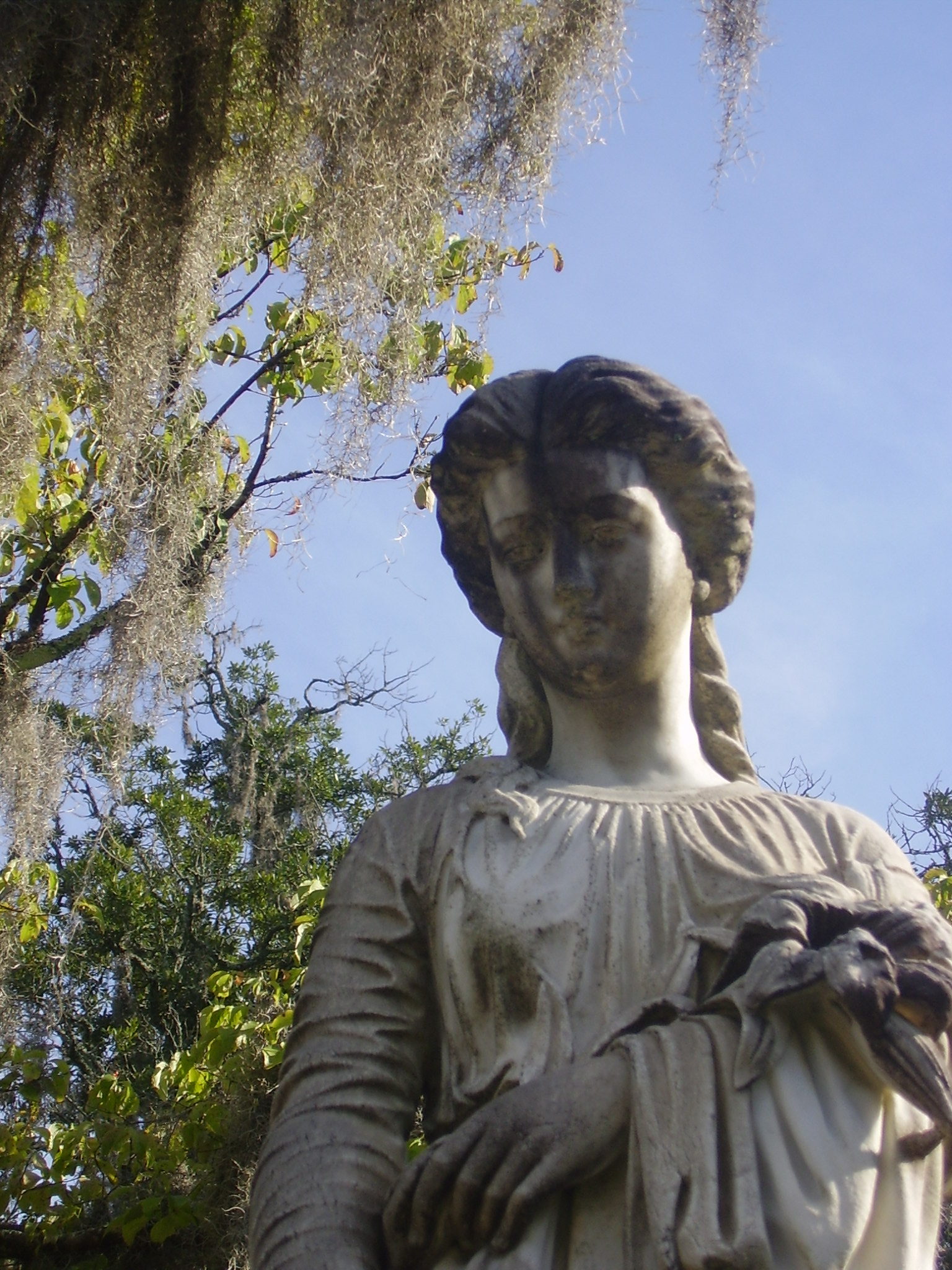 (*Note, the picture below is one of my personal photos I took while in Savannah, GA a few years ago. It is also featured on Pintrest as one of the 38 Best images to depict the rottenness of Common Core from a UK person.)

2) Ford  Foundation's "Drive2Greatness" Campaign for HBCUs (Historically Black Colleges and Universities) made the news, too, recently. The Baltimore Times featured it in Sept. 2017. Cash prizes to bring more STEAM programs to higher education.
You can find the Henry Ford Learning Institute (Detroit, MI) is targeting 12-14 year olds for STEAM learning. The Institute has K-20 (means kindergarten through college) STEAM courses. (scroll down the page when you visit the website) Back in 2016, I exposed how the Ford Foundation and other CCSS Machine members were behind aligning your communities for all things Common Core aligned.
Ford Motor Company's targeting girls for STEM/STEAM. As we know from earlier this year DeVos and Trump (Ivanka) have been pushing this agenda as well. (*Note: look for points #3 and #4 in the embedded article.)
ICYMI:
My three part series on STEM, STEAM and Common Core.
Part one shared how the nation's been set up for a STEM takeover.
Part two shared how STEAM/STEM will drive the US's economy.
Part three shared the true roots of STEAM are un-American.
FYI:
The STEM to STEAM by Region pdf (5 pages). Gives you the profits, some of the CCSS Machine member groups, and more.
The STEAM book (seen below) has 10 references to STEAM core principles. Be sure to look at all 10 selections. You'll learn that federal funds for STEM come from various places, but the main source is the U.S. Dept. of Education.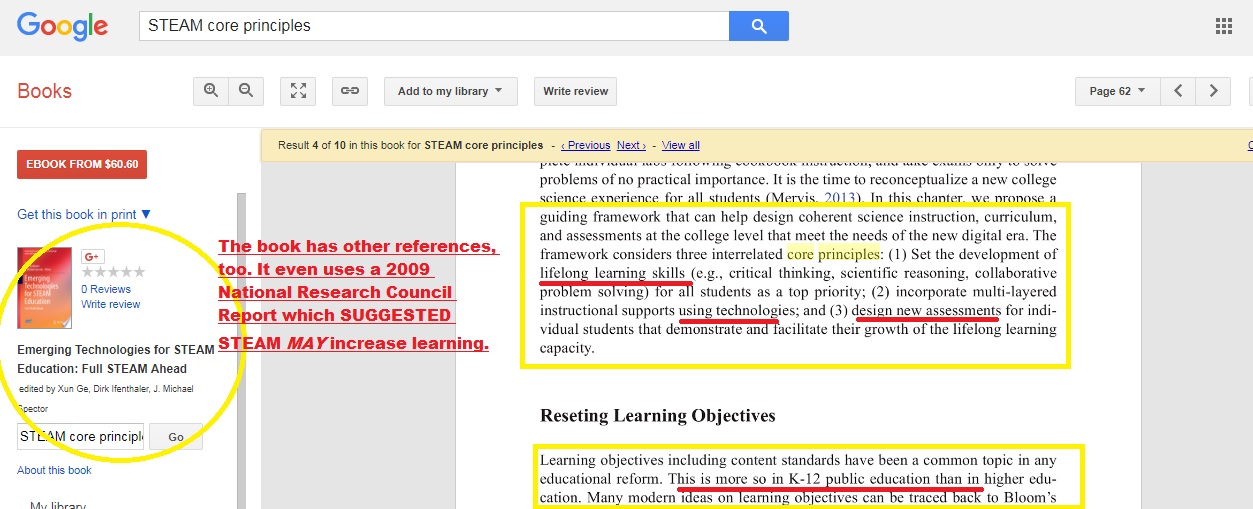 If you'd like to learn about Academics in a Box, visit here. Notice the parental awards, the partnerships with Popular Mechanics  and the US Science and Engineering Festival.
It's interesting that the company re-branded its STEM monthly subscription boxes. Seems a 'retro' look and name will hide the alignment and agenda.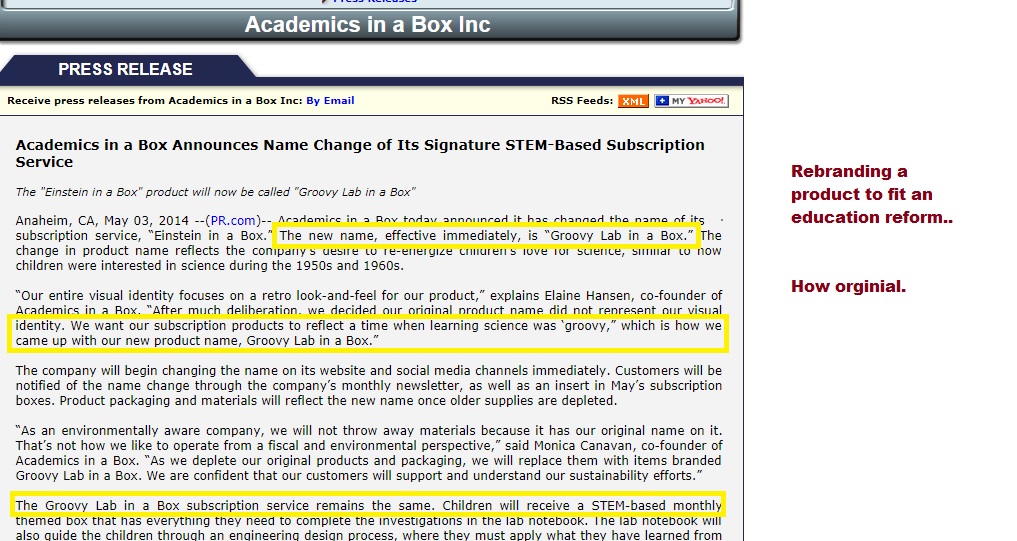 If you'd like to see the video about how STEAM is to work in all types of education for all types of learners, you can view this one. It features the American who supposedly originated STEAM.  Be sure to note in the final moments of the video how the elementary school in AL is the longest running official STEAM school.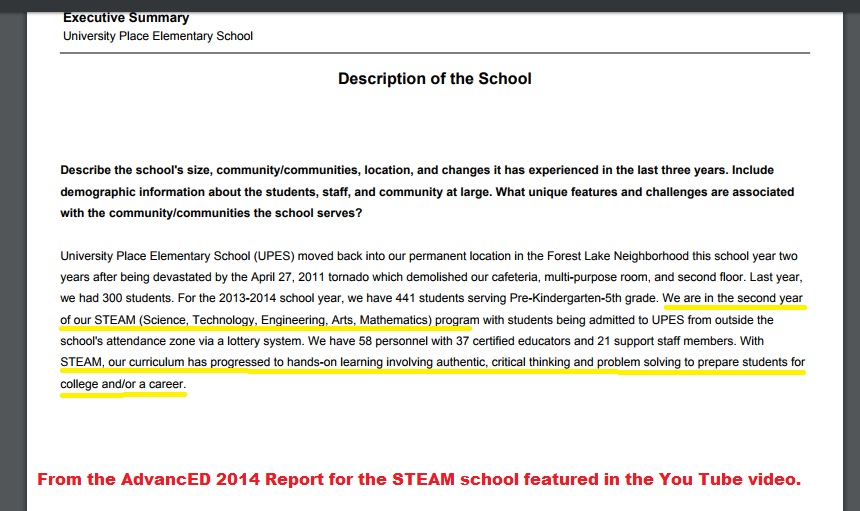 To access the AdvancED Report, click here.
To view a 2015 video about how 'great' STEAM is for education:

Federal STEAM/STEM:
According to the U.S. Dept. of Education, STEM creates global leaders. The U.S. State Dept. hosted a Girls STEAM camp in partnership with Ed, the UN, and many others. In 2014, Informal Science published an article about the federal funding for STEAM. It's not coming from the U.S. Dept. of Ed, it's coming from the Museums and Library Grants and the National Science Foundation.
From Rep. Suzanne Bonamici of Oregon (one of the co-chairs of the Congressional STEAM Caucus), this excerpt, "The bipartisan Congressional STEAM Caucus advocates for the integration of the arts, broadly defined, with traditional Science, Technology, Engineering, and Math curriculum and activities. STEAM education helps to develop the creativity and critical thinking skills needed to drive our innovation economy forward. The group hosts briefings and advocates for policy changes that will encourage educators to adopt STEAM."
In 2015, Huffington Post published an article about Bonamici's part in STEAM for the nation. The House's Caucus was formed in 2013 under Bonamici's leadership.  Here is the current (2017) STEAM Caucus list. Bonamici's campaign donations show CCSS Machine supporters!
Introduced in July 2017, is the STEM to STEAM Act. It's to update the STEM Act of 2015. I wrote about the 2015 Act here.
The newer Act is in the House's Committee on Science, Space, and, Technology. The newer Act also puts the NSF (National Science Foundation) in the driver's seat for implementing the Arts into STEM (which will make STEAM), as well as create the need for MORE educational design AND testing!
According to the Rhode Island School of Design (a huge STEAM backing post-secondary school), not only is STEAM being pushed, it's being pushed by one of the Congressional members (Langevin). Langevin also sits on the CTE Caucus (Career Tech Education which also embeds STEM and STEAM). The CTE Caucus includes both the House and the Senate.
STEM and SEL (social emotional learning), according to the National After School Association is a 'must' in the classroom. After School All-Stars agrees and adds that by combining STEM to SEL, a natural extension is Career Exploration (ESSA expands this exploring!) CyberLearning (2016 Conference) has a two part video about STEM and SEL for the Next Generation.
STEAM and SEL? Oh, Warriors, this website sounds like true out of this world science fiction when you see the spin they've put on why SEL and STEAM work in education!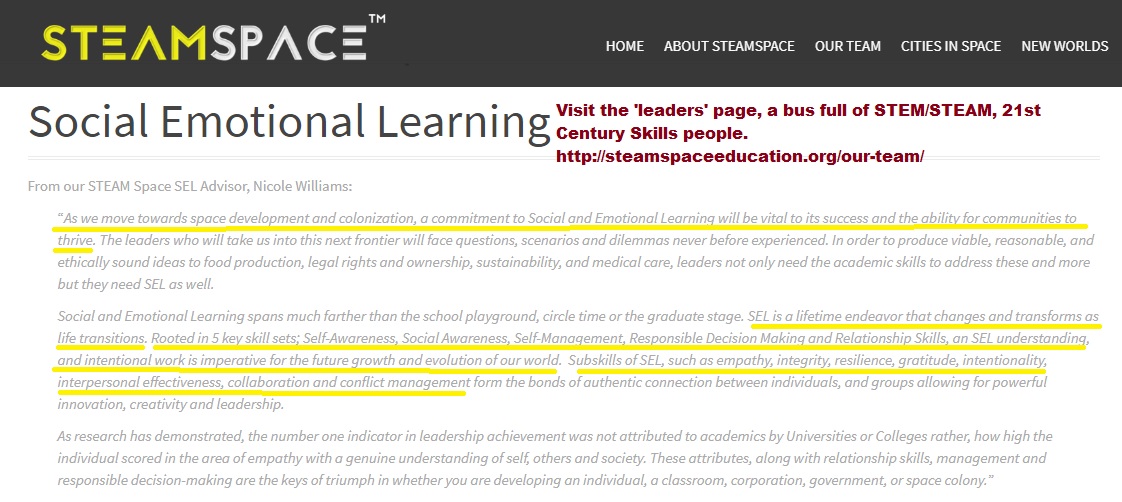 If you'd like to see how a Brazilian Case Study using STEAM and SEL was brought to the US (2016), watch this video (about 1 hour). Related is a 2011 Global IT document you need to read. UNESCO driven! Also related, this 2016 Prezi for STEAM/SEL.
Warriors, remember, STEAM was stated as something which MAY work in education, but we're seeing the nation driven to insert it everywhere!!