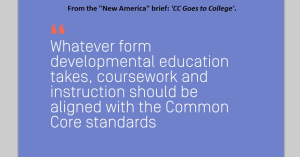 While all our heads were turned toward D.C. this past week, our states kept rolling on in their CCSS/CTE ways. The 'riddle' today (since it is "Riddle Me This" Sunday) is "What did NC get while while ESEA re-vamping was happening in Washington, D.C.?" In short, the answer is 'CCSS/CTE Overload'! As always, if it's going on in one state, it's going on in the rest of them.
NC DPI's Announcement:
First, on 7/9/15, how NC's proficiency rate is one of the best in the USA. Here's an excerpt from Dr. Atkinson, NC's State Education Superintendent (AND the president of the Chief Council of State School Officers; 1/2 owner of the CCSS copyright), ""North Carolina has set high expectations for our students," said State Superintendent June Atkinson. "We know that today's competitive economy requires more in order for our students to be well-prepared for success. The challenge before us is to ensure that our schools are equipped and staffed to help students reach these goals.""
To see the entire press release which reveals NAEP's (National Assessment of Education Progress) figures for NC: http://www.ncpublicschools.org/newsroom/news/2015-16/20150709-02
To have the NAEP's graphic for NC: mapping-factsheets
Then, a Newsletter Highlight:
As we've noticed in all things CCSS related, the timing is precise. While one CCSS related activity is going on, others to support it are either in the works or just appearing. Case in point, NC's 'new' Academic and Digital Learning upgrade. An avid reader of my blog and fellow anti CC warrior sent me a tip and requested I look into this. Here's the tip, "I get the various DPI updates , this was in the July Web highlights." Then, my contact shared what you see below:
"4. Academic and Digital Learning Launches New Website Academic and Digital Learning recently launched a new website that provides easy access to its divisions that include: Career and Technical Education, Digital Teaching and Learning, Exceptional Children, Home Base, K-12 Standards, Curriculum and Instruction, and the NC Virtual Public School. To learn more about Academic and Digital Learning and how it prepares students beyond graduation for work, further education and citizenship, please visit  http://www.ncpublicschools.org/academic-digital-learning/.​" (*NOTE: NC's Virtual Schools are accessible by all educational choices, including homeschool students)

So, How "Recent" is Recent, NC DPI?
In trying to access the rest of the July 2015 news items from NC DPI, I stumbled upon a January 2015 newsletter where some of the ground work for this appears to have been announced. What do I mean? Here's a 'sample',
"Coming in July 2015!  Logging into Home Base with the IAM Service The IAM Service will be replacing the "PowerSchool Login" after the 2014/­2015 End­ of­ Year processing, July 6. With this change, all North Carolina K­12 students and employees will login to Home Base applications using their NCEdCloud username and password. The accounts are currently available and LEAs and Charter Schools can begin providing students and employees their accounts at any time. Employees can follow the "Claim Account" process described in For Teachers and Staff on the NCEdCloud IAM Website (ncedcloud.mcnc.org). Students' accounts will be issued by their teachers, who have access to their students' usernames and initial passwords. Parents will continue to use the PowerSchool Parent Portal for access to their student's information. Identity and Access Management (IAM) is one of the NCEdCloud initiatives for the K­12 community of North Carolina and provides LEAs and Charter Schools a tool to help manage the authentication and authorization needs of students, employees and guests (and eventually parents) in accessing cloud­based resources. It provides self­ service capabilities to all end users, and delegated administrator capabilities to LEA and Charter School technology leadership. The actual service is being provided by Identity Automation and the IAM infrastructure is hosted in Amazon's AWS, a robust environment providing expandable capacity as well as increased stability. "
What's more is that in the same Jan. 2015 newsletter, an effective digital teaching course was being offered (course began in Feb. 2015). Here's the screen shot, the website to access the Jan. 2015 entire newsletter is included.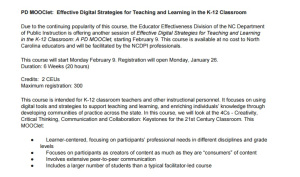 From That July 2015 Website Address:
From the website provided in the tip my anti CCSS buddy sent, I was able to find all kinds of information about Career Tech Education, Common Core, and more.
First, the website address: http://www.ncpublicschools.org/academic-digital-learning/
On the website's main page, you'll read this 'lovely' information, "This area of the agency encompasses Standards, Curriculum and Instruction, Digital Teaching and Learning, Career and Technical Education, Exceptional Children and the NC Virtual Public School. Area functions address all State Board goals but focus primarily on preparing students beyond graduation for work, further education and citizenship" Among the major tools to cause the preparation> NC's Standard Course of Study (code name for CCSS) and Home Base (data mining). Assessments will be in BOTH Standard Study/Home Base.
If you'd like to see the 2009 NC, Career and Technical Education's Strategy and thus, makeover to align to CCSS, strategic-plan
If you've followed my blog very long, you know I've provided scores of facts, documents, and other related information into NC's total CCSS Machine alignment. My warriors, NC is far from the lone participant in this, as you can well attest to. I know it's in every one of our states of residence. It has to be. The workforce/economy components of the reshaping of America are to encompass ALL 50 states, territories, and military posts.
Supporting all this alignment? "Programs that support digital teaching and learning are reinforced by legislation and policies for implementation of legislation." Source: NC DPI's Digital Teaching and Learning Policy page. (http://www.ncpublicschools.org/dtl/policy/ )
One of the main laws requiring adherence? The ESEA (Elementary and Secondary Education Act of 1965), which is currently in a state of re-vamping. Which leads us back to the current events in D.C. ESEA is 'boss' in every state of the United States.! What other laws support the alignment of America? NC's Digital Teaching and Learning page, offers links to all the federal agencies involved: http://www.ncpublicschools.org/dtl/policy/regulations/ (*Note: NC's DPI didn't provide the state legislation, only the federal level)

One last note, the funding to help support the digital teaching and learning? E-rate! (see: http://www.ncpublicschools.org/dtl/resources/funding/) Related resource you can use, my previously published look into what some of those 'pesky fees' on your phone bill actually do in regards to all the digital education: http://preventcommoncore.com/?p=1223