No, my dear fellow Anti Fed Ed Warriors, you're not seeing a pretty picture in the featured shot today, but let's face it, the modern education reform is downright UGLY.
What you actually see in the picture is what's known as 'pitch' or 'resin'. It's gooey, it's ooey, and it sticks to EVERYTHING.
Much like the CCSS Machine's grasp on our schools..
Once pitch or resin gets in your clothes, forget trying to get it out. It's stuck there. Common Core (or whatever the heck it's been re-branded as) is the same way.
It's stuck, it's NOT going away anytime soon.
Why? Too much time, effort, research, and money has gone into proving the ties to the UN. It's because of that one simple truth, America's stuck in an ugly educational mess.
In My Last Article:
Warriors, you got to see the contrived ESSA State Plans and the big set-up they are turning out to be. You got to see 2 States, AZ and ND. One has re-submitted their ESSA State Plan (ND), that I know of AZ has not re-submitted theirs.
In that article, Warriors, you also learned that SEL (Social Emotional Learning) seems to be one of the biggest types of 'pitch' being thrown at us. The other biggest type of 'resin'? Oh, that would have to be the digital/technology workforce training.
If your State hasn't turned their ESSA State Plan in, their days are numbered. Sept. 18th is the absolute last day for the States to once again, bow to the federal government.
Warriors, pitch has gotten on the knees of our Governors and State leaders. Otherwise why would they be stuck in the federal 'Mother May I?' cycle?
So, what can I possibly add to the ESSA State Plans?
What if I told you I've got some new evidence from North Carolina's State ESSA Plan?!
Warriors, you know I've dug into 'our' (NC) education, as far as ESSA at least twice when it comes to the Proposed State Plan. (*Note: The first time was Feb. 2017. That article showed how cookie-cutter the ESSA framework was. The second time was in early August 2017. In that one, I showed you how NC is one of the most, if not THE most, digitally and conformed States in the nation!)
In other words, NC is the most pitch filled when it comes to being stuck to the CCSS Machine!

PART ONE:
Some "New" Sticky Stuff:
Warriors, even if you are not a fellow resident of mine, here in NC, I'm sure what I share will help you to ask some very crucial questions within your States.
In preparing for a NC specific interview, I was able to uncover some 'sticky' pieces of legislation, as well as CCSS Machine activities. (*Note: the NC General Assembly is on break at the time of this article. They resume business 10/4/17.)

1) HB 634 "Private Alternative Teacher Preparation" is the name of this federally laced bill. Wait, Lynne, how from the title can you tell this NC-specific bill that there's a federal 'pitch'?
Warriors, remember how I've told you the language of ESSA is expanding P3s (public-private partnerships)? Well, THIS bill not only feeds from the private sector pool, it puts them in your child's classroom as a 'teacher'! Below, look at what these private sector candidates are to be capable of: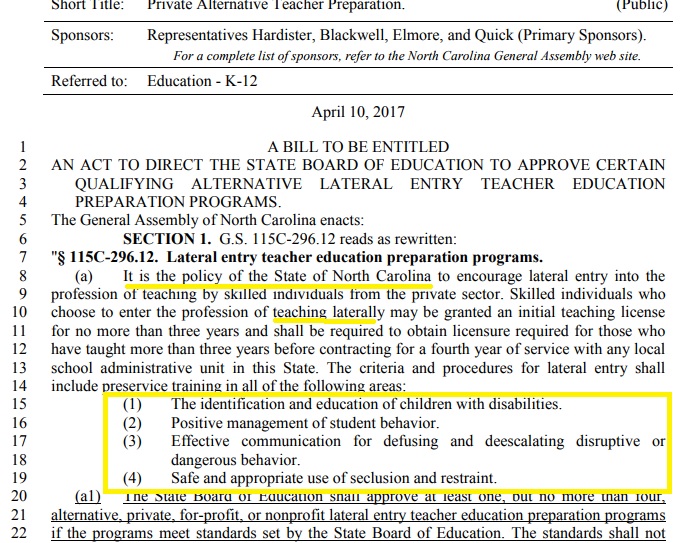 Warriors, do you see the SEL strings? What about the PBIS (Positive Behavior Intervention System) strings? BOTH SEL and PBIS are mandates in ESSA! Both these mandates are also in every global education program.
Now, let's back up and look at the timeline for NC: turn in the ESSA State Plan before OR on 9/18. The Legislature goes back into Session 10/4. According to those dates, the ESSA Plan won't have had time to be accepted or rejected, but this bill will be on the table!
Further on in HB 634's language you can find that the candidates must have turned in their applications by 8/1 to qualify for consideration.
Again, look at the timeline, Warriors.

NC will not be in a position to know if the ESSA Plan is a 'go' but let's move forward with an application system for alternative teachers? Is that in case the Plan is accepted by the U.S. Dept. of Ed, or in spite of? You'll also see these private sector teacher wannabes will have to comply with the NC SBE (State Board of Education) education standards. The Standards? CBE for Teachers! (Competency Based Education)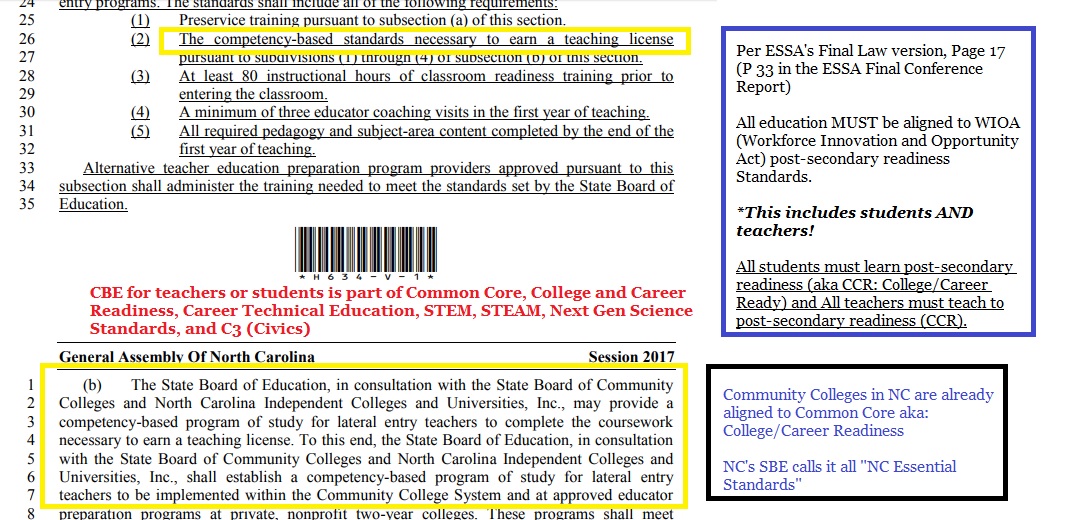 2) The Personalized Learning (PL) on hyper-drive. Warriors, in the previous article, I shared with you the KnowledgeWorks PL State-by-State document. NC's ESSA PL Plans begin on page 93.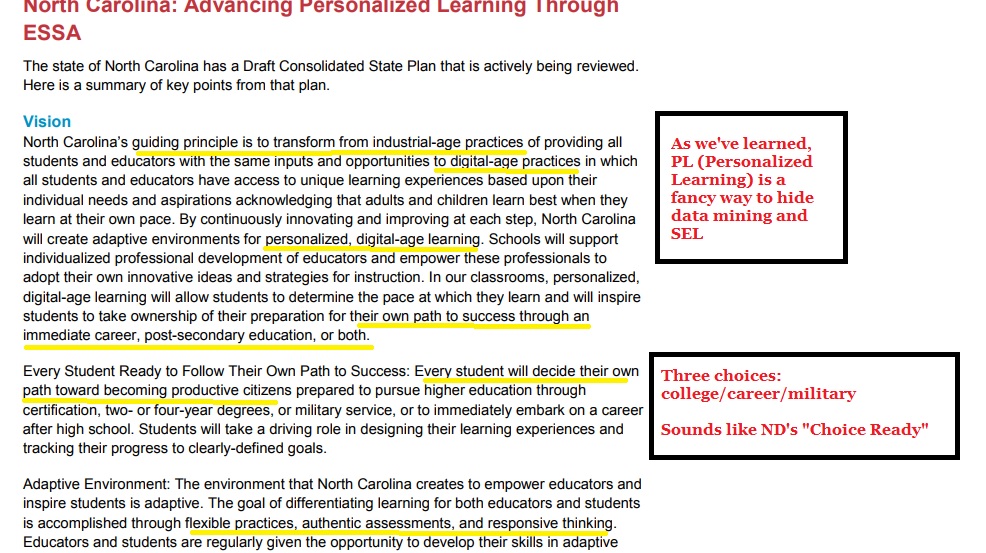 Warriors, these 'flexible practices, authentic assessments and responsive thinking' all involve the same thing: CBE! An 'added pitch'? Student profiles called 'learner profiles'. Yet another way to data track and mine your student's information, as well as use PBIS and SEL.
Below, look at a screen shot from one of my previously published articles about the 'student/learner profiles':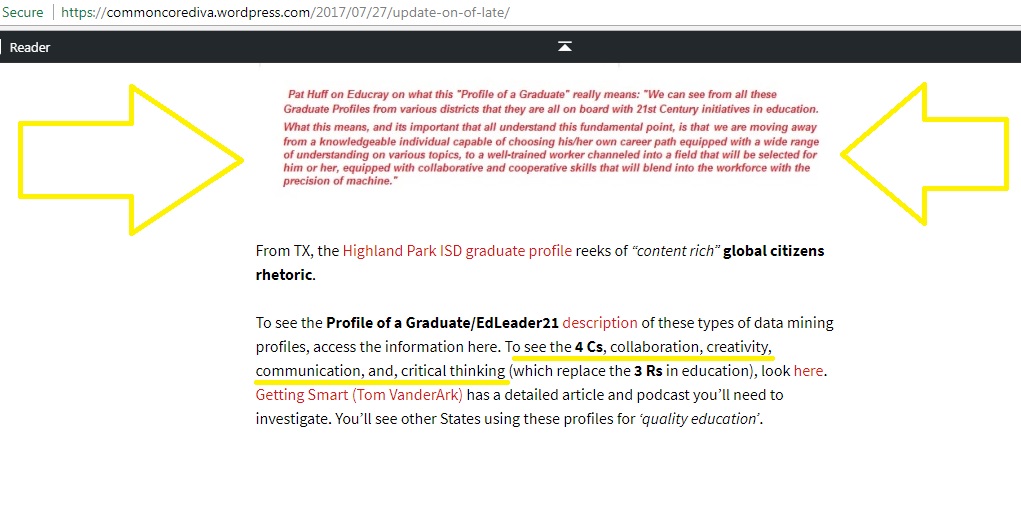 3) In 2016, the NC Legislators created ASDs (Achievement School Districts). These have been renamed to ISDs (Innovative School Districts). What do the ISDs do? Take over the low-performing schools to be run by private charter companies. It's the ESSA 'school improvement' mandate, Warriors. It's also a way to make sure NC increases charter schools, which not only satisfies a State law, but bows to ESSA's language about charter schools increasing. However, what else is going to happen in a NC ISD? Community involvement where a partnership between citizens and schools can be data-driven, as well as accountable. (according to the KnowledgeWorks information)

PART TWO:
Sticky Data Mining Information:

4)  A Data Mining Map from the NC Ed Cloud: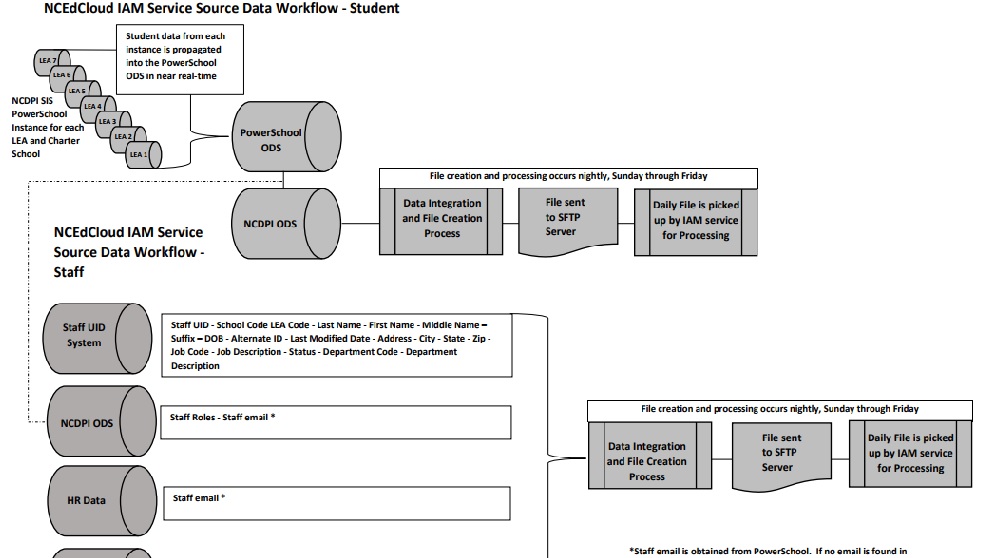 (The complete document)
NC Ed Cloud's been with us since 2013. According to this 2013 Report, NC was  considered a 'gold mine' of student data. (*Note: you will not see the NC Ed Cloud mentioned.) NC uses "Home Base" as well, in data mining. You can trace the Home Base and NC Ed Cloud intersection here.

Related: Below is a screen shot of the 2014 NCES (National Center for Educational Statistics). Notice the NC's participation. (*Note: in this document, you'll find UT and ME)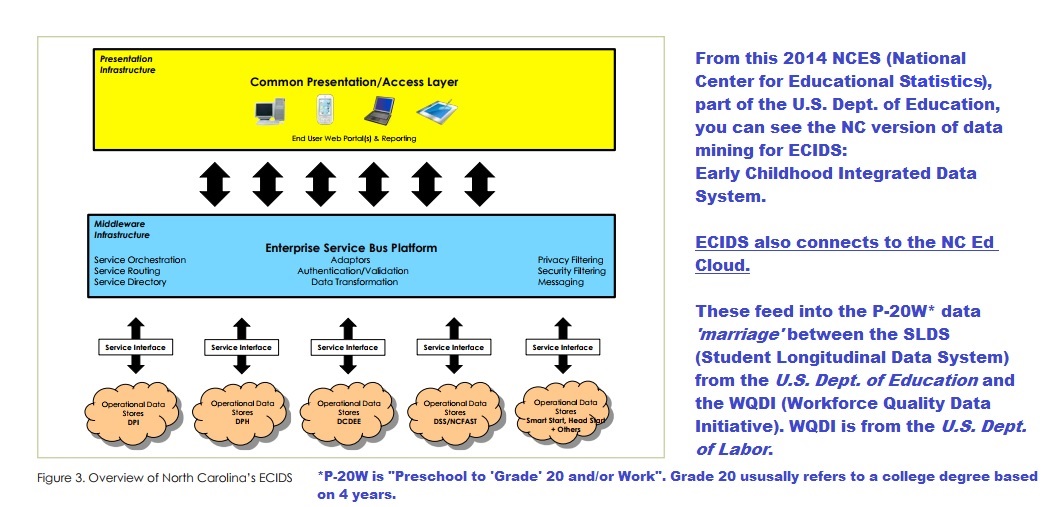 Warriors, especially in NC, what does this have to do with the NC ESSA State Plan?
I point you to the NC DPI (North Carolina Dept. of Public Instruction) Information Technology Plan for FY (Fiscal Years) 2017-19. This Tech Plan 'grandfathers' all the previous data mining tactics! By this nature, they, too will show up in the NC ESSA's 'fine print'.
If you do not live in NC, what is YOUR State's Info Tech Plan?

Warnings: The best and biggest data mining tool according to these type of plans? Assessments. Warriors, remember, ALL education choices use assessments. NC's choice for these from both the NC DPI and NC DNPE (NC Dept. of Non-Public Education, where home education and private education are overseen) are 'nationally-normed'. Warriors, 'nationally-normed' means aligned to Common Core State Standards (or whatever re-brand name you pick)!
CCSS aligned assessments are codified in ESSA!! The main conduit: Title One funds, especially in early childhood education. Other ages/grades? Find that in this article I wrote while involved with another national group.
PART THREE:
Other NC Proof which may help you in your State with the ESSA Plans:

ESSA's mandates include the re-shaping of 'low performing' schools into charters. NC's already made a State law which will make sure this happens. ESSA also has an increase of charter schools in each State as a 'provision'.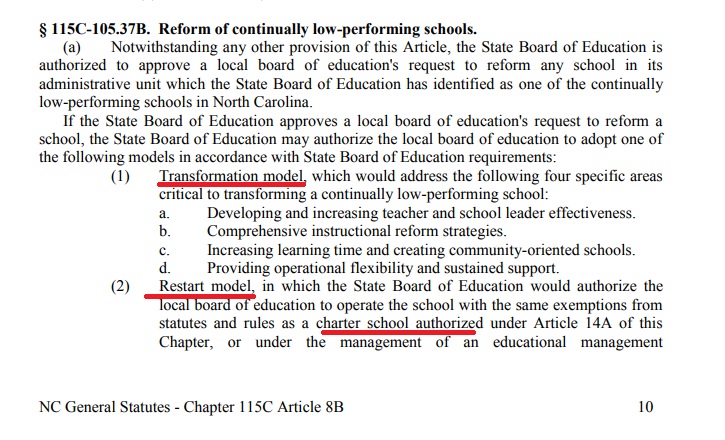 (Source)
This was a newly 2017 NC Law impacting charter schools and changes to them. You'll need to see how charter management company employees can become teachers, how 'low performers' fit into the charter system and more. (*Note: refer to HB 634, above to see the 'alternative teachers')
In NC Law, you will also see this Statute for HOW schools are identified as 'low-performers'.
From the NC DPI, how the funds for "Restart" model schools is to play out.
In this undated national document, the entire "Restart" model process from beginning to end. (Note: as 'successful', these 'restarted' schools will have community-school partnerships)
My raw notes which will show you data mining, SEL, and all which connects them to ESSA, from various NC sources.